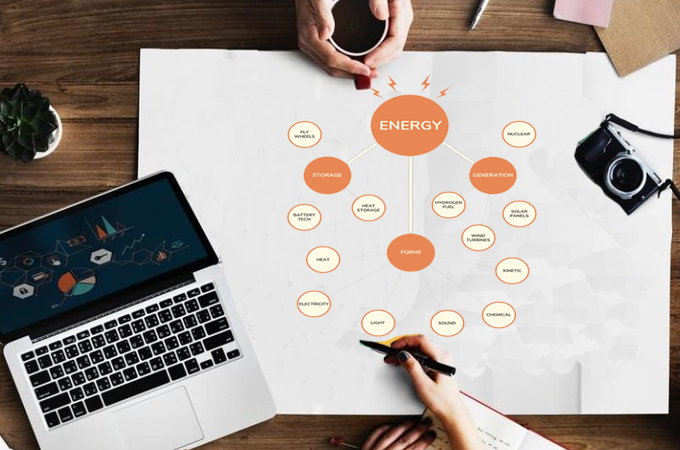 Knowledge acquisition is the ability to learn, retrieve, and recall information. But the success of acquiring knowledge depends solely on the organization of the information. This helps you improve memory by creating a cognitive representation in your brain allowing you to understand and absorb information much easier. Moreover, there are various ways to organize knowledge. And one of the useful methods is through concept mapping. A concept map depicts relationships between ideas and concepts. It is used by students, engineers, and others to structure knowledge in a logical and understandable form. Therefore, if you want to improve memory and learn to organize knowledge better, then take a look at some of the best and editable free concept map templates below.
8 Free Concept Map Templates and Examples
Free Online Concept Map Maker – GitMind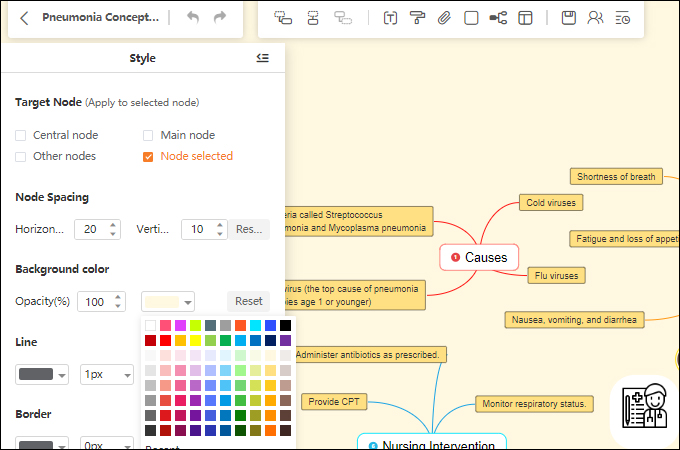 A concept map is a great way to organize and structure knowledge. With GitMind, you can easily create a concept map online using its user-friendly interface for free. This program allows you to export the map to various document formats such as Word, PDF, or Text file. You can even use the map for presentations by exporting it to the image file and insert it to your Powerpoint presentation. Furthermore, GitMind offers stylish templates that will be useful for multiple purposes including education, product, engineering, sales and so much more. To learn how to use GitMind in different ways, you may refer to the following concept map examples.
Pneumonia Concept Map Template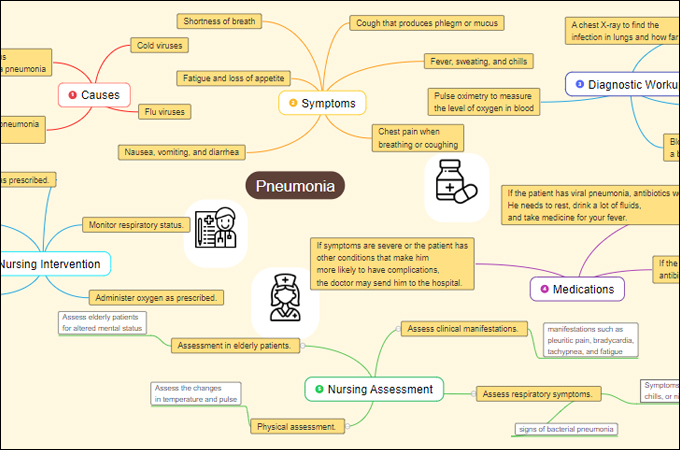 Edit this example
The first example is a concept map about Pneumonia. It consists of six stages including causes, symptoms, diagnostics, medications, assessment, and nursing intervention. This could be helpful for students who study a lot of concepts especially nursing topics. With it, you can easily visualize and absorb the information by creating a structure of a process or procedure.
History Concept Map Template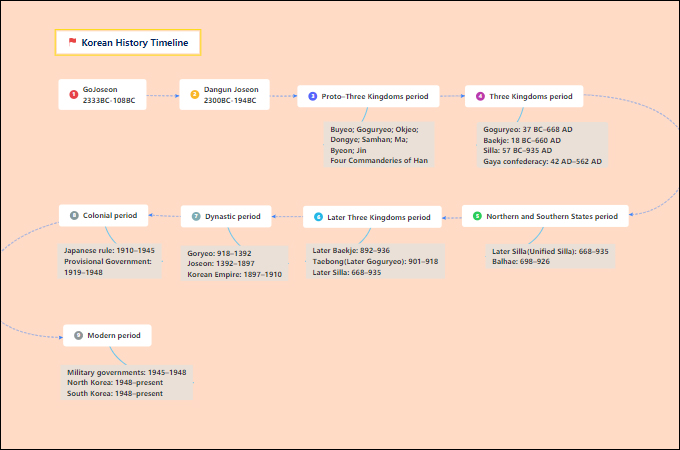 Edit this example
A concept map can also be used to show the chronological order of events. Just like any history concept map examples, this template presents the timeline using the horizontal layout in a curve form. It utilizes numbers as a way to show the order of the events. From where Korea all started and when was Korea untied into North and South Korea. Also, concept mapping does not include many details but only the important ones. Through this, you can easily organize information and review the history timeline in a brain-friendly manner.
Science Concept Map Template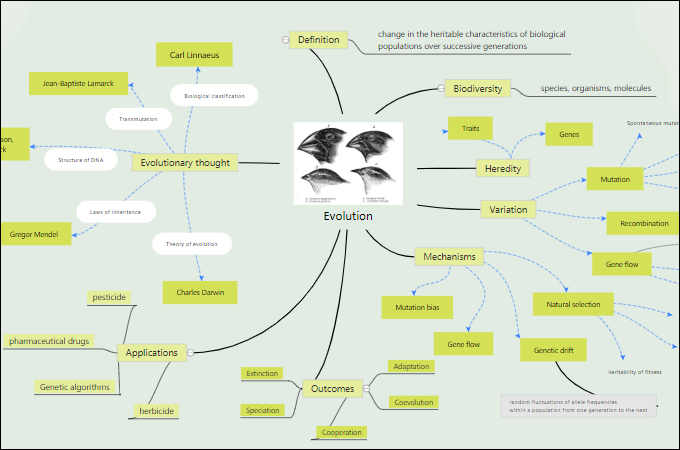 Edit this example
Science involves lots of complicated subjects so you need a tool to help you grasp the ideas behind the concepts of Science. This free concept map template comes with a flexible structure in a way that you can quickly understand the concept of evolution. This lets you construct an illustration of a long list of information in a simple way without worrying about a rigid structure.
Nursing Concept Map Template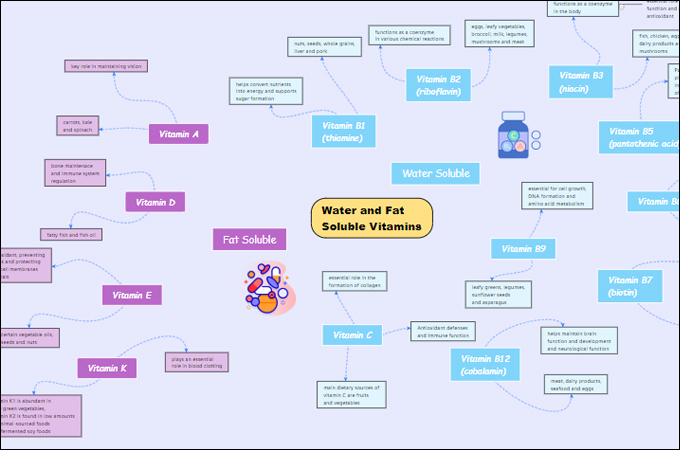 Edit this example
Nursing students in different majors like medical technology also utilize concept maps to help them acquire the information they need. Visually, this template uses two colors to separate the section for water and fat-soluble vitamins. That way, you will be able to recognize which is water-soluble from fat-soluble ones. Unlike other concept map templates that use uniform colors, this example may aid in your fast and meaningful learning session.
Biology Concept Map Example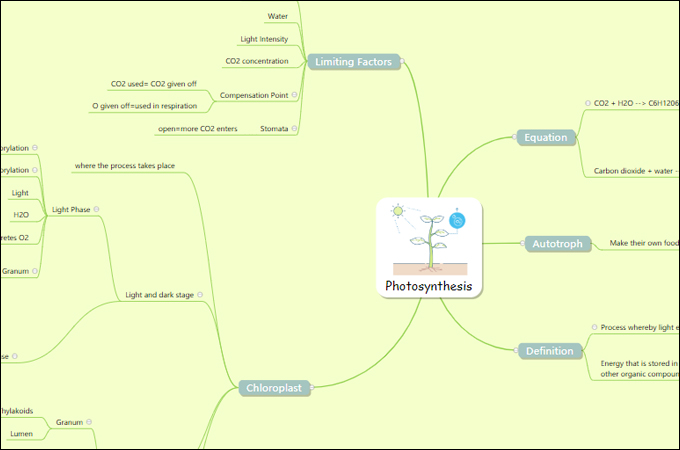 Edit this example
Biology deals with the study of living organisms. For this example, we have a concept map template for Photosynthesis. The concept map composes of light green colors for its nodes, background, and connecting lines. It sets the tone for the theme which is about Photosynthesis. Looking at its content, the example explains the process of converting light into a chemical known as Photosynthesis. A concept map can be helpful to study and learn principles in Biology.
Chemistry Concept Map Example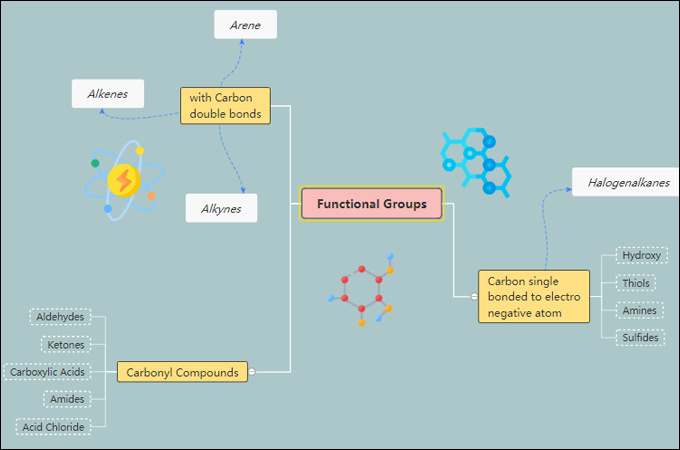 Edit this example
You can also incorporate a concept map when studying for Chemistry. This free concept map template presents the functional groups. It includes carbon single-bonded, carbon double bonds, carbonyl compound, and the atoms within each molecule. In addition, you can add your own touch to the map by adding icons or images. This template can be extremely helpful when trying to study and remember a large amount of information.
Energy Concept Map Example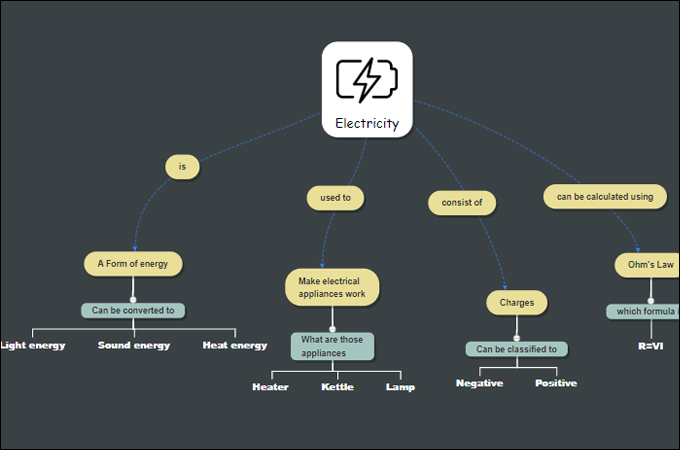 Edit this example
The next template depicts the study of Electricity. Looking at the concept map, the topic is divided into four sections. The definition of electricity, the purpose, what it consists of, and formula to calculate electricity. If you prefer to learn visually rather than text, you should consider using concept map templates in your study sessions.
Energy Concept Map Example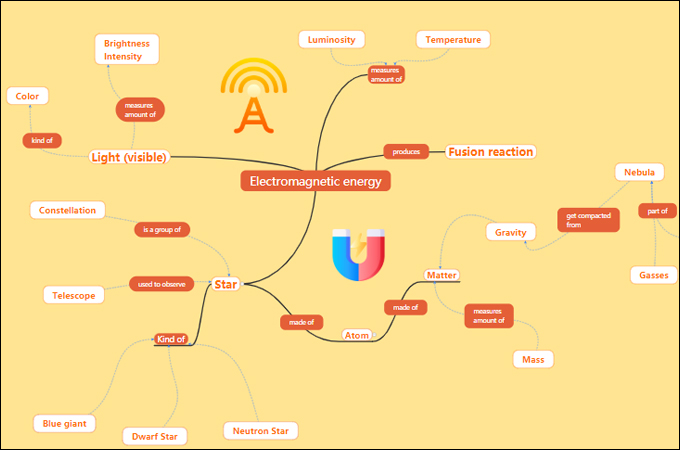 Edit this example
A concept map can also aid in studying Physics. If you would notice, the nodes with a white background represent the kind of energy and electromagnetic object while the node with an orange background shows the relationship of objects with each other. Since Physics deals with lots of principles and disciplines, it's best to use a concept map as a learning tool to think creatively, perceive concepts, and memorize information much easier and faster.
Conclusion
From the concept map examples above, we can perceive that the concept map is useful especially for studying different subjects. Now you can structure, add personal finishing touches to the map to organize knowledge, and quickly learn the material.