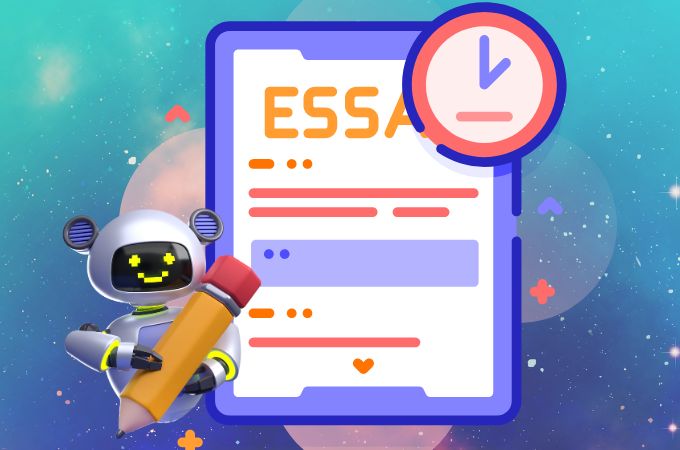 Even experienced writers encounter days when the words seem to evade them. It's common among writers – the constant demand for fresh content can sometimes lead to mental blocks. During such times, it's helpful to step back, take a breather, and explore new sources of inspiration. Whether it's going for a walk, reading a book, or engaging in a different creative activity, these breaks can revitalize the mind.
Moreover, embracing technology can also provide solutions – AI essay generator tools can spark ideas and help structure content. Hence, this article will give you a list of amazing AI paper writers which you can use to counter writer's block and kickstart fresh ideas. Check them out now.
8 Amazing AI Essay Generator Free to Use
GitMind Chat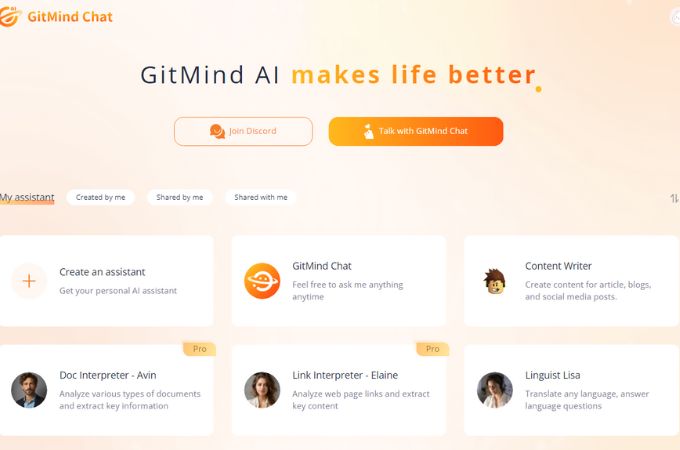 GitMind Chat introduces an innovative way to assist with essay writing. Despite primarily being a chatbot, it offers the added feature of generating essays based on user requests. Regardless of the subject, users can input specific prompts, leading the chatbot to quickly produce corresponding essays. This user-friendly tool is especially beneficial for students at any academic stage. The uniqueness of the tool also lies in its capability to help users create their own customized chatbots specialized in writing essays. Additionally, users can design a chatbot with the role of an essay writer as well. This excellent feature of GitMind Chat will surely amaze you at how this can work on the role you've given it.
Sign up for an account on GitMind Chat.
Click "Talk with GitMind Chat" to initiate the process.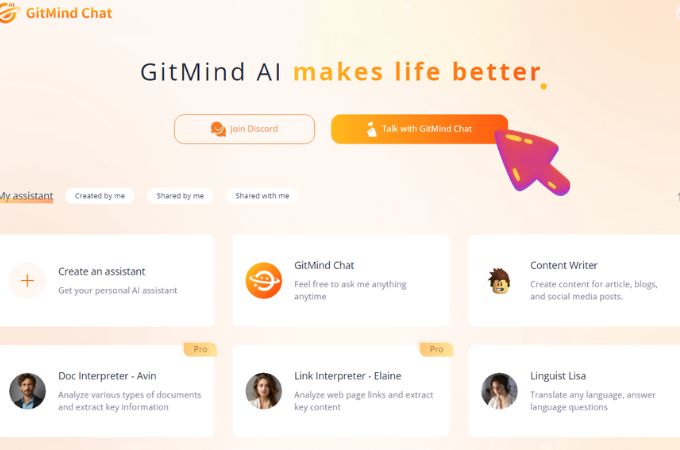 Input your prompts or requests in the chatbox.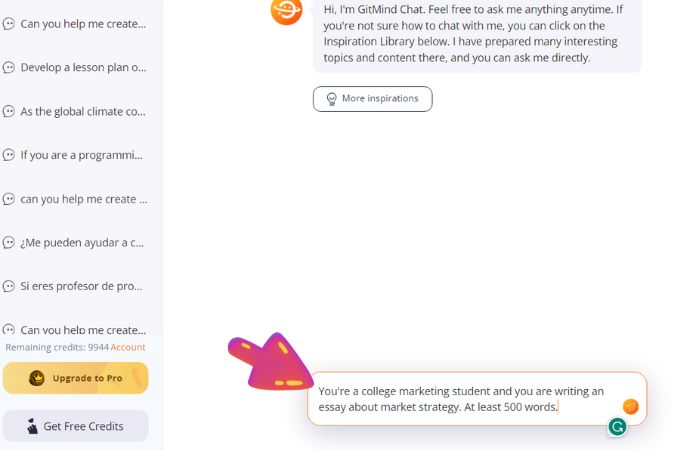 Wait as the tool generates the output.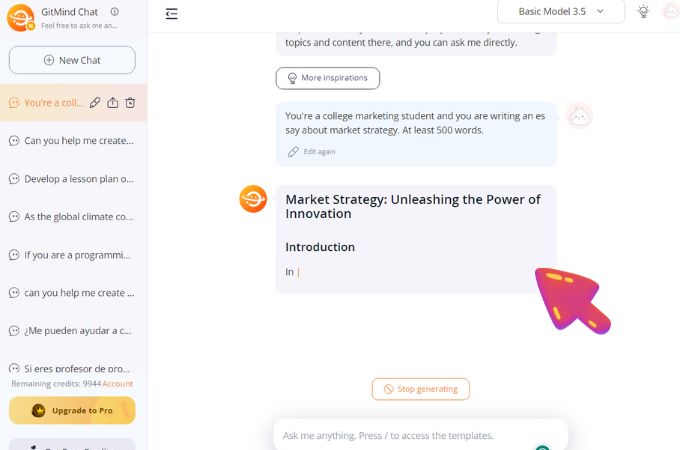 Once the result is ready and meets your satisfaction, copy it and directly paste it into your document.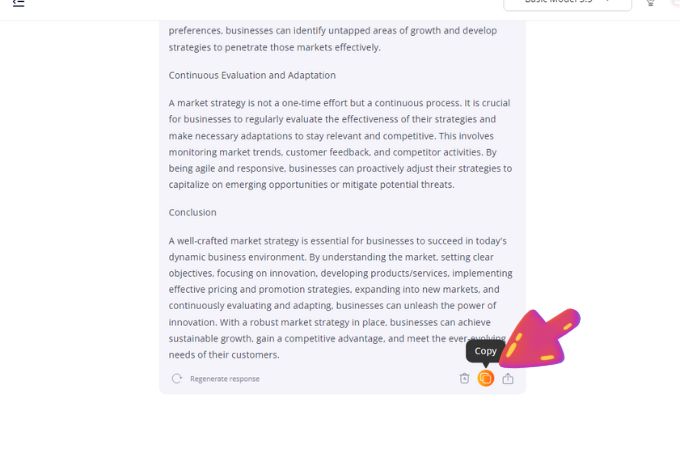 Helpful Tips: For the most precise outcomes, it's crucial to formulate your prompts thoughtfully. Make them as specific as possible. But if you're uncertain about creating effective prompts, you can follow this template:
Role > Task > Content
Example:
You're a 6th grader [Role] and you have to write an argumentative essay [Tasks] about the pros and cons of wearing a school uniform. [Content]
AI Essay Writer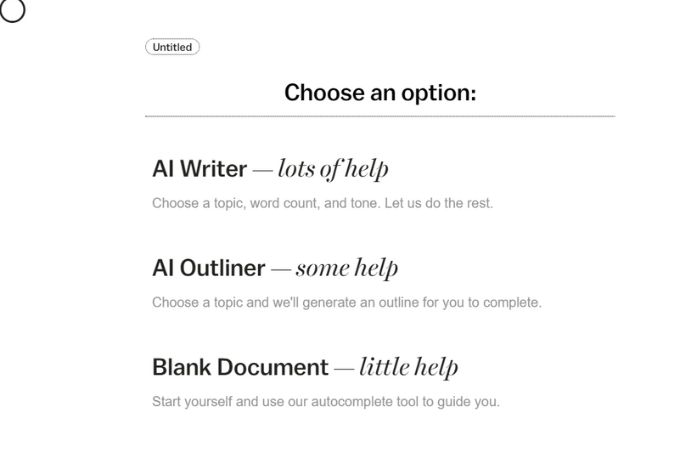 Move over to another tool, AI Essay Writer. It is as straightforward as its name is in terms of its feature as an AI paper writer. This app is one of the great AI that you can use for your content. All that's required is your valid email address to begin. This AI writer claims to give you a lot of help in your content writing. In fact, After you've input key details such as your topic, desired word count, and the type of essay you're aiming for you can now leave the rest to this app. And whether you're writing a classic, compare/contrast, argumentative, persuasive, and critique type of essay, don't worry as the tool can generate all of those for free.
MyEssayWriter.ai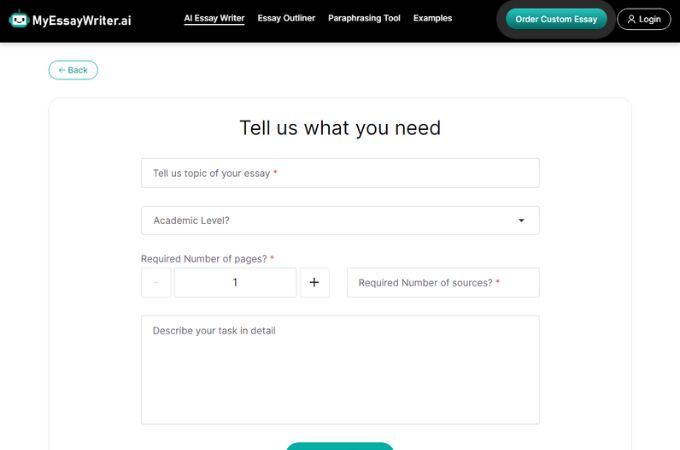 If the task at hand involves composing a research paper, then MyEssayWriter.ai stands out as an ideal solution. This writing tool is tailor-made for generating various essay types, including research papers, catering to students across college, master's, and doctoral levels. Additionally, it allows you to specify the desired page count for the generated content. What sets this AI paper writer apart is its unique feature – the generated content is substantiated by sources, ensuring it's free from plagiarism. Users even have the ability to input the number of references or citations they wish the AI to include.
Editpad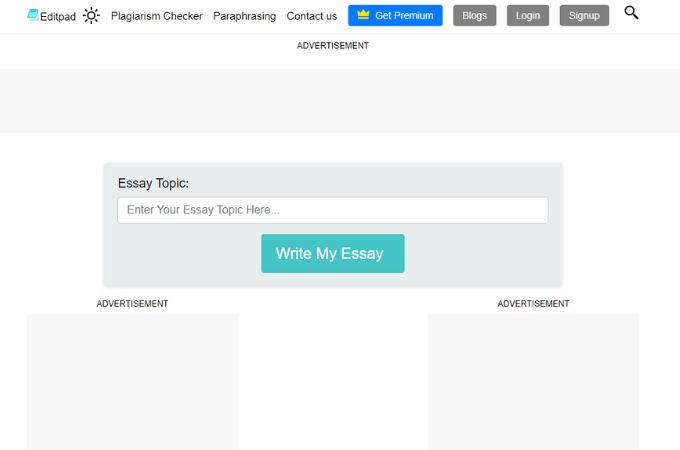 Editpad is another best AI essay generator free to use included in this list.It boasts the ability to swiftly craft essays – a mere topic input is enough to trigger its magic. Also, it doesn't require its users to create an account to use this. And the best part? You can grab your essay right after it's conjured. Despite the website's ads, this AI writer truly shines. It crafts beautifully structured essays with impeccable grammar, making your content truly stand out.
Genius AI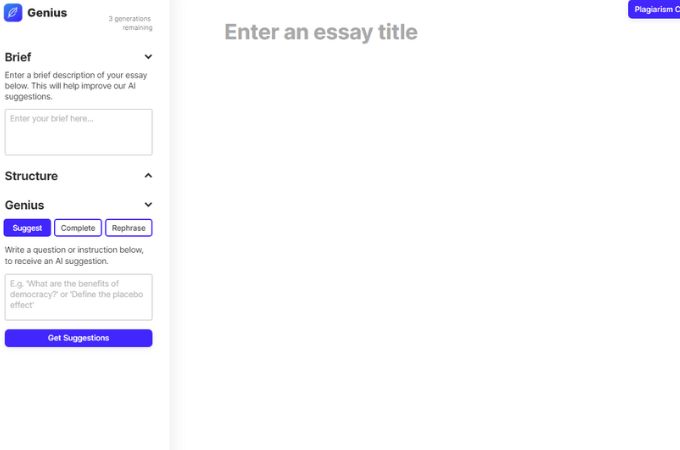 Enhance your content writing productivity with the aid of Genius AI. This AI essay generator is a dependable ally, capable of creating essays on a wide array of subjects. From Mathematics and Physics to Philosophy, Economics, Chemistry, Biology, and even Languages – this versatile tool has you covered. Beyond that, it goes the extra mile by generating an essay structure for you, which you're free to customize according to your preferences. Interestingly, it also saves your generated essays for your future reference.
PerfectEssayWriter.ai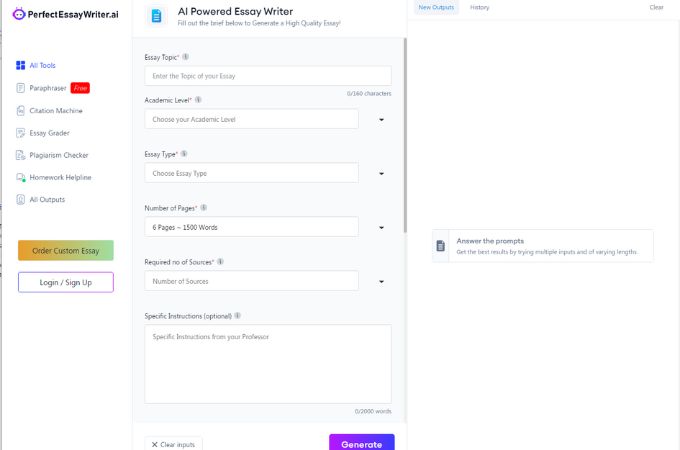 Another noteworthy AI research paper generator available is PerfectEssayWriter.ai. This tool is your go-to for AI-generated essays tailored for various academic tiers – high school, college, master's, and doctoral levels. This writing assistant is capable of producing research papers ranging from 250 to 1500 words, spanning from one-page to six-page compositions. What's truly reassuring is its capacity to incorporate specific instructions from your teachers, ensuring alignment with your professor's expectations. This feature instills confidence in the essay you'll ultimately submit.
College Essay AI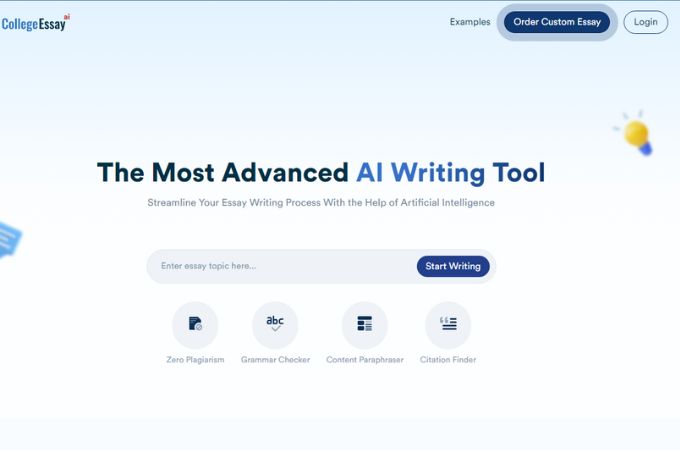 We're all aware of the heavy workload that college students face, particularly when it comes to paperwork. That's why we introduce College Essay AI – a reliable partner for tackling those daunting school assignments. This online essay writer offers a commitment to producing articles with no plagiarism, impeccable grammar, and accurately cited information. What's more, if the initial output doesn't meet your satisfaction, you have the flexibility to request revisions at any time. However, it is important to note that the free version is limited to 350 words, but for those seeking more, the premium version is available, offering access to advanced features.
AI Essay Writer by ToolBaza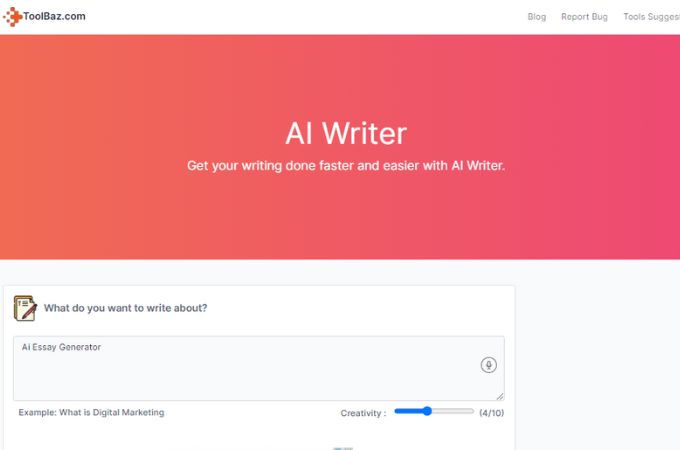 Advancing on our list is the AI paper writer platform by AI Essay Writer by ToolBaz, a prominent competitor among our selections. This application carries the capacity to bring about significant change for content creators by promptly producing essays as needed. Its versatility extends to catering essays for students, professors, and bloggers alike, significantly boosting productivity and content quality. Impressively, this app can make lots of essays, even with a few pop-up ads. But don't be discouraged – this AI writer is really good at creating flawless essays on many different topics when you ask.
Tips:
While AI research paper generator tools offer undeniable academic and professional assistance, some writers prefer not to depend on these AI-generated applications. If you belong to this group, you can still streamline your essay writing process by utilizing a tool like GitMind. This mind mapping tool can swiftly help you outline your essay's structure, saving you valuable time.
Conclusion
In short, the AI essay generator apps we explored are great for overcoming writer's block. They spark ideas for your essays too. But remember, while these apps help create content, it's still important to review and improve what they generate. Give these tools a shot and feel free to tell us what you think!