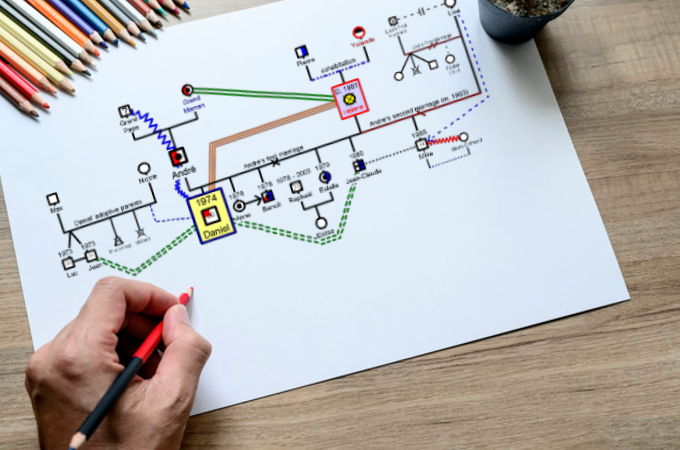 A genogram is a visual representation of a person's lineage and ancestry. In a general sense, you can call it a family tree. However, a genogram contains information that you don't normally see in a regular family tree. Medical history and hereditary lineage are just some of the information that you will normally see in a genogram. As confusing as understanding it, genograms are also confusing to make. However, that is not the case if you're going to use a genogram maker. With that being said, here are the best genogram makers that you can use.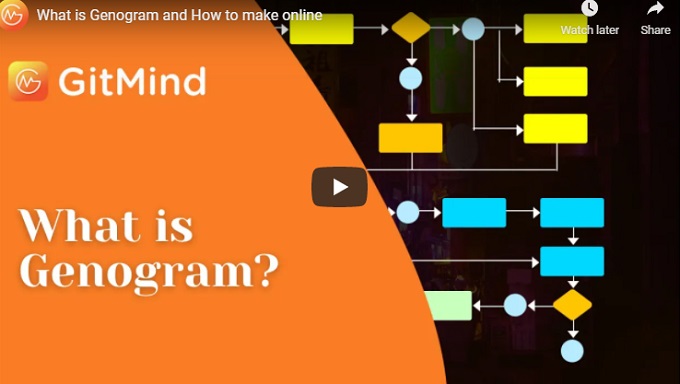 Best 10 Online Genogram Makers
GitMind (Desktop, Web, iOS, Android)
If we are talking about hassle-free ways to make a genogram, then GitMind should be on your list. This is a free map and chart maker that is accessible via a web browser. Creating a genogram with GitMind is a breeze since all the necessary options are readily available. You can also use its AI for mind maps and let it generate a guide if you don't know how to start it. All that is needed is your creativity and family information. The editor is in fact one of the easiest to navigate since it doesn't have all the confusing options that conventional genogram makers have. In general, this free genogram maker will surely benefit you in many ways.
Launch the tool from your browser and then click the "Get Started" button. Or, hit the "Download Now" button to download the software.
Download
You will then reach the templates panel where you can choose any ready-made template. Or click the "New Flowchart" button to reach the editing panel.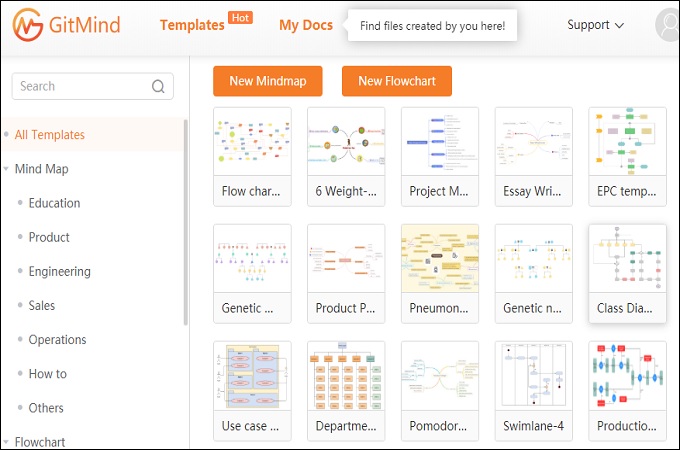 Start working on your genogram by selecting options from the left-hand panel and add them to the editor. You can alter the appearance of your genogram depending on your preference. Use the different diagram options that you can access from the right-hand side of the screen.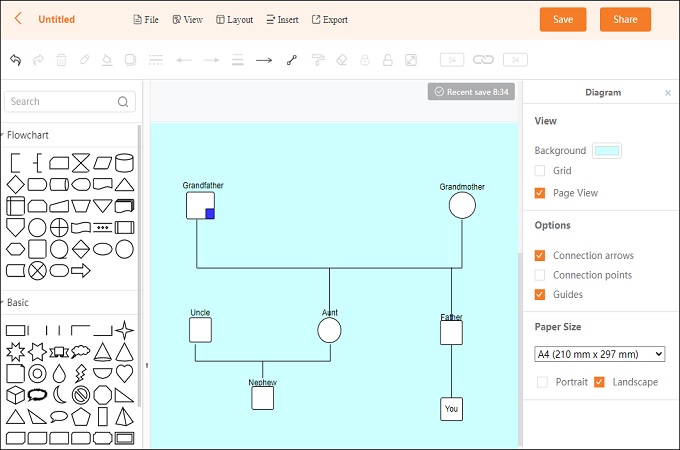 To save the genogram on your cloud, click the "Save" button. You can also save the Genogram on your PC by clicking the "Export" button.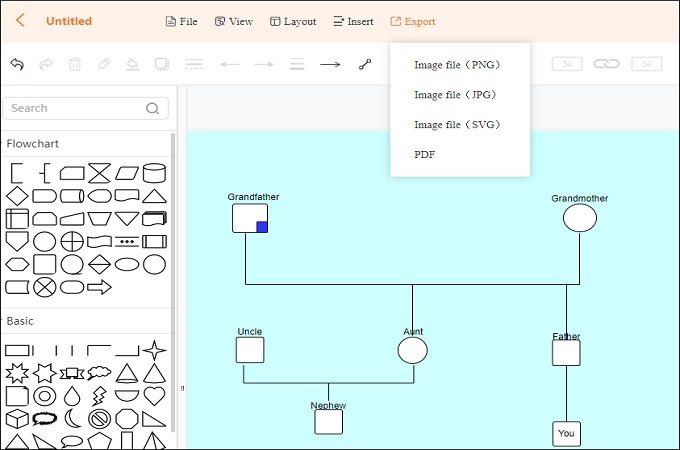 Edraw Max (Windows, Mac, Linux and Web)
Edraw Max is a cross-platform genogram creator which is also available online. Its online version provides free templates and also lets you make a genogram from scratch. It utilizes the drag and drop feature which is one of the reasons why it is included in this list. Aside from the genogram, you can use Edraw Max to make different charts for different purposes.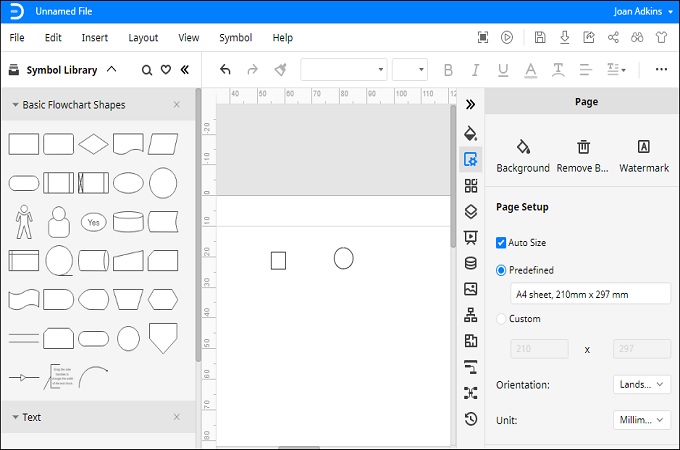 Lets you directly save your Genogram on Dropbox.
You can share your genograms online and with your friends as well.
Has a decent amount of themes and templates under the online version.
Visual Paradigm Online (Web)
Another simple tool that you can use is Visual Paradigm Online. It provides adequate genogram editing options that fit an online tool. The shapes that you need to make a genogram are already provided by the tool saving you a lot of time. This online genogram maker also supports editing via Google Drive as you can easily integrate it with the said cloud storage service.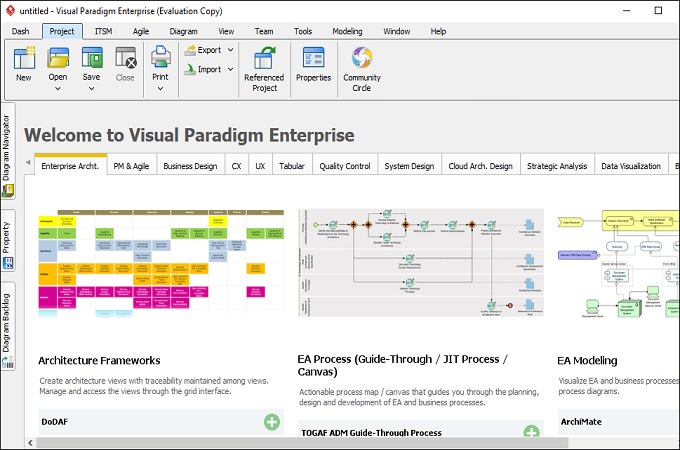 You can set the tool to your native language for faster usage.
Has different sets of shapes and figures that you can add to the genogram.
Supports SQL and CSV
GenoPro (Windows, Mac and Linux)
GenoPro is a desktop tool that specializes in making genograms. It provides tons of features that help make detailed genogram charts. GenoPro can be used to create a family tree chart and genogram at the same time. The tool interface is slightly similar to that of the Excel Spreadsheet. The buttons are identified according to icons which are another similar feature with Excel. On the other hand, this genogram maker labels every part of the genogram clearly which is very efficient.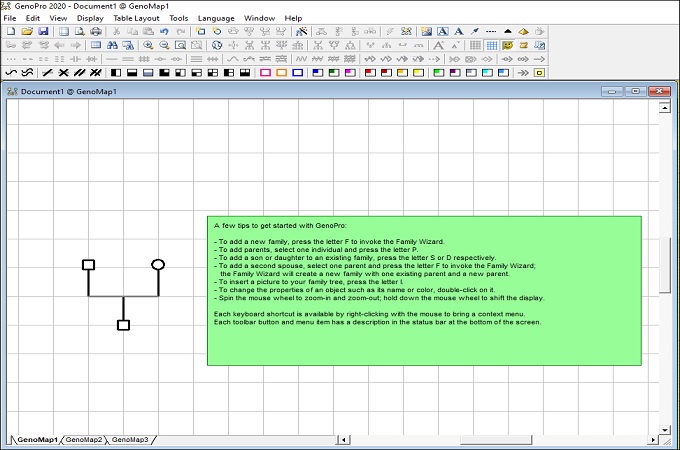 Highly-intuitive interface
Genogram ready options
Easy drag and drop editing
Creately (Web)
Creately is one of the few online tools that support genogram creation. It has various features like diagram, flowchart, and mindmap creation. Aside from that, it allows users to work simultaneously on a single chart, including a genogram. It also offers tons of templates, which is why you can be sure that there is something that you can use. In general, this free genogram maker is one of those that you can use at any given time.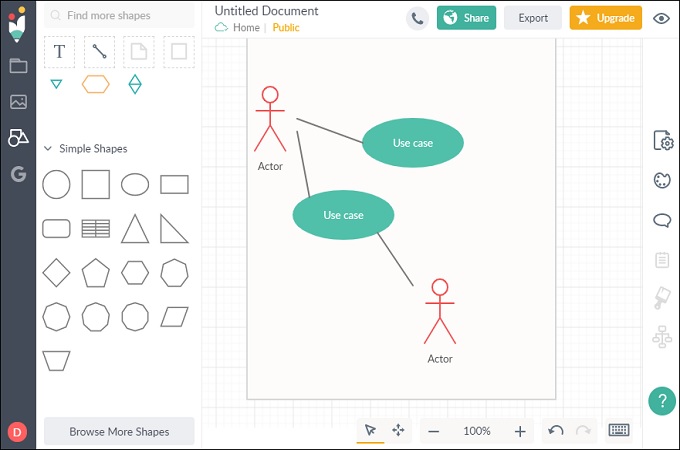 Supports online collaboration between users
Basic and advanced shapes for a detailed genogram.
MyDraw (Windows and Mac)
MyDraw is a diagram maker for desktop. It provides a special section for a genogram which is its main selling point. Unlike most tools, the elements for a genogram can be found within a single section. All you need to do is drag and drop the selected element to the editing panel. In general, if you want a stress-free genogram maker then MyDraw is one of the top choices.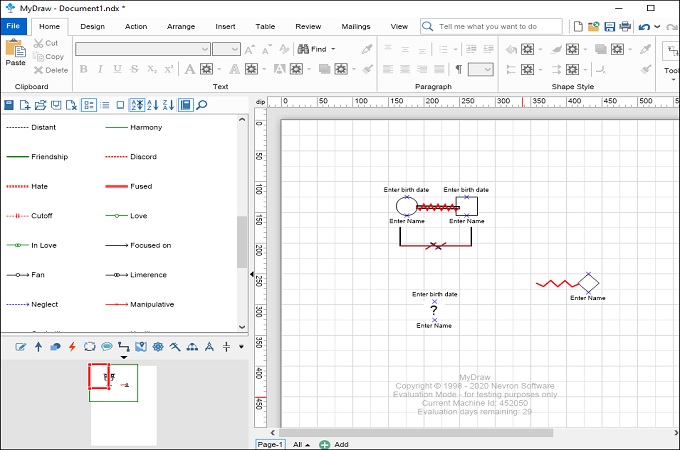 Compatible with Visio files
Provides automatic layouts and rich text formatting tools
FamilyEcho (Web)
Family Echo is another online application where you can create diagrams, charts, and genograms. It's a straightforward tool that automatically adds nodes while you provide the necessary information. All you need to do is fill in the personal information needed, and let this free genogram maker do the rest. You can then print the genogram directly on your PC.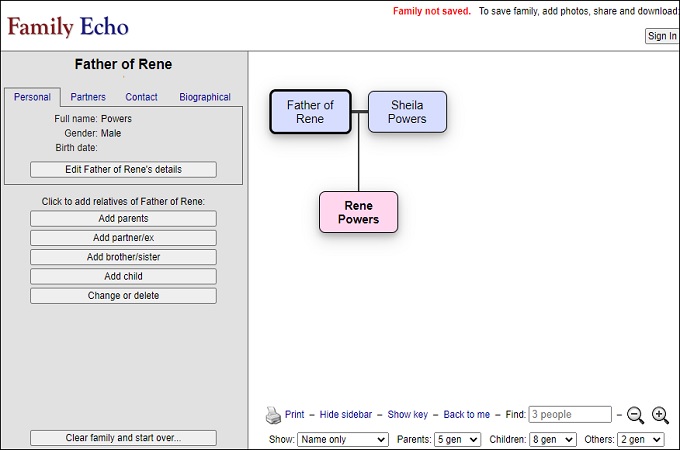 Simple and automated genogram creation
One-click genogram printing
ProgenyGenetics (Web)
If you are looking for a tool that focuses on the medical field, then you should check ProgenyGenetics. You can use this tool to map out your entire lineage with their medical history included. This factor makes it a good example of tools that you can go to whenever you need to make genograms. You start by launching the tool, and from the editing panel, you'll need to arrange the pedigree according to your map. This genogram creator provides quick and complete pedigree making tools as well.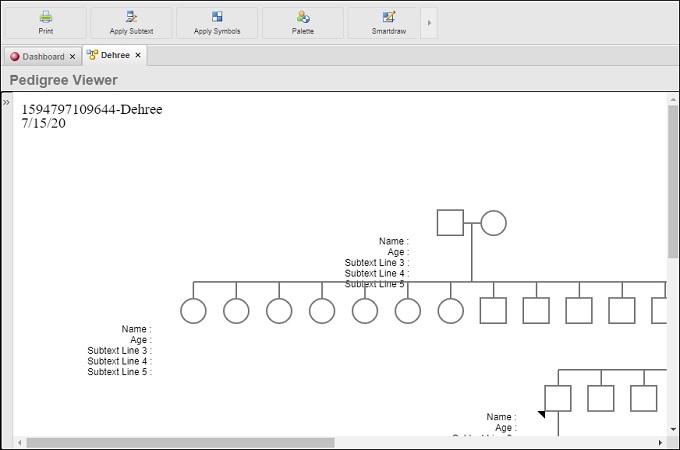 Directly print out your genogram
Save the genogram on your PC as an image file
WinGeno (Windows, Mac and Linux)
WinGeno provides a sleek and minimalist interface, which is a good thing for genogram tools. The minimalist's interface provides a sense of sureness and doesn't cause confusion among its users. Each button is also identified with icons and can be added with just a simple click. Editing information is also simple here as it has a dedicated window where you can edit text. This genogram maker is indeed one of the best and you need to try.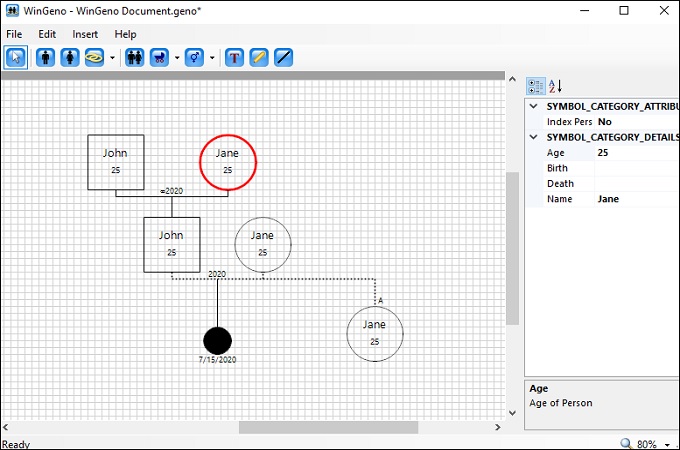 Easily build your genogram using the dedicated buttons for each element of the chart.
You can export the genogram in various file formats.
Canva (Web)
Lastly, we have Canva. Most people are familiar with this tool as a template maker. However, you can also use it to make detailed genograms if you want to. The elements found in this tool are also applicable for genograms. The only downside is that you will have to do everything from scratch. On the other hand, it also gives you the freedom to design your genogram in many ways. Nevertheless, Canva is a great online genogram maker because you can use it for free.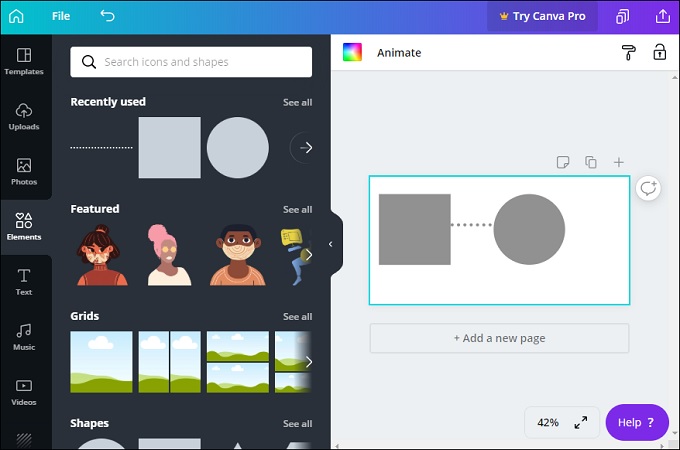 Let you add various media files to your charts
Control the size of your genogram by adjusting the canvass size
Conclusion
Genograms are not commonly used because they have limited applications. However, it plays a big part in situations where it's needed, especially in determining hereditary disease chances. That is why if you need to, you can use an online genogram maker like the ones above. GitMind for example provides ease of use, and convenience at the same time.