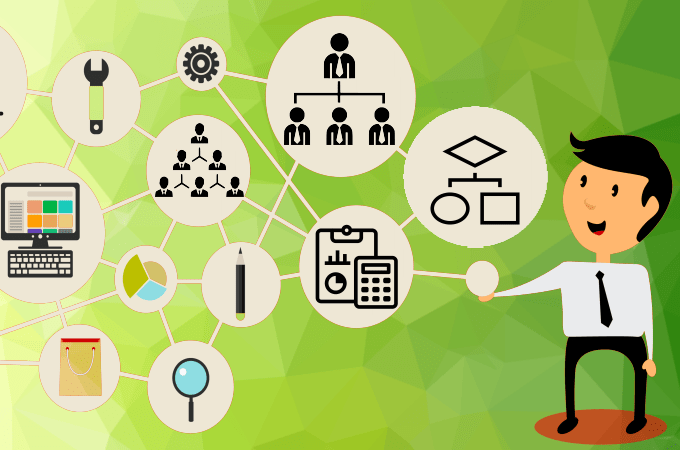 Flow charts are the graphical representation of any ideas, thoughts, and information on a sequencing step and process. They can be used in various situations such as for businesses, class demonstrations, meetings, and many more to effectively display how a process works or how it should work. Moreover, flowcharts are also used to gather information about a process when it comes to decision making and evaluation. Good thing is that there are tools and applications that offer premade flowchart templates for faster and easier diagram making.
DOWNLOAD
Free Flowchart Template Category
Analysis Charts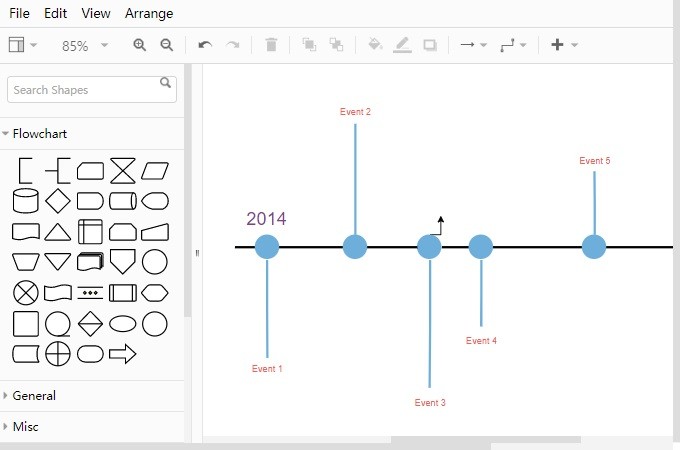 Edit this example
Timelines are visual representations of events or a list of events in a sequential manner. This template allows you to show a long parallel bar where you can indicate dates and events, i.e.the passage of time. It is frequently used for managing schedules for a calendar-like sorting of events in a specific period of time.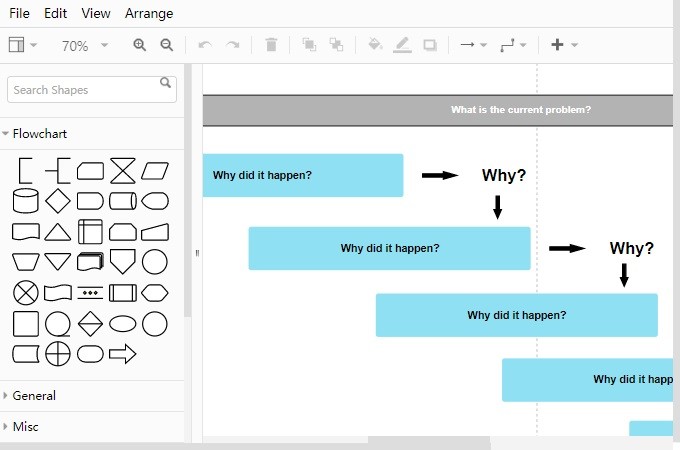 Edit this example
Step analysis flow charts analyze each distinct point in a procedure. This graphical representation makes instructions or procedures easier to imagine. This free flowchart template will help you show intervals of storyline or events is a step by step process.
Swimlane Charts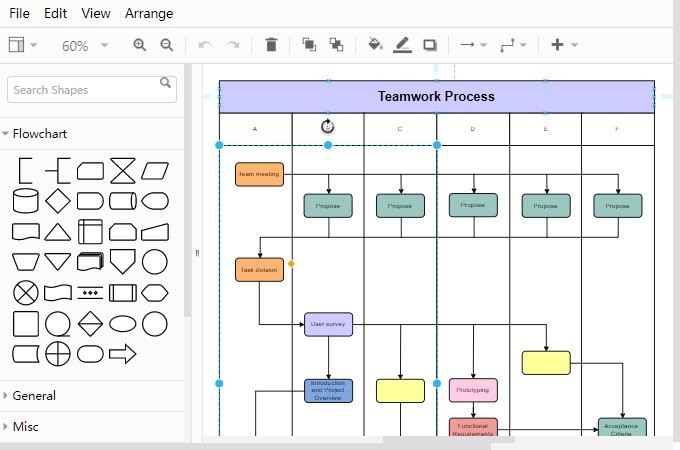 Edit this example
Swimlane diagrams are often used in flowchart making where it displays the division of jobs and responsibilities in a business process. This template can help you process job distribution in a company of more than one department. Moreover, this flowchart allows you to clarify not just the steps and distribution of responsibilities, but also delays and mistakes.
Unified Modeling Language (UML) Charts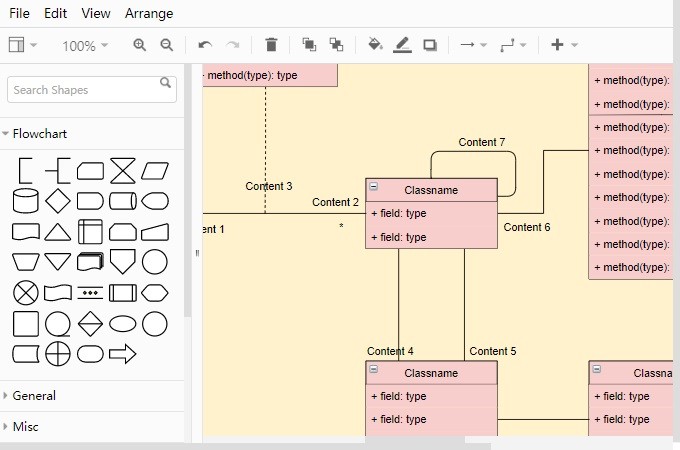 Edit this example
A Class diagram is the most popular UML diagram and helps you make a diagram that represents the main elements, the interaction of a certain application, and all the classes that need to be programmed. It also shows the graphical representation of the static view of a system in an application.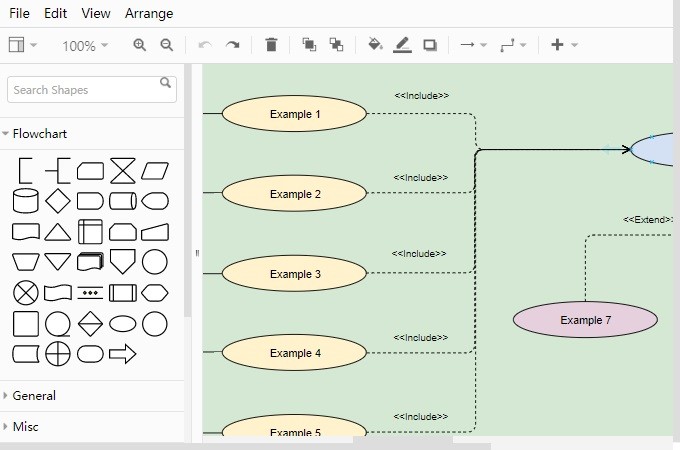 Edit this example
Another UML chart is the case diagram. This chart represents the interaction, connection, relationship, and involvement of a person in a system. This template will help you provide a simplified visual representation of what the system is doing. Thus, it emphasizes the relationship of the case, the user, and the system; not the order of the steps performed.
Organizational Charts
Company Organizational Flow chart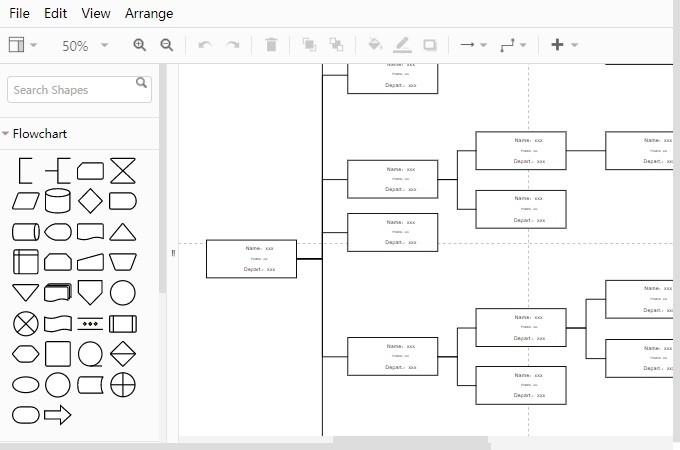 Edit this example
A Company organizational chart displays the relationship hierarchy of a company's employees. It has a lot of usages and this will help you with planning, personal directory, management, and other purposes in your company. Moreover, making organizational chart present types of information in the business structures and allows employees to better understand their work in an overall organizational scheme.
Project Management Flow chart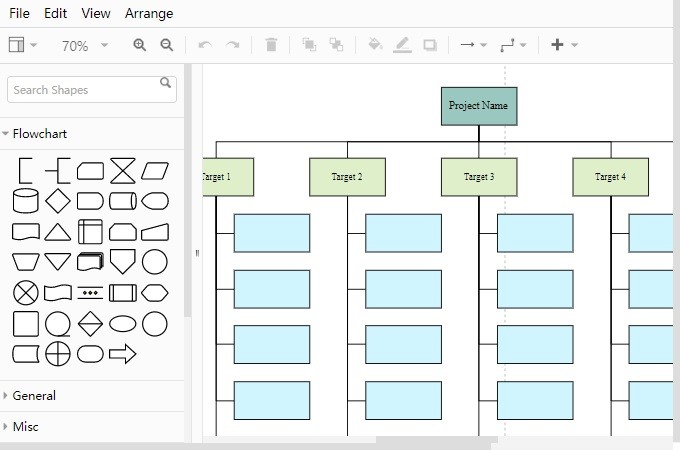 Edit this example
A project management chart shows the progression of objectives within the company or organization. This template will help you represent and simplify processes for planning and controlling projects. Moreover, this is also worth considering when it comes to communicating complex information and on how to disseminate them visually.
General flowcharts
Production Management chart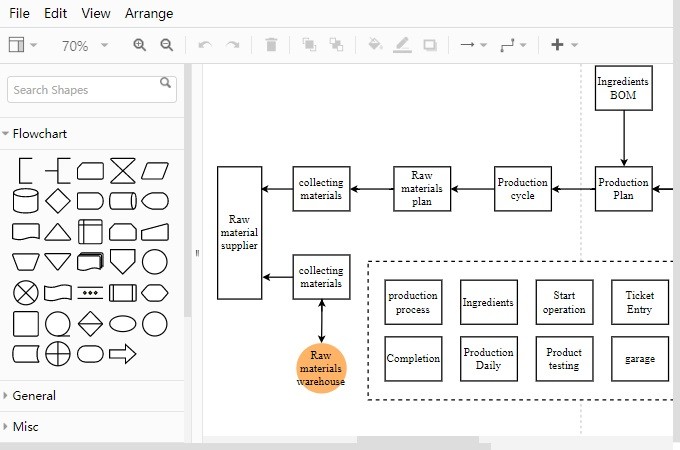 Edit this example
These charts are used to represent the production process visually to manage the production in a less complicated way. With this template, you can organize, direct, oversee, and ensure that the manufacturing products are smoothly arranged and supervised. Furthermore, it helps production managers to coordinate the production process and make a better plan on the parts that lead to less efficiency.
Financial Audit Process Chart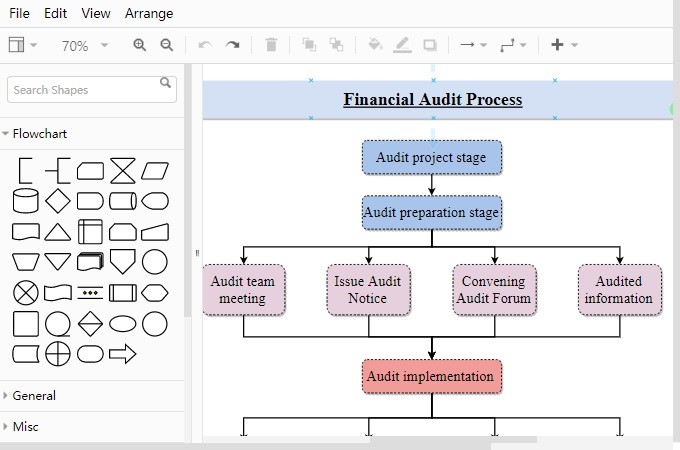 Edit this example
Audit flowcharts are the visual picture of business processes when it comes to financial transactions and inventory management. This template will help you prepare documents of the audit process quickly and easily. With this professional auditing template, you may create a flowchart at any stage of the auditing process to help you evaluate the accounting system.
Conclusion
Provided here are the free process flow chart templates that you may use in making diagrams for various situations. With the help of these templates, making flowcharts will be easier and quicker for you. All these templates are absolutely free.