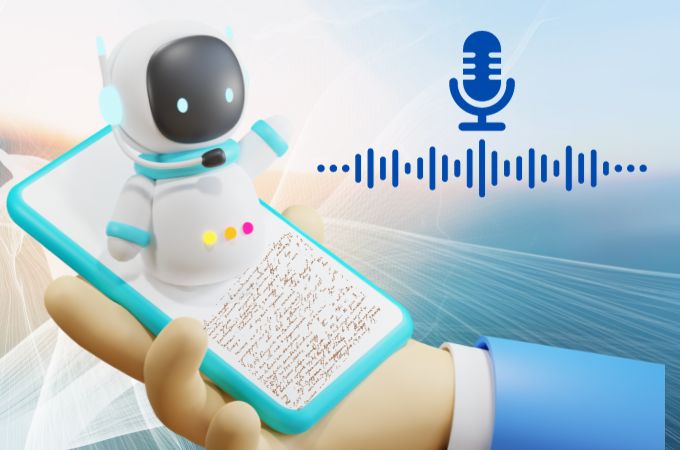 In today's digital world, creating lifelike voiceovers is more important than ever. These user-friendly tools are making audio content creation faster and more accessible compared to traditional manual voiceovers. This article introduces the top AI voice generator tools, explaining how they're transforming voice synthesis– in terms of efficiency, speed, and accessibility. Take a look at the options below and find the one that works best for you.
8 Best AI Voice Generator Sites for Your Project
Murf.AI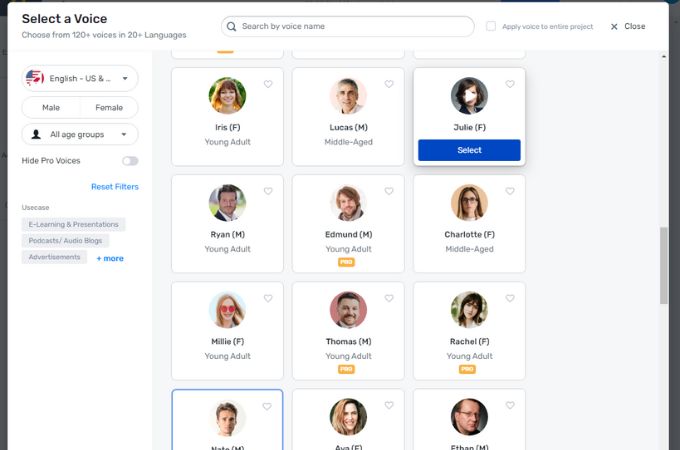 One of the fantastic voice AI generators is Murf.AI. This site offers voices in various languages – English, Russian, Korean, German, and more. This tool also adapts the accent of a certain country to make it sound authentic and human-like. And whether you are doing an online presentation, podcast, audio blog, or advertisement, this voice generator is the perfect app for you. Additionally, you can also customize how the generated voice somehow fits your speaking style, making this a flexible and versatile voice generator.
Typecast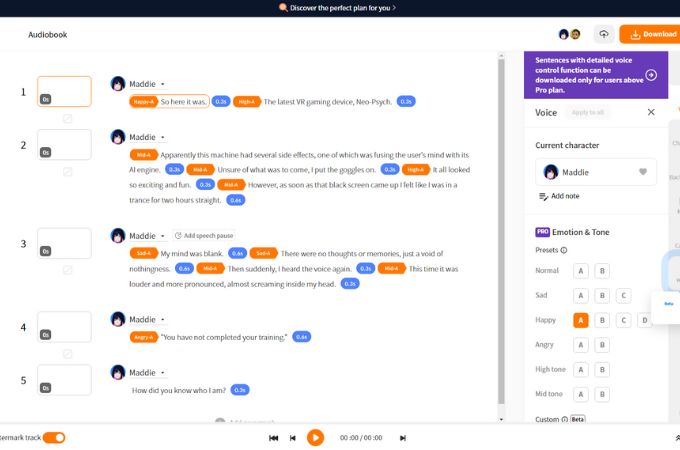 Next on our list is Typecast – the best and free AI voice generator available. This tool enables you to create audio based on your provided script and allows you to incorporate pauses, emotions, adjust tempo, speech pace, pitch, voice age, and intonation between sentences, resulting in a realistic sound. Typecast supports various languages, including English, Korean, Spanish, and MORE. Furthermore, users can choose from a variety of themes for their audio, such as Gaming, Documentary, Lecturer, Promotion, or Entertainment. Remarkably, you can also create your virtual human on this platform. Plus, it offers easy downloading of the audio and video you create.
Speechify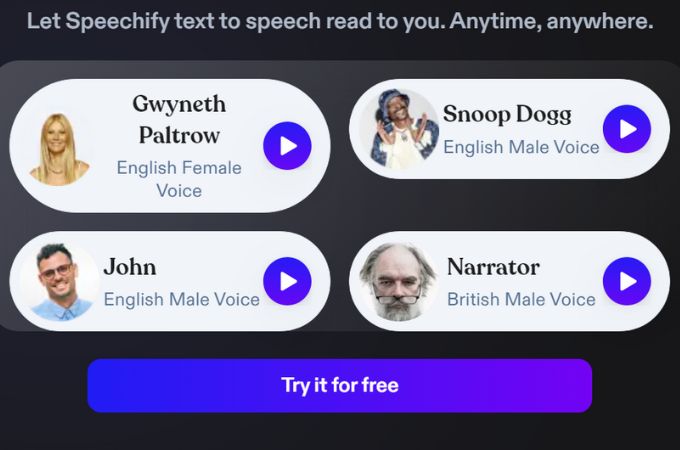 Speechify functions as a typical text-to-speech app. This voice AI generator offers over 50+ premium voices that sound like real human voices. You can use this tool to create audio content or convert text into audiobooks by simply pasting your essay or desired content. Additionally, it automatically detects and skips headers, footers, and citations, saving you from trimming your audio to omit unwanted parts. Meanwhile, to access its 3-day free trial, you need to create an account and save your payment information (premium plans start at $12 per year). Nevertheless, the app ensures ad-free text-to-audio processing.
Generative Voice AI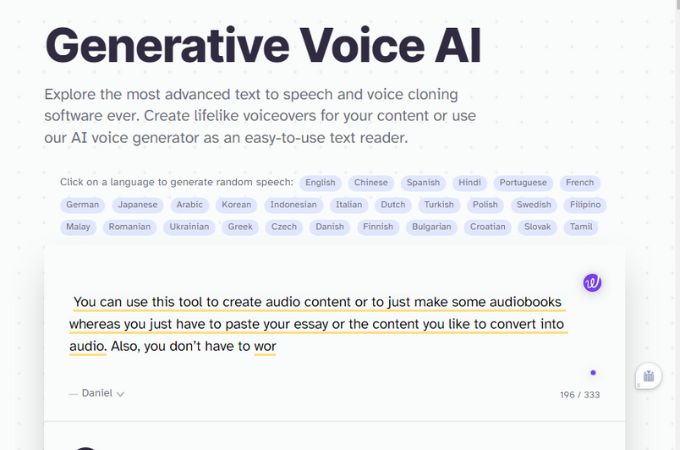 For a straightforward text-to-audio conversion app, Generative Voice AI generator should be your top choice. This text converter possesses advanced text-to-speech and voice cloning capabilities, creating voice overs that sound remarkably natural. It supports multiple languages from around the world, including American, European, and Asian accents. Also, you have the flexibility to choose from a variety of voices, whether male or female, to suit your needs. This voice generator offers free output for texts up to 333 characters. You can also preview the audio before downloading and immediately render it afterwards.
Voice Generator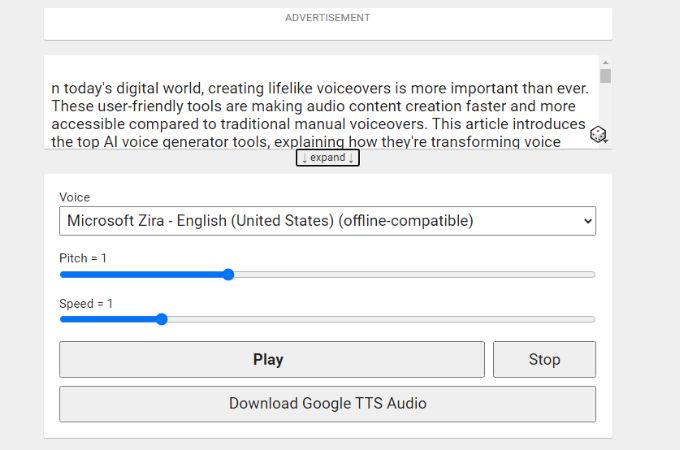 Using its built-in voice synthesis, Voice Generator allows you to transform your video script into audio for seamless dubbing of your video content. This online audio converter can generate audio instantly. You have the flexibility to adjust both the pitch and speed of your audio. Additionally, for audio refinement, you can preview it before downloading your output. What's even more remarkable about this voice generator is its ability to handle lengthy articles or scripts that you want to convert into audio.
FakeYou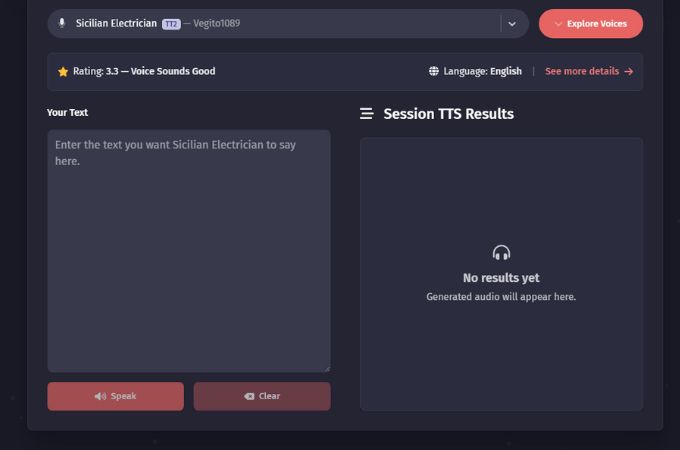 From its name, FakeYou provides you with artificially generated audio that possesses human-like qualities. With 3544 voices in its system, this AI voice generator allows you to create text-to-speech perfect to your audio needs. Regardless of your purpose, the tool offers a wide array of categories to add texture or personality into your voices. And whether you want to sound like an Anime characters, cartoons, robotics, or require audio for commercial and marketing projects, FakeYou has you covered. Its free version is limited to 12 seconds of audio, otherwise, you can always upgrade to their premium account. Here. you'll get to to access the premium voices, unlimited audio length, and faster rendering of output.
SpeechGen.IO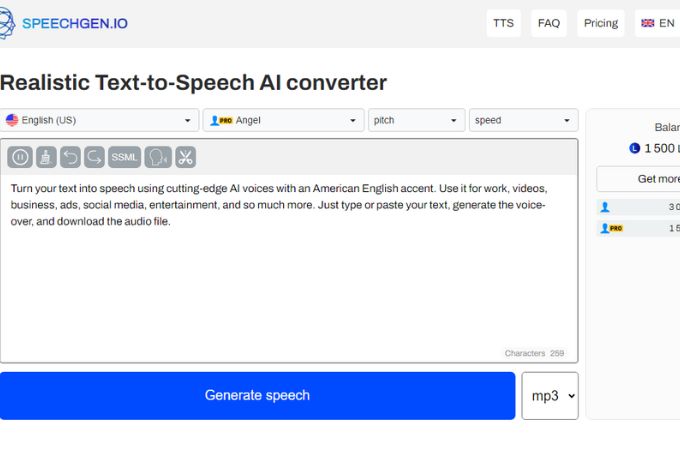 SpeechGen.IO is another voice AI generator that assists with your audio projects. This text-to-speech app allows you to convert your text into spoken voices. It's straightforward and beginner friendly. In fact, you only have to input the text, and let the app generates the audio accordingly. The site also provides flexibility by letting you choose from various audio formats, including MP3, WAV, or OGG, ensuring compatibility with your device or the platforms where you intend to use it. And upon logging in, this text converter provides an initial limit of 1500 characters with standard voices, but for more flexibility, you can always opt for their premium account.
Voicebooking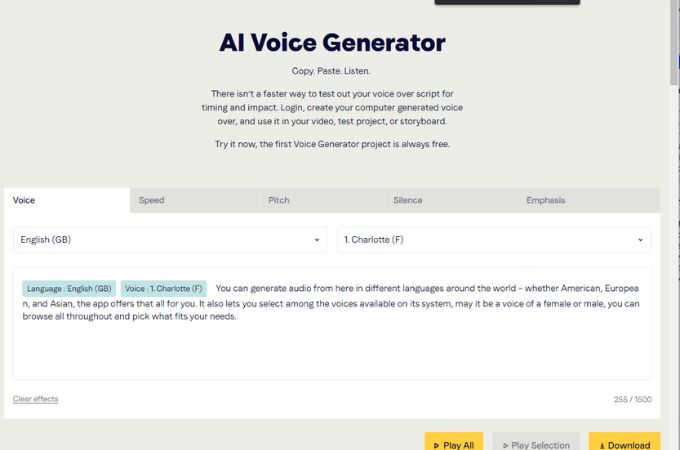 Last but not least is Voicebooking. This voice AI generator can process up to 1000 characters in one go. You can also customize and edit voice speed, pitch, silence, and add emphasis to convey emotions in your audio. Regardless of your location in the world, the app offers a variety of languages to suit your country, client needs, and target audiences. However, unlike some other apps, its free trial limits users to 5 types of voices, 1 project, and 3 downloads of the output. But if you're satisfied with the results from the free version, you can consider upgrading to its premium subscription, which starts at $3.99 per month.
Conclusion
As technology keeps advancing, making tasks more convenient and efficient, AI voice generator websites have become increasingly popular. These developments have removed the need for time-consuming manual voiceovers, which require a high level of precision to be effective. Nowadays, all you have to do is find the right voice generator that meets your requirements and produces high-quality audio. And trying any of the AI voice generators on our list will surely make you more productive on your tasks.