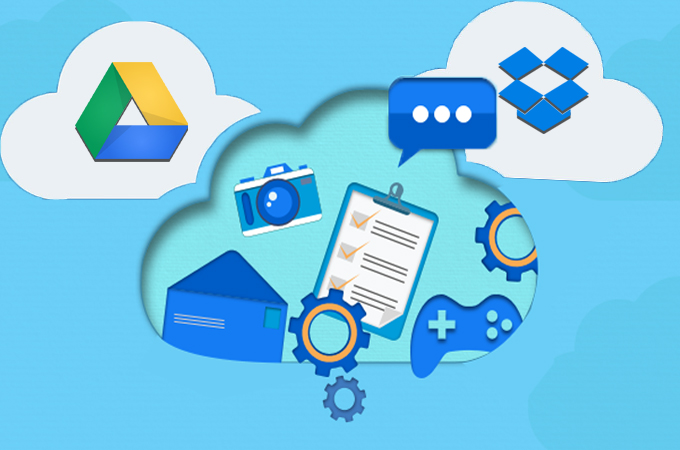 Even now, people store data on hard drives, pen drives, and other hardware storage devices. But one drawback of this method is data and files are difficult to retrieve once the storage device gets corrupted. In some cases, content cannot be restored at all. As such, cloud storage is becoming more popular these days. Cloud storage provides a way to access files from one device to another. Also, you can use it to download and share different types of files. This is far more convenient than carrying a storage device wherever you go. The following programs are some of the best free cloud storage solutions for both businesses and individuals.
Top 10 Free Cloud Storage Services
Dropbox
Large storage space with smart sync features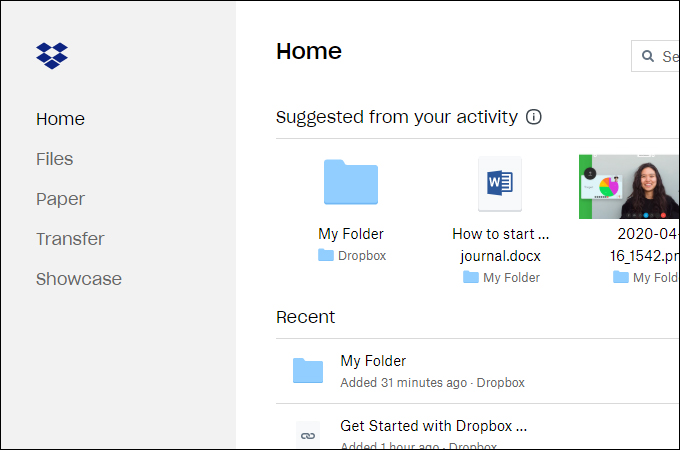 Key Features:
Offers speed and ease of use
Gives extra storage by referring users
First on the list is Dropbox. This is a simple cloud storage provider that features a simple user interface that is easily navigable. With Dropbox, you can store contents like photos, videos, and PowerPoint presentations. And what's so good about this tool is that it allows you to easily sync your data. This is great if you want to access your files on Dropbox from any device.
MiMedia
Organize and personalize file collections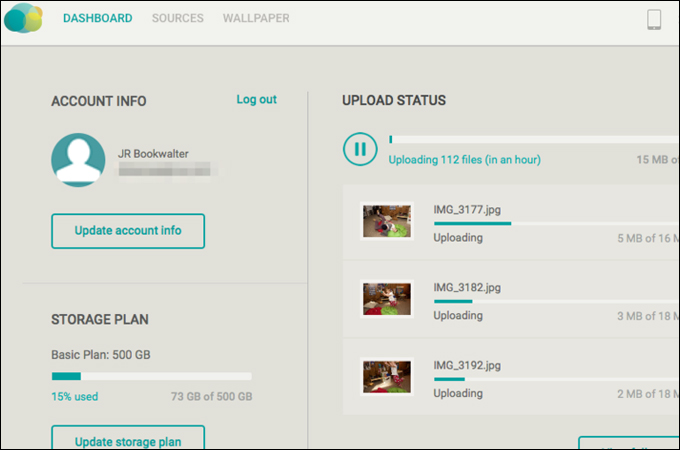 Key Features:
Create and share visual stories privately
Import from Flickr, Facebook, Dropbox and Google
MiMedia is a free online storage service that enables you to manage and personalize your storage. This helps you easily find the media or documents you are looking for with a customized collection. Aside from that, you can use it to back up your data by downloading its desktop version which supports Mac and Windows PC. It also allows you to import media files from Dropbox, Flickr, and other cloud storage providers.
Amazon Drive
Best Cloud Storage Solution for Photos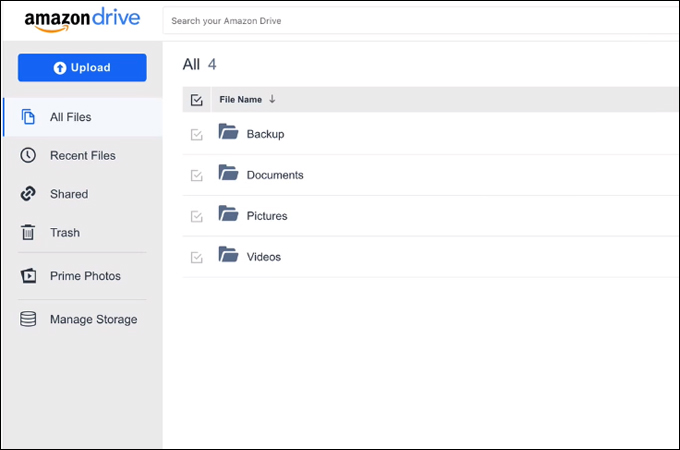 Key Features:
Increase storage for Amazon Prime members
Store an unlimited number of photos
Family vault for keeping family albums
Next on the list is Amazon Drive. This cloud storage provider offers unlimited storage for your photos. Besides, it lets users create a shared "family vault" folder where you can save and store all your family photos in one place. And if you subscribe to Amazon Prime, you will get 5GB of storage along with the unlimited photo storage.
pCloud
Great storage provider for media content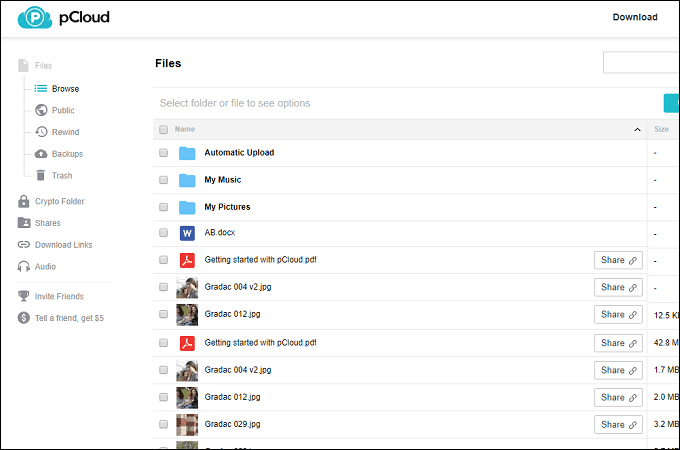 Key Features:
Built-in HD multimedia player
Increase storage space with referrals
Cloud storage solution for large media files. pCloud is one of the best cloud storage services that offer a large storage capacity. Whether you are using a mobile device or a personal computer, this program will serve you well. In addition, you can log in via the website and access your files. As a matter of fact, the company itself is registered in Switzerland. As we know, Switzerland has strong laws when it comes to privacy which means that the tool is reliable and safe.
MediaFire
Cloud storage provider with impressive sharing options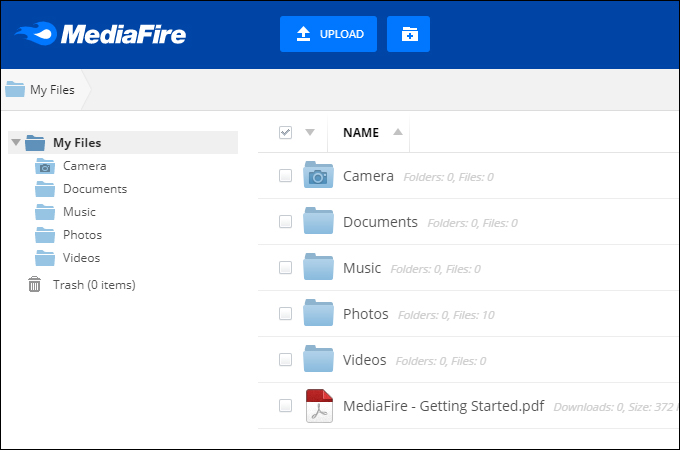 Key Features:
Share files via email, link or social media
Support for mobile and computer devices
Upload multiple files at the same time
Another cloud-based file storage that will cost you nothing is MediaFire. It gives you 10GB of space for free which you can increase to 1TB for only $5 a month. This free online storage also offers paid plans where you can share files publicly, protect files with passwords, and use its iOS and Android mobile apps.
Degoo
Great cloud storage for backing up files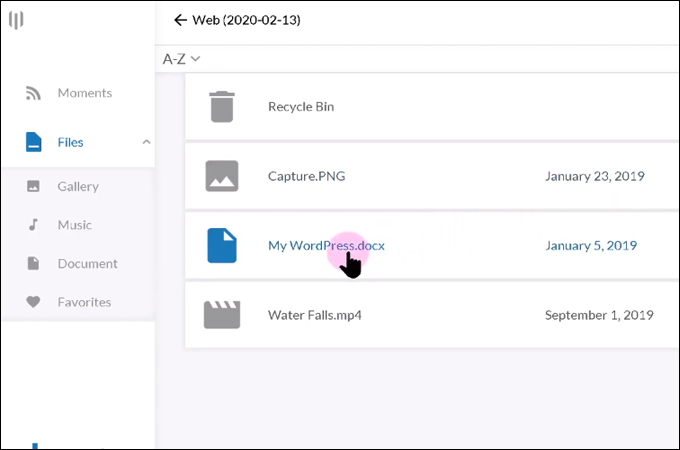 Key Features:
Available for Android and iOS devices
Turbo mode for speeding up backup
Degoo is a cloud storage solution that comes with two-factor authentication via Google sign-in. Using this feature, you will be notified if someone else is trying to access your files, ensuring the security of your files. Apart from that, free users will get100GB of free storage space. Moreover, you may use it to upload photos and other media content from your mobile devices.
Google Drive
Keep files on a free and generous cloud storage service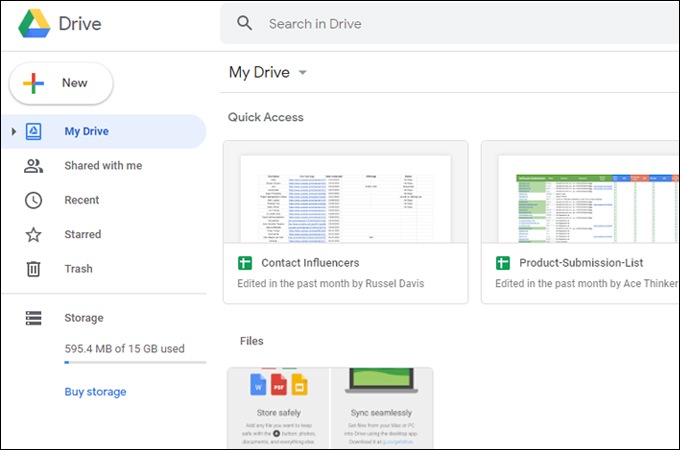 Key Features:
Get a standard 15GB storage for free
Upload data with a large file size
Free document collaboration
Google Drive is by far the best free cloud storage tools available online. It features seamless integration with Google Docs which allows you to collaborate with your colleagues. On top of that, every user gets a whopping 15GB storage for free. This can handle video, documents, spreadsheets, pictures, and other types of files. Storage capacity-wise, Google Drive is highly recommended. Yet if privacy is a major concern, it may be a deal-breaker. So be mindful of uploading sensitive files for confidentiality.
Mega
Best file storage provider online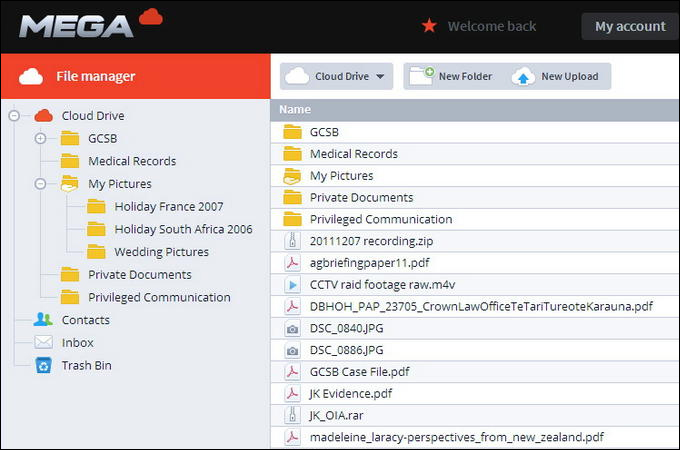 Key Features:
Unlock extra storage with referrals
File versioning and recovery integration
This is another great free online storage providing zero-knowledge encryption capability. Just like Google Drive, MEGA offers a large 15GB of free storage, and up to 50GB with a strong emphasis on privacy. What's more, you can gain 10GB of additional storage for every signup when you refer new users. One of the highlights of MEGA is its end-to-end encryption which is responsible for providing secure charts. Also, it has features for data recovery that costs nothing.
IDrive
Top cloud storage with good security features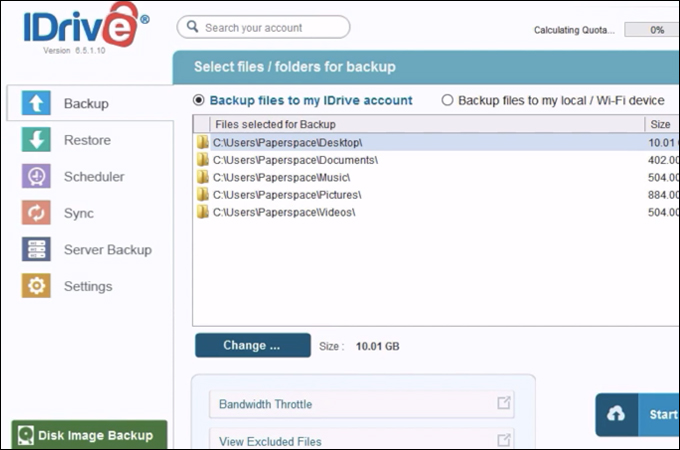 Key Features:
Can sync files on network drives
Up to 30 versions of files are retained
Comes with face recognition for organizing photos
IDrive is more of a hybrid cloud storage option. It is available on both iOS and Android mobile apps. Moreover, it supports PC running Windows, Mac, and Linux systems. You can use it to manage your online backups offering various methods for backing up files. It also allows you to sync files for instantly uploading data to the cloud just like Dropbox. With its support to a wide range of devices and backup methods, this best cloud storage is definitely worth considering.
Sync.com
Implements strong privacy laws to its generous storage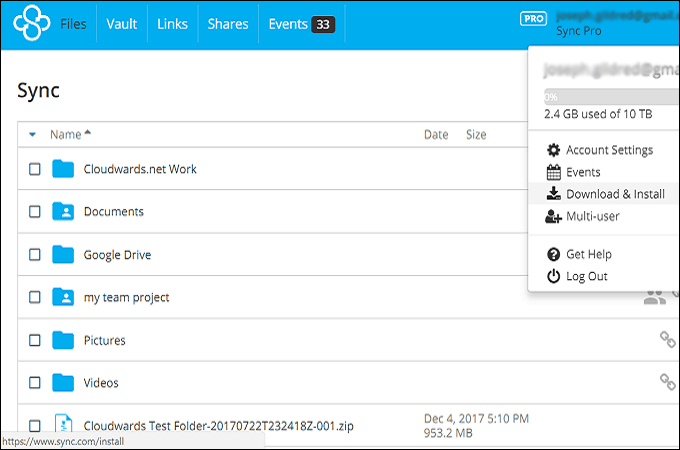 Key Features:
Two-factor authentication
Best for Android mobile users
The last solution on our list is Sync.com. Similar to some tools above, Sync.com offers a generous cloud storage space of 5GB on its free plan. In addition to that, it does not have a file size limit for uploading or sharing files. Also, if security is a priority in your business, it implements strong privacy laws, is based in Canada.
Conclusion
With the help of these free cloud storage services, you don't have to rely on storing files on a hard drive prone to being corrupted. Depending on your needs, you can pick from the mentioned solutions above, regardless of whether it's for individual or business purposes.