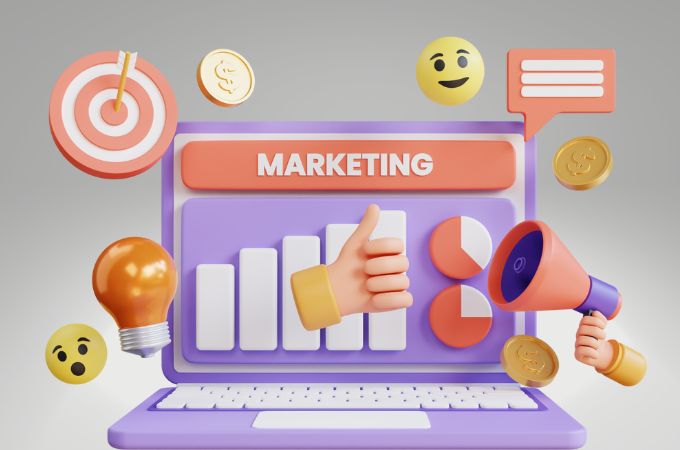 Ready to take your business to new heights? Market penetration is the way to do it! It's a simple yet powerful strategy that helps you sell more of your existing products or services to more people. No need to start from scratch or go to new places. In this guide, we'll help you make your business bigger, attract more customers, and leave your competition behind. Continue reading for more!
What is Market Penetration?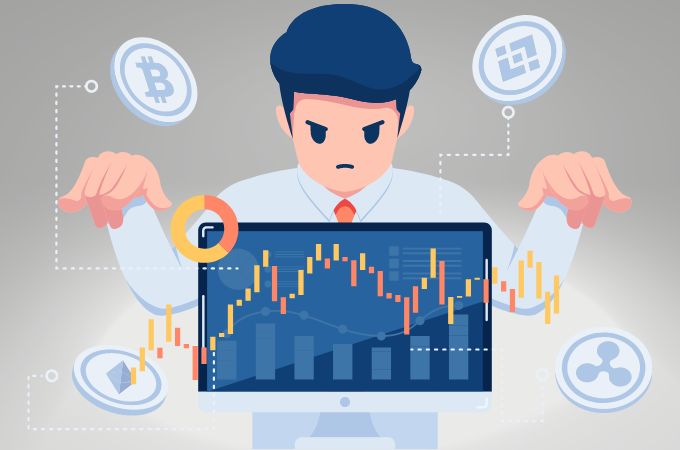 As we mentioned above, market penetration will help you gain more customers and clients. To define it simply, market penetration is the number of services or products that you can cater to the customers or clients against the total available market. On the other hand, market penetration strategy is a smart plan that businesses use to sell more of their existing products or services to more people. It's like spreading the word about something you already have and convincing more customers to buy it. It involves making current offerings more popular and attracting new customers, helping businesses grow. This strategy helps businesses grow without having to start all over again.
Here's an example of a market penetration strategy:
Apple has introduced dual SIM trays in specific countries (China mainland, Hong Kong, and Macao), catering to customers who prefer having two nano-SIM cards in their phones, a feature that was previously more common in other phone brands. This move by Apple demonstrates how they are entering the market of dual SIM card phones, an area where other brands held an advantage in the past.
Moving on, this strategy typically requires a mix of marketing, sales, and product enhancement activities. Companies employ diverse tactics. It may be as competitive penetration pricing strategy, advertising campaigns, broadening distribution networks, and enhancing product features or quality. These measures aim to attract a larger customer base and secure a competitive edge in the market just like the given sample. Therefore, if you are a small business owner but you are starting to lose market share, this strategy is a big help for you. And if you don't know what actions to take and consider, we are here to help.
Best Market Penetration Strategies for Your Business
There are several market penetration strategies that you can try to expand your businesses. These tactics will also help you which one works the best. Here they are:
Price Discounts and Promotions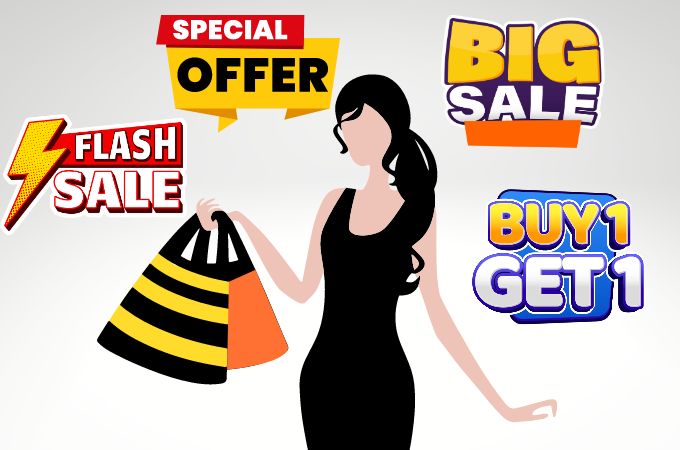 Who wouldn't want a discount? Sure, everyone loves to save their money while buying the things they want. Hence, offering temporary price reductions, special offers, or promotional deals attract more customers which encourage them to make a purchase.
Advertising and Marketing Campaigns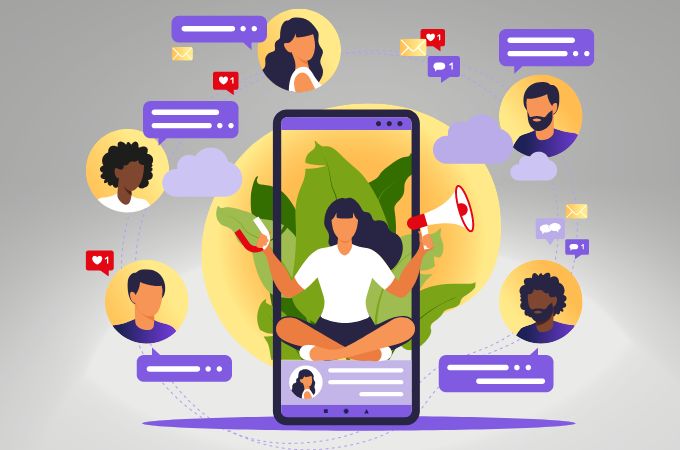 One of the most popular marketing methods a business owner can do is to run advertising and marketing campaigns which increase brand awareness and attract new customers to the product or service. You can utilize the social media platforms and build a loyal following or you can also collaborate with popular influencers to promote the product or service.
Product Bundling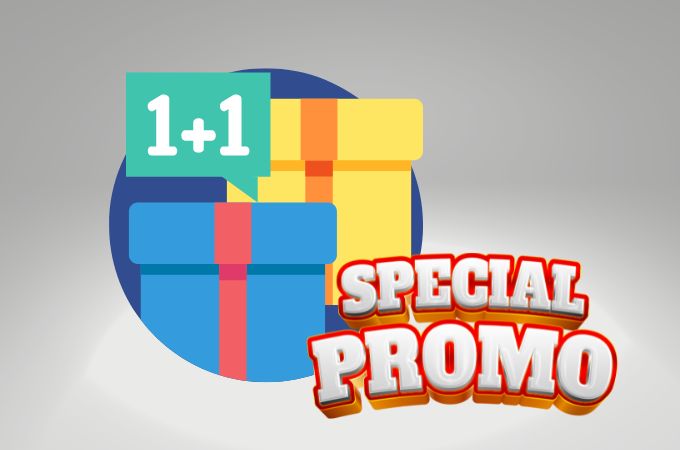 Customers are attracted to products or services with extras. Creating bundles or packages that offer additional value encourages them to buy more from the company. These bundles add value to their purchase, making it more appealing.
Expanding Distribution Channels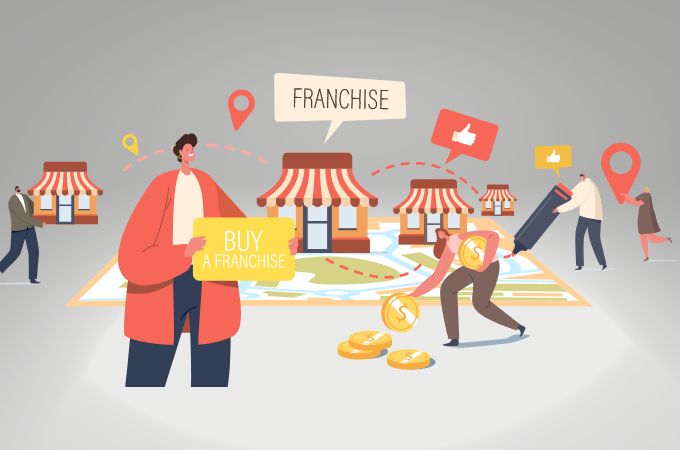 To grow their business, owners should not stay in one place. They can expand the availability of their products by reaching out to new geographic locations or teaming up with additional retailers and distributors. By doing so, their products can enter fresh markets, attracting a wider customer base and boosting overall sales.
Enhancing Product Features or Quality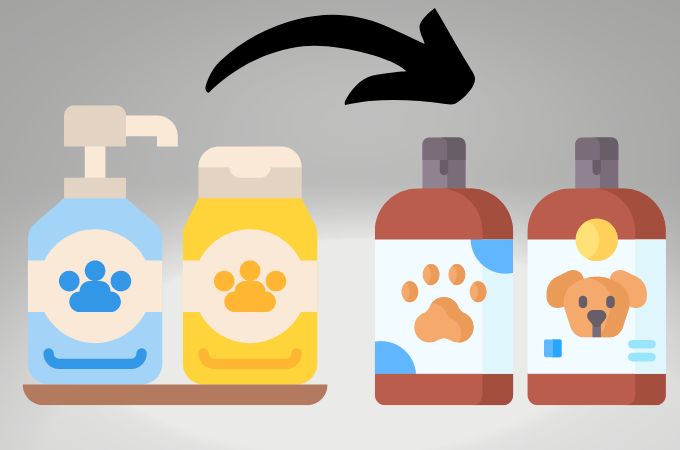 If you notice that your sales are declining, you have the opportunity to use customer feedback to make improvements and address their concerns. You can consider adding new features, enhancing the product's quality, or redesigning the packaging to align with the preferences of this generation, such as opting for minimalist and eco-friendly packaging.
Referral Programs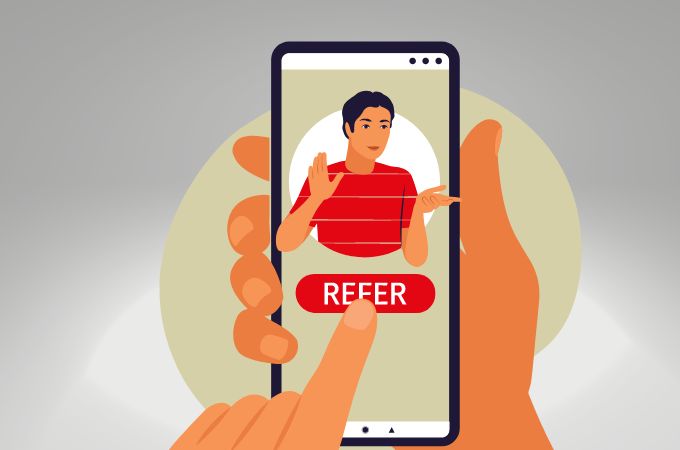 Implementing referral programs will certainly expand your customer base in no time. This tactic can also be a way for your brands to be talked about. Just make sure that these referral programs give your existing customers incentives they will appreciate so they will encourage more to refer your product or services to new potential customers.
Penetration Pricing Strategy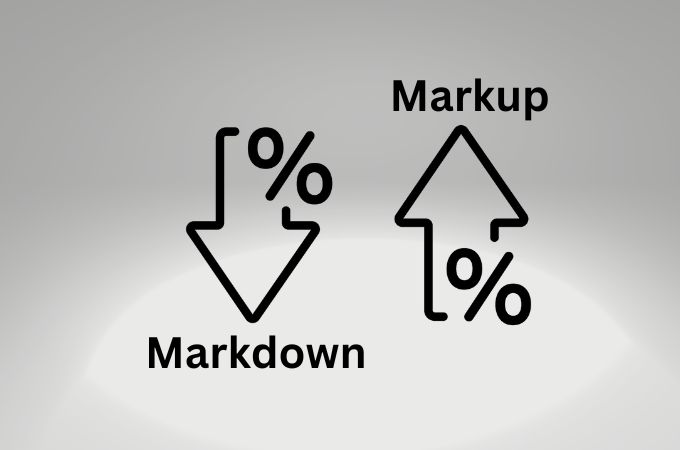 An alternative method to introduce your product is by initially offering low prices to rapidly capture a significant market share and appeal to price-sensitive customers, with the plan to raise prices at a later stage.
Free Trials and Samples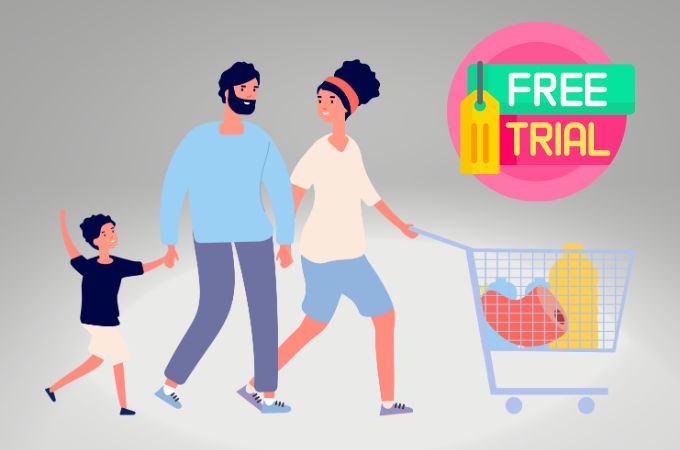 Many customers prefer trying a product before making a purchase to minimize risks. Offering free trials or samples allows potential customers to experience the product's value. Additionally, providing such trials or samples can lead to loyal clients, as long as the quality of the products or services remains consistent.
Customer Loyalty Programs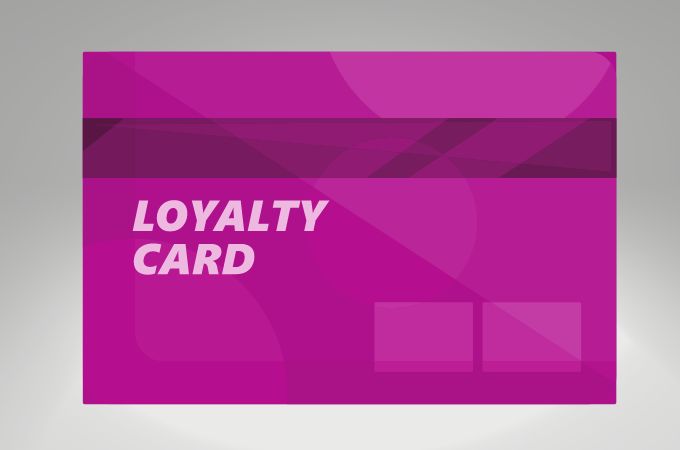 Just like the referral programs, implementing loyalty programs that reward repeat customers, encouraging them to make repeat purchases and remain loyal to the brand. One effective approach is by providing customers with stickers during each visit. They can collect and accumulate these until reaching a certain number of visits, unlocking rewards or benefits.
How to Assess the Effectiveness of Market Penetration Strategies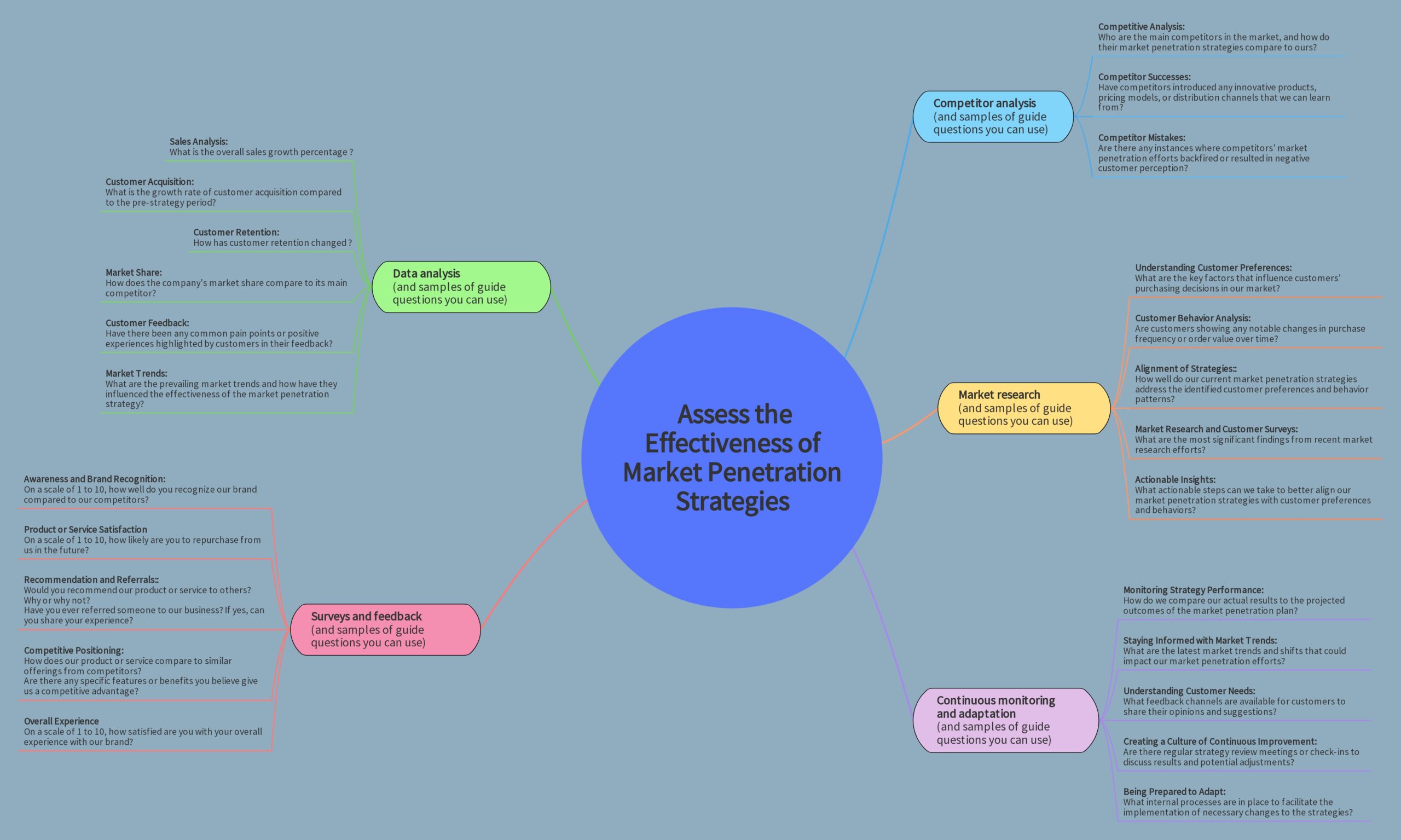 To measure how well your market penetration strategies are working, businesses can use various methods:
Data Analysis
They analyze sales, customer feedback, and market trends to see if the strategies are successful. They look at metrics like sales growth, customer acquisition, retention, and market share.
Surveys and Feedback
Businesses can ask customers questions to find out if the strategies are working. They want to know if customers know about the brand, if they are happy with the product or service, and if they would recommend it to others.
Competitor Analysis
By looking at what their competitors are doing, businesses can understand if their strategies are effective. They can learn from their competitors' successes and mistakes.
Market Research
Businesses can study customer preferences and behaviors to see if their strategies align with what customers want.
Monitoring and Adaptation
It's important to keep an eye on how the strategies are doing and be ready to make changes if needed. This includes staying up-to-date with market trends, customer needs, and what competitors are doing.

Tip:
Click the edit button below for some basic guide questions that are helpful in assessing the effectiveness of the market penetration strategies you implemented.
Edit this example
How to Plan a Market Penetration Strategy
Establishing or expanding a business requires significant time and collaborative effort. To ensure success, a well-structured plan and monitoring process are essential. This is where a mind mapping tool like GitMind comes into play. GitMind helps organize all the necessary factors and sub-factors for effective market penetration, ensuring nothing is overlooked. Moreover, it allows easy sharing with colleagues, enabling them to instantly record ideas and accomplishments on the mind map.

Here's the visual of the market penetration strategies that may help you in planning one for your business.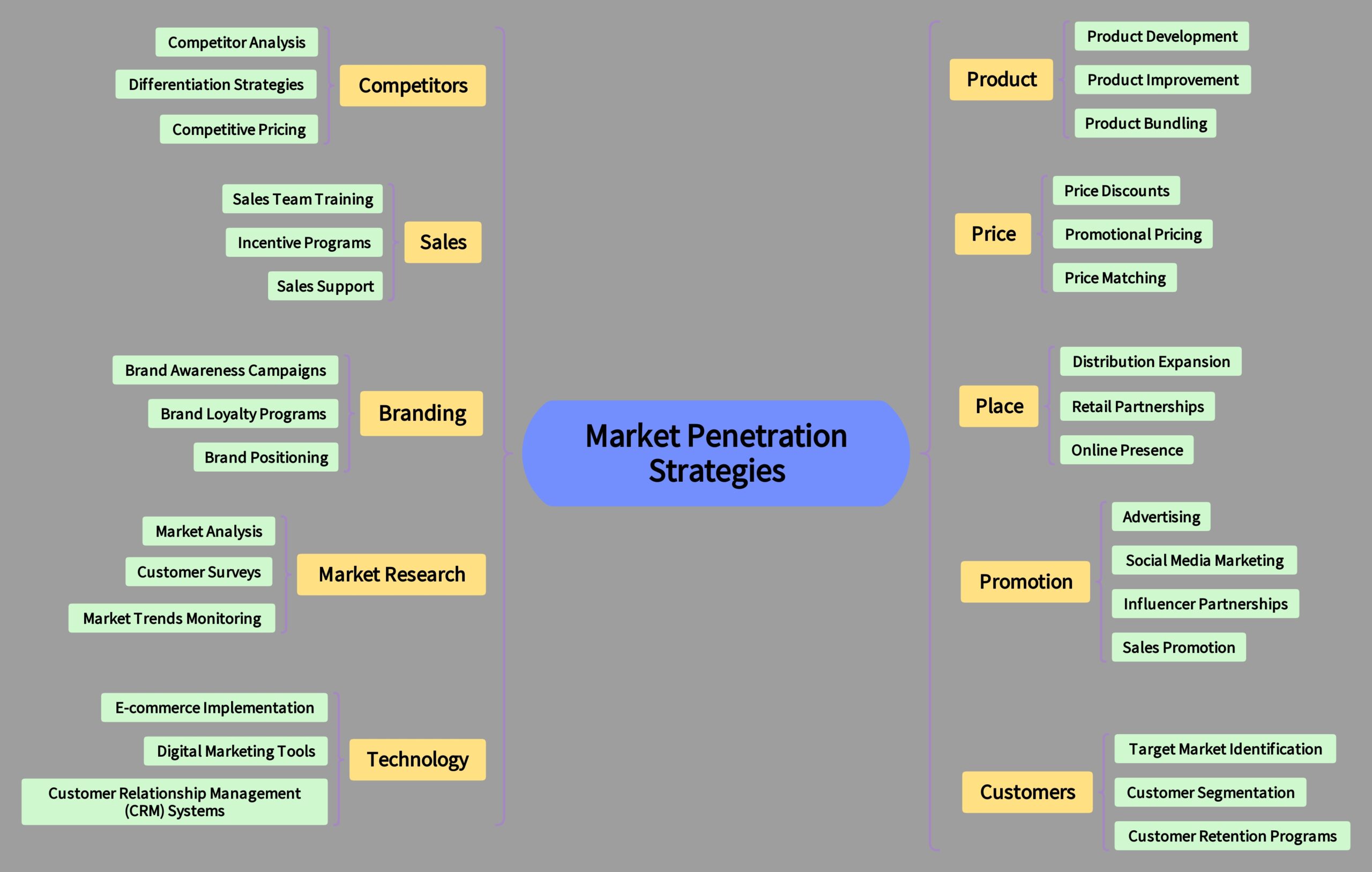 While not all tactics on the mind map may be needed for your marketing expansion, it still serves as a valuable tool to monitor which strategies work best for your target clients or customers. It also acts as a guide for building a competent committee or team. Additionally, you have the flexibility to edit the mind map and add notes during the planning process by clicking this button:
Edit this example
Conclusion
Indeed, maintaining a successful business needs a sustained and adaptive approach. In the face of increasingly creative competitors, business owners must be creative in protecting their hold on the target markets. Hopefully, this article offers insights into market penetration strategies that can be instrumental in expanding your businesses.