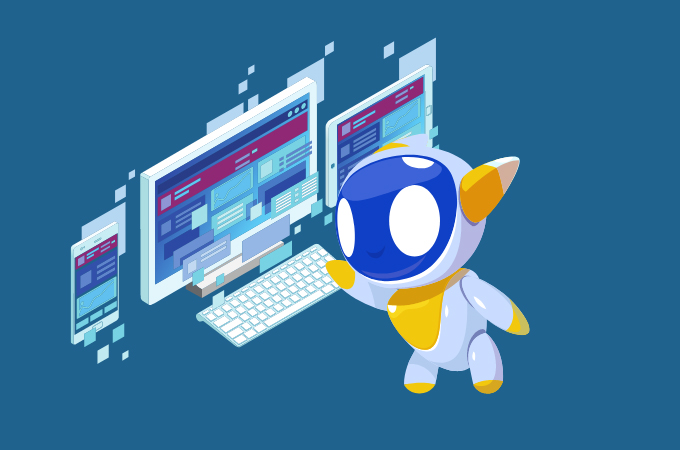 Nowadays, an AI content generator is becoming in demand because it can produce content in a minute or two. It delivers original material for users such as product descriptions, blog entries, and other copies. Further, AI content generators are employed to speed up and lower the cost of content development. It helps to produce more interesting and reader-relevant materials. No wonder existing and aspiring writers are getting engaged with this tool. Today, learn the best AI content generators that could improve efficiency and productivity.
What is AI Content Generator?
AI Content Generator is a software that uses advanced artificial intelligence and natural language processing algorithms. This technology helps to analyze data and create text similar to what a human writer might construct. With that, generating articles, blog posts, product descriptions, social media posts, and more is now easier and quicker. Also, it can help streamline the content creation process and improve efficiency. On the other hand, despite how effortlessly this technology can produce high-quality content, we still need to consider its limitations. Remember that human writers can still bring creativity, critical thinking, and personal touch that artificial intelligence cannot reproduce.
Further, this device can still be a great aid to increase content consistency and enhance SEO. It can produce a large volume of content that is uniform in tone, style, and quality. Plus, it can make it easier for businesses and individuals to rank higher in search engine results pages (SERPs).
10 Recommended AI Content Generator
GitMind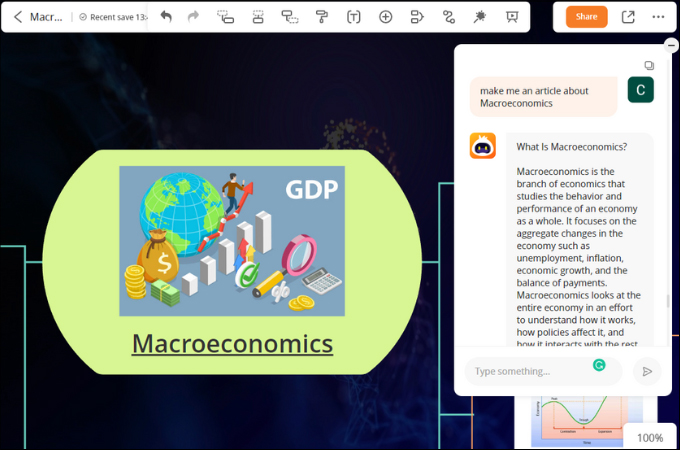 GitMind is a well-known mind-mapping tool that allows users to add various content such as text, images, links, and attachments. With it, you can make mind maps, diagrams, flowcharts, slideshows, and more. It can also be used as an intelligent AI content generator that gives appropriate answers to queries about anything. More than that, it can help you to produce professional quality content for social media posts, essays, blog posts, and many more.
ChatGPT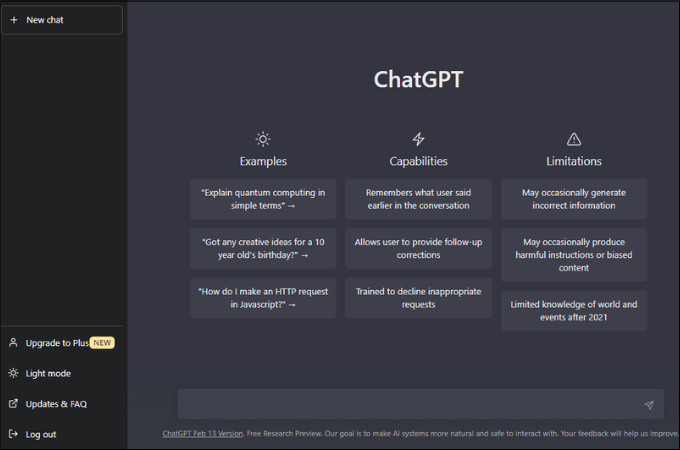 Another widely-used artificial intelligence content generator is ChatGPT. It is conceptualized in a way that it can understand and respond to a wide range of topics. On top of that, it uses deep learning approaches to understand natural language and generate responses to user input. It is also designed with an extensive amount of data to identify linguistic patterns and produce relevant answers.
RYTR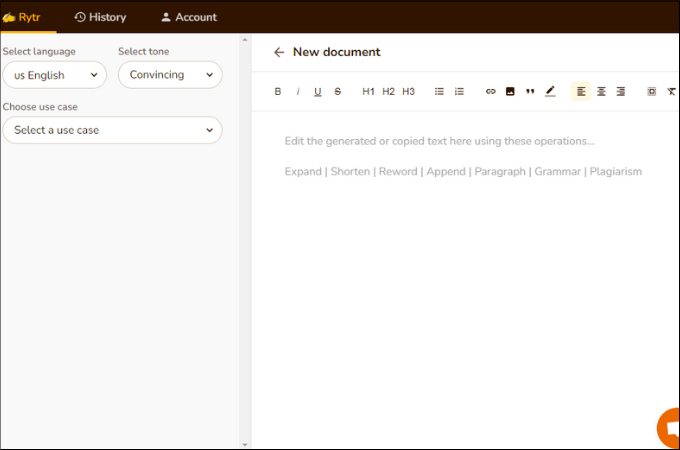 If you're looking for an AI blog writer for your business, then you can try RYTR. It is multi-lingual software that can generate large amounts of content regularly. Besides, it provides high-quality content for a variety of purposes such as blog posts, email campaigns, and others. What's more interesting about it is its ability to check basic grammar and spelling mistakes. Also, you can choose the appropriate tone for your content like casual, convincing, humorous, etc.
Frase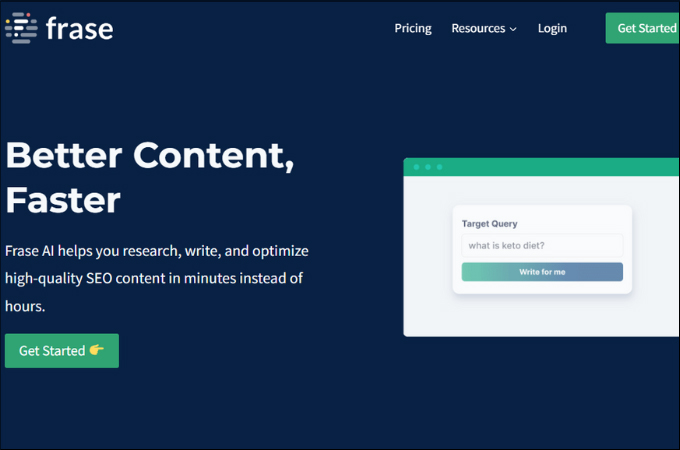 Frase is an AI-powered content optimization tool created to increase the SEO and content quality of users' websites. One of his primary advantaged is the ability to interact with well-known content management systems like WordPress and HubSpot. With that, it can help users identify relevant topics, research keywords, and analyze competitors' content. It is a great AI article writer and generator to gain insights and improve content strategy.
Contentbot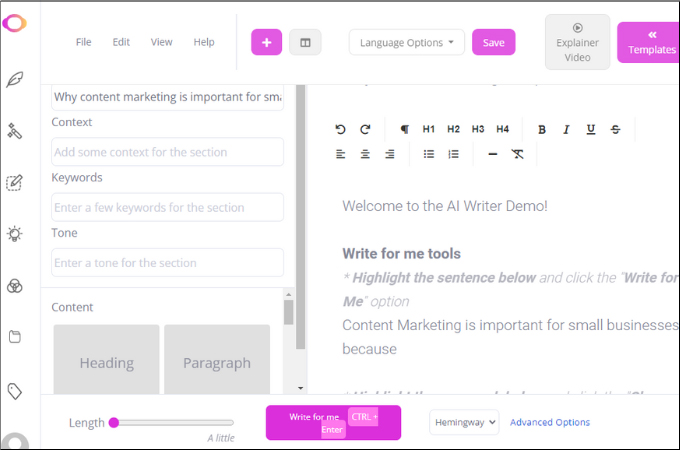 One of the free AI generators to create original content is Contentbot. It is integrated with more than 50 million articles to give you inspiration for new content. Additionally, it analyzes the demand of the users with artificial intelligence to produce material that is relevant to them. It has over 200 professional writers to produce and revise content. Moreover, it offers real-time data and insights so you can monitor the effectiveness of content marketing techniques.
Copy.ai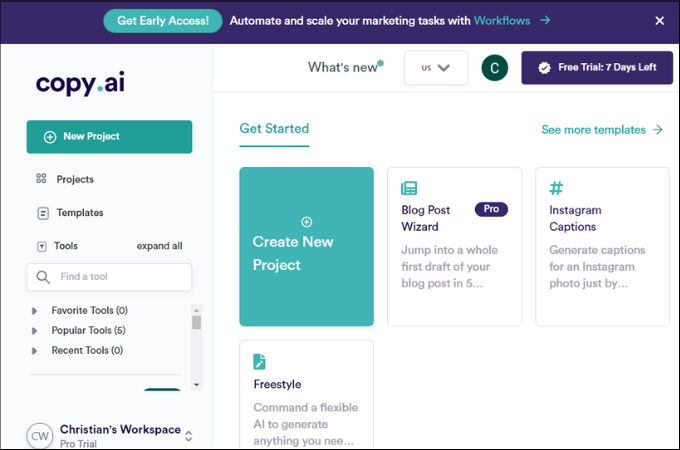 With over 25 distinct languages, Copy AI helps you to write your content depending on your target readers. It offers more than 90 copywriting templates including digital ad copy, social media captions, e-commerce, and blog posts. Users may also switch between tabs and windows when using this AI content generator.
Simplified AI Writer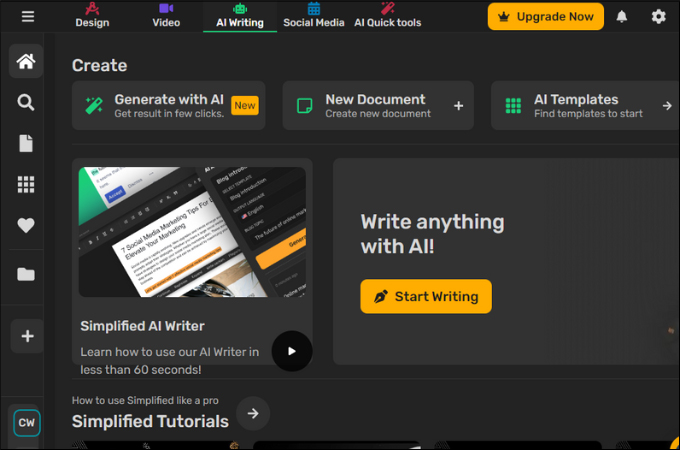 Simplified AI Writer is one of the great tools to produce easy-to-understand content. Also, it provides suggestions for improving writing clarity, structure, and style. The program will produce a draft depending on the topic. In addition, it also gains knowledge from user comments, which enables it to improve its output over time. Simplified AI Writer works for those who want to develop their writing abilities and produce top-notch material.
Writesonic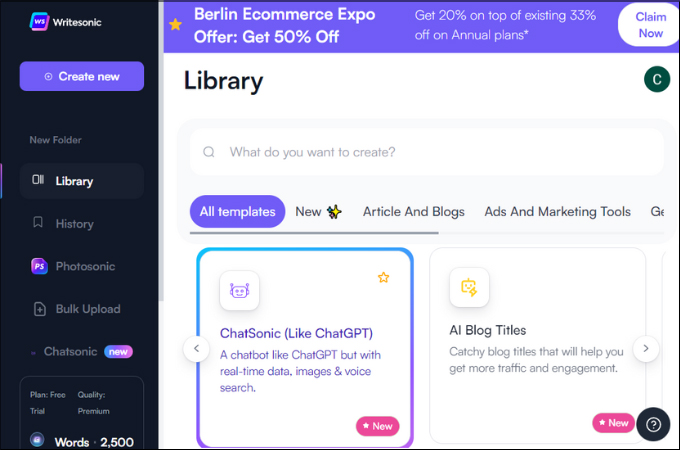 Some of the materials that writers need to create content which follow specific brand rules and tones. In this case, Writesonic can be a great AI blog writer. It utilizes neural networks to mimic an essay written by a real person. Moreover, users can use its Content Rephraser to change the tone and paraphrase the material.
Jasper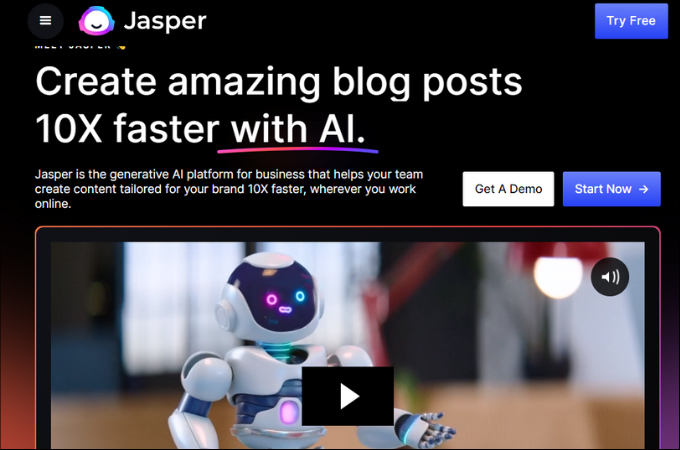 Jasper.AI (formerly known as Jarvis) is a cutting-edge service that offers affordable unique content creation for you. It is the perfect tool for social media posts, advertisements, and product descriptions. Furthermore, it is used to make SEO meta titles, YouTube descriptions, and Facebook headlines. This AI generator can provide a strong foundation of information to which you can later add your distinctive perspective.
Articoolo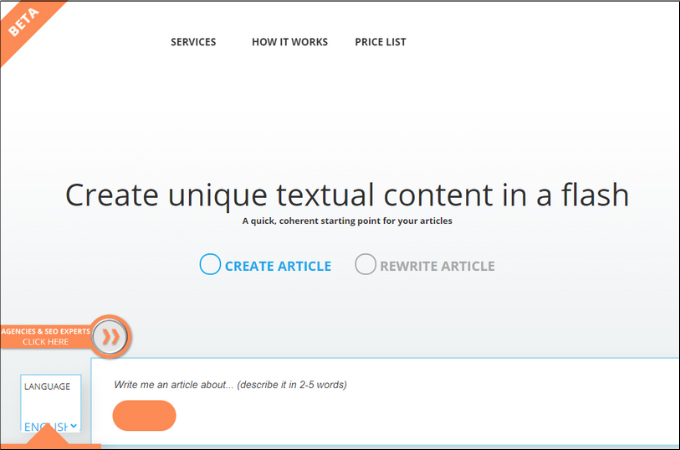 Got into our list of the recommended AI article writer is Articoolo. It is can proofread text from scratch using its algorithm integration. Also, the technology is designed to help authors in producing textual content faster. It also enables users to easily adjust, edit, and revise paragraphs or content ideas to suit their needs.
Conclusion
Although the technology still has its drawbacks, AI content generator has the potential to improve the way we create content. These handpicked AI generators can help writers quickly generate high-quality content on a wide range of topics. Each can save time and resources, improve efficiency, and help content creators focus on higher-level tasks that require more creativity. Nevertheless, if you want the most accessible and all-featured among them, GitMind stands out. We hope that this blog helps you to find the tool that suits your needs.