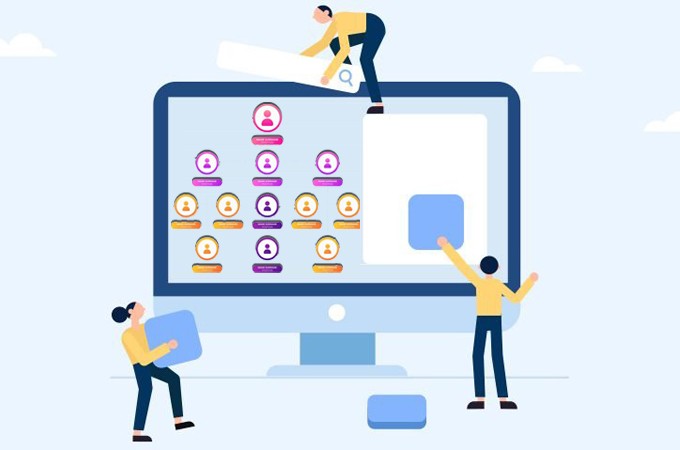 Isn't it easier to communicate when you know the right people to engage with? This is what an organizational chart is created for. It defines the role and responsibilities of each individual within an organization. However, people join and move around a company as well. Thus, it is important to keep an updated org chart to provide information flow among people, especially for newcomers. Considering this opportunity, here is an exclusive list of free org chart creators that you can use to easily create an org chart and keep it up-to-date.
Best 8 Free Org Chart Creators
GitMind
Score: 9.3
Platform: Web | Android | iOS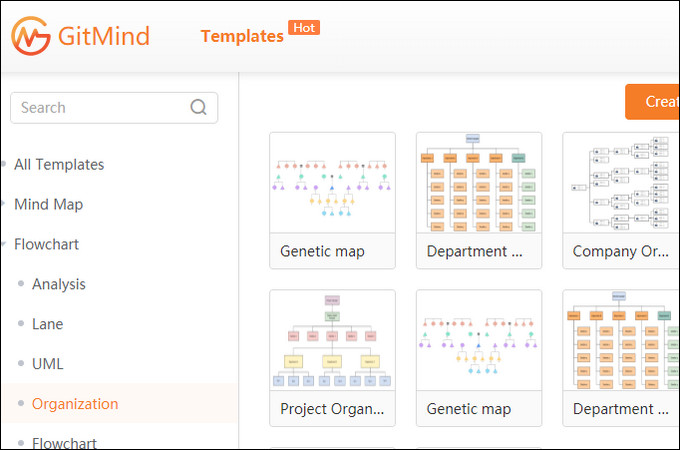 DOWNLOAD
GitMind is a free organizational chart maker that offers an efficient way to create org charts. Choose from its library of templates to instantly build an org chart. Take advantage of unlimited access to a wide range of shapes and icons for customization. On top of that, cloud collaboration allows you and your team to work together on the same project.
Organimi
Score: 7.5
Platform: Web | Windows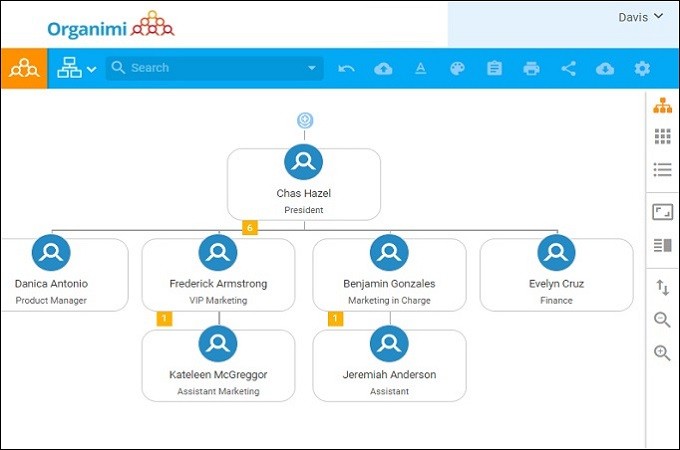 One of the simplest ways to build an org chart is to use Organimi. Along with chart creation, this free org chart software helps users easily add custom fields to include content like number, text, links or tags. Moreover, its smart chart legend feature makes the chart appealing by reducing the clutter and removing curb appearance.
Pingboard
Score: 8.0
Platform: Web | Windows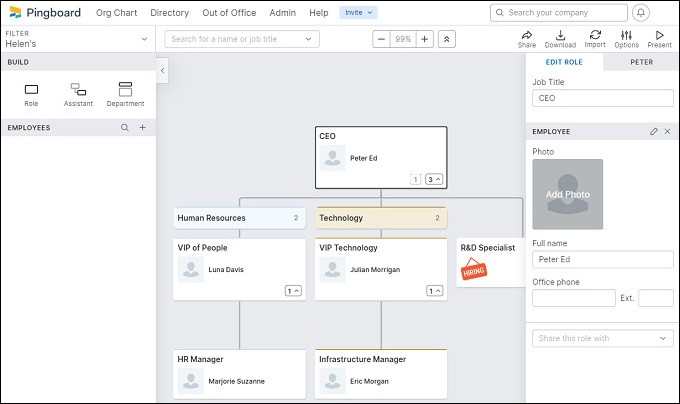 When it comes to creating dynamic and attractive org charts, you can rely on Pingboard. One comprehensive feature of this app is its pre-defined elements for roles, assistants, and departments. This allows you to structure your org chart quickly as you don't have to add one branch at a time or manually work on the layout.
Visme
Score: 8.7
Platform: Web | Windows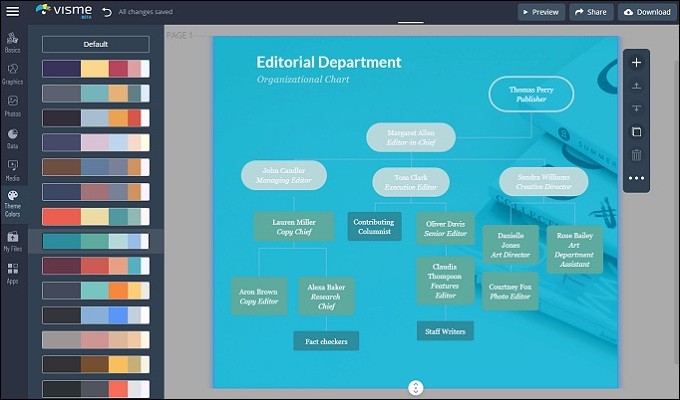 Visme is another good org chart creator that can transform an organization's structure into engaging visuals in no time. In addition to its large number of templates and graphics, there are a plethora of various themes that would make your org chart more attractive and match your brand's image.
OrgWeaver
Score: 8.5
Platform: Web | Windows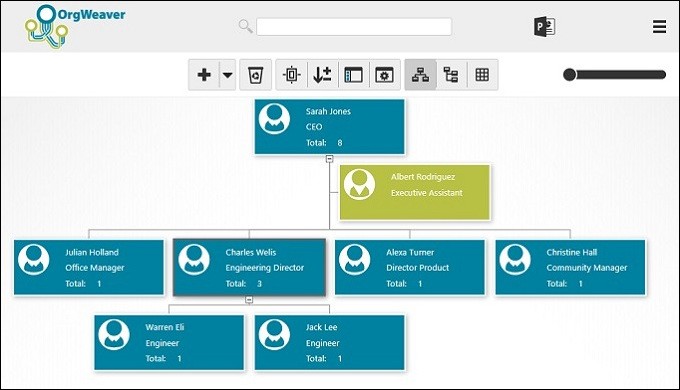 You may also find OrgWeaver helpful when making an org chart. It can automatically generate an org chart by just importing a list of employees from a spreadsheet instead of adding them manually. Also, this org chart software enables users to export org charts to PDF, PPT, or HTML file types.
SmartDraw
Score: 8.0
Platform: Web | Windows | Mac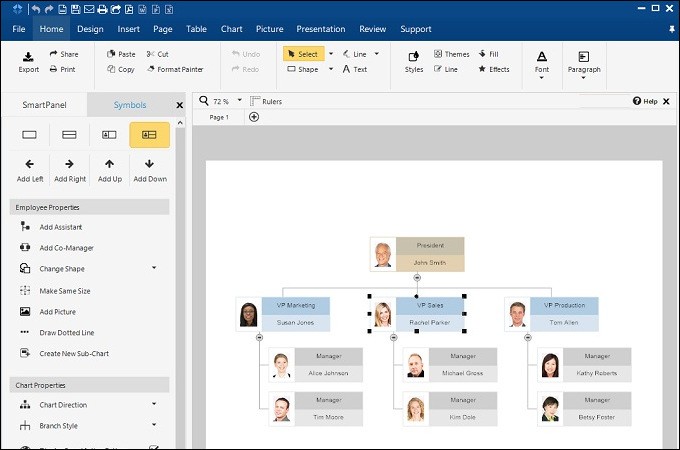 Looking for another alternative? More than creating org charts, SmartDraw allows you to create hierarchy charts, UML diagrams, floor plans and a lot more. The tool's highlight though is its integration with other useful tools that allows you to send a diagram to Microsoft Office productivity tools as well as Outlook.
Gliffy
Score: 8.0
Platform: Web | Windows | Mac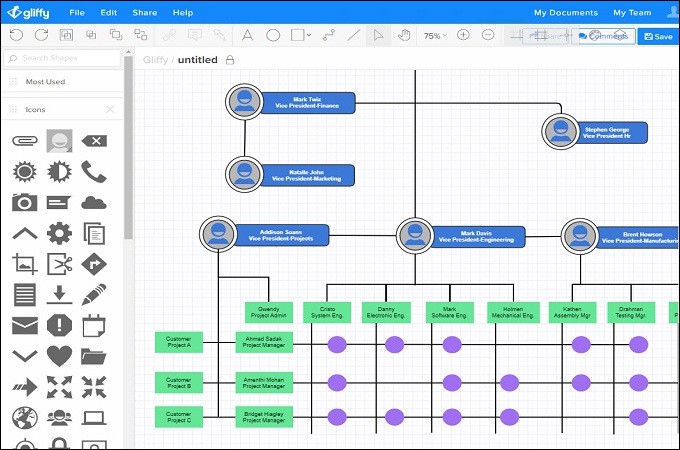 Gliffy is a lightweight org chart maker with good collaboration options. With it, you will be able to send and receive team messages to instantly connect with them and collaborate. Besides that, it comes with an extensive library of symbols to create even complex charts. Plus it can handle imported images.
OrgPlus
Score: 7.5
Platform: Web | Windows | Mac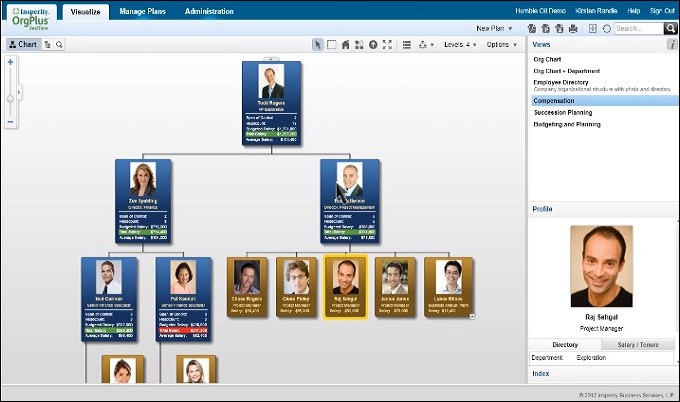 Provided that you have a list of employees compiled in a spreadsheet, OrgPlus can instantly build the chart for you and even include their functions and supervisors. Also, it lets you enjoy features like key employee identification to identify high performing employees.
Conclusion
Org charts depict relationships between roles and groups within an organization, yet not every organization has time to keep them up to date. So here we've introduced some top-quality recommended tools to help you easily create org charts and keep them current. If you want one that's easy-to-use, compatible with any platform, and free for personal use, GitMind is a nice pick.