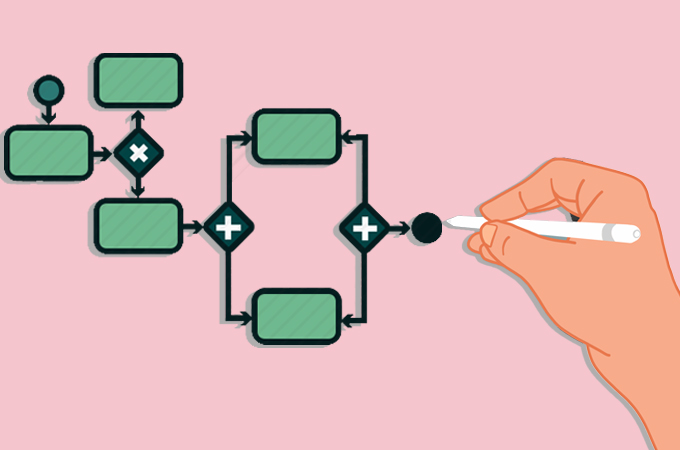 Documenting the whole process of the workflow will be very beneficial to your business to improve customer satisfaction and brainstorm ideas for new strategies. Process mapping is intended just for that. This is basically a series of steps or tasks needed to bring the output from inputs. Therefore, we reviewed topics that will help your team and business perform well by drawing a process map. This includes purpose and benefits, symbols for modeling a process map, types of process mapping as well as quick, free, and easy way to create a process map.
Business Process Mapping Tutorial
Purpose and Benefits of Process Mapping
Process maps serve a purpose and have a lot of benefits that will improve the efficiency of your business. It increases the communication between the concerned staff including the stakeholders, other departments, and even customers. This is one of the reasons why you need process mapping. It is designed for teams to have collaboration and communication which is very useful especially when there's something that needs to be changed in an organization. In addition, process mapping provides reader-friendly documentation of the process making it easy to explain and understand by the team and the people involved. More importantly, it helps you determine the flaws, causes of delays, and areas for improvement that will impact the business and minimize the wasted time and effort.
Process Mapping Symbols
Here are the symbols that are usually found in process or workflow mapping. Each symbol serves a different purpose that will help you create a better illustration of your business workflow. You will always find these key elements including activity, decision box, start/end, arrow, and document. Below is an explanation of the use of each shape.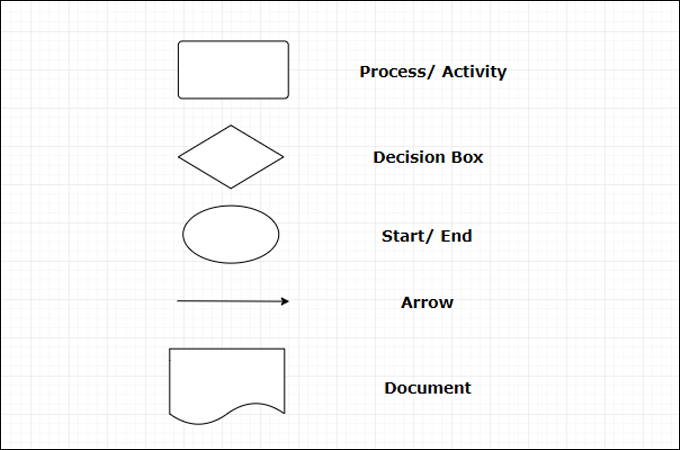 Activity/ Process– this represents a task or process that needs to be done in a workflow mapping.
Decision box– it is used to show control of the flow path in a process.
Start/ End- the symbol that is responsible for showing the start and end of a process.
Arrow- it indicates the direction of flow and relationship of two connected steps.
Document- information or data that is readable by people.
Types of Process Mapping
Business process mapping comes in various types depending on the goal of the project. The most commonly used types of process map include the following:
Basic flowchart- Flowchart includes inputs and outputs along with the sequential steps of a process. You can use this to form a solution, trace the problem in a business process, and even manage the work of flow in a business.
Swimlane Diagram- Swimlane is a type of process mapping that shows the division of steps into categories allowing you to easily identify the responsible departments for a set of activities.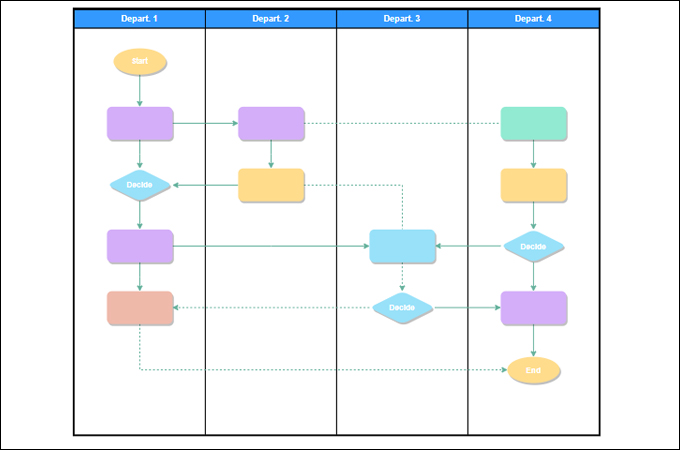 Edit this example
Detailed Process Map- A type of flowchart that provides many details to every action including the sub-process involved in the process.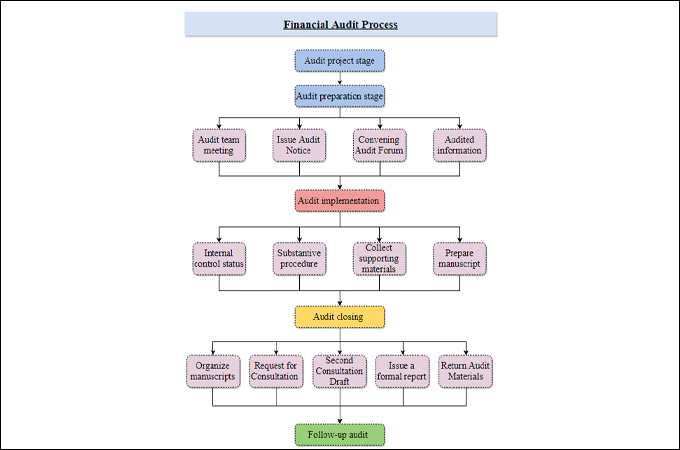 Edit this example
SIPOC- It's the acronym for Suppliers, Inputs, Process, Outputs, and Customers. This helps the project manager to check first the key elements before creating a detailed business process mapping. Additionally, it can help you define the scope limitation of a project. If paired with SWOT analysis, you will be able to formulate working and effective business solutions.
Value Stream Map- It is a visual tool containing steps to accomplish starting from the product creation until it reaches its customer. It is a great tool for introspection to analyze and understand your business process better.
Steps to Make process map (with GitMind)
There are various methods of process mapping. You may need to have a huge canvas space to complete the map. And the conventional method of pen and paper might not be sufficient as you will need to do a lot of writing, revising, and brainstorming with your team. Better yet, utilize a tool that can provide your business process mapping needs. In this regard, we highly suggest using GitMind. It is a web-based flowchart maker that offers a bunch of beautiful and customizable diagram templates. Also, the tool does not have any limitations when it comes to the space of the canvas. Following is a list of steps to create a process or workflow mapping.
First and foremost, go to GitMind's webpage.
Next, visit the "Templates" gallery and choose "Flowchart" under the categories listed on the left side of the interface. Select a template that fits your project and click "Use Template" to edit it. Alternatively, you may create from scratch by clicking the "New Flowchart" from the template page.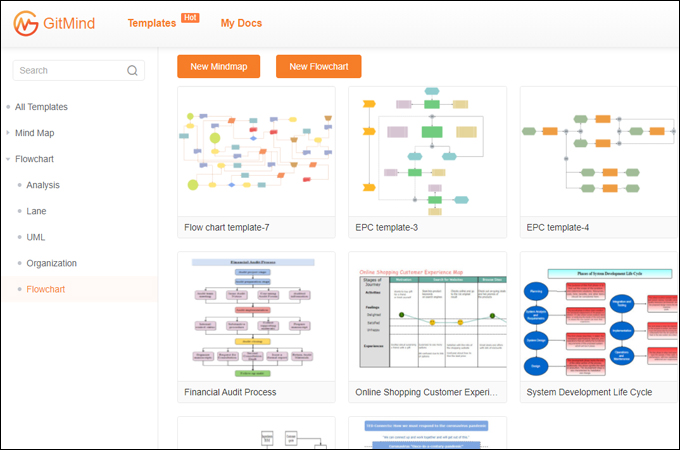 Edit the template with the information of your business and you can further enhance the appearance by opening the "Style" panel at the right side interface. When you're done, you can choose to edit the process mapping to an image, PDF, or GitMind file. Also, you may share it with your friends or colleagues.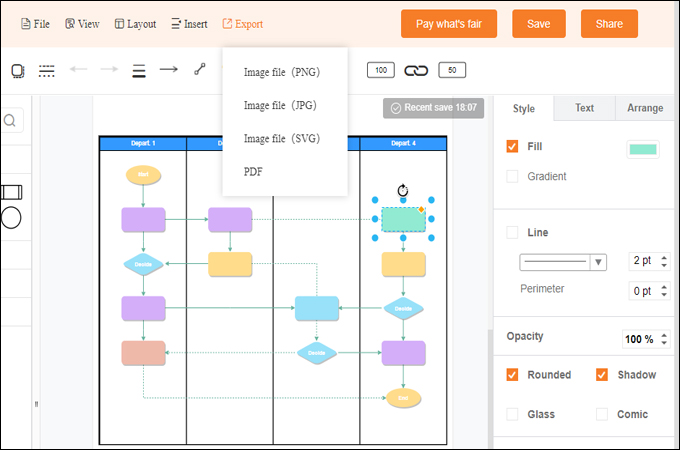 Conclusion
Business process mapping is one of the crucial parts in project planning. As mentioned earlier, it increases the communication of people involved and helps improve efficiency by optimizing the business. In addition, GitMind is a perfect tool that allows you to draw different types of process mapping and other diagram illustration for a free and quick access.