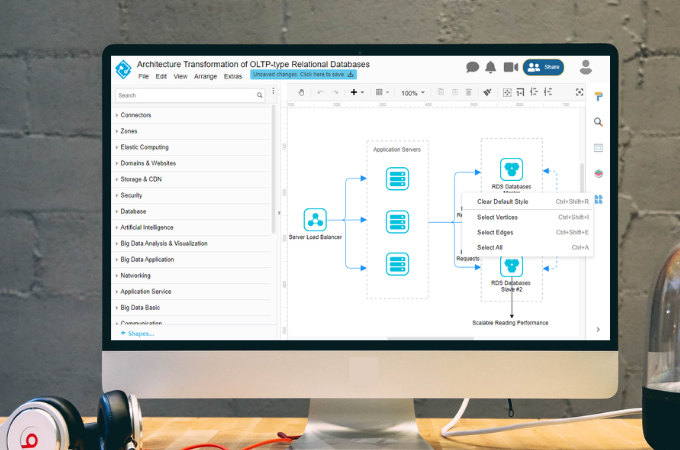 There are many flowchart makers on the internet, and Visual-Paradigm is one of them. This is a professional UML chart and flowchart maker used by engineers and other professionals for their work. Being a dependable tool, it's no wonder that it has gathered popularity over the years. Although the tool is available anytime, there are still limitations to its features if you are using the free version. So there will be a case where the feature that you need won't be available. On that note, we listed 8 Visual Paradigm alternative tools that you can use. Continue reading below to learn more about these tools.
Best Visual Paradigm Alternatives
GitMind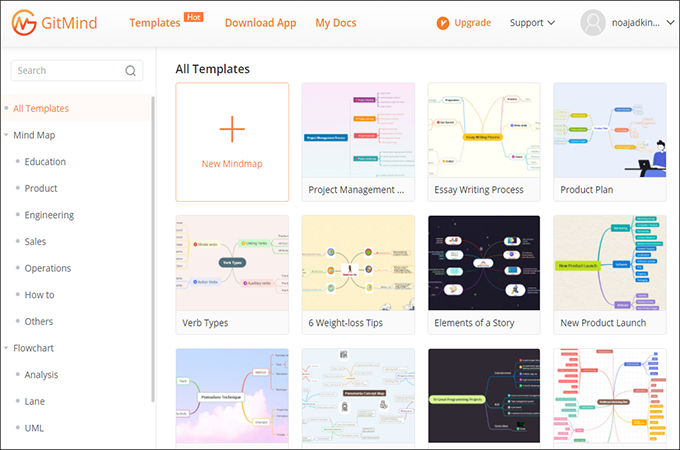 The first tool on the list is GitMind. This is a free web-based mind map and flowchart maker that you can use instead of Visual Paradigm. It has many premium features that can compete with Visual Paradigms, such as the online collaboration tool which lets you work with others on a project at the same time. There is also the ability to export the chart in various formats such as JPG, PNG, and Word. Besides those that are mentioned, there are still many other things that this Visual Paradigm free alternative can do. Overall, we can say that GitMind is a decent choice for creating flowcharts instead of the Visual Paradigm.
Lucidchart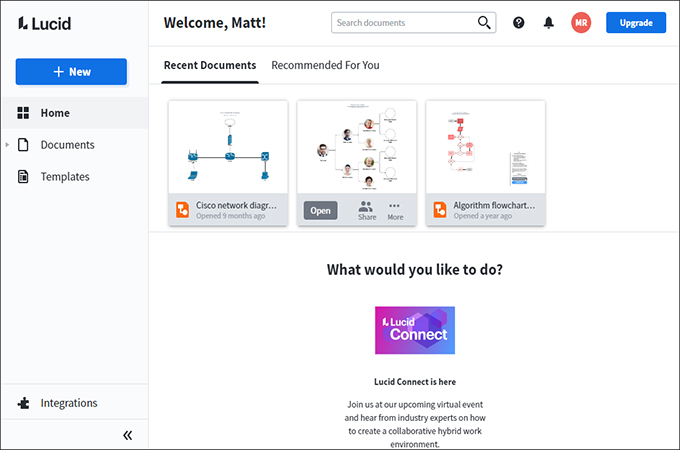 Next, we have Lucidchart. A popular online application, the app boasts great features and is probably one of the easiest to use. Lucidchart is capable of producing simple and complex charts and diagrams. On the other hand, you can only enjoy the app for free for a limited time. After that, you will have to subscribe to its premium subscription to continue enjoying its full features. However, if you like to keep it casual then subscribing is out of the picture. In general, we can say that Lucidchart is a great Visual Paradigm online alternative because of its rich features, and user-friendliness.
Draw.io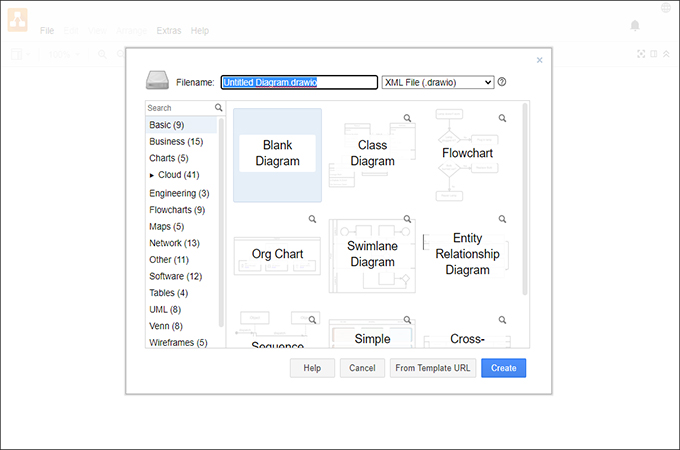 Another cost-efficient option as an alternative to Visual Paradigm is Draw.io. This is an online flowchart maker that you can use for free. Draw.io is absolutely free to use so you won't have to worry about spending any amount. The only drawback that we saw upon reviewing the tool though, is the lack of templates. It is purely made for flowchart creation so the interface directly takes you to the editing panel. Overall, we can say that it is a Visual Paradigm alternative that only lacks templates, but works perfectly fine for personalized flowcharts.
Creately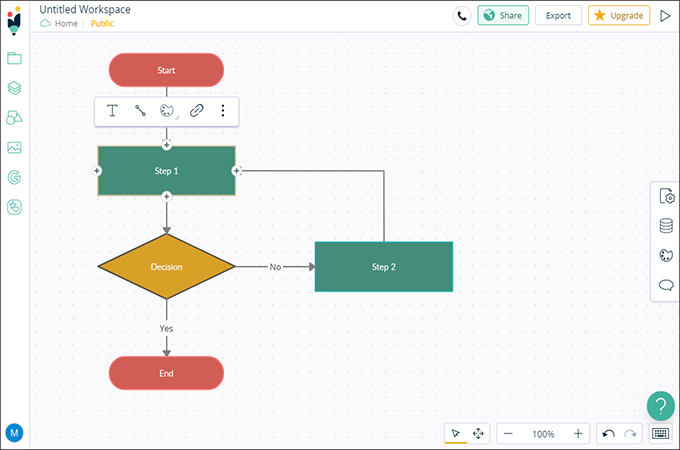 A great graphic design tool, Creately also doubles as a good replacement for Visual Paradigm. Another online tool, Creately works perfectly for those who are looking for a good quality graphic designer. The high-quality graphics that you can make using this tool is far greater compared to the ones made from Visual Paradigm. There are also templates here for those who want to save a lot of time. Create is also free to use under the basic version. There is also a premium version with additional features. Without a doubt, Creately is indeed a worthy Visual Paradigm free alternative.
SmartDraw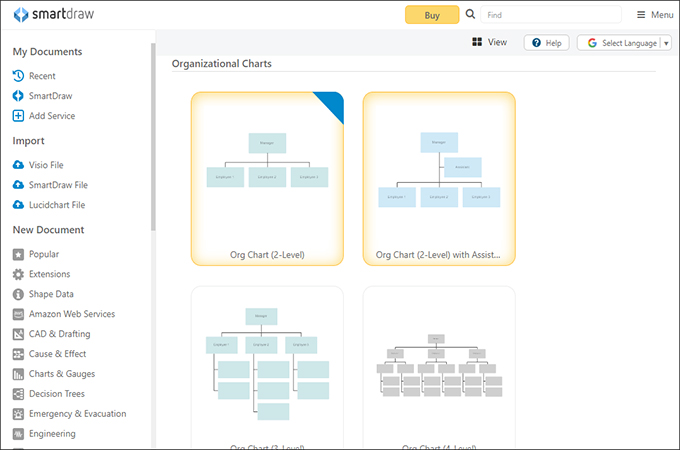 SmartDraw is a great way to make flowcharts since it has various elements for various types of charts. There are also different templates that can be customized and downloaded for free. The tool is also Microsoft Visio compatible because it can open and even save files made from the said application. It can also integrate with various applications such as Google Workspace, MS Office, and Atlassian applications. There is a free version of this Visual Paradigm online alternative tool as well as a paid premium subscription.
Dia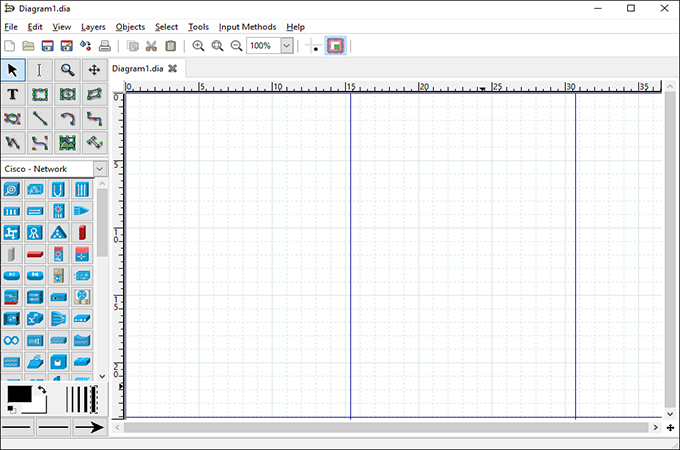 Dia is a downloadable program that works with Windows and is a great way to make charts and diagrams just like with Visual Paradigm. The desktop tool provides different elements to make your chart more accurate. The tool also has a small learning curve which lets you start working on your projects after a few minutes of navigating. Dia is lightweight and runs smoothly on your PC which will make things easier for the user. You can download and install this Visual Paradigm alternative for free.
ClickCharts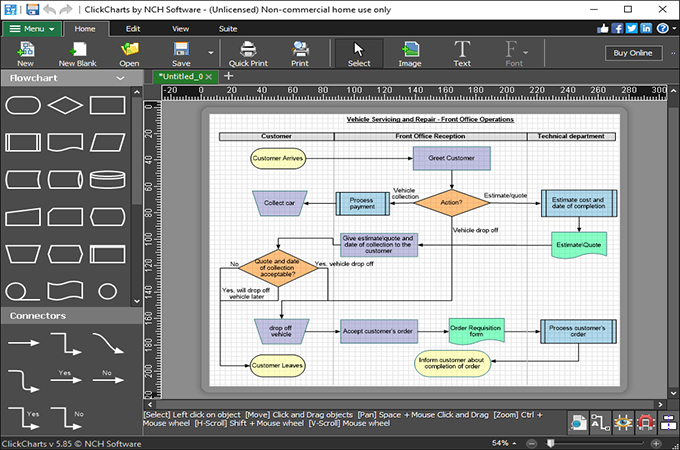 ClickCharts is another desktop tool that can be used for free. It has a wide range of editable templates under its library and is available anytime. Under the free version, you are allowed to export files in either PDF or image formats. You can also opt to avail of the premium plan which will give you additional options and features previously inaccessible in the free version. In conclusion, we can say that ClickCharts is a good Visual Paradigm free alternative since it provides adequate shapes and elements.
Diagram Ring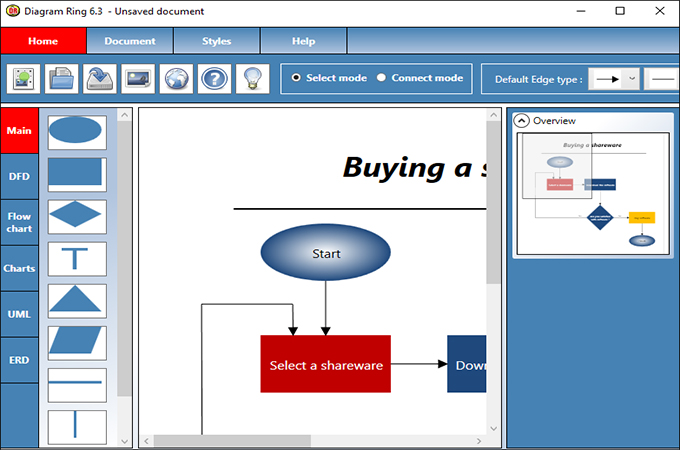 The last tool on the list is Diagram Ring. This desktop diagram editor is freeware, which means you can use it for free. You can make certain diagrams using this tool such as DFD, ERD, and even UML which makes it a great alternative to Visual Paradigm. The interface of the tool itself is clean and organized which makes it very user-friendly. Aside from that, there are also some good options that you can exploit such as image export and more. Although this is not a Visual Paradigm online alternative, there are still grounds to consider it one of the best choices.
Conclusion
Visual Paradigm is indeed a great software for flowchart and UML chart editing. With its rich features, it's no wonder that many have trusted and used it from the beginning. However, it is also good to know which tool to use in case this app isn't available. With that being said, we hope that you can find the time to try the Visual Paradigm alternative tools that we listed above.