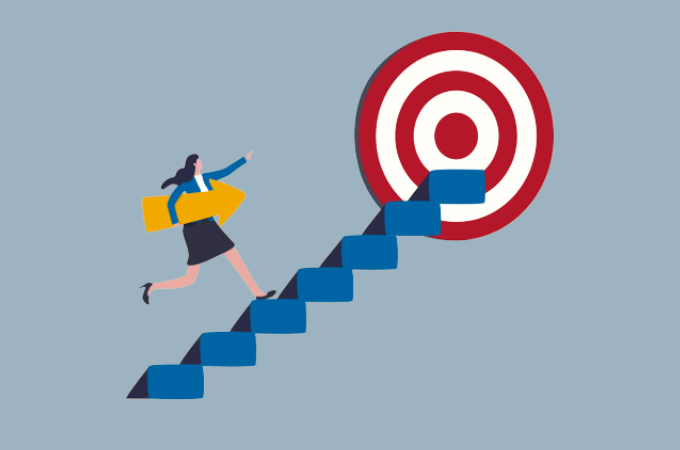 Setting employees' performance objectives can increase productivity and efficiency in your company. Also, professional performance and development are both measured by these career objectives. It can also motivate and inspire team members for career growth and improvement in their chosen roles. Today, let's review the short-term and long-term work goals examples that may help you to direct your career path efficiently.
What are Work Goals?
Work evaluation goals are objectives you set for yourself, frequently with the assistance and guidance of a supervisor. Wherein, setting both short-term and long-term goals will guide you in order to enhance your professional performance, productivity, or skills. Typically, these objectives integrate your wants and preferences with the company you work with and may give favorable results for both parties. Also, it may be easier to identify the requirements to achieve your goal once you have decided on your desired career, whether it be as a CEO, manager, or business owner.
How to Set SMART Goals?
Specific, Measurable, Achievable, Realistic, and Time-bound or simply SMART goals that provide a roadmap to set clear and attainable work objectives. With the help of SMART goals, team members can have a deep understanding of their personal and professional work goals. Furthermore, it develops a framework for defining the project's scope and developing a more efficient strategy.
The basic concept is to divide big tasks into little tasks that adhere to easily managed workloads. Indeed, it smoothly attains each milestone after you plan the processes and timetables out your goals.
If you want to have a sense of direction, inspiration, and priorities, see the SMART goals examples for work here.
Work Goals Examples
Setting goals is a crucial part of motivating employees to become more productive and efficient in their career path. In light of that, examine the following short and long-term work goals examples to help you establish objectives for yourself.
Short-Term
1. Develop Soft Skills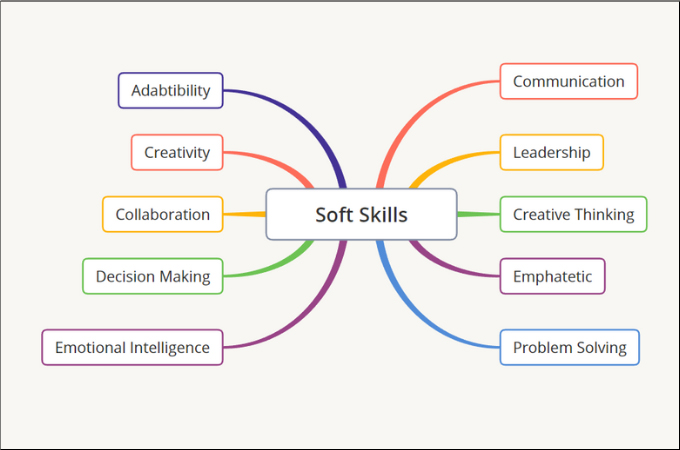 Edit this example
In order to accomplish long-term career goals, short-term work goals must be taken first. Usually, these work plans are asked during an interview. See these 5 short-term goals examples that you can consider to reach long-term milestones.
Numerous businesses are searching for individuals with a range of skills and qualities, regardless of your current industry. You'll have a higher chance of winning over your current supervisors or prospective employers if your skill set is more varied. However, you need to ensure that your professional development goals are connected to the field you are interested in.
2. Gain Experience in a Reputable Company
Most successful people in any industry started their careers as unpaid interns to gain experience. There are apprenticeship programs that give access to priceless work experience, get a sight into the job market, and receive employment offers from the organization. An internship may be the finest method to gain a close peek inside your desired industry, whether you are a recent college graduate or someone who aspires to change fields.
3. Expand your Influence
The ability to gain influence in the workplace is power. Talking to people you work with is just the beginning of building a good connection on a social and professional level. In the long run, they can serve as a guide or inspiration to improve your efficiency at work. Strengthening your network and connection can sometimes determine how far you may advance in your career and how successful you are.
4. Improve Sales and Productivity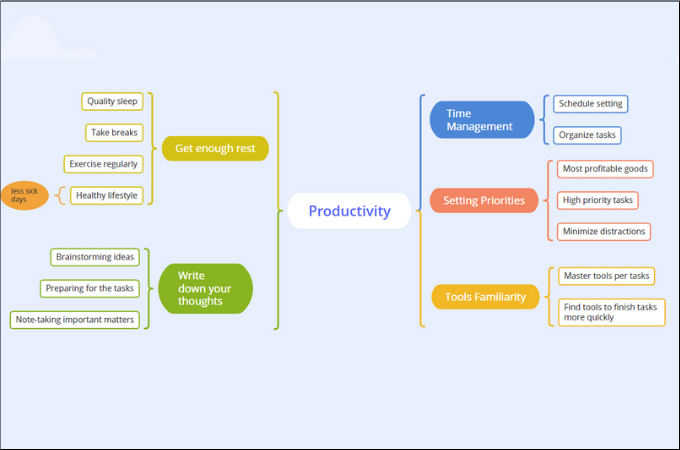 Edit this example
As you develop good habits and aim your efforts in the right direction, you'll be surprised to find the number of sales rising as well. To become more productive, take a step back to recognize any activities that aren't helping your bottom line and eliminate them from the picture.
5. Launch Your Own Company
Even though it seems to be a long-term goal, don't let anything stop you from at least beginning the process of starting a business today. Present to design your plan and begin taking the steps to build your own business, if that is one of your professional ambitions. Choose a passion of yours, then hunt for business chances in that industry.
Long-Term
Long-term goals require more time and planning. In this case, we will provide some of the work goals examples for evaluation that you can take into account.
1. Get a Diploma or Certification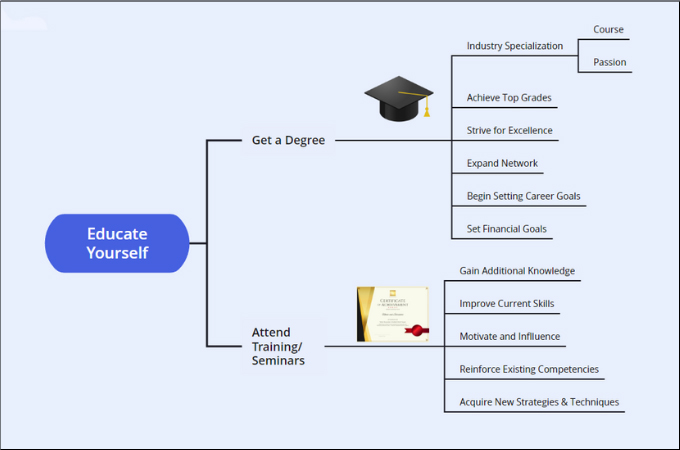 Edit this example
Education can increase a person's significance to their career. Setting objectives is a tried-and-true method for achieving educational milestones, and businesses can gain from collaborating with their employees to establish educational objectives. College degrees, company-sponsored training programs, and professional certifications are examples of valuable educational accomplishments.
2. Develop Your Expertise in Your Field
Gaining a broad experience and expertise in your role can lead you to a better position. This work goal example lets you aim to increase your salary in the future and become a great asset to your employer. Moreover, having sufficient skills and knowledge widen your opportunities for bigger goals in the future.
3. Take a Leadership Role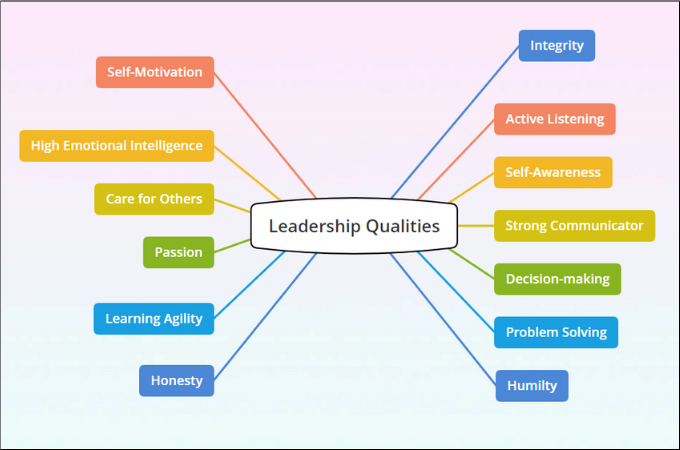 Edit this example
Being an efficient and productive employee may usually be promoted to take a higher position. If this is one of your work goals, you should possess and enhance the qualities of a good leader such as management and communication skills.
4. Aim for Recognition at Work
Career goals don't get much more motivating than being acknowledged with a distinguished award for your efforts, regardless of whether your employer offers particular distinctions or you're working to accomplish something for a third-party organization.
5. Consider a Career Change
If you feel dissatisfied with your current position, don't be afraid to consider a career change. One of the initial steps in changing your career path is to acquire a degree or find a job related to your ambitions. Two of the most typical work goals across the board are to enjoy your work and feel passionate about what you do. If you don't, it might be time to start looking in other directions
Conclusion
Now that you have at least ten examples of work goals examples, you can start setting your own. Spend some time deciding what should come next on your to-do list in terms of achieving your professional growth objectives. Also, identify the short and long-term plans with the use of the SMART goals method.