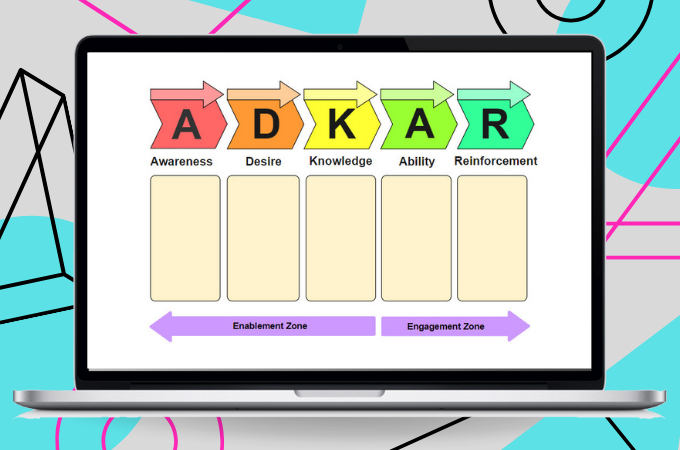 If you're in a company or any business that needed to start with change management on a certain project, keep in mind that many of the people involved are unfamiliar with the notion. The effective use of change management ideas and approaches represents a significant shift for them. In these kinds of situations, developing an ADKAR may be the most effective and efficient approach for them to adapt. Meanwhile, you may read on to understand more about this strategy and how this model might benefit you.
ADKAR Introduction
ADKAR Definition
The adkar model of project management is an output organizational change strategy that strives to reduce organizational resistance to change. It is one of the most critical models for ensuring that the transition process runs well. The approach is focused on the people aspect of transformation, especially how to guarantee that almost all employees are engaged to support and participate in the transformation. Once this is completed, the model changes to the organizational aspect, since once the people are in place, the procedures must be prioritized.
Elements of ADKAR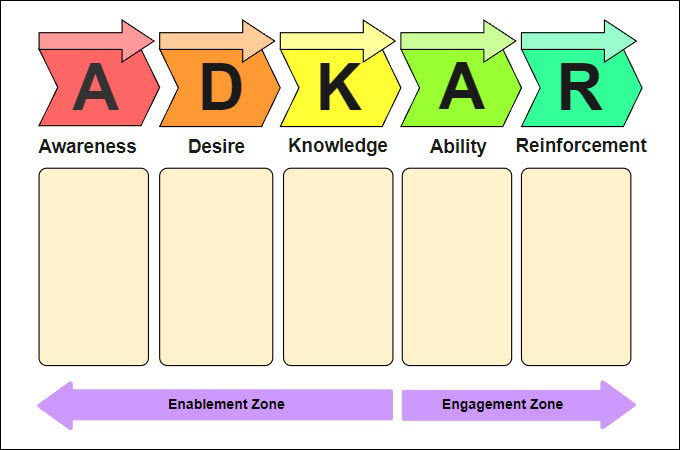 Awareness
It is crucial to understand that implementing an adkar change management requires people to move from outside their usual environment. They will not do so freely until you can educate them of the necessity of improvement. It is true that the t Two-way communication is key to encourage every employee to offer recommendations and make suggestions.
Desire
To establish a desire for adkar model of change, individuals must understand why it is beneficial to them. For instance, they may be unconcerned by the company's poor profitability. They will care, though, if they are aware that low profitability may force the company to freeze salary increment, undertake cuts, or possibly close down.
Knowledge
It's pointless to try to execute an adkar change except if the employees are actually transforming and know how to do their jobs well. It may be as easy as teaching them how you would like them to perform from now on and also where they belong in the production system to get through this phase. Then, employees still require training.
Ability
Hands-on training is excellent training for implementing a new procedure, and once employees have proved their abilities, you can be pretty certain that there will be no expensive mistakes further on.
Reinforcement
Reinforcement in the adkar model is a continuous process, supervisors and top management must be attentive and provide frequent feedback. Recognizing and praising employees is just as essential as identifying places where people need some guidance to get their part of a new company procedure working effectively.
GitMind ADKAR Model Templates
Create a professional-looking adkar change management chart using GitMind. This program provides numerous types of flowcharts and diagrams. You may quickly begin with the elements available in its collection. These capabilities are quite handy for creating diagrams. Furthermore, this ADKAR creator will let you share your outputs with others through URL. Most importantly, this technology can assist in the progress of collaboration and creativity.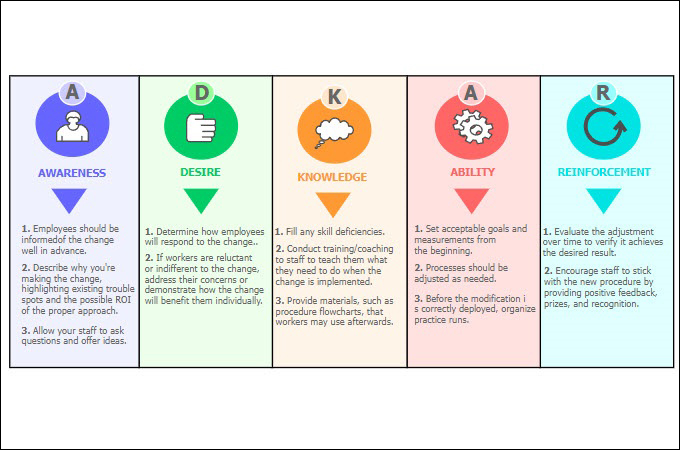 Edit this example
Benefits of Using ADKAR
The adkar model for Innovative Behavior has the benefits of focusing managers and change management teams on promoting human transition with their objectives and the results. It also offers a shared voice for change managers, executives, and workers, as well as a basic structure for everyone participating in the transition. These theoretical ideas can be beneficial, however, they are challenging to use in reality. It includes extensive support and education. It provides intensive training and support at a reasonable cost. As a result, businesses always have mentors and instructors on hand to assist them as they adapt and expand.
Conclusion
Consider the nature of the desired change as well as your particular circumstances while choosing if ADKAR is good for you. If you need a whole solution that delivers simplified education, advising, and assistance, then ADKAR is worth having a look at. However, the five factors may not necessarily apply to each and every business circumstance. Before making a choice, analyze the considerations in all aspects of the business or company, as well as other change productivity tools.