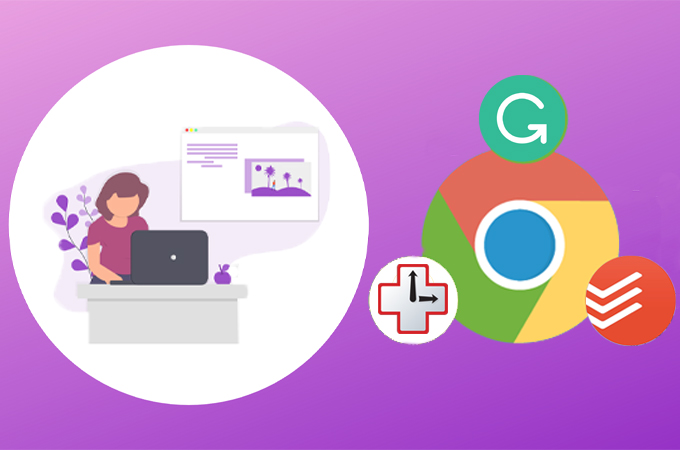 Google Chrome is one of the fastest web browsers that work well with all platforms such as Windows, Mac, Linux, Android, and iOS. Moreover, it is packed with easy-to-install extensions that are usually free. No wonder it is the most used internet browser. However, as with any browser, staying focused can be challenging with Facebook and other social media only a click away. In this case, we researched for best extensions for Chrome to increase productivity, maintain deep work sessions, and get things done.
10 Best Extensions for Chrome Browser
StayFocusd
Best for online users who need to get things done without any distraction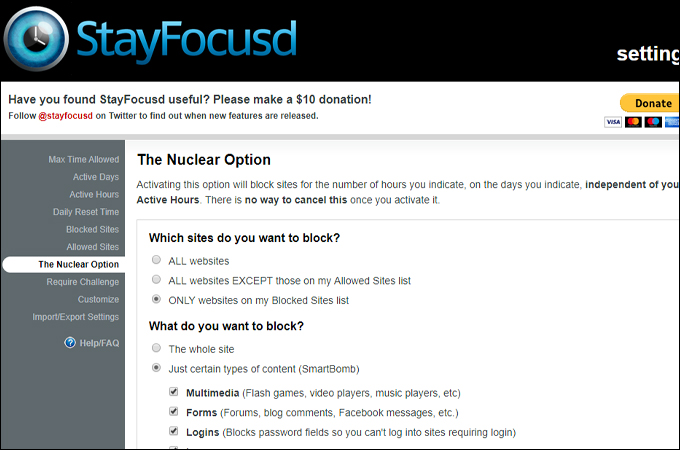 This chrome extension helps you block time-wasting sites like Facebook and YouTube by setting a time limit for how long you can spend browsing through these sites. When the time is up, StayFocusd automatically blocks access to that site, allowing you to focus on your tasks for the rest of the day. Also, it features a Nuclear option wherein you can enforce it to block sites on certain days and a number of hours you want to completely restrict a certain site.
Grammarly
For all users to be an effective communicator and eliminate writing issues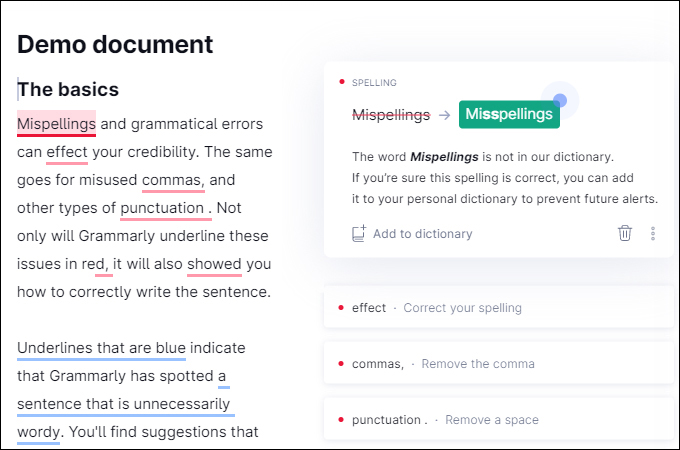 Save yourself from grammar, punctuation, spelling mistakes, and other writing issues using one of the best Chrome extensions for productivity. This is none other than Grammarly. As soon as you install this plugin on your browser, you will get suggestions from Grammarly directly on Gmail, Twitter, or whatever platform you're using. This can also detect when the sentence is in a passive voice and revise it into an active voice to convey a strong and clear tone.
Todoist for Chrome
Suitable for users who handle a lot of tasks both in professional and personal life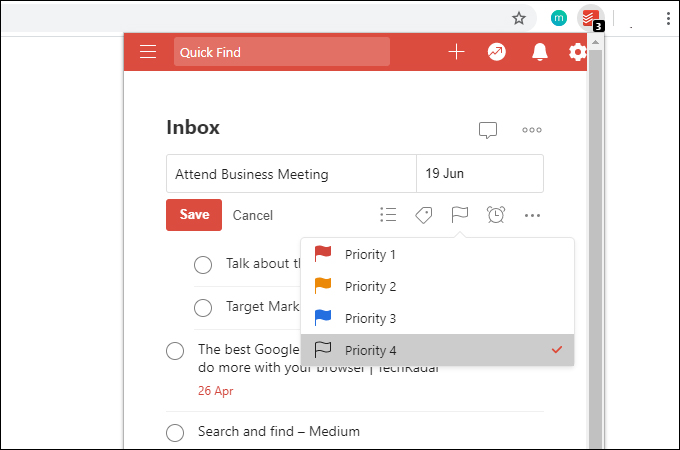 Take control of your tasks right from the comfort of your browser with Todoist. This add-on lets you convert websites into tasks especially when adding a blog post to read later. Moreover, you can use it to prioritize tasks by assigning deadlines and remind yourself to finish the important tasks making it the top list of our best Chrome extensions.
Momentum
For users who want an inspiring and motivating Chrome apps screen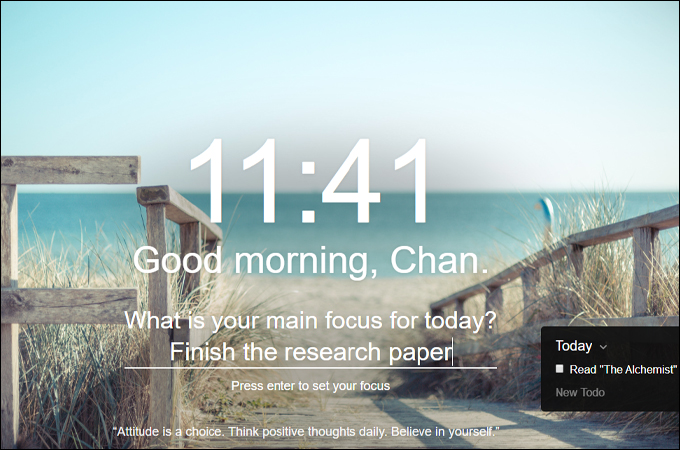 Momentum displays a beautiful nature photo on your Chrome apps screen that is calming and inspires you to be productive with daily photos and quotes. Aside from that, it lets you fill in your daily focus task right at the center. Also, you can add more to-dos and keep track of them using its To-do list function.
Tab Wrangler
For a user who opens too many tabs while browsing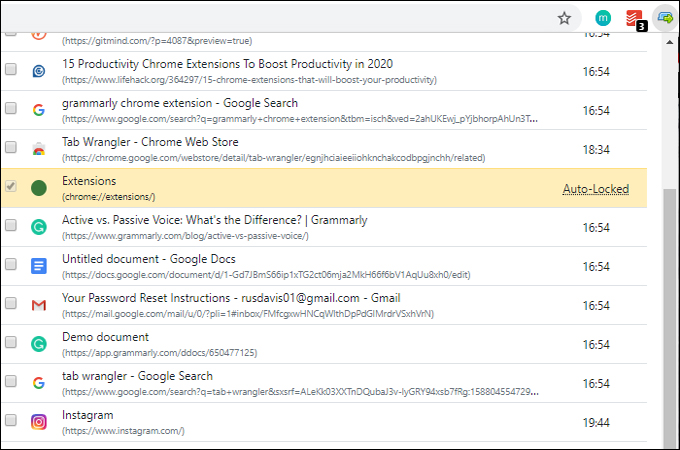 Too many tabs running on Chrome cause higher RAM usage, which results in slow computer performance. But this can be prevented with the help of Tab Wrangler that automatically closes inactive tabs after a designated time. In case you are working on forms or web apps, you can pin the tabs that you want to keep open to stay in place.
Strict Workflow
Great for professionals who want to maximize their time and meet their goals on time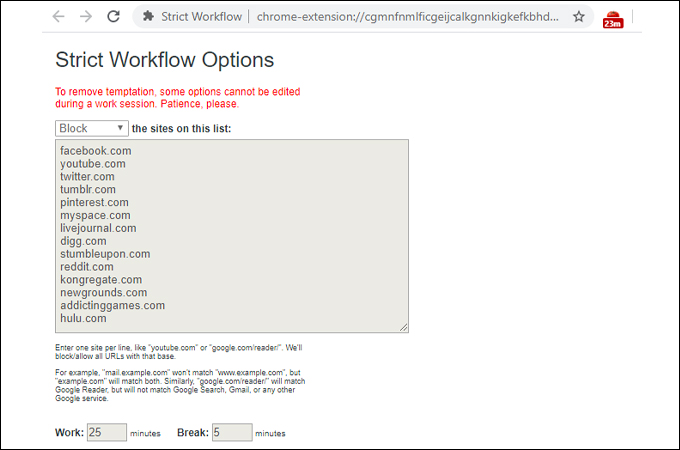 Strict Workflow lets you handle your time by taking the Pomodoro time management technique wherein you follow the 25/5 min workflow. The idea behind this technique is to spend 25 minutes working followed by a 5-minute break. Similarly, the tool is equipped with the capability to restrict non-related sites while working. Then you can spend your 5-minute break to unlock them which sets it apart from among the best Chrome extensions for productivity.
RescueTime
Best for students or professionals who want to monitor and improve their productivity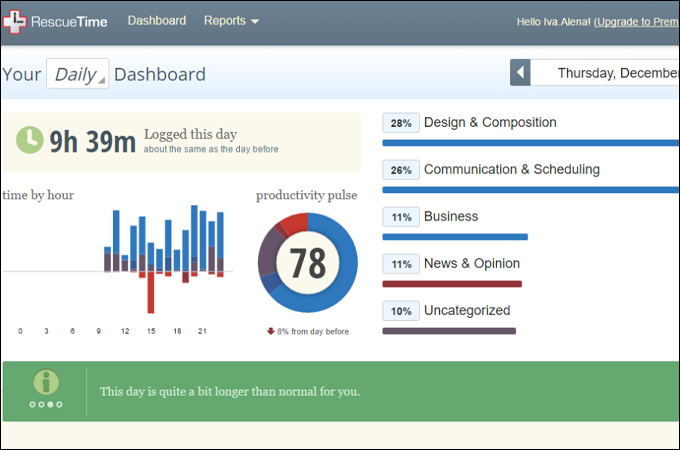 RescueTime helps you track your productivity through the automated time tracking that shows how much time you spend on the websites you visited. Aside from that, the sites are categorized from Very Productive to Very Distracting. Also, this extension tracks the time you spend on a day, week, or monthly basis.
Pushbullet
For professionals who need to send and receive messages or call notifications while working on the browser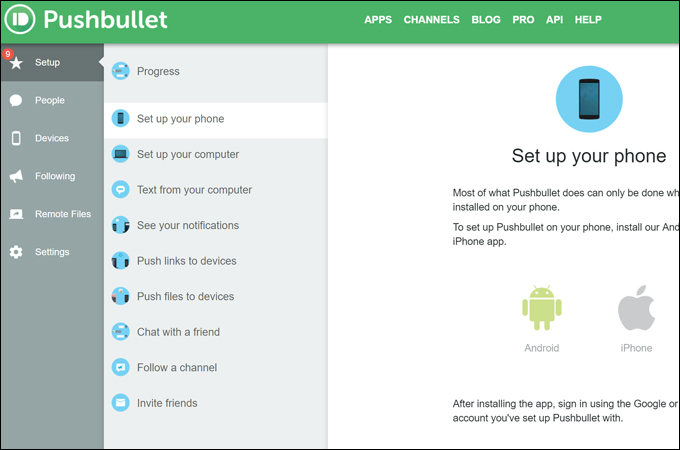 Next on the list of best extensions on Chrome, we have Pushbullet. It allows you to receive notifications and compose a message using your computer keyboard. Furthermore, you can reply from famous chat services like Facebook Messenger, WhatsApp, so as SMS messages. Besides, it also allows you to dismiss unwanted notifications from your browser and phone.
Diigo Web Collector
Great for students or users who do a lot of web research and writing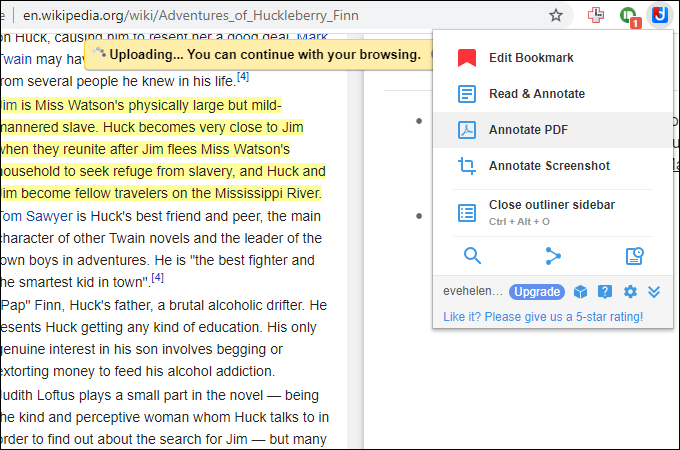 If you need lots of webpage for your research and writing, Diigo Web Collector lets you bookmark and archive webpages. As one of the best extensions, it enables users to attach highlights and stickies to a webpage as a reminder. Best of all, you can use its Outliner feature to organize all your clips from a webpage using its drag-and-drop functionality.
LastPass
Designed for users who use different logins on different platforms and devices.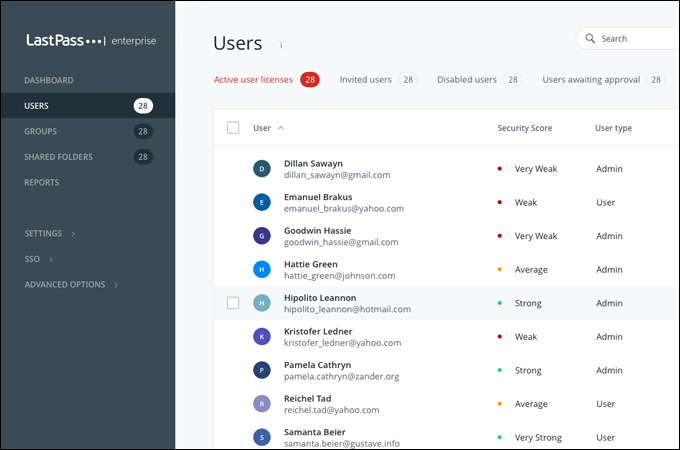 LastPass allows you to save all your login credentials from any website. You just need to remember a master password to get access to your password vault. Then it automatically fills out web forms and websites where logins are required.
Conclusion
Indeed, Chrome extensions tools make it easier for us to access apps right from our browser. Now, you can easily incorporate productivity apps on your shortcuts for faster and efficient work/studies. Plus, being able to save some storage space on your computer. Hence, say no to more heavy-duty desktop apps and instead use Chrome Extensions.