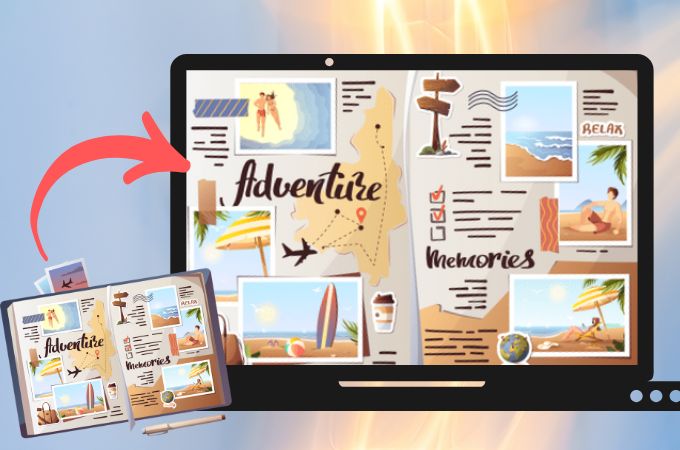 The term "journal" originates from the Latin word "diurnalis," which means "daily." In medieval Latin, "diurnal" developed into "journalis" or "jurnal" in Old French, referring to a daily record or account of events. Consequently, a journal or diary serves as a record of occurrences in an individual's daily life. It encompasses experiences, thoughts, emotions, and reflections that transpired throughout the day. Typically, individuals write in their journals at night before sleeping to recap and document everything. Some people write extensively, capturing every detail, while others choose to log only significant events of the day.
In the past, journaling was traditionally done by writing in a physical journal book or by using pen and paper. However, as technology advanced, journaling methods have also changed. Nowadays, with the rise of digital devices such as computers, mobile phones, tablets, and iPads, journaling has become more convenient and accessible. Digital journals have emerged as a new form of private space for self-reflection. In this article, we will assist you in finding the best journal apps that can safeguard your personal thoughts and experiences like trusted companions. Prepare your notes as we present you with a list of these apps and highlight the advantages they offer.
8 Best Free Journal Apps for Digital Documentation of Daily Life
Day One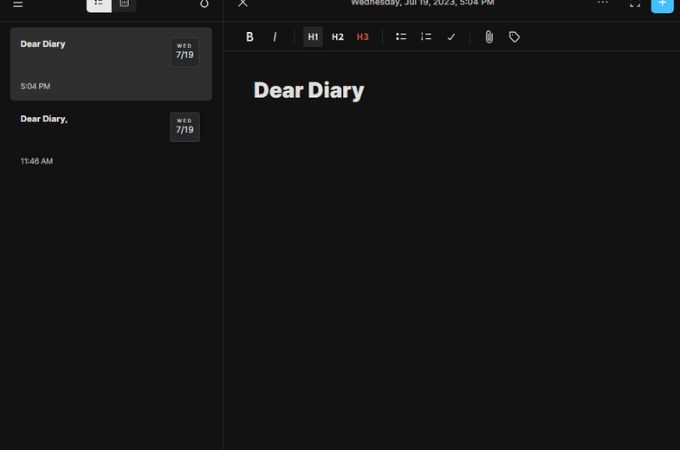 First in our list of best free journal apps is Day One. This digital journaling lets you reminisce about what happened to you the whole day. It has creative templates which you can still personalize. And just like with the traditional Journal, this tool won't let you forget the days since it has an automatic time and date tracker. Consequently, this app is mainly for iOS and Android users but now it has a beta version on the web for free online documentation.

Key Features:
Ability to add and import photos from the gallery.
Location, weather, and moon phase tracking.
"On This Day" feature to revisit memories from a year ago.
5 Minute Journal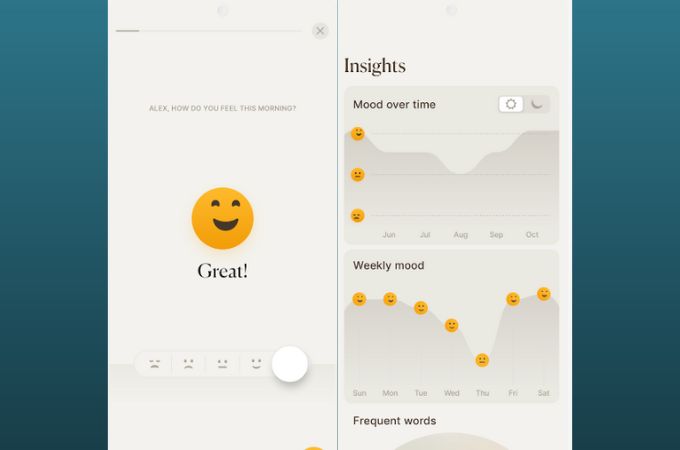 If it is about accessibility, 5 Minute Journal is one of the amazing free journal apps that can give you that. This app is a mobile device-compatible app that lets you record your thoughts and moods from morning to evening. Unlike with the app mentioned above, this tool has a structured guide format to help you in journaling and develop a habit in jotting down your experiences digitally. Its name is derived from its goal to let its users reflect in five minutes at morning and night. Therefore, this journal app is perfect for individuals who want to start their diary-writing journey and build a habit for it.

Key Features:
Prompts to reflect on your day, sleep, and things you're grateful for.
Option to receive daily inspiring quotes.
Journey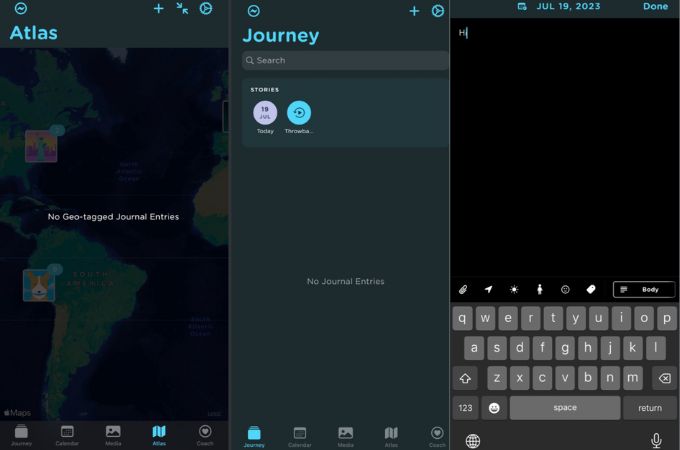 Wanting a digital companion in journaling? Well, here's Journey to help you in writing everything that affects you throughout the day. This tool has been gaining popularity in its field due to its massive and functional diary-making features. It has a calendar where you can input your significant memory and activity of the day. More than that, it also offers editing tools so users can also be creative in their journal. In fact, it promotes a different writing style – you can write in paragraph or bullet numbers. Interestingly, you can also use this as your daily, weekly, or monthly planner with its Checklist tool.

Key Features:
Upload photos, audio, and video for capturing emotions.
Customizable interface and the ability to add links.
Diarium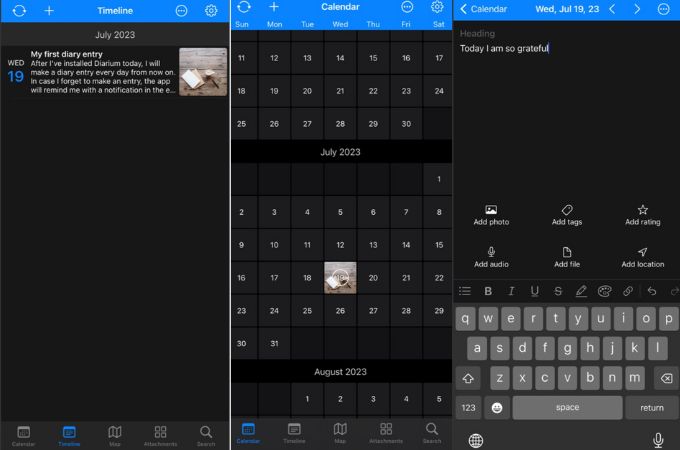 Next on our list of free journal apps is Diarium. At first glance, its interface seems like a plain calendar but as you explore this app, the dates on its calendar are clickable and that's where you document your day. This journal tool is great for travelers since it can pull in your travel data from your gallery and maps. You can also add tags to your journal entry for easier sortation. And for your more organized thoughts-documentation journey, you can take advantage of its text formatting tools (bullet format, bold, italicize, and underline).

Key Features:
Works on Windows, Android, and iOS devices.
Text-to-speech that accurately transforms your audio record into words for hands-free journaling.
Security features like password, PIN, and biometrics.
Penzu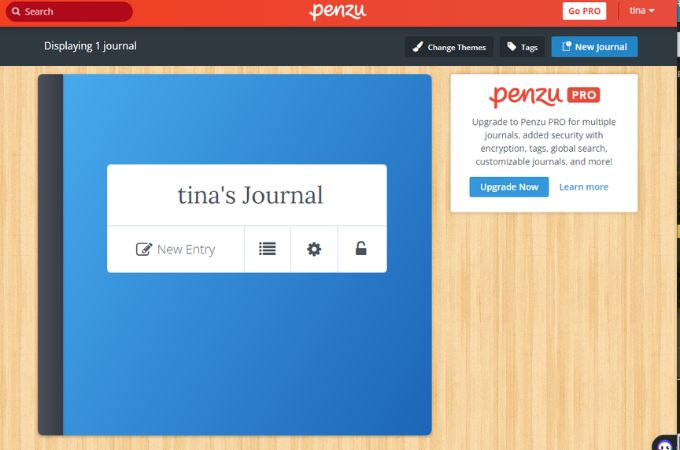 For straightforward journaling, Penzu is among the best free journal apps that you can enjoy. With this tool, you can directly just write what you experience the whole day online. Meanwhile, you can also use its Prompts feature to start your journaling and reflect from the given prompts. More than that, you can also format your journal according to your liking. And to help you in making it a habit, Penzu can send an email to you as a reminder to journal.
Key Features:
Basic text formatting tools.
Option to export and download journal entries in PDF.
Dabble.Me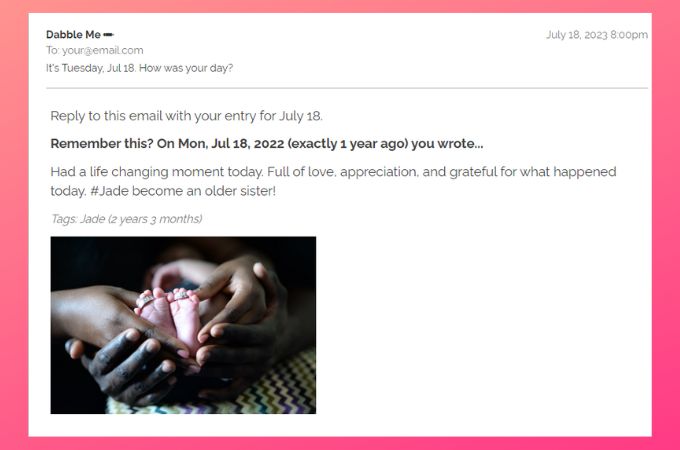 Although Dabble.Me is not a free journal app, it is still considered as one of the best journal apps due to its ability to safeguard your journal. Unlike with the other journal, Dabble me sent you an email every other Sunday where you can add in your adventures, emotions, and activities you have had. This feature of the app is helpful for someone who is forgetful. This app also lets you embed Spotify tracks and attach photos to your journal.

Key Features:
Hashtags for tracking health and goals.
Suitable for documenting baby milestones.
Grid Diary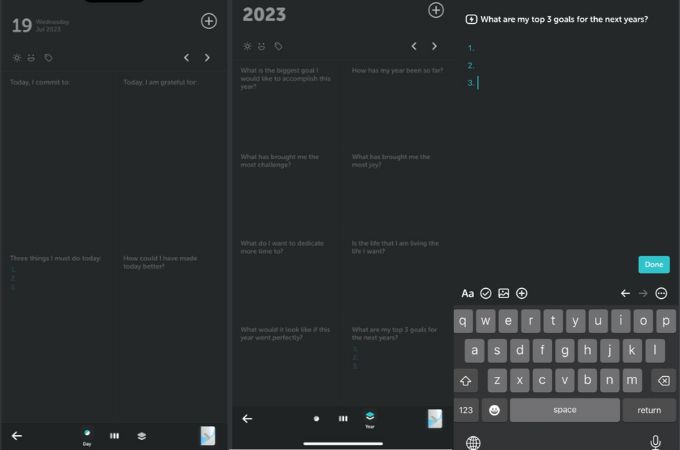 One more app included on this list is Grid Diary. This tool gives you freedom in writing everything on its blank and blank sheet. On this app, you can also take note of your moods for some self-observation by using its cute and funky stickers. Moreover, it also has a library of prompts or questions you have to answer to save you from writer's block. These prompts are in grid, hence, it is where its name is derived from.

Key Features:
Personalization of journal with images
Password protection in the pro version.
Export your diary in PDF, MD, JPG, and more.
Write Honey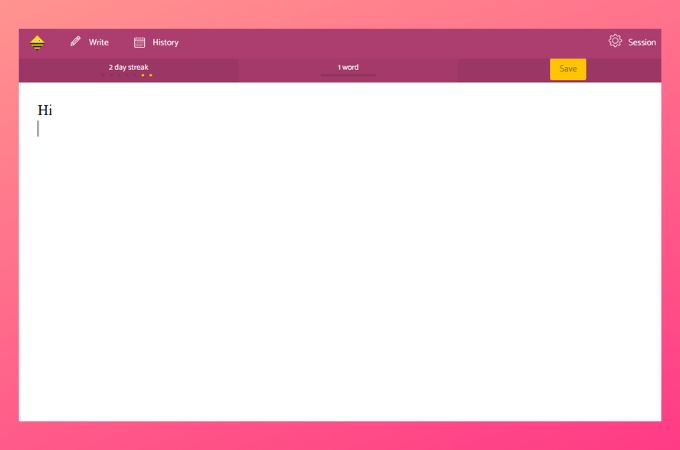 Since journaling is free writing, we have included Write Honey in this list. This app has a straightforward interface which is meant for free writing. It has no journaling tools, just the basics – dates and space to write. Although this tool is different among the tools we have already mentioned, this is a perfect app to start your writing habit. It promotes free writing to help someone's clouded mind release their thoughts (stress, dreams, plans, or just random thoughts). Amazingly, you can write anything here, even novel-length write-ups– that's how limitless this app is.
Key Features:
Word counter to track writing length.
Focus on privacy and journal protection.
Conclusion
As you start your journaling journey, these best journal apps can be your helpful companions to capture your experiences which you can look back on. And if you wish to level up your journaling, try GitMind, a mind mapping tool, to visualize your thoughts, ideas, and reflections in a structured way. Remember, organizing your thoughts is key, and using a mind map can uncover connections and insights for personal growth. Happy journaling and mind mapping!