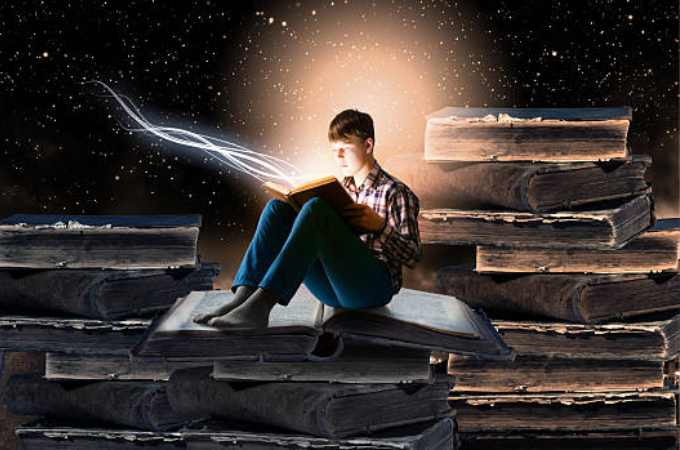 Getting a fresh start this year can also mean a new collection of the best science fiction books. Discover the unknown and embrace things that will let us wonder of the future holds. Besides, let your imagination be filled with the knowledge and technology that sci-fi brings. So what are you waiting for? Let's uncover the collection of page-turner sci-fi books that are worth reading and will challenge our assumptions.
Best Science Fiction Books in 2023
Some Desperate Glory by Emily Tesh
The first on our list of the top sci fi books is the action-packed space opera, Some Desperate Glory. It is a much-awaited debut book of World Fantasy Award winner Emily Tesh. Kyr lives in the depths of Gaea Station, where she has trained all her life. She is waiting for the perfect time to take revenge on those responsible for the destruction of planet Earth.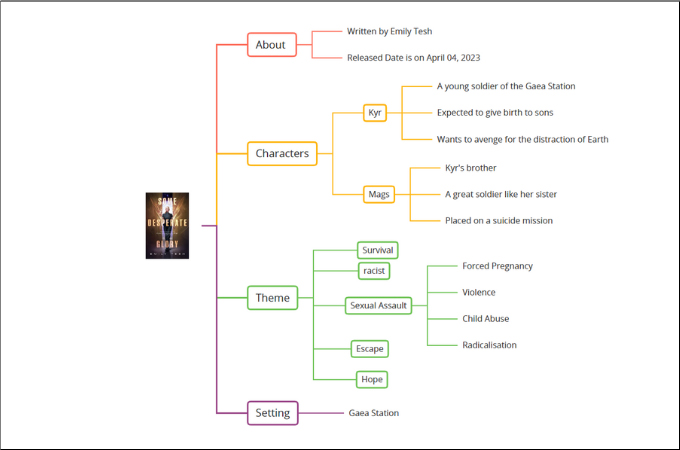 Edit this example
Further, she realizes she must take matters into her own hands when the Command assigns her brother to certain death. And she is supposed to give birth to sons or die trying while living her existence in the Nursery. Kyr, escorted by her brother's pal and an imprisoned alien who is lonely, leaves all she has ever known. Later, she learns that the universe is far more difficult than she had imagined.
The Terraformers by Annalee Newitz
One of the good sci fi books that will surely excite you is The Terraformers. It is said to be a great science fiction during this time and a love letter to the future. More than that, it gives a remarkable adventure of triumphs, challenges, and hopes. A long-standing group called the Environmental Rescue Team is in charge of keeping an eye on and protecting ecosystems. Destry is tasked with terraforming it with the assistance of her moose, Whistle.
Everything is going according to plan until she discovers a city that shouldn't be inside a volcano. She should report the city, but doing so could destroy historical records for the planet. However, generations are affected by her choice. Years later, Destry's protege Misha learns that a real estate company is purchasing significant tracts of property in Saskatchewan. This could bring great terror to everyone.
Arch-Conspirator by Veronica Roth
Another selection that you should not miss when talking about the best sci-fi books of all time is the Arch-Conspirator. In a post-apocalyptic world where all genes have been corrupted and every conceivable womb is useful to the state. It is not just in Kreon's best interests politically to keep his dead rival's offspring alive. The siblings are disregarded because others think they are soulless as they were naturally born. Only the pure genes of the deceased, who are subsequently reincarnated through the surrogacy of the living, may be combined to form souls. Antigone and her sister Ismene can still act as vessels despite being thought to be degraded.
The Mimicking of Known Successes by Malka Older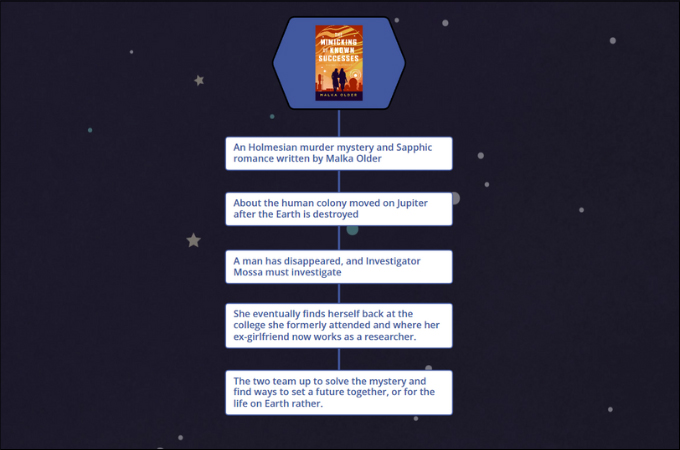 Edit this example
The Mimicking of Known Successes is unquestionably both a comforting and heart-pumping reading experience, which doesn't happen very often.No wonder it is listed as one of the best science fiction books. In response to a tip on a guy who has vanished from the human colony, investigator Mossa is traveling to Valdegeld, the location of the university on Jupiter. At Valdegeld, Mossa contacts Pleiti, her ex-girlfriend, and a researcher working to discover a means for humanity to return to Earth. The two unite as they attempt to envision a future for both themselves and life on Earth.
Critical Mass by Daniel Suarez
Critical Mass is the newest space-tech thriller by New York Times bestselling author Daniel Suarez. This book is perfect if you want to add to your collection of the top sci fi books. Moreover, it is about a tech millionaire who developed a plan to send a covert mission to an asteroid. It will be mined in order to spark a brand-new extraterrestrial economy. Considering that asteroid mining was more difficult than anyone could have anticipated, he hired a team of specialists. Then, put them through a challenging and confidential training routine to prepare them.
The Daughters of Izdihar by Hadeer Elsbai
Another heartwarming book that you should take note of is the Daughter of Izdihar. It shows the miserable life of Neha who married a wealthy merchant as payment for her father's gambling debts. Nehal's only goal is to become proficient at waterweaving so she may continue her career in combat. Later, she discovered that her husband is in love with a bookseller named Giorgina who is also an earthweaver. They are brought together by a radical women's group and its leader, Malak Mamdouh. While a conflict looms and a neighboring country threatens to put a stop to weaving and weavers forever, the ladies fight for their independence.
Witch King by Martha Wells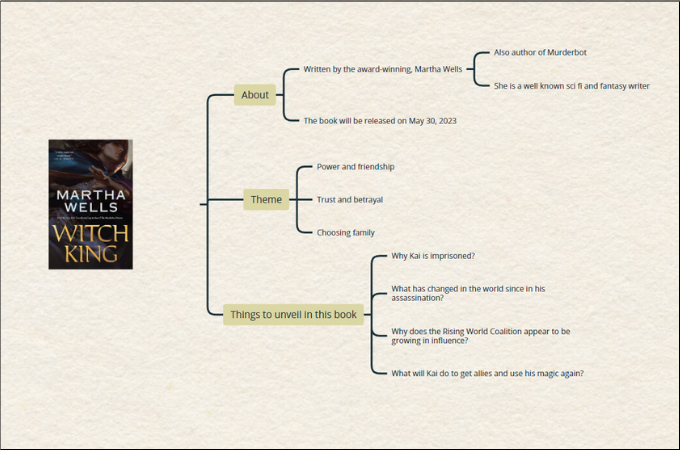 Edit this example
Martha Wells never fails to give the best sci fi books of all time with her latest book, Witch King. Over the course of her career, Wells has produced a sizable body of fantasy literature, but her Murderbot novels have moved her to new heights of stardom. Kai-Enna was killed in this return to fantasy, but his consciousness survived, and when he awoke, he saw a wizard attempting to use his abilities. Kai needs to figure out why he was killed and get a sense of the new society he has entered.
Hell Bent by Leigh Bardugo
We've been eager to learn what happens to Alex, Darlington, and everyone else on that mysterious campus since the horrific ending in Bardugo's Ninth House. In Hell Bent, all our questions might be answered. Galaxy "Alex" Stern is not allowed to go into hell to save a soul. Fortunately, she wasn't particularly good at obeying rules. However, the individuals she can rely on are at best suspicious. Alex is aware that something evil is at work in New Haven as faculty members keep dying. For her to live, she's going to have to face the demons from her past and battle the evil ingrained in the university.
The Surviving Sky by Kritika H. Rao
Got into our list of good sci fi books to read this year is the Surviving Sky by Kritika Rao. In plant-made civilizations that float above a rainforest world, humanity's last holdouts are kept together by science, tradition, and technology. Architects are highly regarded for their life-saving mental architectural skills on floating jungle worlds that serve as humanity's last havens. Maybe with the exception of Ahilya, the strong-willed wife of an architect named Iravan. She is determined to lead the hierarchies of power in their society.
Heavenly Tyrant by Xiran Jay Zhao
Xiran Jay Zhao will let us wonder about cultural standards, Chinese history, feminism, and more with the Heavenly Tyrant. This is among the top sci fi books that will surely take every page to next level. Zetian, the lead character, has returned and is more determined than ever to overthrow the immoral and sexist culture. She runs the possibility of not only using terror and brutality to rule but also of becoming just as corrupt as the others if she gives in to her darker instincts.
Conclusion
The most anticipated sci-fi books were handpicked and listed above. Each will bring a thrill and will give you a sense of escape from the real world. We hope that you might get your next favorite among this collection of the best science fiction books. Let us know what you feel about them and please don't forget to follow GitMind for a more exciting booklist like this.