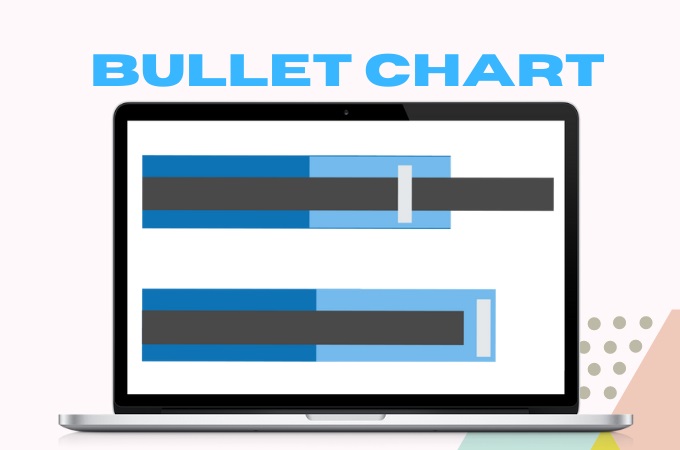 A bullet chart, also know as bullet graph, is a type of bar graph which resembles progress bars and other horizontal bar charts. The main use of this chart is to show the progression of a data by highlighting with various shades of a single color. This chart is useful in tracking the performance of a single target which is useful for reports. With that being said, it is easy to make this type of chart since it doesn't require any complicated elements and shapes. There are also templates that you can download online making it a very accessible chart.
Ultimate Bullet Chart Tutorial
What is a Bullet Chart?
The bullet diagram was devised by Stephen Few to replace the traditional dashboard meters and gauges. This diagram can contain more information compared to the previously mentioned without sacrificing the context, with less chartjunk. It is also a huge space saver since you can pack all information within a single bar.
Bullet Chart Components
Like any other chart, the bullet graph is also made up of various components. Each component provides a function that complete the features of this diagram. With that being said, we listed down the components that makes up the entire bullet graph.
Text label – This is a fundamental and important component since it details what your chart is all about.
Quantitative Scale – The actual value or numbers that completes your chart
Comparative Measure – This is usual displayed as a straight line which is placed at the target value. It determines if you have reached the target if the bullet chart reached or passed it.
Featured Measure – This is the bar that runs within the Qualitative range and determines the current performance of the subject.
Qualitative Scale – This is the background that runs across the entire chart.
Bullet Chart Examples to Download<
There are many cases where a bullet chart is useful. That is why a lot of templates are available online. These templates are there to help those who want to use this diagram instantly. In-general, using a template is way more practical than creating one since you can save a lot of time. Additionally, not everyone of us are familiar with the components and what a bullet diagram actually looks like. With that being said, here are some examples that you can also download and use.
Monthly Revenue Bullet Chart Template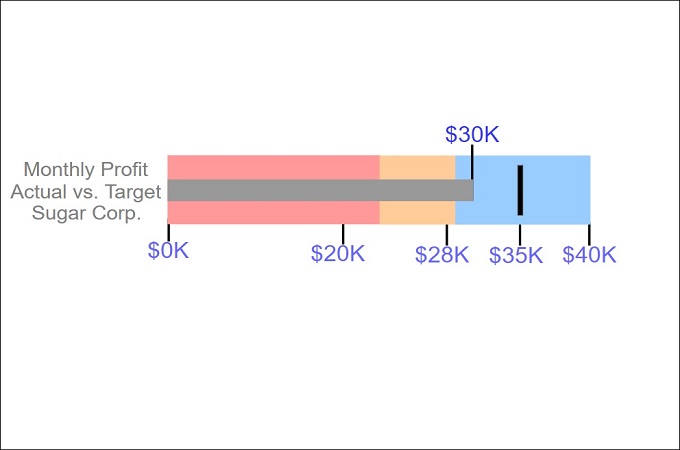 Edit this example
Business owners need to track their sales every now and then. I am sure every businessmen can relate to the frustration of not meeting the target profit each month. That is why it is important to track these moments and then compare them at the end of the year. This is important to know if there are improvements needed to lift the sales performance which in-turn generate the target profit.
Annual Website Download Report Bullet Chart Template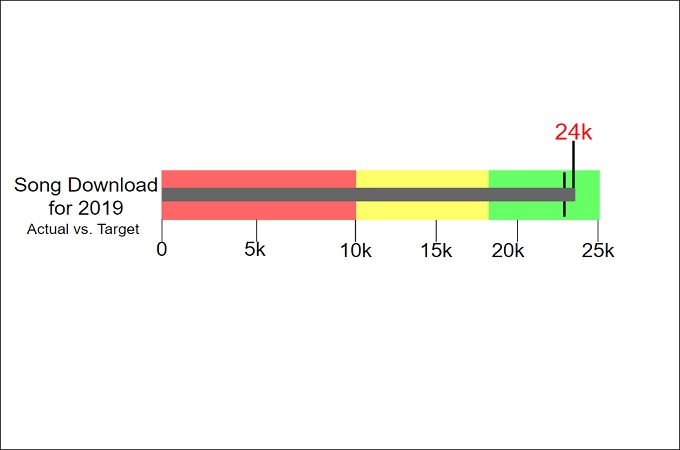 Edit this example
Websites provide various services to their visitors. Among these are websites that provide downloadable contents to their visitors. One example is Spotify where you can download songs and albums if you're subscribed to their premium plan. These websites track their download performance and then release them in an annual report. The bullet graph template above is an example that you can include if your report is of the same nature.
Health Tracker Bullet Chart Template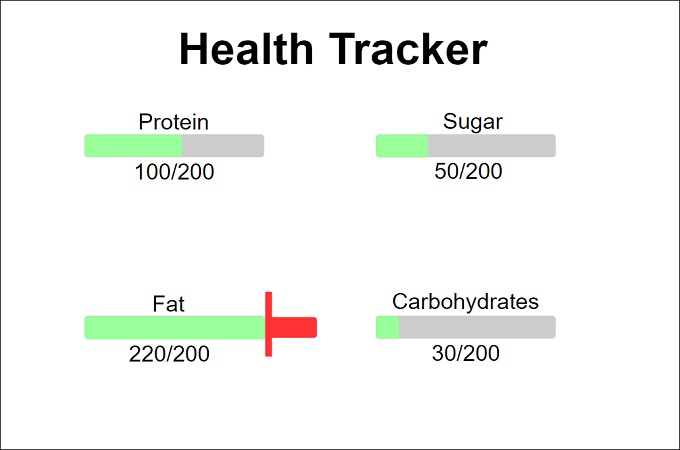 Edit this example
Aside from the usual business purpose, you can also use bullet charts as a fitness tracker. As the example above shows, your can set your daily Protein intake and see if you went over the limit. Same can also be said with others like Fat and Sugar intake. This is a useful way to keep yourself updated and not go overboard with your diet. You can also edit the bullet chart and add more examples.
Conclusion
Despite its simplicity, one can't deny that bullet charts are useful. Imagine being able to provide all these important information with just a few labels and a bar. With all those convenient features, there is no wonder that it has been used from time to time. We hope that you learned something about the awesome bullet chart and hope you use it in the future.