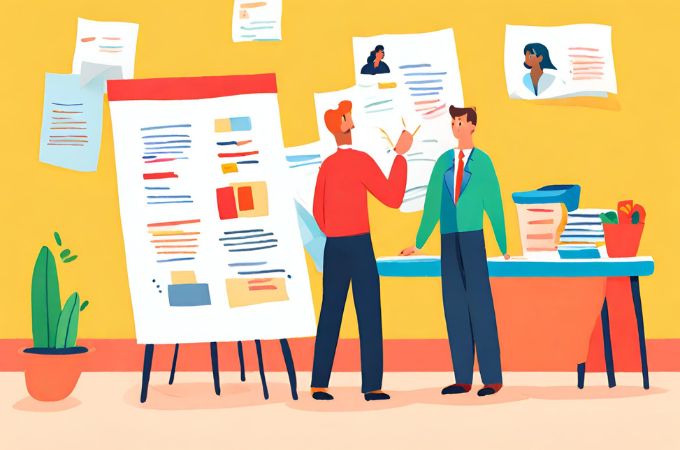 In business, being able to create a persuasive business proposal and using a business proposal template is a valuable skill. And whether you're an experienced entrepreneur or a beginner, a well-organized business proposal can help you get funding, attract clients or partners, and communicate your vision for success. In this article, we'll look at the essential parts of a business proposal, provide user-friendly business proposal templates and examples, and show how using mind maps can improve the process of creating your proposal as you aim to grow your existing business.
How to Make A Business Proposal Template
What is a Business Proposal Template?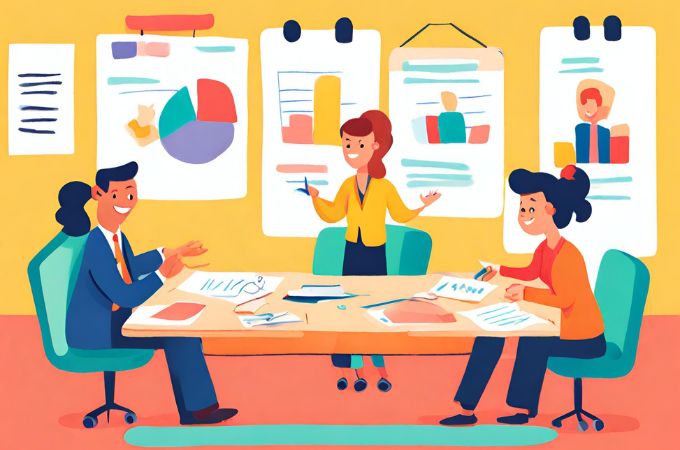 A business proposal is a detailed written document that outlines a comprehensive plan for a specific project or a new business concept. It goes beyond just discussing ideas casually and is created for presentation to external parties.
Its main purpose is to persuade potential investors, clients, or partners to support your business idea. This document is meant to convince them by presenting a well-structured and organized plan for your business concept or project. It aims to build trust and confidence by showing that your idea is feasible, valuable, and has the potential for success. If you need a reference, you can use the provided business proposal examples in the future.
Key Components of a StartUp Business Plan Template
Introduction
The proposal starts with an interesting beginning that sets the stage for what comes next. It gives a quick introduction to the business and its goals, and it explains why the proposal is being shown. Below is the sample scenario and introduction that you can use.
Sample scenario:
"A bakery and pastry shop owner aims to offer their bread and pastries to a renowned local café (BEVY's Café). The café has been unable to secure a dedicated supplier, and the bakery owner is committed to ensuring that their products stand out and are not readily available everywhere. With that, the baker has created a business proposal to address this opportunity.
We, [Your Company Name], propose a one-year exclusive bread and pastries supply agreement with BEVY's Cafe, aligning with your commitment to exceptional service and high-quality products."
Problem Statement
The proposal identifies and describes a specific problem, challenge, or opportunity, explaining why it's important and needs attention.
Sample problem statement:
"BEVY's Cafe is currently facing challenges in sourcing and maintaining a reliable supply of high-quality bread and pastries to meet the growing demand from its customers. The cafe's commitment to excellence and customer satisfaction requires a consistent source of fresh bakery products, and the existing supply arrangements may not fully align with these requirements."
Proposed Solution
In this section, the proposal explains a clear solution to the identified problem, outlining how your project or business idea can effectively address it.

Sample Propose Resolution:
"In response to this challenge, [Your Company Name] proposes a one-year exclusive bread and pastries supply agreement. We aim to bridge the gap by becoming BEVY's Cafe's dedicated supplier, ensuring that you have a consistent and reliable source of freshly baked goods that meet the high standards of quality your customers expect."
Market Analysis
Furthermore, market analysis in a business proposal helps you understand customers, competition, and trends. It also aids in smart resource allocation for a successful business plan and staying competitive which ensures that your business meets market and customer needs.
Sample analysis:
"BEVY's Cafe operates in a dynamic and competitive market where customer preferences and expectations continually evolve. To ensure that our exclusive bread and pastries supply agreement aligns with the cafe's target market, we have conducted a thorough market analysis. Also, this analysis encompasses the following key elements:
Target Audience: Our analysis has revealed that BEVY's Cafe serves a diverse customer base with varying tastes and preferences. We are ready to work closely with your team to customize our product selection to cater to these diverse preferences.
Competition: We've assessed the competitive landscape and identified key competitors in the bakery and cafe industry. Our strategies are designed to help BEVY's Cafe stand out in the market and offer a unique bakery experience.
Regulatory Compliance: We understand the importance of adhering to food safety regulations and maintaining the highest hygiene standards. Our products are compliant with all relevant regulations to ensure the safety and satisfaction of your customers.
Market Trends: We have identified current market trends, such as the increasing demand for freshly baked, artisanal bread and pastries. Consumers are seeking products made with high-quality ingredients and attention to detail, which aligns with BEVY's commitment to excellence."
Marketing and Sales Strategy
Of course, in order to pursue clients and investors, you should guarantee them that you know methods to increase sales which is beneficial both for you. Hence, the proposal should outline the strategies for reaching and engaging your target market, as well as the methods for promoting and selling your products or services.
Sample sales strategies:
"Our success as your exclusive bread and pastries supplier is not only based on the quality of our products but also on how well we can engage your customers and drive sales. To achieve this, we have developed a robust marketing and sales strategy:
Product Promotion:
We will collaborate closely with BEVY's Cafe to create enticing promotional campaigns highlighting our freshly baked goods. These campaigns will focus on the artisanal quality and freshness of our products, enticing customers with mouthwatering displays and special offers.
Customization for BEVY's Cafe:
We understand the uniqueness of your customer base. Our strategy involves customizing the product selection to cater to various tastes and preferences – ensuring that we not only meet but exceed customer expectations.
Collaborative Events:
We propose to host collaborative events at BEVY's Cafe, such as tastings and bakery workshops. These events will not only attract foot traffic but also provide a unique experience that keeps customers returning.
Seasonal Specials:
To maintain customer engagement year-round, we will introduce seasonal specials and limited-time offerings, keeping the bakery selection fresh and exciting.
Social Media and Online Presence:
Our strategy includes an online presence through social media platforms and a dedicated website. This will facilitate easy customer interaction and ordering, enabling BEVY's Cafe to reach a wider audience.
Training and Support:
Our team will provide training to your staff on product knowledge and presentation to ensure that they can effectively promote our bread and pastries.
Sales Growth Tracking:
We will implement sales tracking mechanisms to monitor customer preferences and sales patterns. This data will guide adjustments to the product selection and promotional strategies."
Financial Projections
This part of the proposal shows the money side of things. It is also includes details about how much money you expect to make, spend, and when you'll reach a point where you're not losing money anymore. This section proves that your proposal makes financial sense.
Samples financial projections:
"Our partnership aims to not only enhance the quality of your offerings but also contribute to the financial success of BEVY's Cafe. We have developed financial projections to provide insights into the potential financial benefits of our exclusive bread and pastries supply agreement:
Revenue Projections:
Based on current market trends and customer preferences, we project a steady increase in revenue as customers are drawn to the high-quality bread and pastries we supply. Our financial models indicate a significant boost in bakery-related revenue.
Cost-Efficiency:
Our competitive pricing model ensures that BEVY's Cafe can maximize profitability while maintaining product quality and freshness. We aim to strike the perfect balance between cost-efficiency and premium quality.
Profit Margins:
With our supply agreement, we expect to enhance profit margins through cost-effective sourcing and improved customer satisfaction, translating into repeat business.
Break-Even Analysis:
We anticipate that BEVY's Cafe will reach the break-even point swiftly, thanks to the increased revenue from our bread and pastries. This positions the cafe for long-term financial success.
Investment Return:
The financial projections also indicate a return on investment that makes this partnership an economically sound decision for BEVY's Cafe."
Team and Expertise
This part highlights the qualifications and expertise of your team members or key personnel, building credibility and trust with your audience.
Sample :
"At [Your Company Name], we take pride in our team's extensive expertise and experience in the bakery industry. Our commitment to providing top-quality bread and pastries is a testament to the skills and knowledge that our team brings to the table:
Baking Experts:
Our team includes skilled bakers with years of experience in crafting a wide range of artisanal bread and pastries. They possess the expertise to ensure consistent quality and taste in every product.
Food Safety and Hygiene:
We understand the critical importance of maintaining the highest food safety and hygiene standards. Our team is well-versed in adhering to all relevant regulations to guarantee safe and satisfying products for your customers.
Product Innovation:
Innovation is at the core of our approach. Our team is constantly exploring new recipes, techniques, and ingredient combinations to provide fresh and exciting bakery products that cater to evolving customer preferences.
Collaboration Skills:
Dedicated to working closely with your team, not only in product selection but also in marketing strategies. Our collaborative approach ensures a seamless partnership.
Customer Focus:
Every member of our team is committed to customer satisfaction. Our expertise extends beyond baking as we aim to understand your customer base and craft products that align with their tastes and preferences.
We are confident that our team's expertise, commitment to excellence, and passion for delivering top-quality bakery products will greatly benefit our partnership with BEVY's Cafe. We look forward to applying our knowledge and skills to enhance the experience for your customers."
Supporting Documents
In the last part, you can attach extra documents like resumes, case studies, and client testimonials to make your proposal stronger and provide more information for your investors and clients to review.
Sample:
"In support of our proposal to become BEVY's Cafe's exclusive bread and pastries supplier, we are pleased to provide a range of documents and materials to give you a comprehensive understanding of our commitment and capabilities:
Product Catalog: We offer a detailed product catalog showcasing our range of artisanal bread and pastries, complete with descriptions and high-quality images.
Pricing Structure: You will find a breakdown of our pricing structure, ensuring transparency and cost-effectiveness in our partnership.
Quality Assurance: Our food safety and quality assurance certifications demonstrate our commitment to meeting and exceeding the highest industry standards.
Client Testimonials: You can review testimonials from our existing clients, affirming our dedication to product quality and service excellence."
Importance of Business Proposals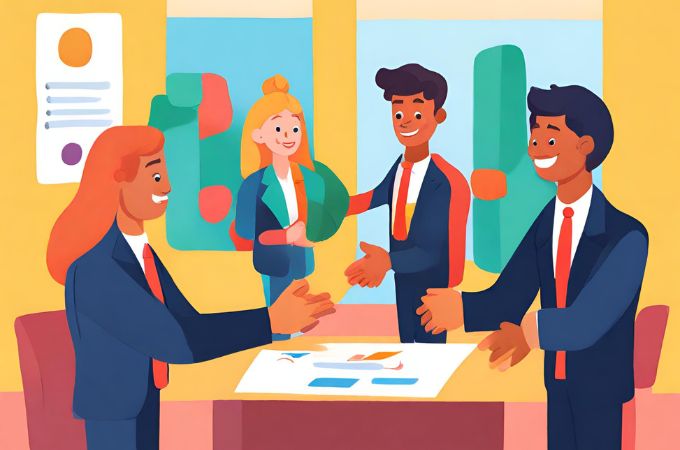 Getting Resources: They are essential for attracting investors, getting loans, or securing funding. A well-prepared proposal can convince financial backers that your project or business is a smart investment.
Building Client Relationships: In industries where clients are important, proposals are used to win contracts. They show your dedication, professionalism, and understanding of your client's needs.
Attracting Partnerships: For collaborative projects or partnerships, proposals showcase the benefits for all parties involved and how the partnership can lead to success.
Strategic Planning: Business proposals serve as a detailed plan for putting your business idea into action. This helps you stay on track and measure your progress.
Effective Communication: They are a means of clear and efficient communication with your intended audience, ensuring they understand and support your vision.
Using MindMap for Your Business Proposal Template
Crafting business proposal can seem overwhelming. Thankfully, you can now make it easier by using tools like GitMind, which is a mind mapping tool. A mind map is a visual way to plan and outline your proposal's key parts. With this, you can break down your proposal into manageable sections.
Furthermore, it assists in idea generation and facilitates collaborative work with your team on a straightforward platform. Its user-friendly interface enables customization of your mind map with icons, images, and colors, creating a visually appealing representation of your proposal. All in all, GitMind is a versatile tool that can empower both seasoned and novice entrepreneurs in confidently planning and presenting their proposals.
Check these business proposal template example: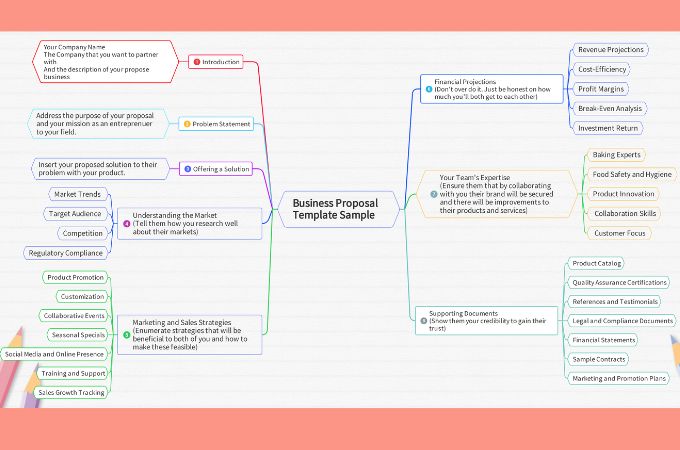 Note: This template serve as your checklist too. Simply click the button below to use it.
Edit this example
Conclusion
In conclusion, using the right tools and a well-organized business proposal template can make creating a compelling proposal easier. And whether you're a seasoned entrepreneur or new to the business world, hopefully, this article helps you to win a deal.