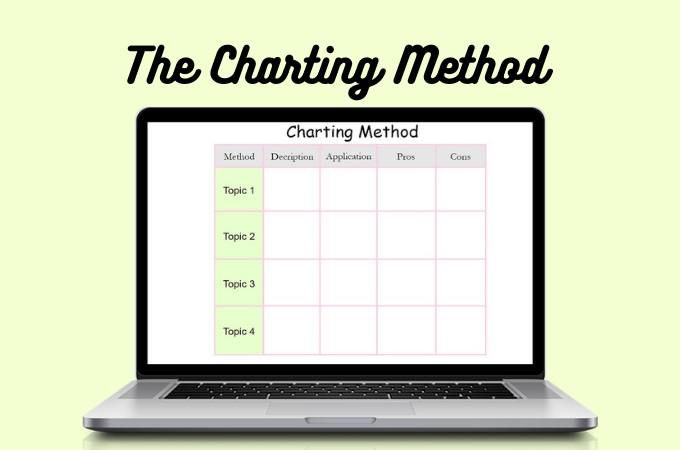 There are many ways to take notes effectively. One of these ways is the charting method, which uses charts to take notes. As we all know, note taking is useful in many fields since it is a way to capture information. However, notes needs to be concise but at the same time needs to be detailed which is why outlining is important. Of course, the style of the one taking the note is also important since they will need to work with what is comfortable for them.
Charting Note-taking Method
What is Charting Method?
In a nutshell, charting note-taking method is the process of taking-notes by category in chart form. The information can be arranged in either chronological or by order of importance. In short, this is a personalized method of note-taking which specifically follow the will of the one taking notes. The basic components of a chart are just simple columns with proper labels.
Benefits of Using Charting Method
The charting method was invented to help people take notes better. That is why it is a given that it has provided a lot of benefits over the years. Not only does it save you a lot of time, it can also be printed and distributed. Aside from the said benefits, there are still other advantages in using this type of chart which are as follows:
Using this method requires less time writing so you can listen-in more on the topic being discussed.
A great tool for comparing subjects which is useful for fact checking.
Charting method helps in creating an outline since all information are sorted in an easy to understand manner.
Charting Method Templates
Charts are typically easy to make depending on the type. On that note, the charting method is a perfect example of a chart which doesn't need any advance knowledge to create. However, there is an easier way to get this chart, and that is by using templates. Not only will you be able instantly start note-taking, but can also use it over and over again. With that being said, we prepared some chart note-taking method templates that you can download and use for free.
Pros and Cons Charting Method Template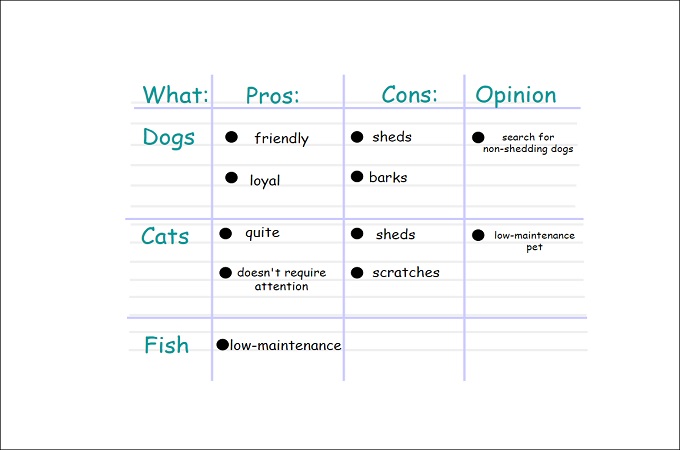 Edit this example
This template is perfect when comparing the advantages and disadvantages of a subject. It can also be used for comparing two different things together, in this case the difference between cats and dogs as pets. You can also use it for other purposes since the template itself is editable and can be used again and again.
Blank Note Chart Template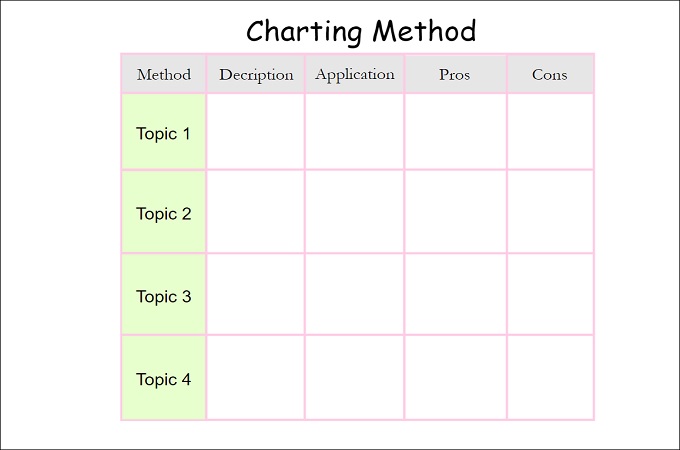 Edit this example
The charting method in this template is a free on since it's blank. This means that it can be edited with different kinds of information. As there are many topics to choose from, having one that fits every occasion is never a bad thing. Aside from that, it is a known fact that charts like this are much easier to the eyes compared to those cramped with text.
Method of Movement Template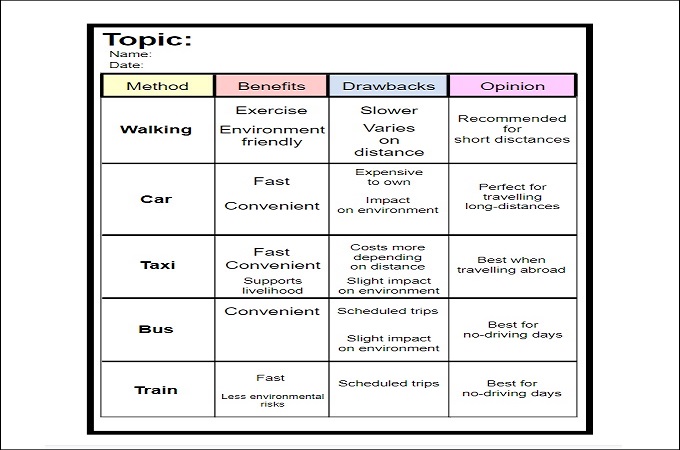 Edit this example
Last template that we have is a comparison between various methods of movements. This diagram shows the benefits and drawbacks of each methods like walking, taking the cab and going by train. There are is also a column that lets you add your own opinion to each mode of transport for easy reference.
Conclusion
If you think about it, note-taking is just a simple task that almost anyone can do. However, there will always be inconsistencies in any method, which is the reason for the invention of methods like this. That is why the charting method is a great alternative way of taking notes. Not only it is easy to read, but is also easy to make. On top of that are the templates that we provided above so you won't have to make your own. This will let you focus on things that really matter.