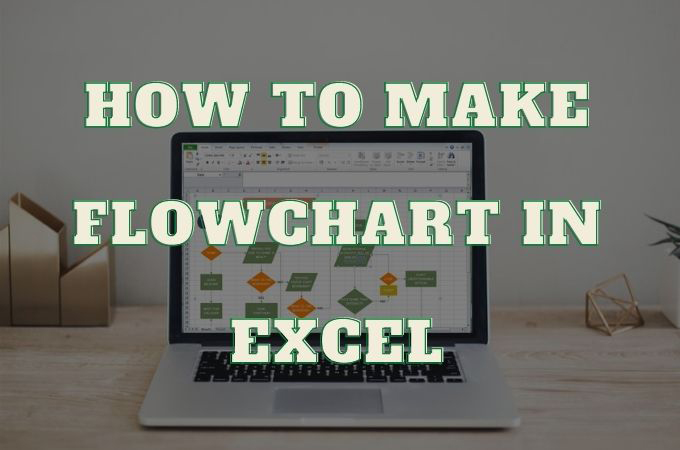 One essential skill that should be learned is the use of various Microsoft Office application such as Excel. The app is a spreadsheet that can be used for multiple purposes, like computing and creating pivot tables. Aside from the mentioned purposes, it can also be used to make graphs like flowcharts and more. If you are wondering how that's possible, then you are on the right page. Here, we will dive deep into the process on how to create a flowchart in Excel. Additionally, you will also learn about a convenient online tool to make flowcharts as well.
How to Create a Flowchart?
How to Create a Flowchart in Excel?
As mentioned above, we can use Excel to make various flowchart together on top of the ability to make Excel documents. Making a flowchart from scratch is not a hard thing to do on Excel. As a matter of fact, there are two ways that you can utilize to make flowcharts here, and that is by using the Smart art option within Excel. This option holds tons of ready-to-use flowchart materials that can be used as it is, as well as customized. To learn how to make a flowchart in Excel using this method, you can follow the steps below.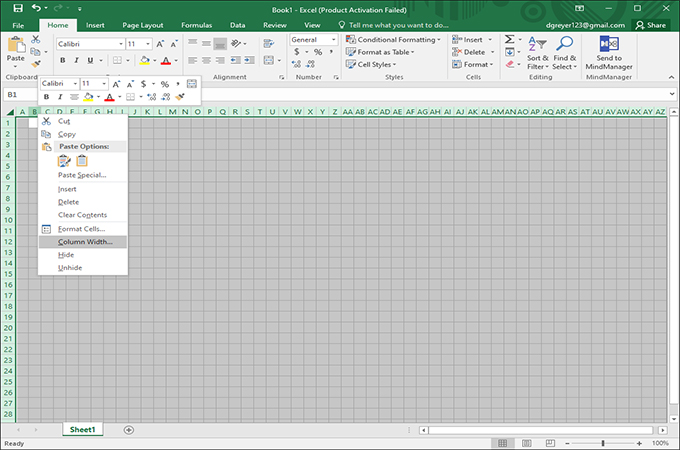 First thing that you need to do, is to make grids for your flowchart. This is where you'll place the chart, and to do so you will need to select a cell and then press "CTRL + A" at the same time. After that, right-click on the column head, and select "Column Width." From the small window that will appear input the width that you want for grid.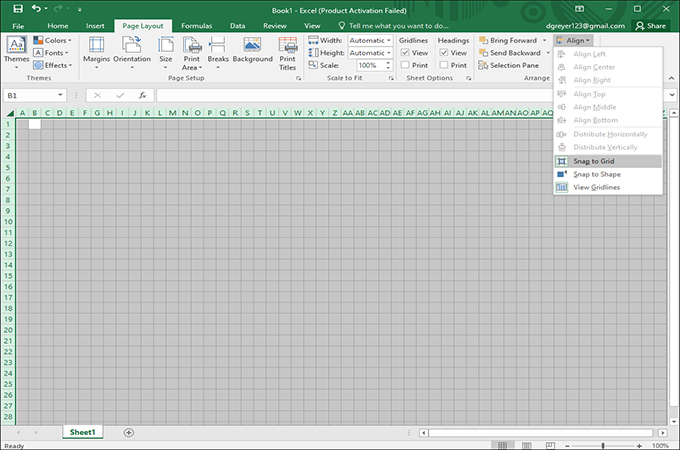 Next step on how to create a flowchart in Excel is to go to the "Page Layout" tab and then click the "Align" button. From the drop down menu, select the "Snap to Grid" option. This will enable the said option which will help you in moving your flowchart later on while editing.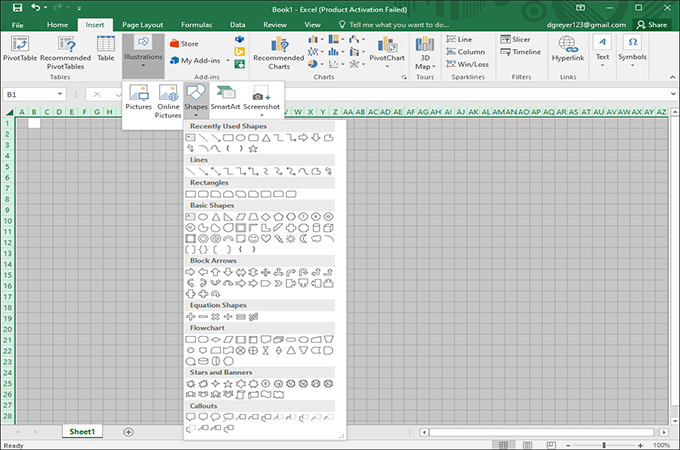 A flowchart won't be a flowchart without the necessary shapes and elements. That is why you'll need to form the chart by clicking "Insert" tab and select "Shapes" and then use the shapes under the "Flowchart" section. Repeat the process until your flowchart is complete.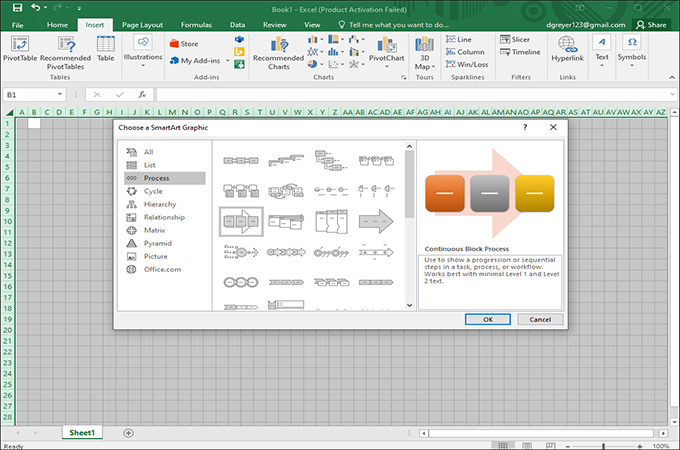 An easier way on how to create a flowchart in Excel is by using the SmartArt feature. As mentioned above, it has many flowchart option that you can use instantly. Simply click the "SmartArt" option under the "Insert" tab and the window will appear. From there, click the "Process" option and select the design that you want and hit the "OK" button to add it to the cells.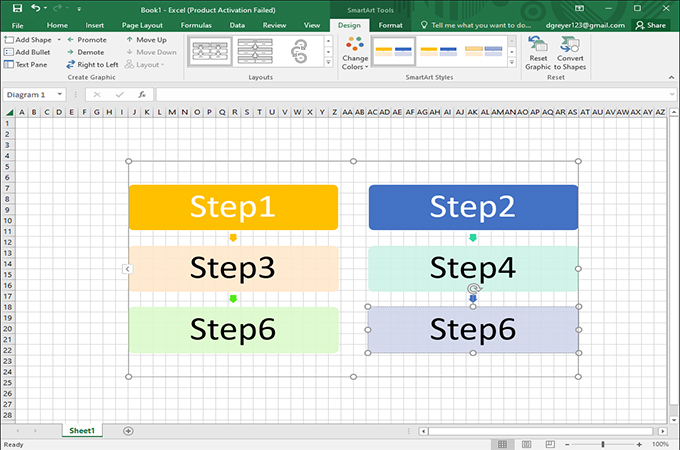 Continue editing by add the texts within the shapes to represent the data. Continue doing so until you fill all the nodes with the proper texts, and then save the flowchart.
How to Create a Flowchart Online?
As mentioned above, we will also introduce an alternative way to make a flowchart. Although this is not a way on how to make a flowchart in Excel, it is still worthy to know that there is an efficient way available to users. Using GitMind, you'll be able to instantly make your flowcharts without the long process that Excel requires. The app is also online and free, which makes it a great go-to tool. Aside from that, it can also be used to make mind maps. You can even add images to your flowchart which is one of its great features. To learn how to use this tool to make flowchart, follow the steps below.
Launch GitMind on your web-browser, and then click the "Try it online" button. After that, the launch screen will appear and then you can immediately click the "New Flowchart" button.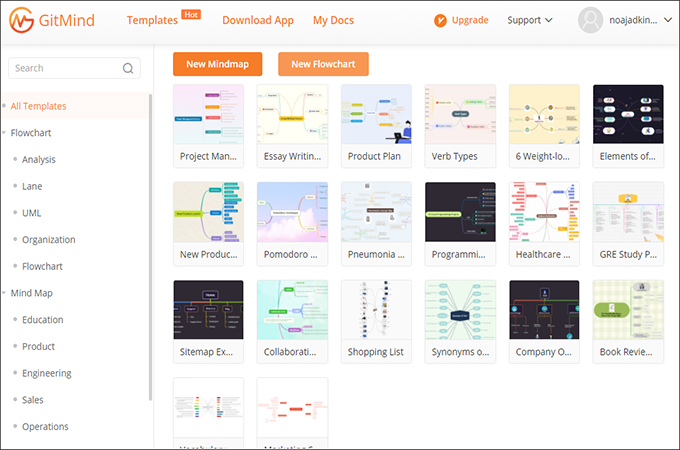 The editing panel will appear and you can start editing your flowchart from there. Choose the shape that you want to add to your flowchart from the menu located at the left-hand side of the screen. You can also add text to your flowchart, as well as images by clicking the "Insert" button and selecting "Images."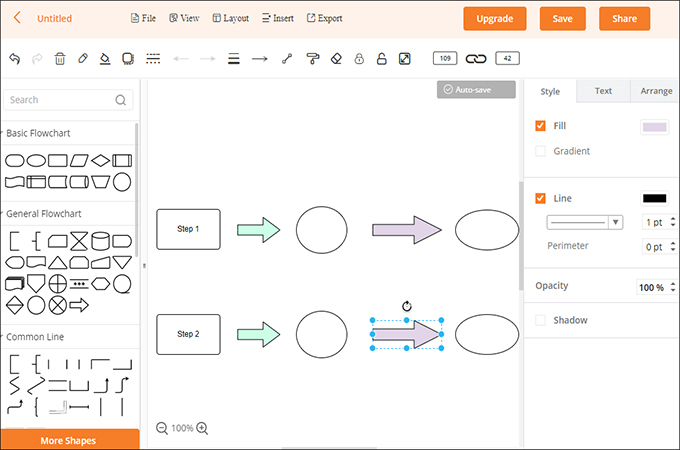 Once done editing, you can click the "Save" button to keep the setting of your flowchart. Alternatively, you can instantly download the chart on your PC by clicking the "Export" button. You can also send the flowchart to your friends online by clicking the "Share" button.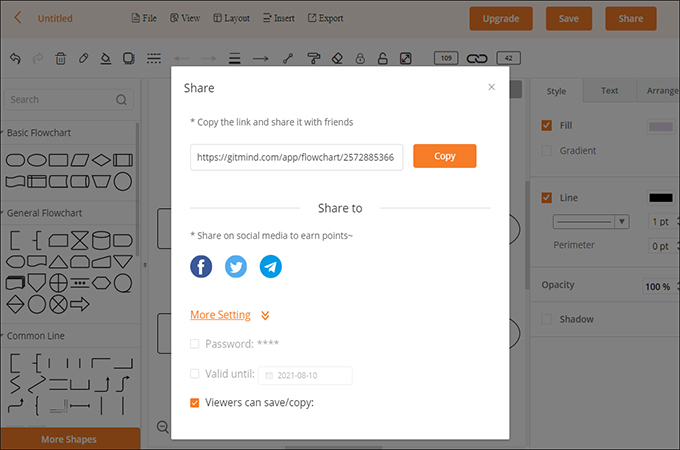 Conclusion
Learning how to create a flowchart in Excel is not a complicated task. However there are certain things that you need to follow in order to perfectly make one on Excel. That is why we recommend using specialized tool like GitMind when making flowcharts because they have all the necessary components and are straightforward when it comes to editing. This way, you'll be able to save a lot of time and effort.