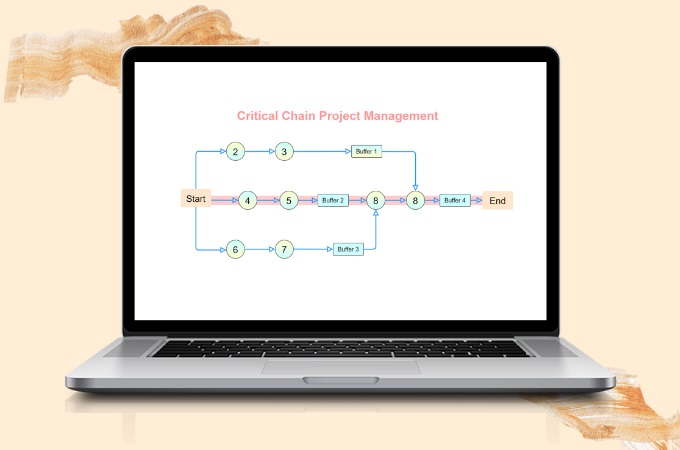 The Critical Chain Method is a task management technique that prioritizes available resources like manpower, tools and work space. Compared to the traditional method like the critical path, which focuses scheduling above all else, this method is more holistic in its approach. The main goal of this method is to sustain the available resources and make things flexible without compromising the workflow. To give additional information, we did a review of the said method that you can read below.
Critical Chain Method
Critical Chain Method Definition
The Critical Chain Project Management method was introduced in 1997 by Eliyahu Goldratt. It aims to improve overall project management by making sure that all resources are used wisely. Opposite to its predecessor which is the Critical Path Method, it only puts attention to things that matters on the project which are personnel and equipment.
Critical Chain Method Benefits
Most Project Managers said that utilizing this method is more cost-efficient compared to the PERT and Critical Path methods. Not only that, but it also allow for faster completion of the entire project with less resources used. Aside from that, there are still other benefits that you can get from Critical chain, and they are listed below.
Employing CCPM is a great way to boost productivity since employees can focus on their respective jobs. This means that there is less confusion about the respective tasks which results in less idle time.
It eliminates procrastination since it provides a clear amount of time for every tasks.
Using the CCPM minimizes the risks of mismanagement on the PM's end.
Critical Chain Method: Explain with Templates
There is no doubt that the Critical Chain Project Management is effective. With that being said, there are many ways to implement it, and one is by using templates to map out the entire project. The advantage of using templates is that it is readily available and most of them are free. Aside from that, you can even make your own using specialized tools like GitMind. On that note, we prepared some CCPM templates that you can download and use for free.
Critical Chain Method Blank Template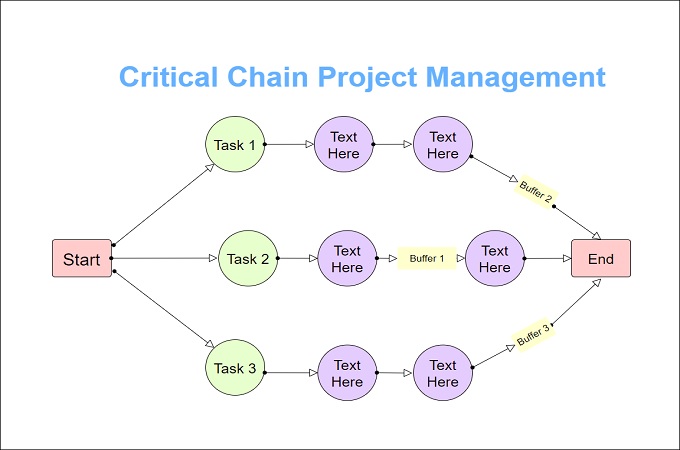 Edit this example
This template is the first blank template that we made using GitMind. The template was designed to proceed with all elements in mind. Each task were arranged with efficiency in mind to make sure that there will be no overspending of any sort during the process. Aside from that, the Critical Chain in this case gives emphasis to the buffers as seen above.
Critical Chain Project Management Blank Template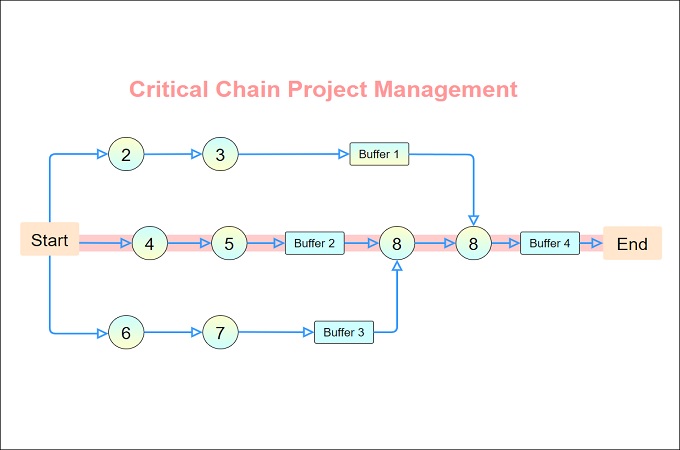 Edit this example
Another great template that you can use is the one above. Unlike the previous one, this template highlights the critical chain that is taken during the entire project. Aside from that, each buffers are included to make sure that all time tables are accounted for. This template is also easy to read because there are no confusing details that can distract you while reading this map.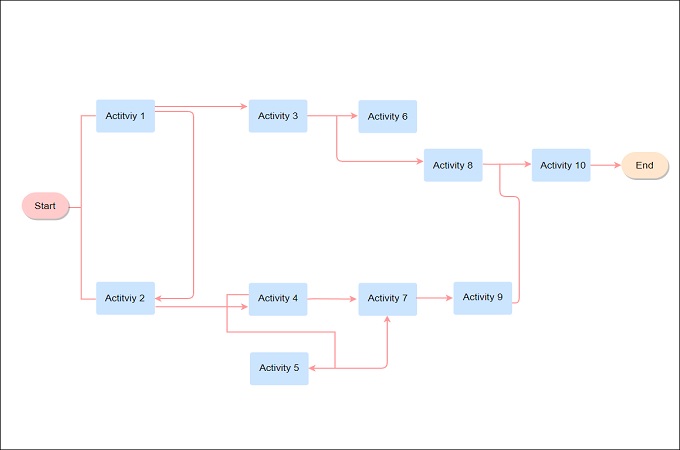 Edit this example
This template details the sequence for each tasks. This is perfect for teams who are working on a tight schedule. This Critical chain method template is free to edit which means that you can add more tasks if needed. Each tasks are also sorted by color for easy editing and task management.
Conclusion
The Critical Chain Project Management without a doubt one of the greatest project management technique to exist. This claim is backed by studies and stories of success over the years by those who have used this method. However, using such methods is on a case to case basis, and depends on your available data. There is also the part where you will also need to study how to properly map out the entire method in a chart. That is why we recommend using templates instead of creating one from scratch.