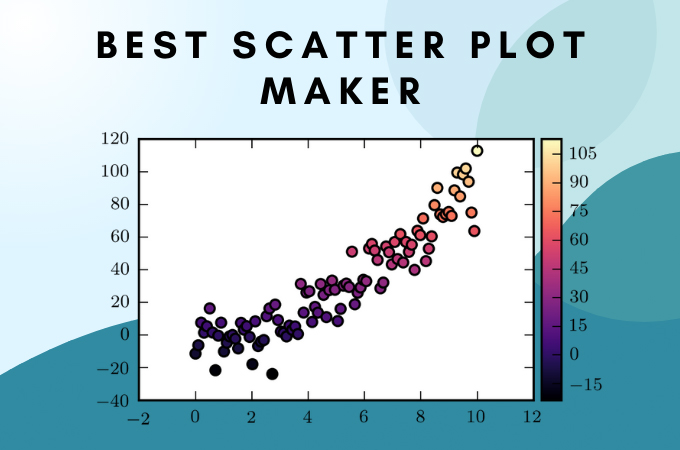 Scatter plot is a type of chart the utilizes dots to track relationship between two variables. Cartesian coordinates are often used for this type because it is perfect for showing relationship between two different variables. On that surface, Scatter plot seems easy to make, since it only involve vertical and horizontal lines with dots. However, it can become confusing if you'll do it by hand. That is why you need to use a scatter plot maker to make things easier. On that note, we reviewed 10 best scatter plot makers. Continue reading to learn more about these tools.
Best 10 Scatter Plot Makers
GitMind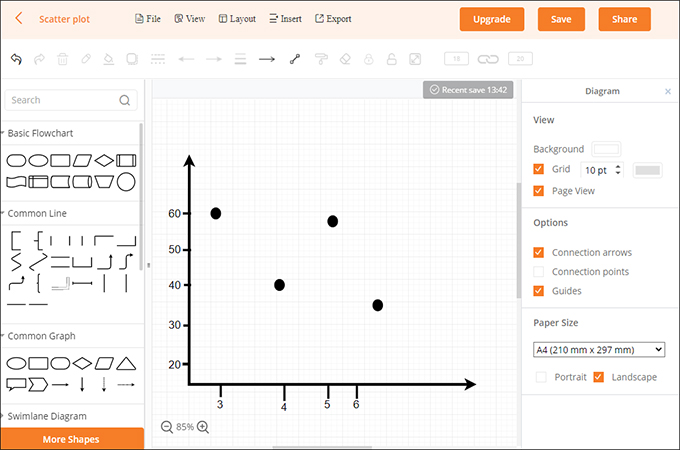 First tool on the list is GitMind. An effective mind map and flowchart maker, GitMind is free to use and doesn't require any installation. The tool is accessible via web-browser and support local file export. Templates are also provided for those who prefer using pre-designed charts. Another great feature of this app is the online collaboration feature that lets users work simultaneously with their colleagues. You can also share your scatter plot to other people via URL. Aside from that, saving the chart in various format is also possible using this scatter plot creator.
Visme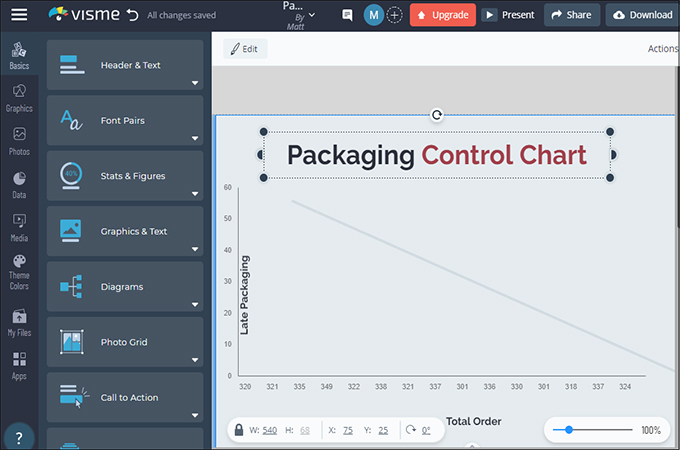 Another great option when it comes to making scatter graphs is Visme. You can use this app to create professional looking graphs and charts that can be used for various presentations. There are also templates available here to help users save time. Visme is free to use for its basic functions, but requires you to sign-up for an account first. If you want to add more features, you can subscribe to a paid plan for different amounts, depending on your purpose in using it. As a scatter plot graph maker Visme proves to be a dependable one. Not only does it provide templates, but also allow users to add various things to their graph like cliparts and others.
Venngage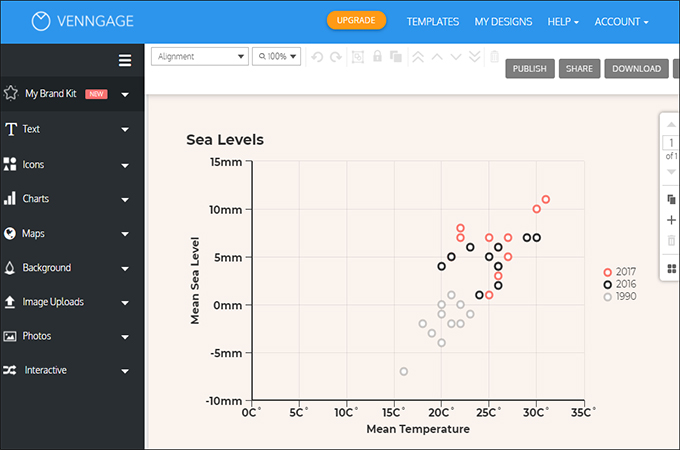 Next tool on the list is Venngage. Like the previous applications, Venngage enable users to create flowcharts and mindmaps. It also host templates within its library as well, and are free to use. Interpreting data is also easier with this application since it can produce Scatter plots that can be downloaded. Sharing the chart is also possible here because you can transform your chart via link. Overall, we can agree that Venngage is indeed a great scatter diagram maker.
Canva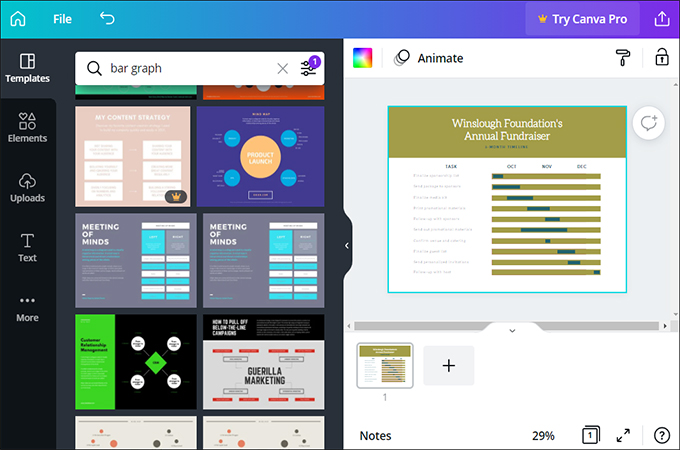 Canva is a popular graphic design tool that can be used online for free. It also has mobile applications that users can download anytime. The accessibility of this app is one of its strong points. Not only can you bring Canva anywhere, but it gives you the power to make Scatter plots anywhere. Canva has a lot of beautiful elements that can be added to your charts. Aside from that, you can also upload images to your charts within the app. Templates are also available here and most of them are usable for free. In-general, we can conclude that Canva is a great scatter plot maker on its own.
RapidTables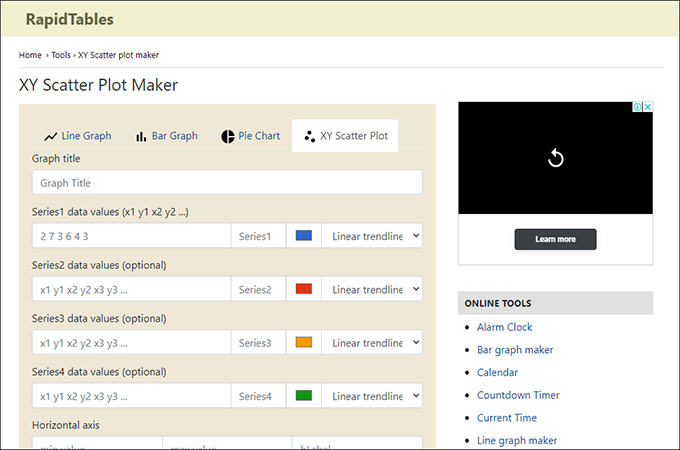 RapidTables, as the name suggest can make various tables and Scatter plot is one of them. This is a rather straightforward tool because it can only be used to make these tables. To make a Scatter plot, all you need to do is enter the necessary information and the tool will automatically place them on the chart. This convenient feature is one of the reasons why this is a top-choice among users. You can also download your diagram on your PC right after editing them on your PC. These features are just some of the reasons why you should consider using this Scatter plot creator.
Mathcracker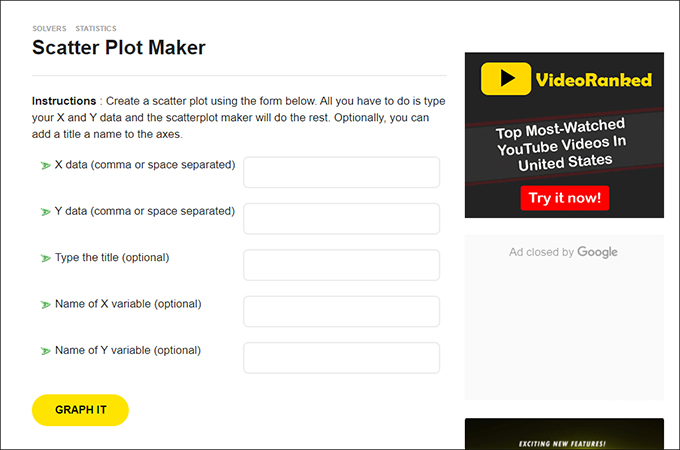 Mathcracker is an online scatter plot generator that can be used for free. The good thing about using this tool, is it automatically plots the data in a chart. The only thing that users need to do is enter the numbers that they want to plot, and click the "Graph it" button to generate the chart. Aside from scatter plot, you can also use this tool to calculate group data, as well as as graph calculator. These features are just some of the reasons why Mathcracker deserves to be on your options the next time you look for a scatter plot graph maker.
Meta-Chart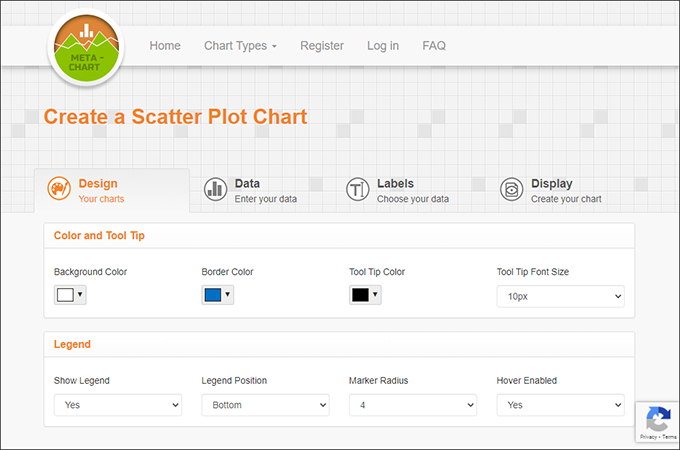 Another online tool that you can use to make Scatter plot is Meta-Chart. Like the previous tool, this is also based application, and can be used for free. However, it asks you to register for an account, in order for you to save and download you charts. A rather easy to use application, Meta-Chart has a clean and minimalistic interface, making it easier to learn how to use it. There are various charts that you can make here like Pie, Venn, Histogram and more. Overall, Meta-Chart is indeed a great scatter diagram maker that one should try at least once.
Online Charts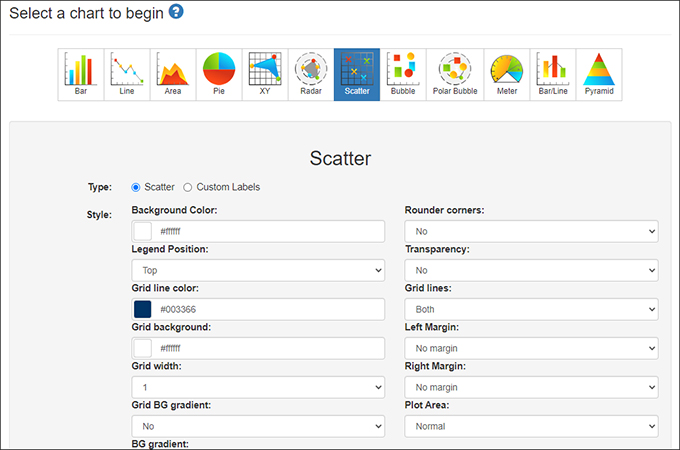 Online Charts is an online chart maker dedicated in making data visualization charts. These include Pie chart, Line graphs, and Bar/Line charts which are all alternatives to Scatter Plot. Using this app is not as complicated as it looks because of the simple and organized UI. Simply enter all data from that you want to visualize, and click "Next" and your Scatter plot will appear automatically. These are just parts of the reasons why Online Charts is a great scatter plot maker.
Piktochart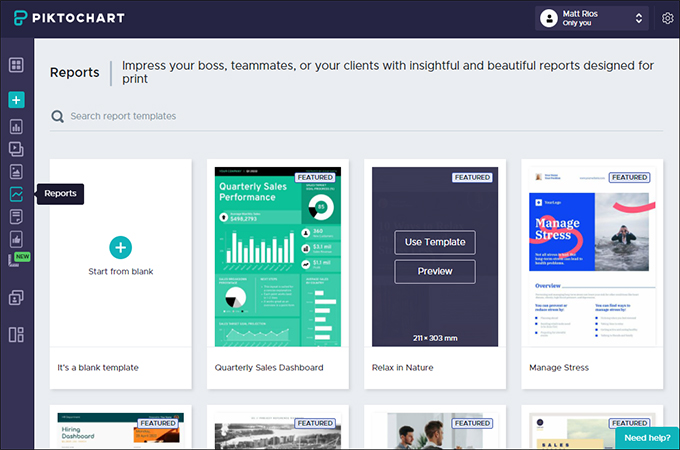 Piktochart is an infographic application which is available on any web-browser. The app features a wide range of ready to use templates that can be used at any given time for free. Piktochart also provide a platform for users to make Scatter plots and other kinds of chart and diagram with various data set. You can also download charts and maps in high resolution for clearer and detailed output. After all, the main purpose of the app is to create infographics and what better way to do so than to provide high quality graphics. If you want to use this scatter plot creator, you'll need to create an account first.
Scatterplot.Online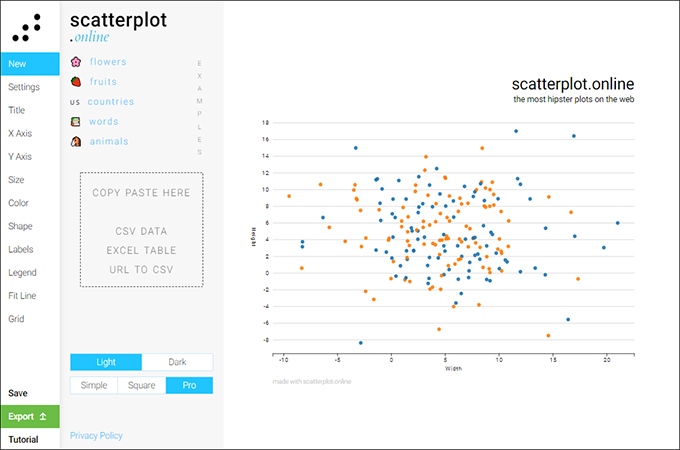 Last tool on the list is Scatterplot.Online. Like other previous tools, this is an online platform which is solely dedicated to making scatter plots. Scatterplot.online is a straightforward tool and can be used to process complicate data sets. You can also import various data and tables from different applications like Excel to this app. Using the app is also easy since every button are located at one place and no confusing instructions needed to follow. You can use this scatter plot graph maker for free which makes it one of the most cost-efficient options on this list.
Conclusion
Scatter plot is one of the most used type of data diagram across the globe. This is because it's one of the easiest and most accurate chart there is. On that note, creating one has become easier over the years, thanks to the appearance of scatter plot maker and similar tools.