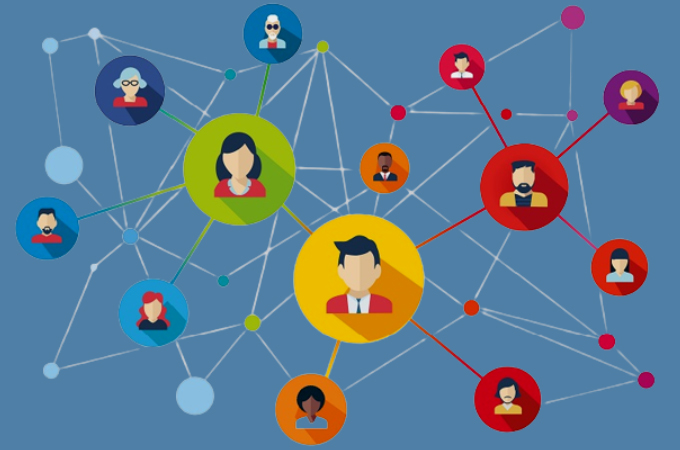 Nowadays, many businesses adopt cross functional collaboration as it promotes a competitive edge and team productivity. Although bringing different departments to a common goal is challenging, this is still an efficient technique. So, in this article, we have compiled some tips on how to improve the collaboration of cross-teams in your organization. It can help you reach a common goal and enhance cooperation among all departments.
What is Cross Functional Collaboration?
Cross Collaboration is a work management technique in which teams from various departments come together for a common cause. Further, this process promotes innovation, harmony, partnership, productivity, and efficiency in the organization. Combining different expertise, knowledge, and experience work together, some advantages can gained.
Develop Communication Skills
Acquire More Knowledge in other fields
Improve Decision Making and Problem-solving skills
Establish management teams
Higher levels of innovation
Enhance leadership skills
Encourage teamwork
Common Challenges of Cross-Functional Team Collaboration
Without a doubt, issues arise when a team works together with other departments of the company. This includes the following cross collaboration issues:
Misaligned priorities and objectives
Assuming that every employee is focusing only on the goals and objectives that are tied directly tied to his/her duties and job description. Setting up individual goals is fine, but often people lose sight of the wider picture as they prioritize things that would help them achieve their personal goals With that, there is less room for initiatives and changes that will help the business as a whole.
Bringing together different personalities and expertise
When there are more employees to manage and interact with, cross-functional collaboration difficulties become more complicated. More individuals could mean more dominant personalities who are more challenging to control, especially if clear leadership roles aren't established. Sometimes, this might lead to a situation where various people compete to be recognized as leaders. There will also instance that the beginners' ideas are neglected by the more experienced employees.
Weak Communication
Even with our own teams, it can be difficult to communicate, and what's more with other departments that we are not usually working with. The less interaction with these people, the weaker the communication process within the organization. In this manner, cross functional team collaboration needs to develop healthy communication in order to have efficient teamwork. If you didn't pay attention to this issue, the company can have a difficult time achieving its common goal.
5 Ways to Improve Cross-Functional Collaboration at Work
Many cross-teams fail because the organization lacks strategies and solutions to improve the collaboration of various departments. Good thing, we have set the following tips to make the cross-functional collaboration as organized as possible.
Make a Team Collaboration Plan
Employees that work well together and as a team can benefit from the organization's collective knowledge. However, unorganized collaboration could lead to failure of achieving goals and misunderstanding between departments. With that being said, it is important to have a systematic strategy to manage various departments efficiently.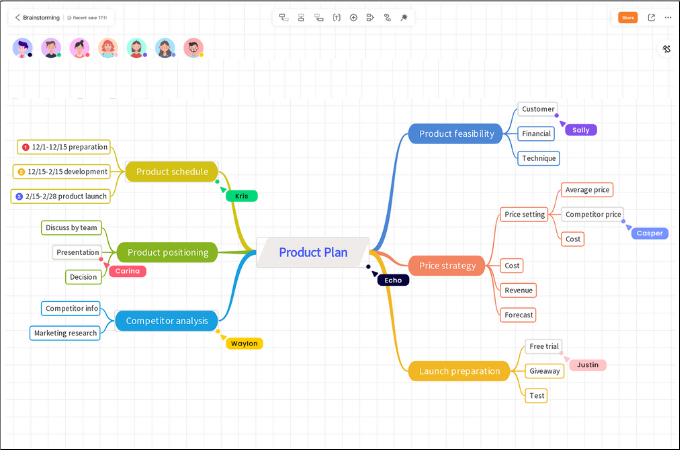 Further, brainstorming ideas and planning workflows can be difficult to manage, especially handling different departments. Fortunately, there are now collaborative tools that can make this process even more convenient for all the members. GitMind, a top-choice project planning and mind-mapping tool, can ease cross functional collaboration. With it, you can make mind maps and allow each member to share ideas in real-time. It makes it easier to visualize a plan using concept maps, diagrams, and flowcharts.
Choose the Appropriate Technology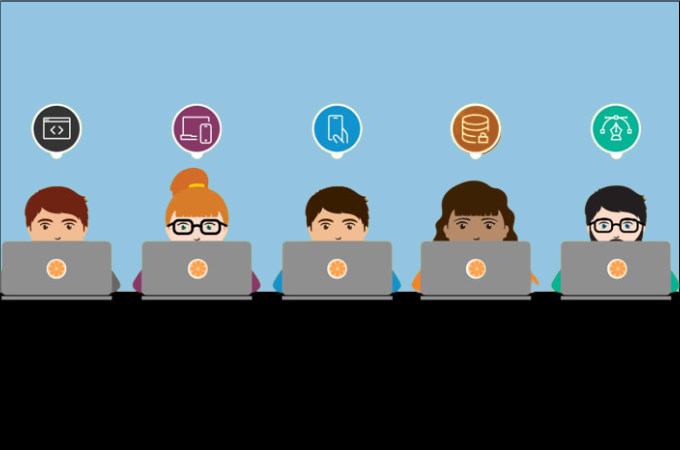 By getting the right technology, an organization can enjoy significant growth and development in cross-team collaboration. We all know that technology plays a big role in business innovation and streamlining the work process. Also, conducting training to familiarize tools can make a productive environment for each department.
Determine Existing Issues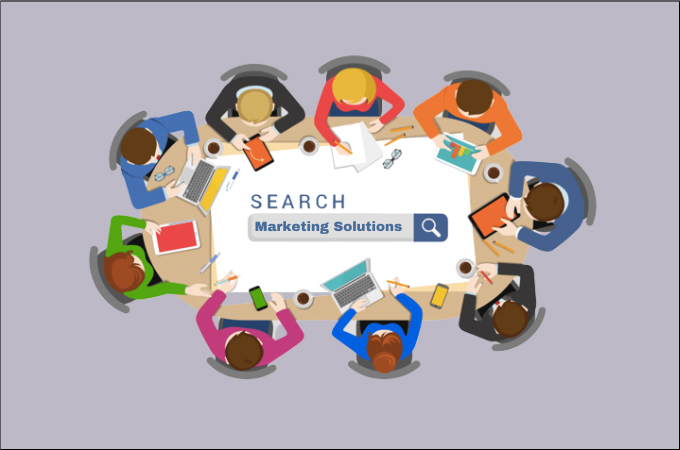 Truth be told, cross-functional teams have bigger possibilities to face obstacles that hinder success. In this manner, it is essential to spot any issues in cross collaboration as soon as possible. You can save time, money, and resources by making them simpler to solve in this manner. Additionally, giving chance to each team member a to express ideas and issues can help improve the collaboration.
Set Clear Objectives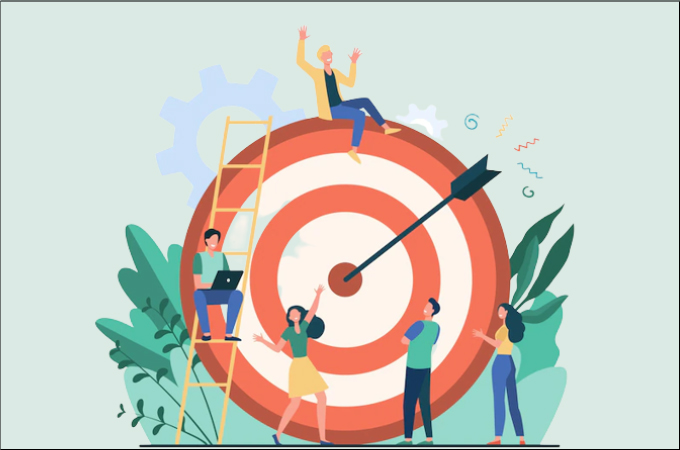 Any form of project management involves effective leadership and a clear understanding of where the team is going. When creating an environment for productive collaboration at work, a clear emphasis is vital. Start a project by outlining the common problems the organization is experiencing and soliciting feedback from all the participating teams. Setting cross functional collaboration goals is the next stage once everyone has agreed on the challenges that need to be solved. Just keep in mind that the objectives should be closely related to the issues and overall company goals.
Get the Right People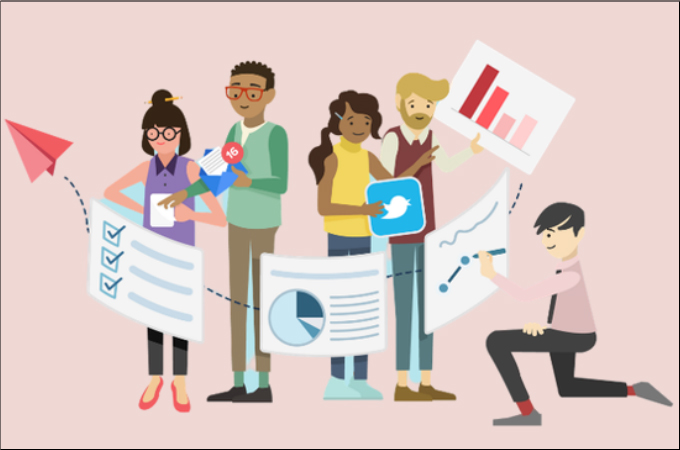 It is becoming more and more difficult for businesses to stand apart from the competition. Those in the lead have discovered that putting the right individuals in the appropriate positions and executing the right tasks opens up opportunities that would not otherwise be present. In fact, when team members have extra skill sets needed to finish the project, teamwork is at its finest. Any project can succeed or fail based on its staff. There is a reason why wise capitalists continue to insist that they invest in teams before ideas.
Conclusion
As stated above, cross functional collaboration brings together teams from different departments to attain common objectives. There are many benefits that this technique provides for the organization. On the other hand, there are also challenges to take into consideration. So, getting a collaboration plan, the right tools, clear goals, and functional employees can help you improve the collaboration with no hassle.