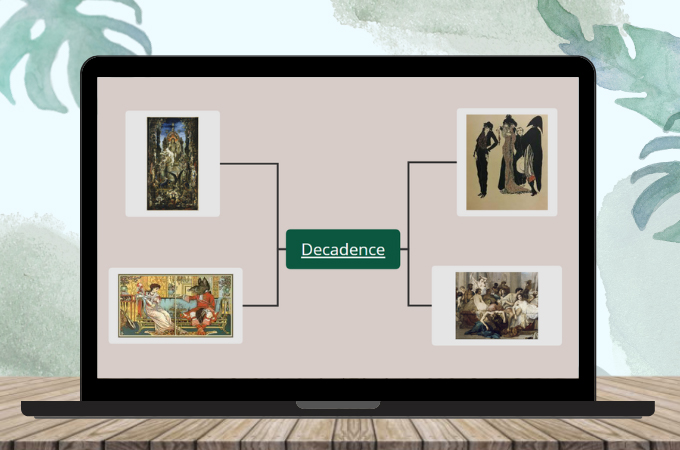 People attached to traditional forms and ideals were concerned about decadence and saw it as a threat to culture, moral decay, and rebellious sexual desires. However, this blog will enable you to comprehend the decadent movement's contributions to literature and art. Additionally, the decadent concept map is provided to assist you in clearly visualizing the definition, effects, and importance of the decadent movement.
Decadence Concept Map
What is Decadence in literature?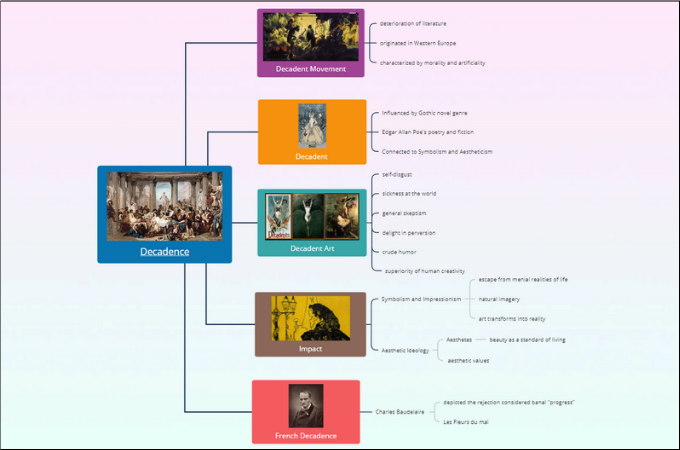 Edit this example
The term "decadence" was used to describe a group of writers from the late nineteenth century who preferred artifice over the naive vision of nature held by the ancient Romantics. Some of them embraced the appellation with jubilation, calling themselves Decadents. They were primarily influenced by the Gothic novel genre and by Edgar Allan Poe's poetry and fiction, and they were connected to Symbolism and Aestheticism.
Additionally, the Decadent movement, a period of deterioration of literature, gave way to a new beginning of an artistic and literary trend. It originated in Western Europe and was characterized by morality and artificiality. Decadent art foremost thrived in France and then spread throughout Europe and to the United States. At first, the movement was distinguished by self-disgust, sickness at the world, general skepticism, delight in perversion, employment of crude humor, and a belief in the superiority of human creativity over natural creativity. The works of the visual artist Félicien Rops and Joris-Karl Huysmans' novel Against Nature (1884) are considered prime examples.
Charles Baudelaire referred to himself as decadent in his 1857 edition of Les Fleurs du mal and encouraged Roman decadence as a model for modern poets to express their passion. Théophile Gautier and Baudelaire's use of the word proudly depicted the rejection of what they considered banal "progress" as the first significant development in French decadence. In his lengthy introduction to Baudelaire in the front of the 1868 edition of Les Fleurs du mal, Gautier initially rejects the application of the term decadent as intended by the critic but eventually made Baudelaire's own terms of decadence: a preference for full, sensual expression over conventional categories.
Impact of the Decadent Movement on Western Europe
Many people, including British critic and literary critic Arthur Symons, frequently confused the Decadent movement with symbolism because both emerged in the late 1800s. In fact, both promote seeking out the beauty and sensitivity of life rather than rejecting the honest portrayal of reality in its dullness.
Yet, the ways that decadence and symbolism view nature are different. Decadence denigrates the natural world in favor of artificial craftsmanship and artifice. On the other hand, symbolism sees nature as a way to escape from the menial realities of life. It also describes transcendent concepts using natural imagery. In symbolism, art transforms into reality, whereas in decadence, reality becomes art.
Aesthetic Ideology (Aestheticism)
Aestheticism is an artistic movement that favors aesthetic values over social and political topics in literature and art music. Aesthetes claimed that there is no room for morality in art because they believed that it is the pursuit of beauty and taste as well as beauty as a standard of living.
Decadence, on the other hand, is the cultural fallout from these activities because it challenges conventional ideals and morality through overindulgence in pleasure.
Conclusion
Despite the descant movement's unfavorable perception, it nevertheless paved the path for the more captivating and fascinating art and literature. It established a standard for literature with deeper significance that gives more essence to literary works nowadays. As demonstrated above, the decadence concept map helped to comprehend the importance and effects of the movement, which gives new literary tastes in the current time. Stay tuned for more upcoming educational concept maps here in GitMind.