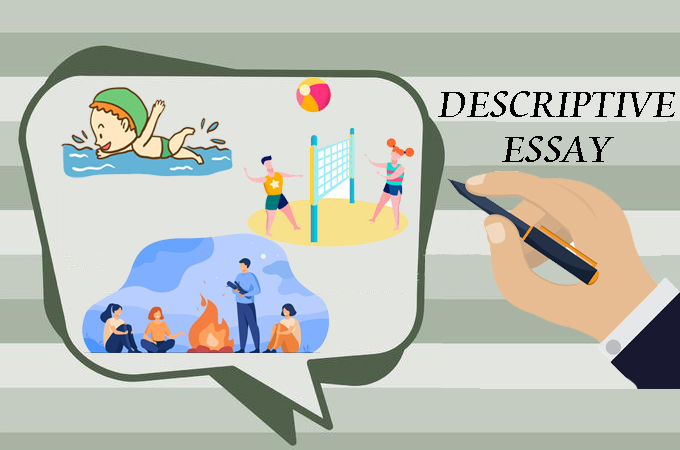 Descriptive essay is an academic paper wherein you will describe a certain prompt from your own experience and even outside your experience. The main goal is to write about a person, event, emotion, or idea using an illustrative language in a creative manner. What is more, you can describe things through adjectives order, sensory details, comparison structures, and imagery. Read on and know what this academic writing is all about. You will also see examples and some tips to help you come up with a good descriptive writing.
Guide to Write Descriptive Essay
What is a Descriptive Essay?
As stated above, descriptive essay is a type of an academic writing that describes a thing. Be it object, place, person, experience, idea, emotion, etc. The idea is to clearly express yourself in a creative way using a vivid language. In addition, the content must be able to draw a picture in words using living and illustrative language. Besides, there are two types of description namely concrete and abstract. Concrete topics require you to use your senses. This explains how a thing looks, smells, sounds, or tastes. A topic is abstract when you are explaining about an experience, idea or emotion. Moreover, descriptive writing commonly serves as an assignment for students in their writing exercises at high school and even at tertiary level.
Elements of a Descriptive Essay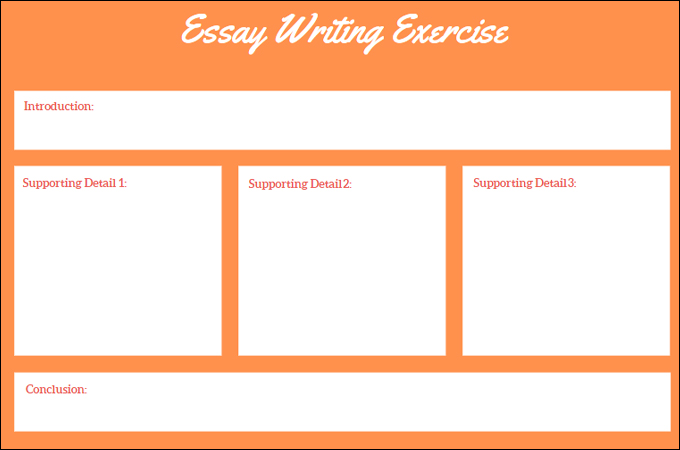 Now that you know what this essay is all about, you can proceed to write the outline of the essay. In some words, it is about learning the elements or parts of a descriptive paragraph or essay. Typically, there is an introduction, body paragraphs, and conclusion to wrap things up. Continue reading to have an in-depth knowledge of the elements and be able to express ideas coherently and logically.
Introduction– one of the most crucial parts of any academic writing is the introduction. It should contain an attention-grabbing phrase for the reader to continue reading the essay. This may include rhetorical question, facts, jokes, etc. Also, the introduction in a descriptive essay should explain the nitty-gritty of the topic and reflects your stand. In other words, it should be captivating and concise while providing a clear view regarding the topic.
Body– this is where your imaginary prowess comes into play. This part is the gist of the whole essay in which you describe the prompt you were assigned to write about. As mentioned above, you will make use of illustrative language, comparison structures, sensory details that will bring life to the subject. In addition, strong word choices will make the descriptive writing more compelling.
Conclusion– this is where you summarize and restate the main points of the subject matter. Stating new facts in the conclusion is discouraged since the main purpose of it is to wrap up the essay.
Descriptive Essay Examples and Templates
There are a lot of websites that give free access to samples for different types of essays. GitMind is one of the websites that offer free and editable descriptive essay examples. This is a mind mapping app that is useful for creating essay outlines, flowcharts, org charts, and many others. If you want to customize your own essay in a form of a mind map, this is a perfect tool for you. Below are some of the essay examples created through this mind map tool.
Best Friend Descriptive Writing
When somebody inspires you like your best friend, it's something that you should be proud of and write about for keeps. The example below explains the friendship of the writer and his best friend. It describes the physical traits and characteristics or behavior of his best friend along with their similarities and how they enjoy each other's company. At the end of the descriptive essay is where the writer expressed his gratitude for having such a best friend.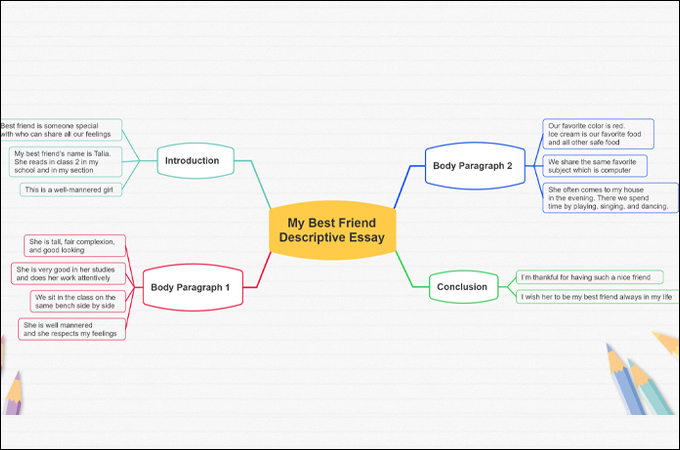 Edit this example
Coral Reefs Descriptive Writing
One of the most satisfying topics to write about is nature. Here the writer presents a topic regarding coral reef. A brief overview of what coral reefs are is presented in the introduction. There are scientific facts to support the central thesis of descriptive writing. The body section suggests the potential prompts to ponder that will help the writer elaborate with details to effectively describe the topic.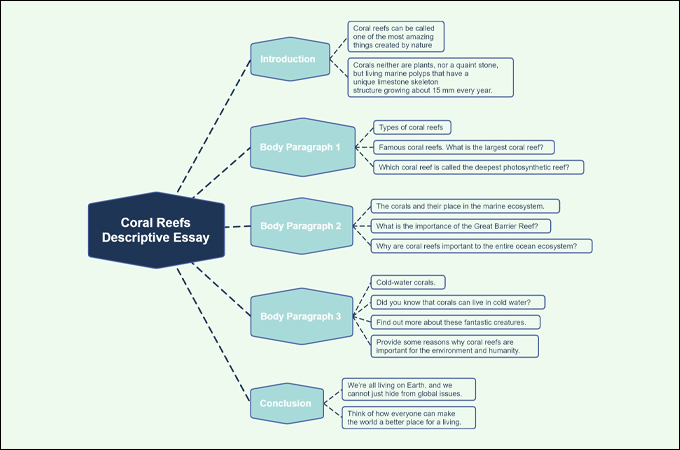 Edit this example
5 Tips for Good Descriptive Writing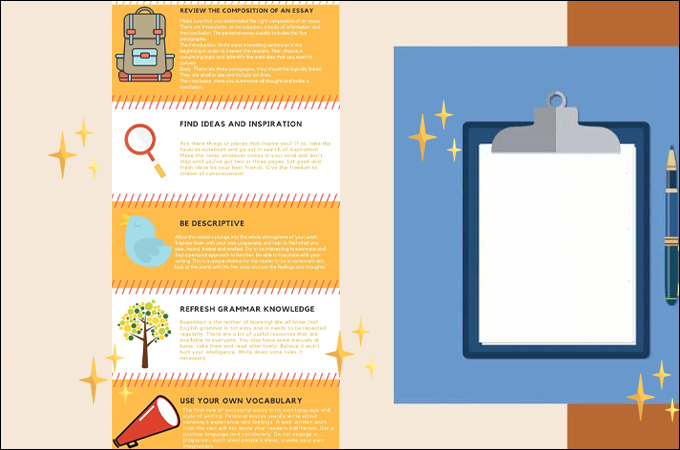 It does not necessarily mean it's detailed it should be lengthy. It's particularly a matter of choosing the relevant words that will help you come up with a clear and concise descriptive essay. A few strong and clear words is more effective than lengthy vague phrases.
Anyone who wants to write a descriptive essay must not be deeply driven by emotions. Tendency is your thoughts are jumbled resulting into an incoherent write up. As a rule of thumb, always structure your outline to come up with an organized descriptive writing.
Merely telling a story is unappealing for the reader. Rather, you should strive to make it engaging by requiring the reader's five senses. These are the sense of sight, taste, hearing, smell, and touch.
Choose figurative and vivid language
Always think of writing a descriptive paragraph creatively by using figurative and vivid language. The idea is to form a strong and firm image in the mind of the reader using distinct and memorable words. Also, to make it more compelling, using figures of speech is encouraged. These devices include metaphor, simile, onomatopoeia, exaggeration, etc.
Leaving a clear impression indicates that you have effectively written a good descriptive essay. There should be a compelling sense of appreciation and unforgettable reading experience in reader's perspective. Say the writer describes his hot air balloon ride experience, the essay should excite the reader and look forward to riding a hot air balloon one day.
Conclusion
Like any skill, learning to write an essay does not happen overnight. As we know, a descriptive essay is more than just telling a story. It takes practice and a series of trials to master it. On the other hand, we provided insights that serve as a foundation in writing an effective essay.