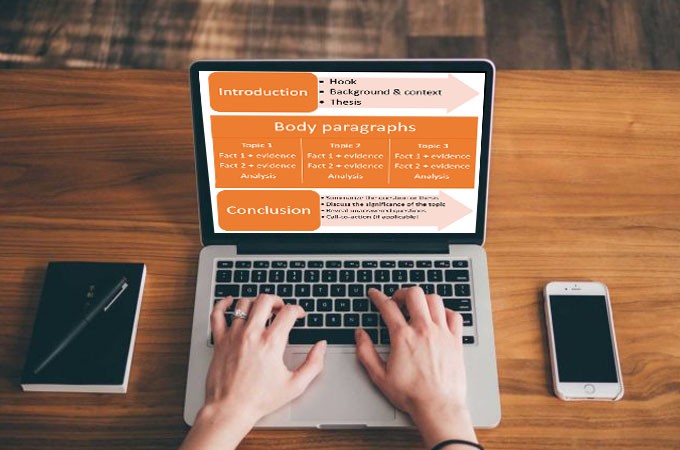 Essay outlines allow you to determine your main topic, categorize points, and organize your ideas to make better sense of what you want to write. Also, it helps layout the general flow of the essay and prevents the writer from getting stuck. Equally important, brainstorming is essential to create a coherent essay outline or workflow. One of the best techniques that are proved to be helpful when it comes to brainstorming is a mind map. In this article, we rounded up the best essay outline makers for simple writing, which you can start using immediately.
Best Essay Outline Generators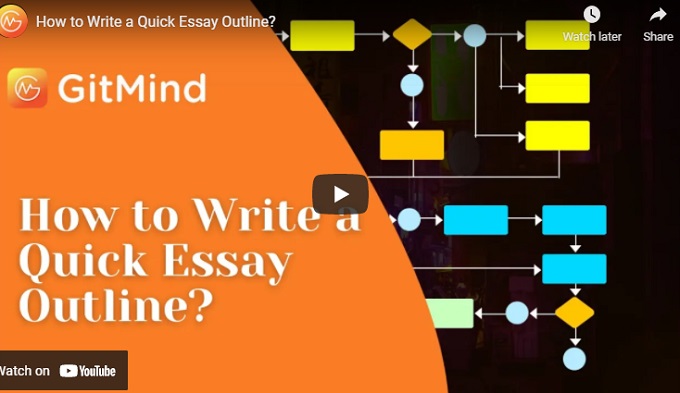 GitMind
GitMind is an outline creator that you can use anytime for free. Originally, GitMind is a mind-map and chart creator. However, outlines can come in all forms and shapes, as long as they are understandable and simple. The tool eases the stress of creating complicated essay outlines by providing different templates. This way, all you need to do is fill in the information that you need and you have yourself a simple, yet high-quality essay outline. If you are interested in using this wonderful essay outline generator, then follow the steps below.
Launch GitMind at your browser. Click "Get Started" button to reach the online tool. For its desktop version, you need to download the software first.
Download
Afterwards, choose any template from within GitMind and then click "Use Template" button to create the outline.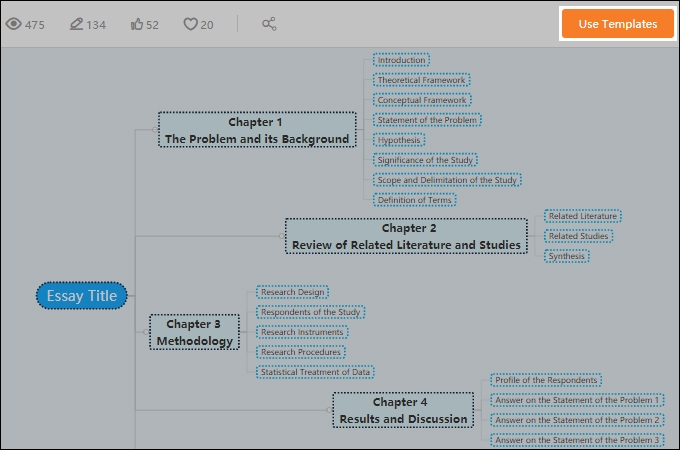 From the template panel, click the "Outline" tab from the toolbar located at the left-hand side of the window, and fill in the information for each node of the outline.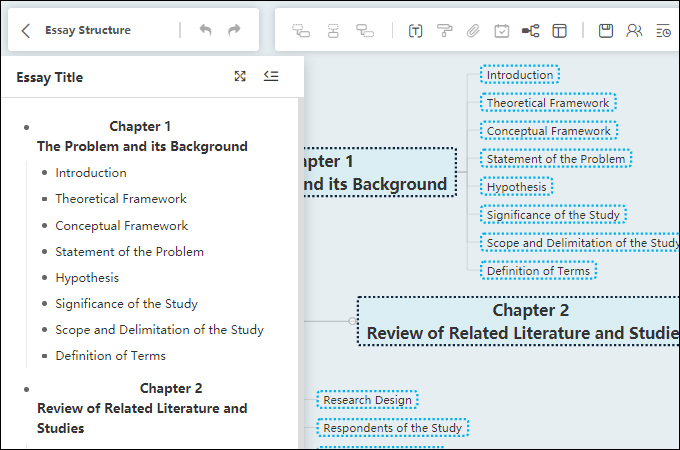 To save the essay outline on your computer, hit the "Export" button and choose the format that you want.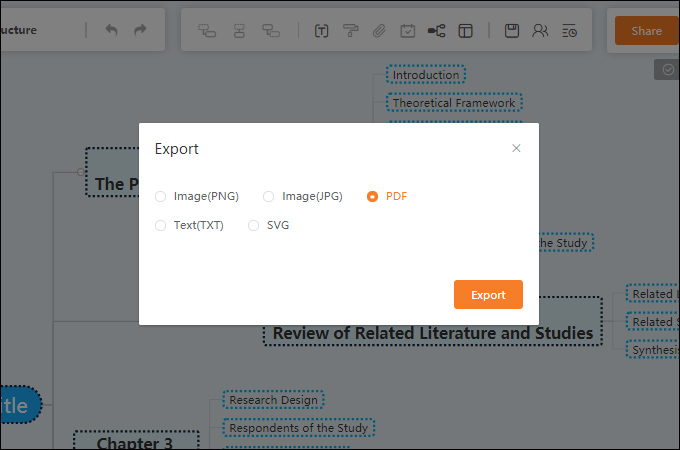 Text2MindMap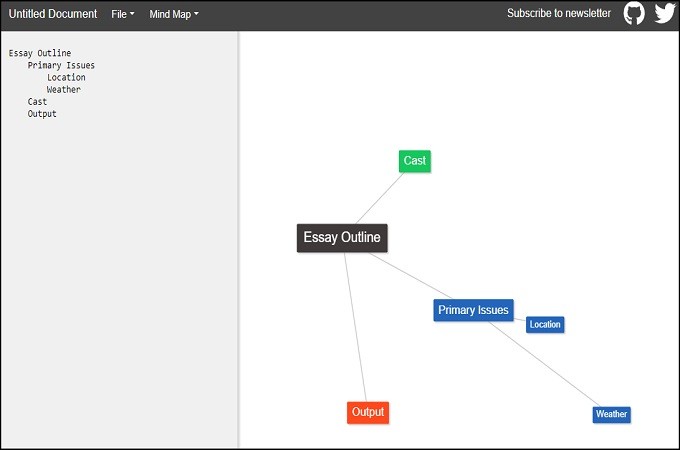 Text2MindMap is the next essay organizer that you can use for free. This is because it is an open-sourced software that you can download and install on your computer. It is capable of creating a mind-map by simply entering the information that you want. In general, it has an automatic feature, as its name suggests. Aside from that, you can arrange each node and information by the drag-and-drop method which is very convenient. Using this tool will give you the freedom to create an attractive and easy-to-understand diagram.
Essay Map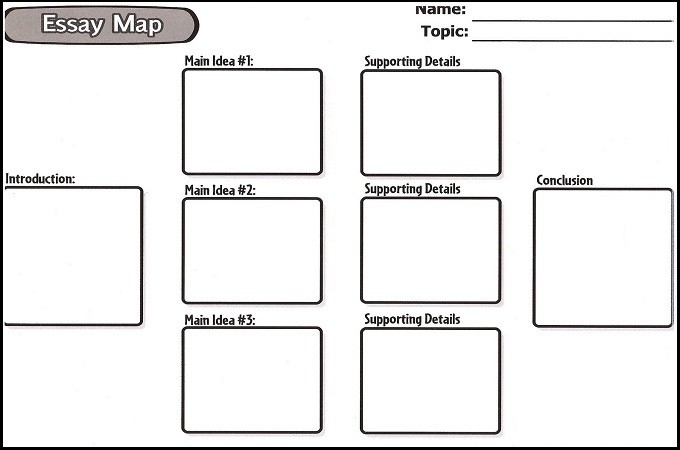 Essay Map is a good essay structure generator for students. Similar to GitMind, the tool runs online and offers you many useful functions for free. However, the tool has a different approach when it comes to creating an essay outline. The diagram layout is already provided. It contains an introduction, arguments, supporting details, and conclusion. All you need to do is fill out each category with a summary of the idea to produce an essay outline. On top of that, you can share your outline via email or save the file on your local drive. This app is a nice option if you want to create a basic essay outline.
CRLS Research Guide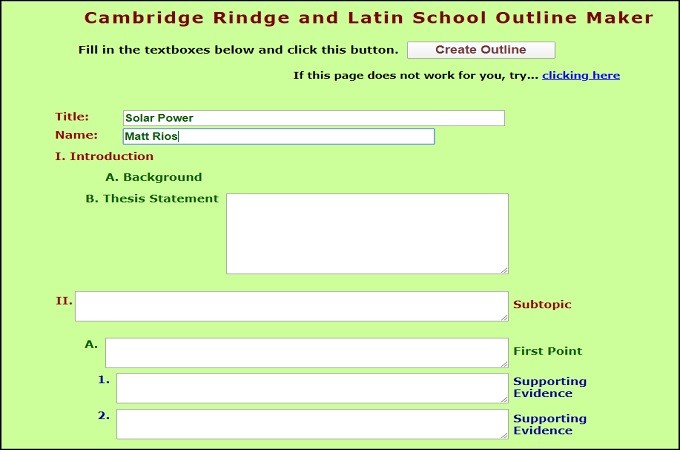 CRLS Research Guide is a simple essay outline generator available for online users. This app uses a linear approach for creating an essay outline. Each category is structured with text boxes where you have to enter the necessary information based on the categories. So aside from essays, this is also a good app when creating a research paper outline or even for presentations.
Tom March Thesis Builder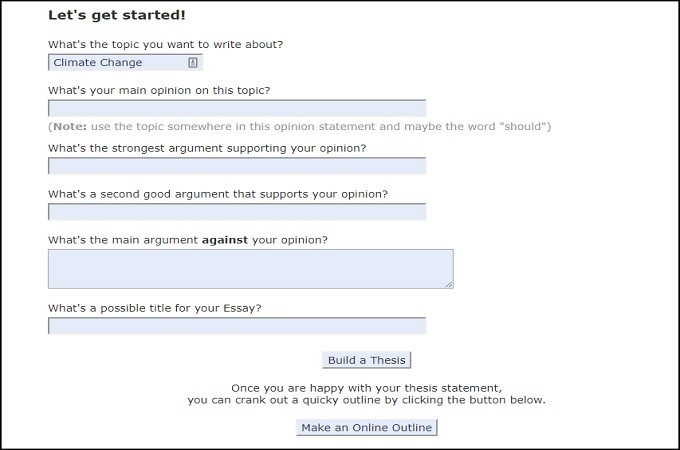 The next essay organizer that students can use is Tom March Thesis Builder. All you need to do is input your essay topic, argument, reasons, supporting details, and you are good to go. Likewise, it takes the linear approach for generating an essay outline. But unlike other similar outline makers, it provides useful tips for each category for you to present your ideas well, resulting in a more excellent outcome overall.
Thesis Statement Generator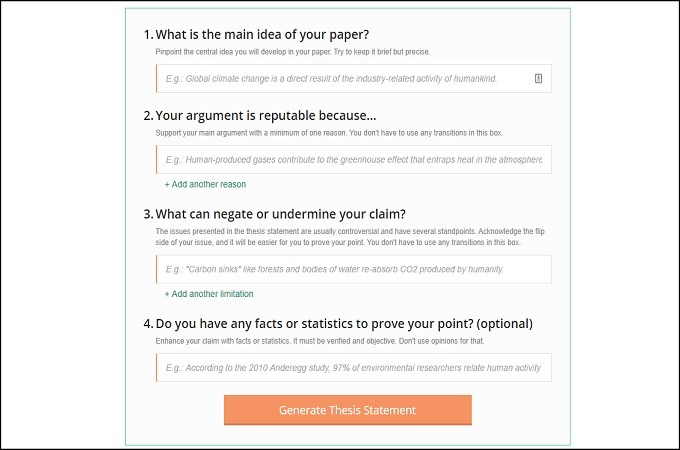 If you want to present a strong argumentative thesis statement, Thesis Statement Generator is a great option. This a web-based app that lets you create a thesis statement about the topic you are trying to prove. You are given four text boxes that are comprised of your main idea, the reasons, rebuttal, and so on. After filling out each box, the app will generate statements from the argument and lets you choose from three different perspectives.
BubbleupClassroom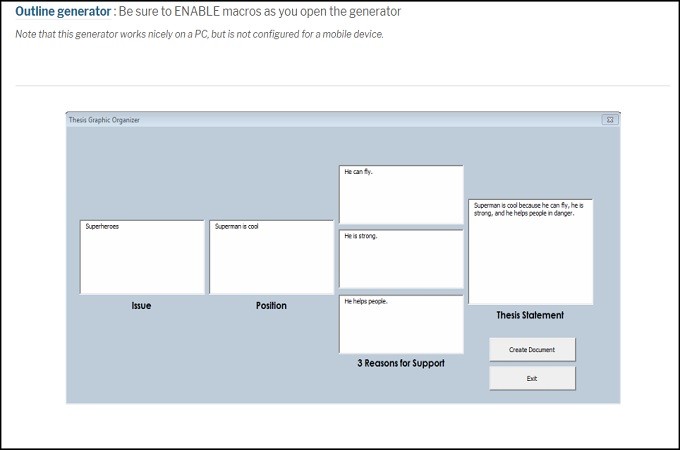 Next, we have BubbleupClassroom in the list of our approved essay outline generator. The good thing about this essay outline template maker is its simplicity. BubbleupClassroom provides a straight-up blank template in Spreadsheet form. It works well with Microsoft Excel, and other spreadsheet processors on desktop. The app doesn't have any fancy template, but gives you the freedom to decide what your essay outline will look like.
GradeMiners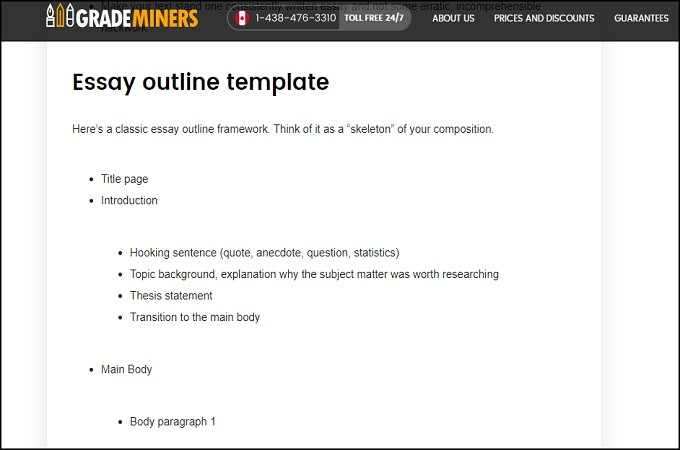 Another tool that we have is GradeMiners. This is an online service that you can use as an essay organizer. GradeMiners provides tips, on how to improve your writing skills for free. Apart from that, is the free essay outline template from its home page that you can copy and edit from any word processor. There is only one essay outline template on the website which is the classic bullet style. However, this type of outline is proven to be one of the most effective outline for essay writing.
PaperDue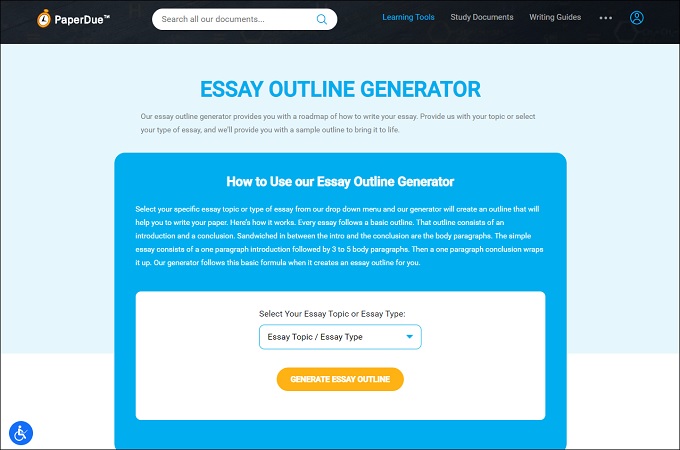 Another great outline maker that you can use is PaperDue. This is an educational tool that can instantly produce a roadmap that you can follow for a smooth essay writing. There are a lot of essay categories to choose from, which is a testament to its flexibility. Aside from that, there are many sample templates that you can use if you find the topic that matches your criteria. Overall, we can say that this tool is a great addition to the list of great outline creators on the internet.
EssaySoft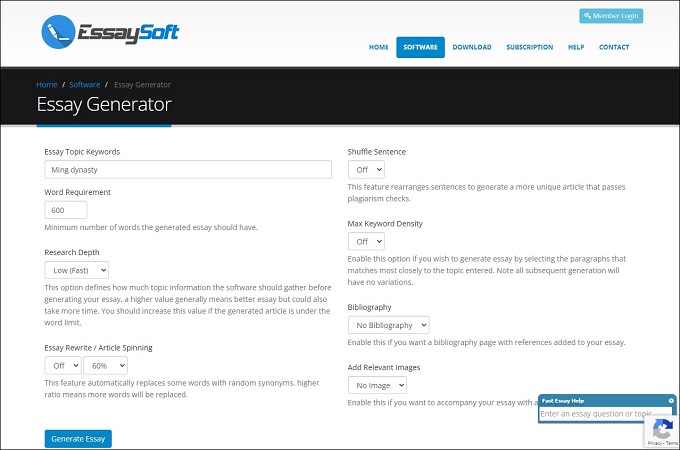 Last essay outline generator on the list is called EssaySoft. One of the easiest tool that you can use out there, it only takes a couple of minutes to generate an outline. There are a few boxes that you need to fill up like number of words and topic keywords. There is also a feature that generates an entire essay based on you the parameters that you provided. In-general, we give this tool a good score because of the benefits that comes with the basic version.
Conclusion
All the above-mentioned essay structure generators can definitely help you make an essay outline for simple writing. These apps allow you to create an outline for free since they are online-based tools. However, if you want to create a diversified essay outline in a creative manner, you should pick GitMind. This allows you to work in collaboration to produce a better outline.