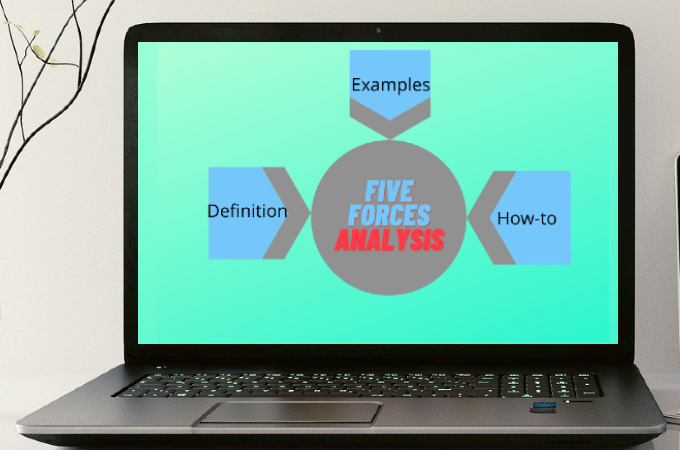 Five forces analysis is a way of determining the competition in a specific industry. Using this method, you'll be able to check the profitability of a business model. It was created by Michael E. Porter, a Harvard University professor back in 1979. Using this method, he introduced what is known today as the microenvironment, which is the collective term for the forces involved in the five forces method. Below are some additional details, and examples of this method.
Five Forces Analysis Tutorial
Five Forces Method Components
As the name suggests, there are five components involved in this method.
1. Threat of New Entrants
Another force or component in the 5 forces analysis is called the "Threat of New Entrants." In any business venture, there are always risks. A company with a secured position in an industry that is not easy to penetrate has the final say in dictating how the market will go. This means that if it's easy to enter a certain industry, the more likely you'll gain competitors and could lead to low profits.
2. Threat of Substitutes
Next, we have the "Threat of Substitutes." In any industry, there are always alternative services or products, and we call them substitutes in general. If a substitute can provide almost the same service and product quality as with you, then more likely it is that customers will choose it over yours. This last component of Porter's five forces model is the one that needs close attention, and it coincides with the competition component.
3. Bargaining Power of Customers
One component that can determine profitability is the power of customers. Depending on the haggling skills of a customer, they can persuade the seller to give their service or product at a lower price. This five forces analysis component provides a clear view of the customer projections for a smooth profitability forecast. That is why deciding on your target market beforehand is one of the keys before venturing into any business.
4. Bargaining Power of Suppliers
Another force that is critical in this method is the power of suppliers. In any line of business, there will always be one of the five competitive forces present, and one will always have a supplier of raw materials or service. To put it shortly, if there are few suppliers in an industry, then the more likely it is that they will put a higher price on their goods. This will cause a chain reaction, as you will also have to impose higher prices to get a profit.
5. Competition in the industry
Porter's five forces model has a factor called competition which refers to the number of companies competing against each other in providing the same service or products. In any business model, competition plays a vital role, as it decides the price and quality of the service and products. High competition means lower prices and sometimes better service provided. On the other hand, if the competition is low, the business has control over prices which are usually high, because they know that you'll buy them eventually.
Editable Porter's Five Forces Template
This template about the massive Smartphone industry details the factors that you will encounter. In this 5 forces analysis diagram, you'll see the central figures that should be considered before venturing into this large industry. As mentioned, each force is supplied with their respective details.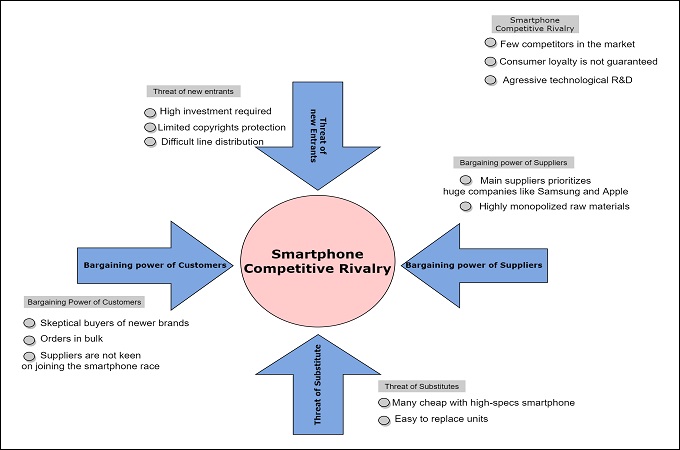 Edit this example
How to Make a Five Force Analysis Diagram
The five forces diagram varies in design and looks, but all contain the same thing. In creating one, aesthetics is of the least importance, as the details come first. Also, creating one should not be a complicated matter, since there are easy to use chart makers online. One way to make a detailed diagram is by using GitMind. This online chart maker can create 5 forces analysis diagrams within minutes. If you are interested, here are the steps to make one.
First, draw the central figure in the middle of the chart and then label it accordingly as the "Competitive Rivalry."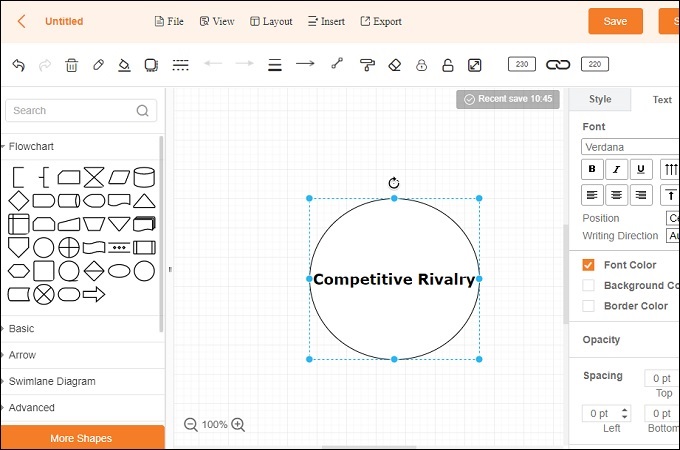 Next, create boxes or arrows surrounding the central factor. Label each one according to the remaining 4 forces left in the five force analysis.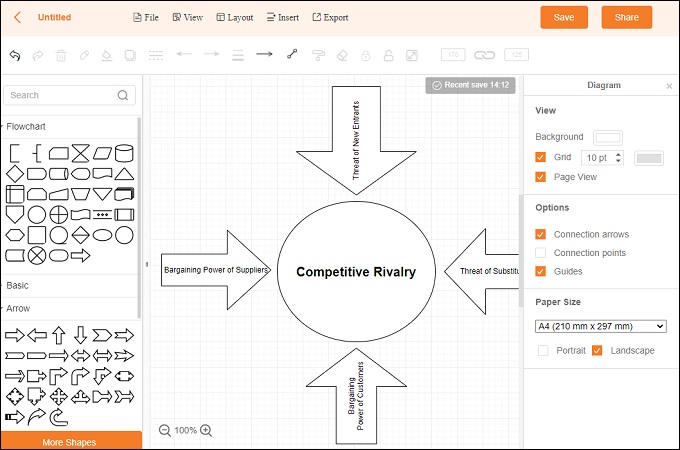 Lastly, enter all the information that you gathered within each respective force and hit the "Save" button.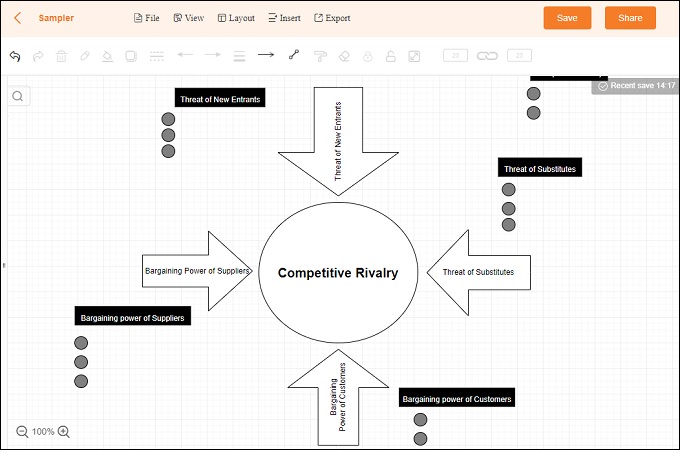 Conclusion
Starting a business is never easy. That is why there are tools and methods created to help you ease the process. One of these methods was highlighted above, and you got to know its components. Additionally, you were provided with simple examples that you can use instantly. Aside from that, you can make your own five forces analysis diagram by simply following the steps above.