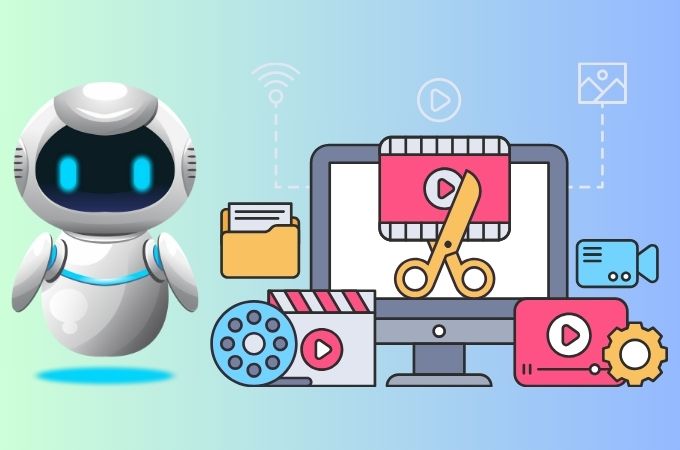 Even professional editors sometimes face challenges when editing their videos, so it can be even more daunting for newcomers to the industry. Fortunately, AI can make this process easier. This article aims to introduce functional and free AI video generator sites for aspiring editors and those who may be feeling overwhelmed. Keep reading to discover these helpful tools.
Amazing Free AI Video Generator Online Sites
Kapwing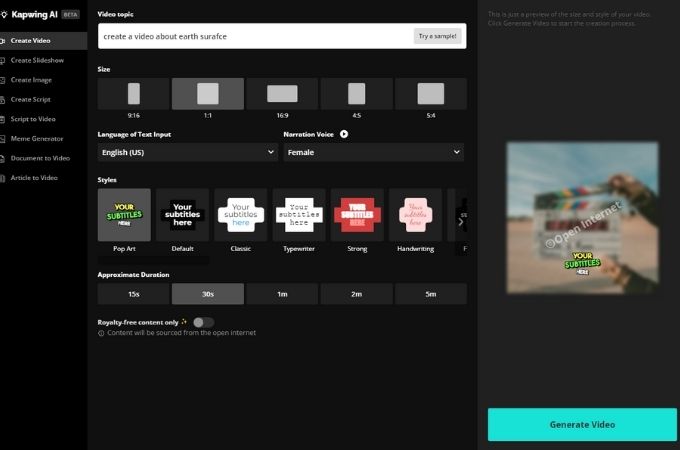 If you're in search of a comprehensive video editing tool, Kapwing is the ideal text to video generator for you. With this generator, you can easily create your desired video by inputting prompts in just a matter of seconds. Moreover, you have the flexibility to choose the video's size, language, input, narration voice, and duration. You can also personalize your subtitles by selecting from a variety of text styles. Additionally, if you're unsure about what script to write, Kapwing can even generate one for you.
Synthesia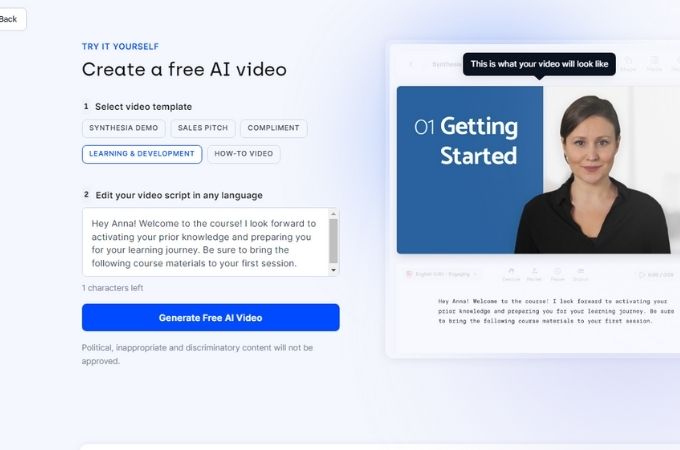 Synthesia is one of the best AI video generator tools that allows you to create a free video using its AI technology with just two simple steps. Additionally, the site offers five video templates: demo, sales pitch, compliment, educational, and how-to videos. All you need to do is input your video script, and the AI will take care of the rest. You'll also be asked to provide your name and business email, as that's where they will send the finished product. Nevertheless, the video creation process is entirely free. What's interesting is that the video will also feature a narrator, as this app generates AI avatars and voices.
FlexClip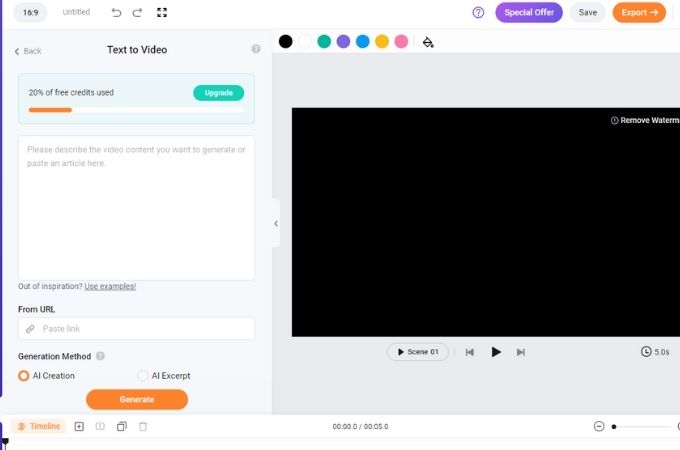 You no longer need to invest in a camera or any shooting tools, thanks to FlexClip. This AI video editor can transform your text into professional-looking videos effortlessly. Typically, this AI video generator can create videos using clips from its own stock photos or videos. Furthermore, after creating your video, you can still fine-tune it using its built-in editing tools. Users can also craft videos with various ratios, including 16:9, 1:1, 9:16, 4:5, and 21:9. Just like other editing apps, FlexClip offers tools to enhance your video, such as filters, elements, animations, audio, subtitles, and text. To begin your video creation, this site only requires you to describe your video.
Designs.AI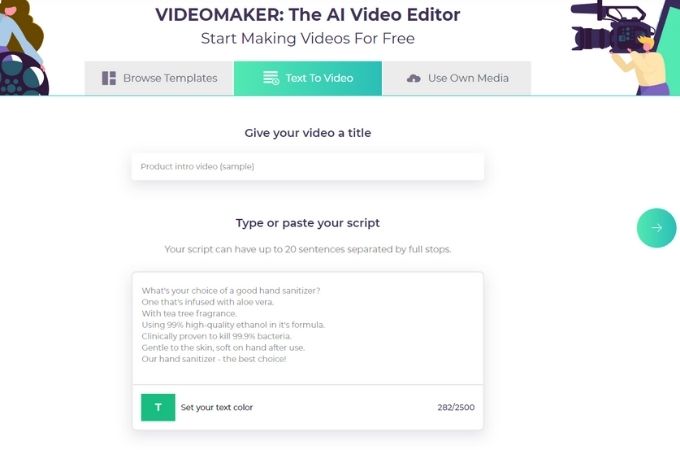 Struggling to come up with a theme for your video? Give Designs.AI video maker a try. As one of the top AI video generator tools available online, this website can assist you in generating and producing high-quality video content. It utilizes advanced technology to create videos based on prompts or text, and you can even craft your desired content using just keywords. What's even better is that it features an intuitive interface, making it ideal for beginners and aspiring video editors. Additionally, it supports various video platforms and allows you to easily share your video via a link with anyone.
Elai.IO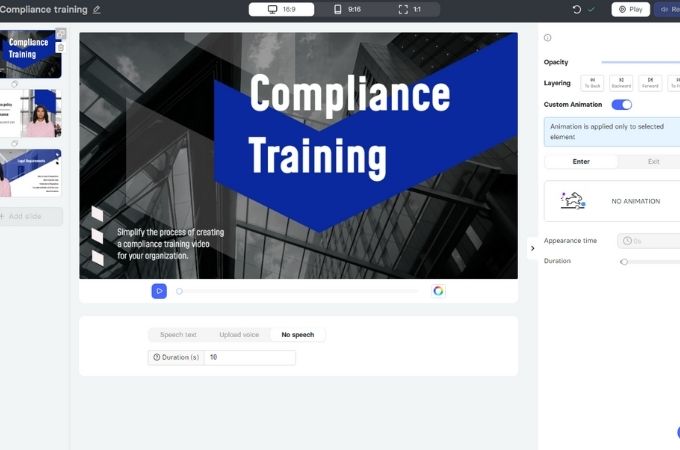 Say goodbye to your camera, studio, and green screen with Elai.IO – a free AI video generator app for everyone. This website empowers its users to accomplish video tasks using its advanced AI technology. Elai.io can generate videos suitable for big screens, handsets, and various media-sharing platforms. It boasts an extensive collection of pre-made videos that you can choose for your content and edit after generation. Additionally, you can include an avatar in your video, upload your script, and let the tool convert it into audio, which you can use for dubbing your generated video. What's even better is that users can utilize its screen recording feature to capture a video and seamlessly add it to their content.
Steve.AI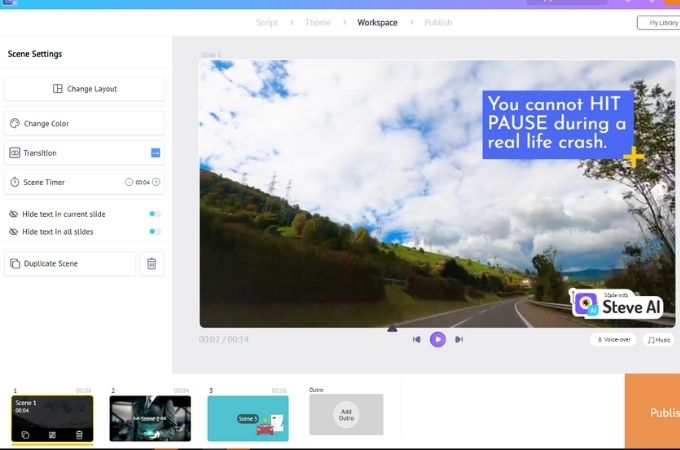 Another noteworthy AI video generator on this list is Steve.AI. This AI tool can provide inspiration for your videos with just the input of your script. SteveAI specializes in both live-action and animation videos, utilizing free videos and photos to ensure there are no copyright issues. This generator supports multiple languages, including English, French, German, Italian, Portuguese, and Spanish. It also offers the flexibility to create horizontal, square, and vertical videos, allowing you to share and post your content anywhere you like. Additionally, you can choose from a variety of pre-made video designs to match your preferred video style.
VEED.io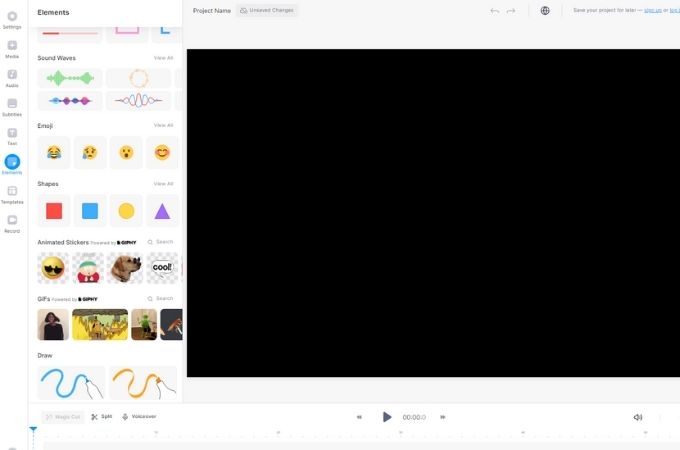 VEED.io is another excellent application for creating AI-generated videos. While it may require a few more steps compared to one-click generators, it delivers high-quality results. This tool generates a talking avatar and transforms your text into audio, which it then merges to create a video with a narrator. Additionally, VEED.io can translate your subtitles into different languages to better suit your video content. You can also make full use of its elements and templates to enhance the visual appeal of your output.
Conclusion
Absolutely, AI technology has consistently simplified our tasks, as demonstrated by these six free AI video generator apps. However, as we frequently emphasize, AI generators still require a human touch to achieve perfection. Therefore, you should utilize them as tools to jumpstart your productivity and enhance your creativity in video creation.