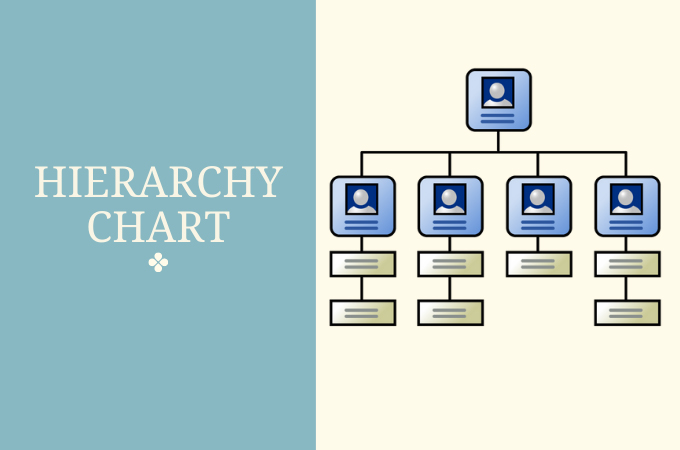 Any organization have a hierarchy amongst their ranks. This is a way of promoting the chain of command or else the entire organization will experience confusion on who to follow. One way to check the ranks within an organization is by looking at their hierarchy chart or structural chart. This type of chart shows the ranks from the highest to the lowest position. It usually starts with the rank of President, all the way down to the maintenance positions. If you're wondering what is this hierarchy chart that we're talking about, then you are on the right page. Continue reading below to learn more information about it.
Hierarchy Chart Introduction
Hierarchy Chart Definition
A hierarchy diagram details the order within an organization from top to bottom. It mainly shows the status of specific persons within the group. The chart displays the relationship of different position in the group. The name itself is self-explanatory, and was derived from the very idea of hierarchy. However, hierarchy chart is not only exclusive for people in an organization, as they are also applicable in software engineering. Programmers use this type of chart to display the relationship of modules in the program.
Benefits of Using Hierarchy Chart
It is without a doubt that every organization needs a chart like this one. Not only will they know who sits at the top of the hierarchy, they'll also get to know who and what these people do. Aside from that, there are still other benefits that you can get by using hierarchy flowchart. With that being said, we listed down some of these benefits.
Provide a clear overview of the entire business entity
Makes transition of new employees easier
Clearly demonstrate the responsibilities of every employee and staff
Minimize the chances of sending wrong files to someone
Let's other employees find someone in the group
Hierachy Chart Templates to Download
In-general, making a hierarchy graph is not a hard thing to do. Making one is just like creating a regular organization chart since they are basically the same. However, using templates these days is a far more easier alternative. This is because using one saves an enormous amount of time compared to when you are actually making one. Aside from that, there are many types of design to choose from which is a big bonus to those who are lacking in the aesthetic department. With that being said, here is a set of free templates that you can use and download for free.
Retention Hierarchy Chart Template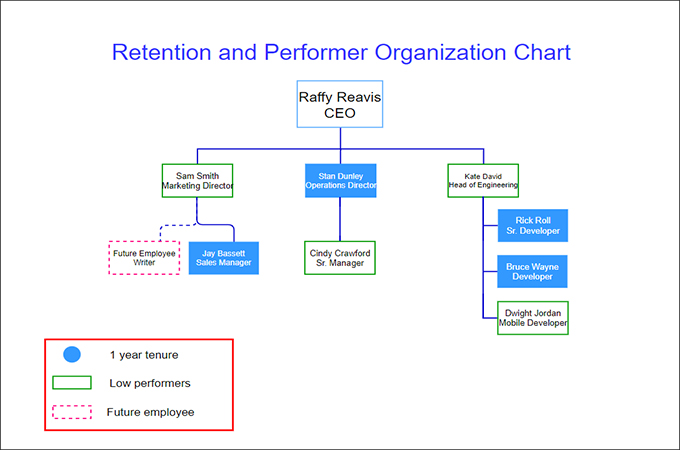 Edit this example
This hierarchy chart template shows the tenure of employees in a company. The chart categorizes the employees according to their years of service. This is helpful especially to the human resource department in determining the length of average service that an employee spent in the company. Employee performance is also determined here since they are highlighted to show appreciation and serve as a good example to others.
Business Organization Hierarchy Chart Template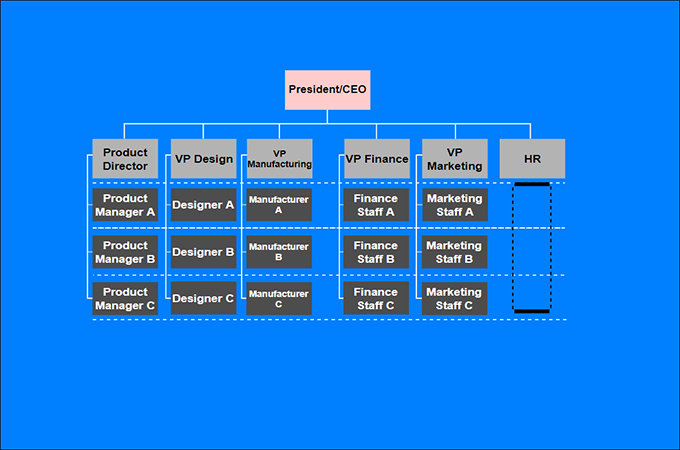 Edit this example
The template above is a great way to map out the chain of command in a business organization. Starting from the president, down to the staff of each department. The hierarchy diagram is customizable if the current design doesn't fit your requirements. You can also save it in various format by clicking the button above.
Hospital Hierarchy Chart Template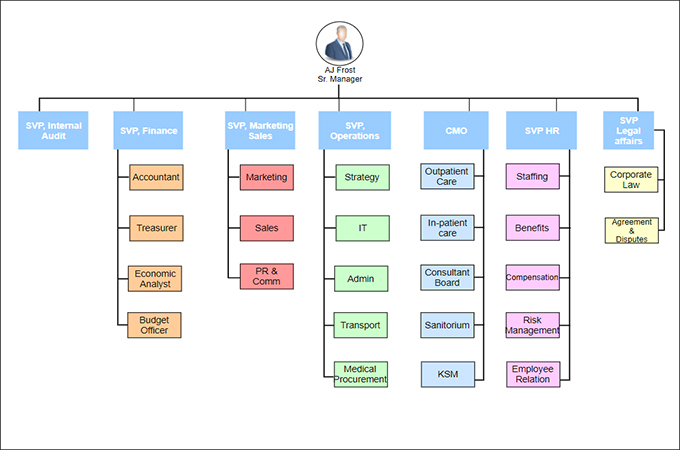 Edit this example
Last template features a matrix of hospital executives and employees. As we all know, hospitals have various departments and all have their own specialization. That is why they are the ones who frequently use hierarchy graphs, because they have a lot of staff and that can cause confusion among patients and their guardians. Knowing which person to look for makes all the difference when it comes to a hospital since it can save a person's life. To download this hierarchy flowchart, click the button above.
Conclusion
Knowing who call or approach in any given situation makes all the difference. That is why it is important to let those who are at the lower ranks know who they are working with. Same can be said with outsiders, since they can directly approach the one in-charge if they have anything to say to that person. On that note, it is really a good thing that the hierarchy plot were created.