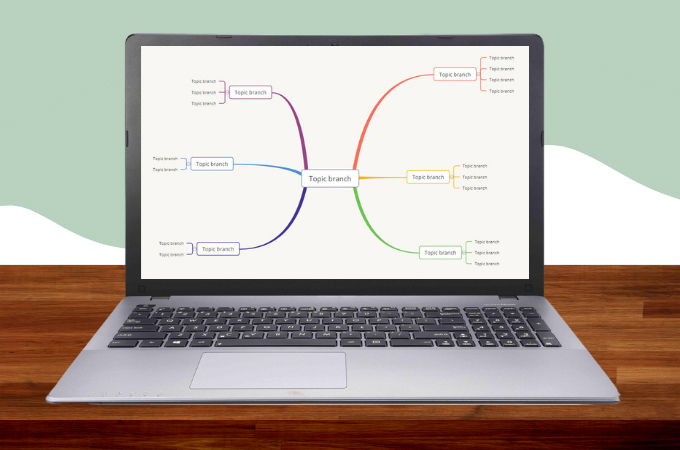 You've come to the correct place whether you're a teacher or a student seeking history mind map examples. Nevertheless, it is also possible to create a whole historical mind map that offers a comprehensive picture of former events and current world trends. GitMind provides a variety of diagramming and graphing components that might be quite beneficial to the work or task at hand. It also includes templates if you wish to utilize them directly. Having said that, you may keep reading to discover more templates regarding historical maps.
History Mind Map Tutorial
World War 1 Mind Map Template
The mind map displays the reasons for World War I and what occurred throughout the Great War.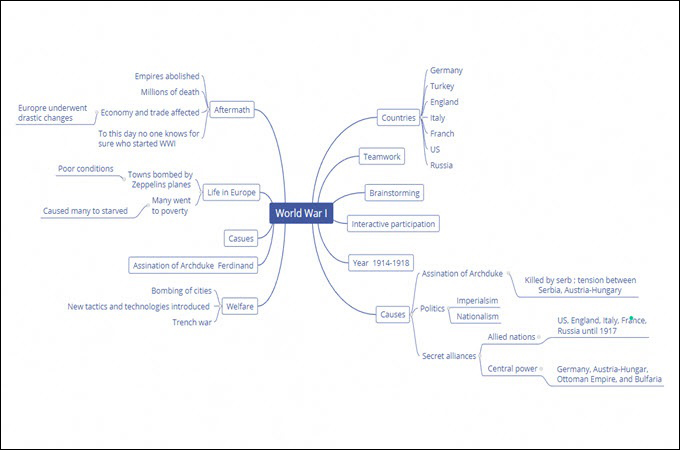 Edit this example
Triggers of World War II Mind Map Template
With interactive mind maps, this model will help you become acquainted with the timing, causes, and impacts of World War II.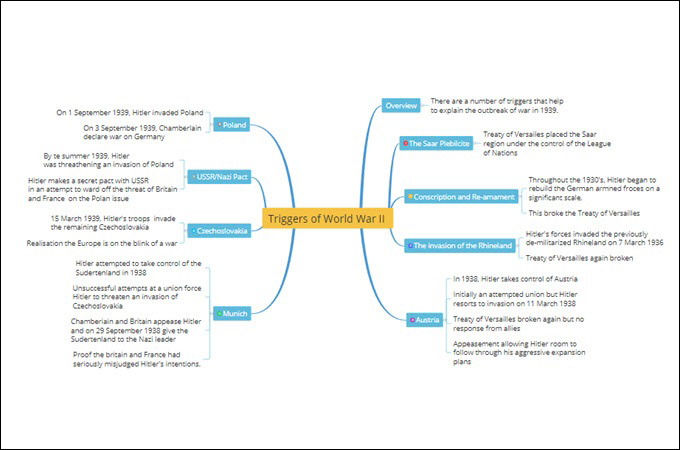 Edit this example
League of Nations Mind Map Template
This graph summarizes the League of Nations' organization, goals, strengths, weaknesses, challenges, and outcomes.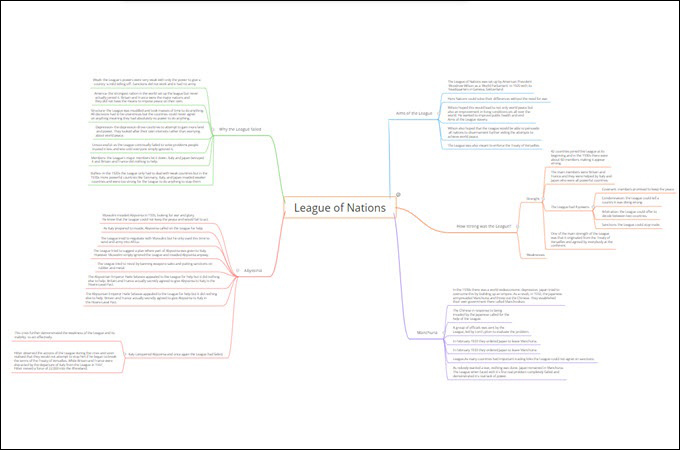 Edit this example
Benefits of Studying History with Mind Map
Understanding world history mind map is one of the finest ways to reach a student or any individual to absorb content. While some people learn it by taking notes, others learn best when they can visually represent all of the material they understand and their ideas. In this way, people can picture their ideas as well as the stuff they are attempting to learn. It may even be one of the many methods of demonstrating learning. But, users may utilize software to effortlessly go through mind mapping techniques in order to better connect with what is being taught. More data on how this program may be utilized in the educational area, as well as the benefits it provides to users.
How to Make World History Mind Map?
Mind mapping programs are tools that enable students to create a tangible representation of their thoughts about student history mind map, a blueprint that progresses from the concrete to the more conceptual. Mind Maps give a clear and structured visual depiction of how knowledge and suggestions are arranged in the mind. This allows one to identify where concepts need to be explored further and how all of the information is related. Having said that, you can follow the few simple steps below to start making this one.
To get started, you can visit GitMind's official website. and click the "Get Started" button.

Click the "Create MindMap" button and start customizing your history mind map.

Choose your preferred layout and start inputting data on each node.<

Once done, you can save your modification by simply clicking the "Save" button.
Tips: If you want to have an effective historical mindmap, please keep in mind the listed reminders below, this will bring you more accurate and can help you make your mind map reliable.
Vocabulary development includes explaining what a term is, what it isn't, and providing examples.
Creating an outline for an essay or other type of writing
Viewing and assessing opposing viewpoints on two historical figures/events
Making a timeline of a historical event about student history mind map.
Comparing and comparing historical events and personalities or current situations
Identifying the primary event and elaborating on the cause/s
Conclusion
We may learn about how historical civilizations, systems, ideologies, governments, cultures, and technology were created, how they functioned, and how they evolved over history. The world history mind map allows us to construct a true overview of where we are currently. Developing your understanding of history entails learning about all of these diverse facets of existence. Children may learn about the pillars that other civilizations were based on, as well as cultures and people that are distinct from their own. All of this information makes students more well-rounded individuals who are better equipped to study in all of their academic disciplines.