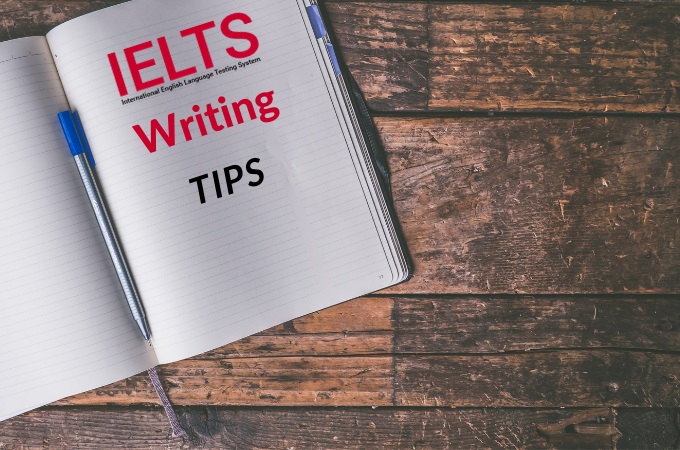 IELTS or International English Language Training System is a standardized English proficiency test used around the world. This exam aims to test the proficiency of a person in the English language, if they want to work in a country or place where it is being spoken. However, the exam is not easy as it covers various parts of the English language like Grammar, Speech and so on. With that being said, one of the hardest part is the IELTS writing exam. On that note, we prepared some tips that might help you overcome this part easily.
IELTS Writing Exam Intro and Tips
IELTS Academic Writing Task 1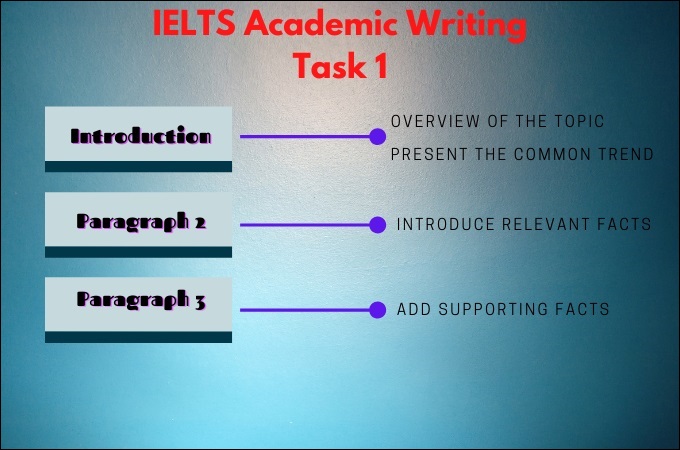 As mentioned, there are many areas that the IELTS exam covers. These exams are divided into "Tasks" with different scopes for each. The IELTS writing task 1 involves writing an essay with no more than 150 words. The idea is to present the facts from chart or graph provided in essay form. This exam tests your ability to express facts and numerical data in a comprehensible manner. Another purpose of this task is to assess the capabilities of a person to express their opinions in various situations. If you want to pass this task easily, then you will find the IELTS writing tips below helpful.
IELTS General Writing Task 1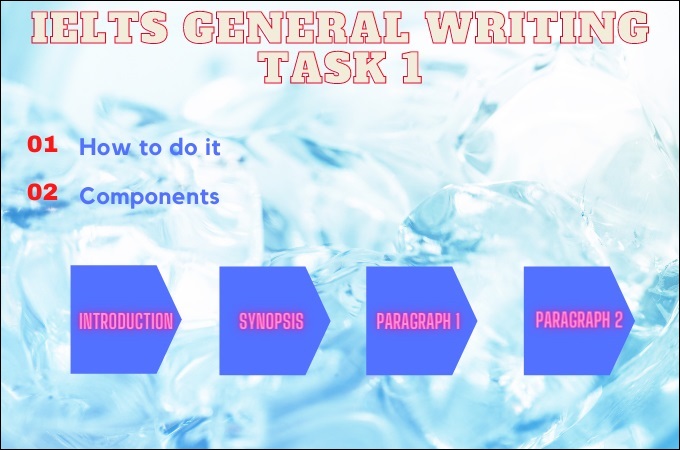 This part measures your ability to write a letter that responds to a specific topic. You will be given a maximum of 20 minutes to compose a letter that details information as required by the situation. As part of the task, you will have to determine the appropriate type of letter that you will use. Formal, semi-formal and informal formats are your options, and it is worth 30% of your total writing score. Unlike IELTS essay, letter writing provides a different approach, as you will have to respond to a scenario or question.
IELTS Writing Task 2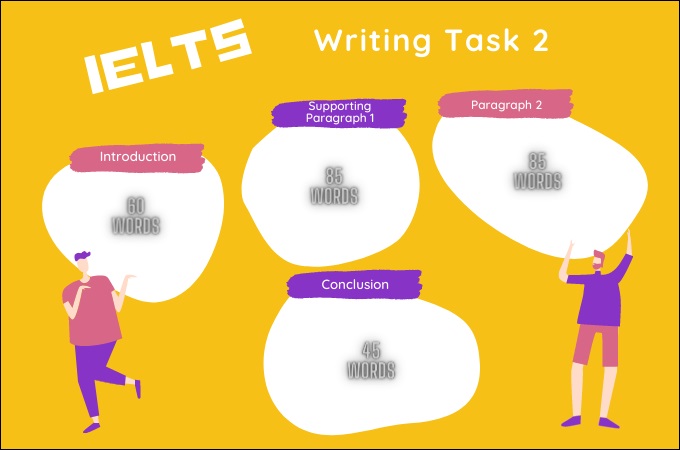 One of the most dreaded part of the IELTS exam is the Writing task 2. This part requires you to write an essay in response to a presented point of view, or argument. This will test how you express your reaction in response to an opinion the moment you encounter it. You will need to accomplish the IELTS writing within 40 minutes in formal style. The essay should not exceed 250 words for it to be accepted.
Tips to Improve Chances of Passing IELTS
1. Manage your time wisely
Since the entire entire exam has a time limit, you should stick to the allotted time as much as possible. Avoid idling in a specific parts of the exam to maximize the entire exam time.
2. Understand the questions carefully
Comprehension is key to fully answering each question. That is why you should take your time to understand the questions before answering. There are other IELTS writing tips below.
3. Write a brief summary for the Part 1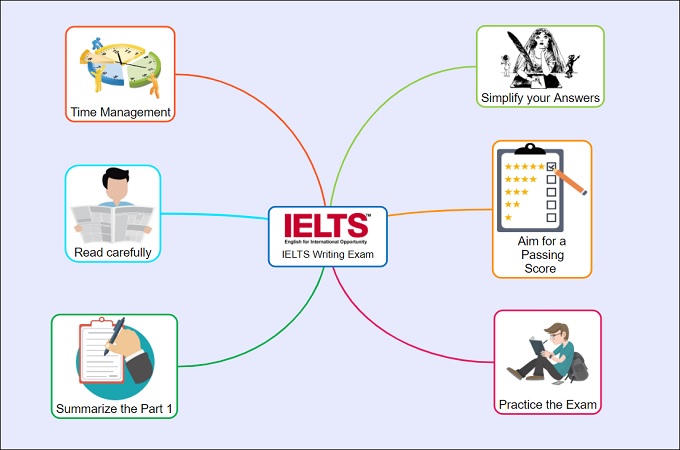 Edit this example
People tend to answer the questions right away and proceed to the next part. However, for a higher chance of passing, you can write a brief summary of each parts. This is an effective way to optimize the information you presented in the first part. Alternatively, you can start by making an outline first. Include all the information that you have and then present them in a mind map for easier reference. The mindmap above demonstrates how a mindmap outline looks like. You can also use it by clicking the edit button.
4. The simpler the better for Part 2
People often get carried away when doing the 2nd part of the exam. However, that is not the case most of the time. When writing the 2nd part of the exam, you should always try to simplify your explanation. This will make it easier for the readers to understand your point in your IELTS writing.
5. Aim for the most realistic score
There is nothing wrong with aiming for the highest score possible. However, it is not good to cram information all at the same time. That is why you should try to take things one step at a time to get the passing score.
6. Practice makes perfect
There are many websites that provide tips and reviewers like this one. That is why it is always advisable to prepare beforehand. You can search for sample questions and then answer them to have the general idea. Here are some websites that you can practice on, before proceeding to the actual IELTS exam.
IELTS Practice Websites
1. https://takeielts.britishcouncil.org/
2. https://ieltsonlinetests.com/
4. https://www.ieltspractice.com/
Conclusion
The IELTS exam is a general exam that will test your proficiency in the English language. Not only can you use it to apply for a job, but you can also use it as a reference for future applications. That is why it is good to pass it the first time. To ensure the chances of high scores, you can use the IELTS writing tips above and then follow them accordingly.