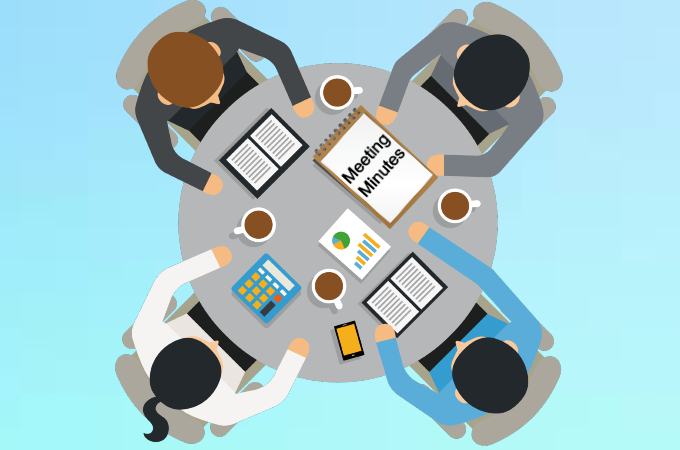 Meeting minutes in all essence is a form of notes. They contain the most important topics tackled during a meeting. However, one must not treat them as just ordinary notes because meeting minutes are more formal. From the list of meeting participants to the smallest interruption that occurred at a specific time, meeting minutes may contain them all. This is why it is essential to learn how to take meeting minutes properly before actually doing it. With that being said, we will provide you with some tips and tricks to effectively take meeting minutes.
Take Meeting Minutes Effectively
3 Steps to Take Meeting Minutes Effectively
As mentioned before, the meeting minutes are more formal than traditional notes. Using a pen and paper to take meeting minutes manually isn't necessarily a bad method. However, in today's fast-paced world, this method poses some real challenges. It's quite likely that you won't be able to focus on the meeting because you are busy scribbling down your notes. That is why it is highly recommended to use tools that can keep up with fast-paced discussions. One such tool that comes to mind is GitMind, perfect with its free templates for taking meeting minutes. This way, you will be able to keep your attention on the meeting and eliminate the scribbling process. If you want to know how to take minutes using GitMind, follow the steps below.
Go to the official webpage of GitMind and click the "Get Started. It's free" button. From the home screen, you can choose the template that you want to use from the available options. After that, click the said template, and hit the "Use template" button to enter the editing panel.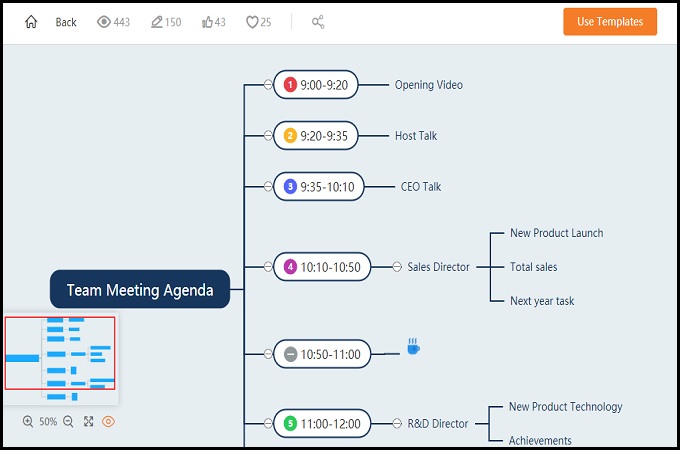 You can make changes to the template structure before the meeting. You can also use it right away if you wish, and make changes while the session is in progress. You can also ask your fellow participants to join you in taking minutes, by clicking the "Invite Collaborator" button, you will be able to work simultaneously with your colleagues.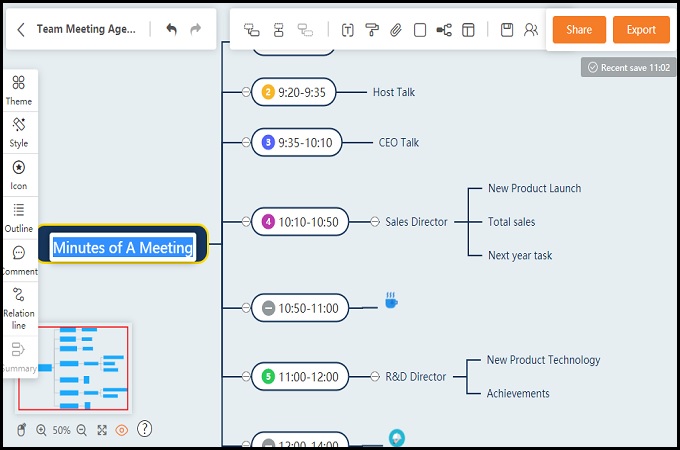 Once the meeting is finished, make sure to click the "Save" button. Alternatively, you can instantly download the minutes on your local storage by clicking the "Export" button.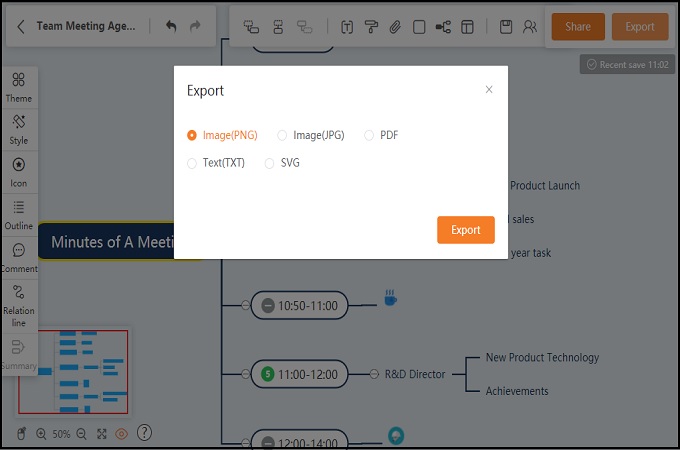 Meeting Minutes Template
If you are the one tasked with taking meeting minutes all the time, you know how time-consuming it is to edit a template from time to time. That is why one thing that you can do is to make a template that you can use every time. This is a sure-fire way to learn how to take meeting notes efficiently. Below is some of the most critical information that needs to be present in your template.
Date of the meeting – This part is essential to keep things organized on your end.
List of participants – This is important as it will reflect how many stakeholders attended the said meeting and see who's tardy at the same time.
Topics to discuss – You must have the list of agendas that will be tackled during the meeting.
Tips and Tricks for Taking Meeting Minutes
Using a tool and templates is not a guarantee that you will produce high-quality results. At the end of the day, your skills in taking down notes will still decide if you will be successful or not. The way you take down notes and how organized you are will be a considerable factor, nevertheless. With that being said, here are some tips on how to take meeting minutes faster.
Write all the information that you remember on-the-spot.
Try to shorten your sentences in a way that you will still get the gist right away.
Abbreviate lengthy words and ideas.
Use punctuation marks in place of a whole sentence, i.e., "Bryan asked a question," you can write "Bryan?" Anything is fine as long as you understand them yourself.
You can also add images of the materials that were used in the meeting.
Conclusion
Meeting minutes are an essential part of any discussion. They contain valuable information that can decide the future of a specific plan. That is why it is essential to keep things organized and as neat as possible. Using the tips that we provided above, it will be easier to take meeting minutes. Alongside those tips, you can partner it with a tool like GitMind. This way, learning how to take meeting minutes efficiently will be a breeze.