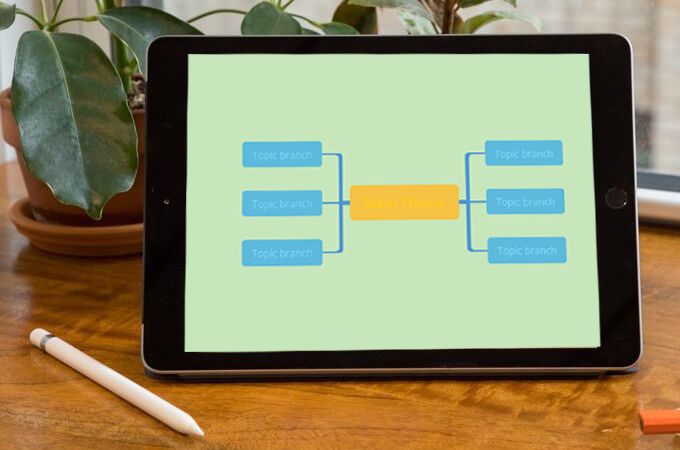 From sending emails, organizing files to streaming Netflix. Almost everything you can do on your laptop can be done on your iPad. However, choosing the right tool will make things different especially for business work and productivity. If you are conceptualizing and brainstorming with your team, iPad mind mapping app will always come in handy. That being said, we researched the best mind mapping programs for iPad to write your ideas and have meaningful ideation.
Best iPad Mind Mapping Apps
GitMind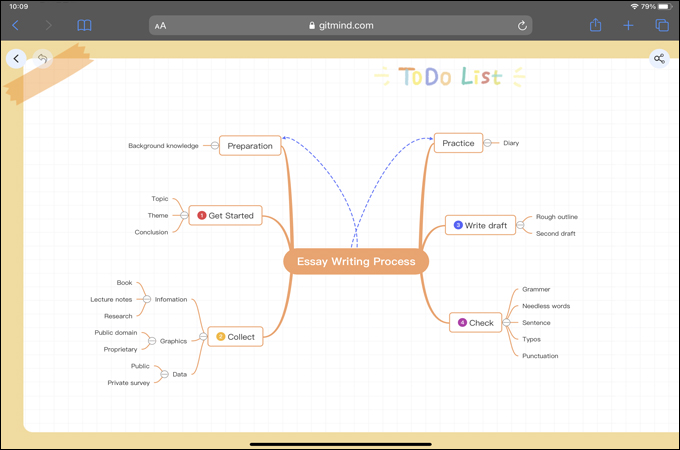 GitMind is an online mind mapping tool that is available on the web, computer, iOS, and Android devices. It comes with a responsive and clean interface that allows you to create a mindmap in no time effortlessly. You can add and remove nodes, format text, change the color of nodes and so much more. Over and above, this mind map tool for iPad enables sharing your map to others using a link.
Features:
Zoom and pan touch gestures
Clean and responsive interface
Price: Free
Mindly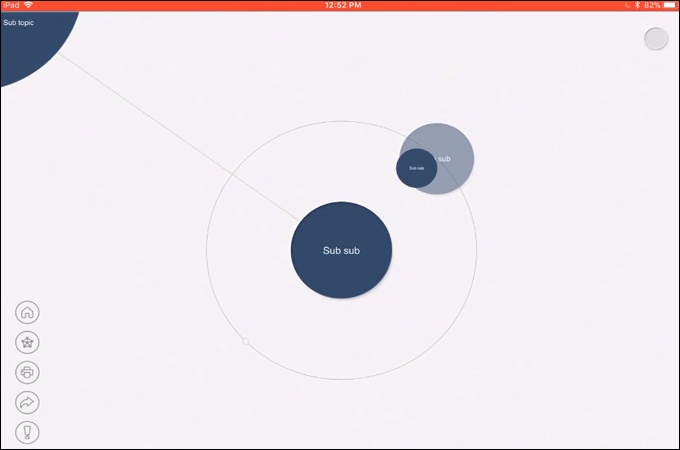 Mindly is another good program you can use to write down your ideas using your iPad. Here the mindmaps utilize the universe-like structure that stimulates creative thinking. The planets serve as the nodes while the central node which represents the sun is the main topic of the project or ideation. Moreover, this best mind map maker for iPad has a huge amount of icons you can use to associate to your nodes and make the mind map comprehensive.
Features:
Mobile-optimized interface
Universe-like structure for mind mapping
Price: $6.99 One-time payment
MindNode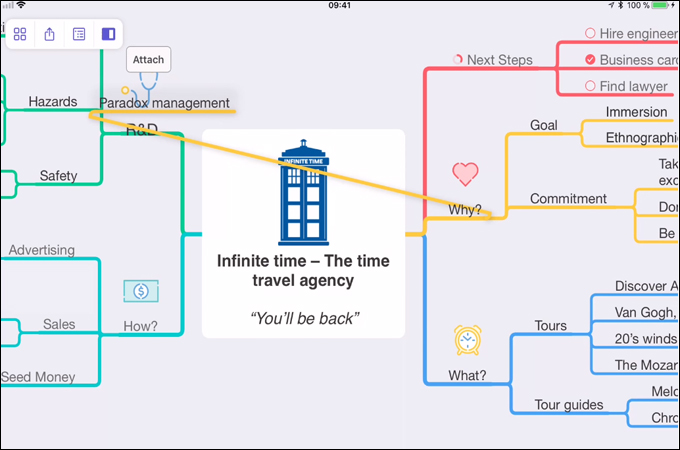 With MindNode you can transform nodes into tasks and sync with Apple Reminders allowing you to stay on top of your tasks. In addition, this mind map app for iPad enables you to arrange nodes or tasks into categories through visual tags or using one color for related ideas. It depends on which approach works best on your routine. Therefore, finding an idea or a task is more manageable as the mind map grows bigger.
Features:
Visual tags for grouping ideas
Integration to Apple Reminders
Price: $9.99 Monthly
SimpleMind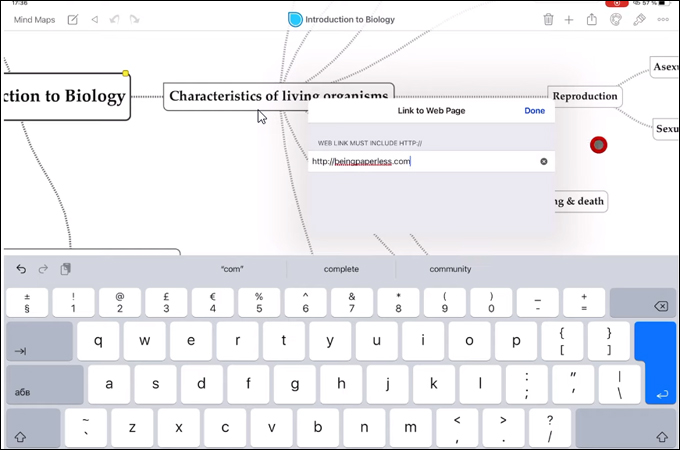 Moving forward we have SimpleMind. Though it's not totally a free mind map software for iPad you can enjoy lots of advanced features in organizing your thoughts and ideas. Some of these include an outline and hierarchical view, different style looks, group borders, and a lot more. Using outline view, you have the ability to display mind maps in checklist, to-do list, and even arrange it in date list or done list. Also, you can choose from style sheets, mind map style, and element style to change the look and feel of mind maps.
Features:
Personalize maps using styles
Change mindmap structure with Outline view
Turn mindmaps into slideshow presentation
Price: $7.99 Monthly
iThoughts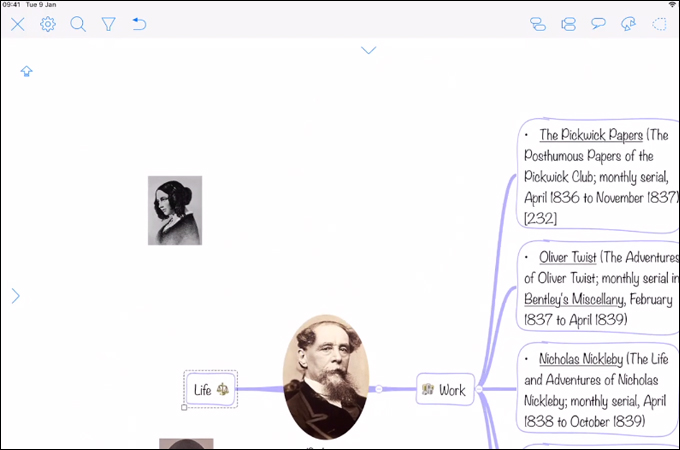 For those of you who are looking for a go-to productivity iPad mind mapping app, this is a great choice. iThoughts lets you integrate mindmaps with Dropbox and iCloud allowing you to easily sync your files. Plus, you can import from other tools like MindNode, SimpleMind, Mindmeister, and the like. On top of that, you can choose from the available language supports by the tool. This includes English, French, Japanese, and many more.
Features:
Import from similar programs
Sync files and access files on OneDrive, Dropbox
Choose your preferred language
Price: $11.99 One-time payment
XMind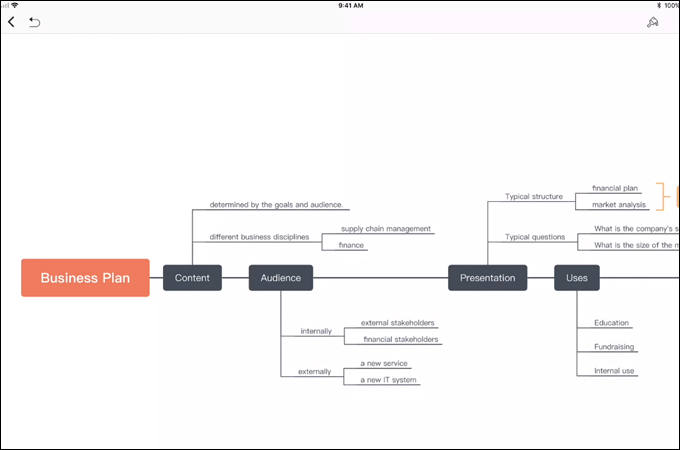 XMind is another good mind map tool for iPad. Using the app's Multiple Windows feature, you can do multi-tasking. What it exactly does is it allows you to open and edit 2 files simultaneously. Aside from that, it comes with Dark Mode provided that your device is updated to iOS 13 and above. You can also quickly locate topics using the search function of the tool.
Features:
Open and edit mindmaps at once
Price: $59.99 Yearly
Mindomo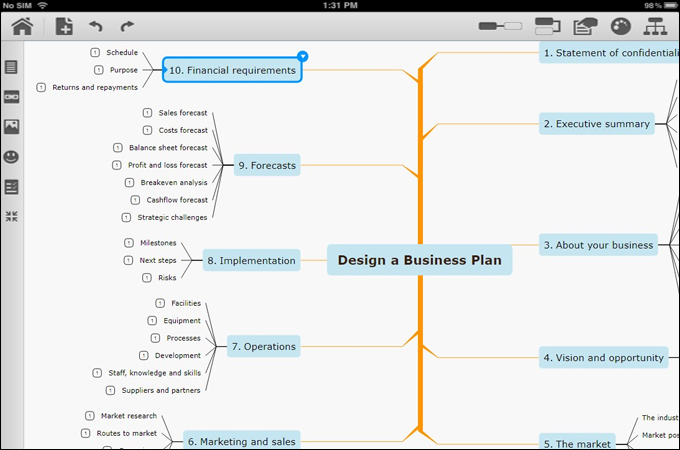 Mindomo lets you create and edit mindmaps from your mobile devices as if you are using your laptop or computer. This free mind map software for iPad gives you access to its customization options. This allows you to modify the style, font, line of the nodes, and the choose templates for your map. It also supports the insert feature where you can add attachments, icons, hyperlinks, and turn nodes into tasks.
Features:
Supports the same features for both web and mobile
Price: Free
MindMeister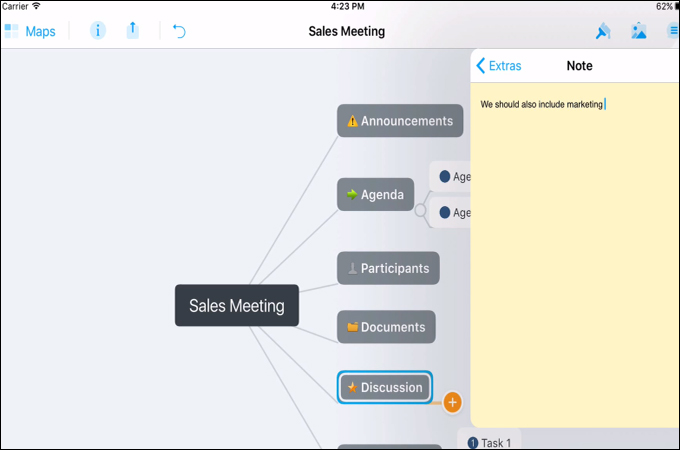 Another best mind map maker for iPad that helps you visualize your thoughts is MindMeister. It comes with multi-touch support including zoom, pan, or drag and drop allowing you to write down your ideas with your fingertips. Additionally, you can invite your colleagues to collaborate with you in real-time which can is rarely supported on similar programs.
Features:
Supports multiple touch gestures
Share maps to other users
Price: $2.49 Monthly
MindMapper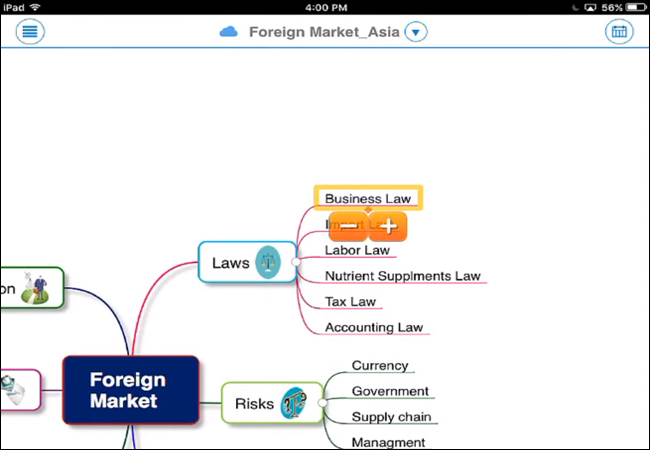 Aside from mind mapping, MindMapper is infused with a planner that lets you keep track of project schedules and avoid procrastination. The planner lets you write down tasks for a day, set an appointment, and make a memo. On the other hand, this free mind map software for iPad incorporates various mind mapping essentials. It comes with stylish layouts and other customization options. A project map and planner in an app is one of a kind so you might want to try this program.
Features:
Mindmapping and visual planner in one
Wide-rage of customization options
Supports free online storage services
Price: $39 One-time payment
Ayoa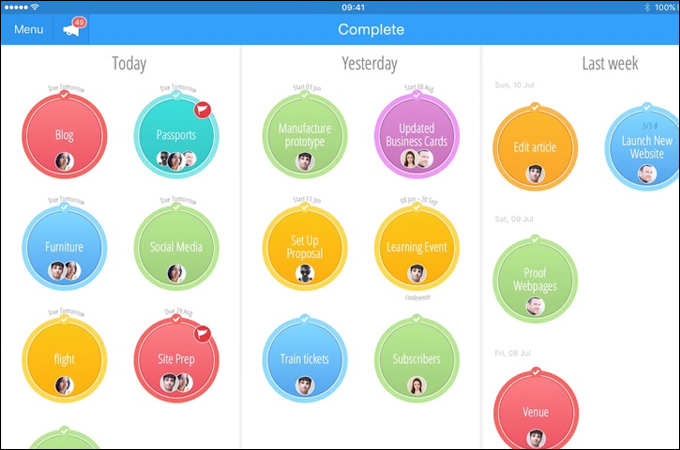 Be productive and creative by yourself or with a team. Ayoa offers free templates and themes that you can use to create a structured and stylish mindmap. You can also add images, emojis and use various branch styles and colors making it the best mind map maker for iPad. On top of that, it's perfect for teams working remotely because the app is incorporated with an instant-messaging function to communicate with other team members.
Features:
Present mindmaps in three different styles
Instant messaging function
Choose from project management views
Price: $10 Monthly
Conclusion
Not all iPad mind mapping apps are created equal. Each tool comes with unique features. Therefore, choosing the right tool will totally depend on your personal experience of the program.