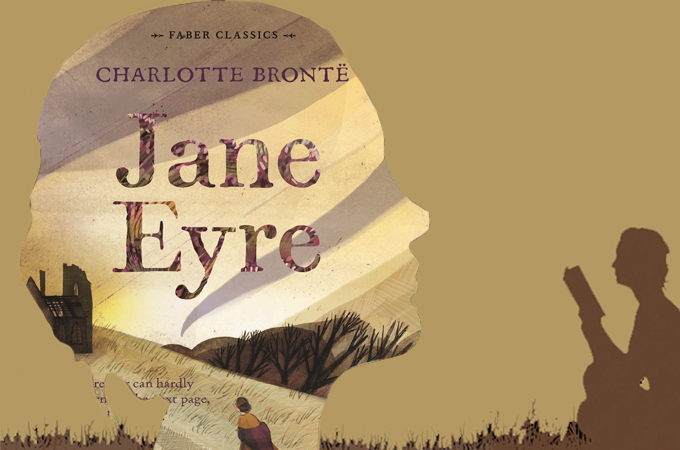 In 1847, Charlotte Bronte, an English author, published the novel entitled Jane Eyre. This literary work Jane Eyre focuses on Jane's search for a place to call home. With that, many readers are captivated by the thought that we seek a place we really belong. There are also instances that somehow we experience misfortune and the sense of being valued. Furthermore, this Jane Eyre summary will give you a hint of the roller coaster life of Jane. Discover the plot twist, character analysis, and theme of this revolutionized novel.
Jane Eyre Summary and Analysis
Jane Eyre Chapter Summary
The template below shows all the Jane Eyre chapter summaries. We also made a detailed narrative of the beginning chapters of this intriguing novel.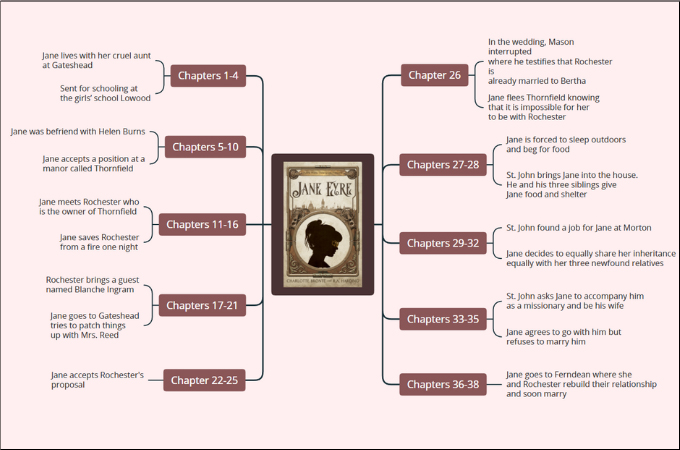 Edit it online

Chapter 1 Summary
The beginning of the Jane Eyre chapter summary takes place on a gloomy November afternoon in Gateshead, where the rich Reed family resides. In her early years, Jane Eyre loves reading Bewick's History of British Birds while sitting in the drawing room. Mrs. Reed, Jane's aunt, doesn't want Jane to play with her cousins who are named John, Eliza, and Georgina. Jane's cousins, especially John, always tease Hane for being an orphan. What's more heartbreaking is that the Reeds tolerate this kind of attitude because of his mother's generosity. The young girl eventually loses patience as John throws the book at her. When Jane eventually loses it, the two cousins start to fight. Jane receives punishment from Mrs. Reed by being sent to the terrifying "red-room". It is a place where her Uncle Reed passed away.
Chapter 2 Summary
As the Jane Eyre plot continues, two servants of the Reed family named Miss Abbott and Bessie Lee bring her into the red-room. Being imprisoned in the chamber, Jane notices her horrifying reflection, and she is alarmed by her negligible presence. She starts to think about the circumstances that have brought her to this situation. Also, she recalls how her loving Uncle Reed brought her to Gateshead after her parents passed away. Besides, he asked his wife to pledge to nurture Jane as one of her own before he lost his life. Jane has an immediate sense that her Uncle Reed's spirit is there in the room. She believes that her Uncle Reed has returned to exact revenge on his wife for betraying their agreement. With the thoughts coming into her mind, Jane lost her senses.
Chapter 3 Summary
When Jane awakens, she discovers herself in her own chamber being looked after by Mr. Lloyd, the kind family pharmacist. Bessie, who is also present, shows disgust at the way her mistress treated Jane. The next day, Jane stays in bed as Bessie sings her a song. After talking with Jane about her life in Gateshead, Mr. Lloyd advises Mrs. Reed to send Jane to a school. By doing so, she might find happiness. Jane cannot contain her excitement over perhaps leaving Gateshead.
It is also included in this Jane Eyre synopsis of how the lead character finds out about her background. In the red-room, Jane overhears a conversation between Bessie and Miss Abbott revealing the story of her late parents. She learned that her mother had strong feelings against the poor clergyman who was Jane's father. Having a high standard, After their union, Jane's affluent maternal grandpa removed his daughter from his will. Jane's parents passed away soon after she was born from typhus that her father acquired while providing care for the less fortunate.
Chapter 3 Summary
Jane has been suffering from her aunt and cousins' cruelty for the past two months while waiting impatiently for her schooling. Finally, Jane is informed that she may enroll in Lowood, a school for girls. She is also given the opportunity to meet the institution's stern headmaster, Mr. Brocklehurst. Through Brocklehurst's cold-blooded dogma, Mrs. Reed's poisoned perception of Jane poses a threat. Fortunately, Jane meets Helen and Ms. Temple, who impart Christian ideals to her and help control her anger. Ms. Temple enables Jane to forgive herself allowing her to believe in justice and fairness within a real Christian theology. Furthermore, these elements, along with Brocklehurst's removal, make Lowood feel like a home for a while. In this Jane Eyre summary, Jane realizes that she cannot rely on just one person to be her home, even in Ms. Temple's presence.
Jane is forced to accept the position of a governess in a wealthy family for stability and to sustain her financial needs. Jane restores the tremendous passion of her youth, this time in the shape of romantic love, during her time at Thornfield. She met Rochester and in the end, she felt this is where she belongs because he respects both her morality and her drive.
Jane Eyre Themes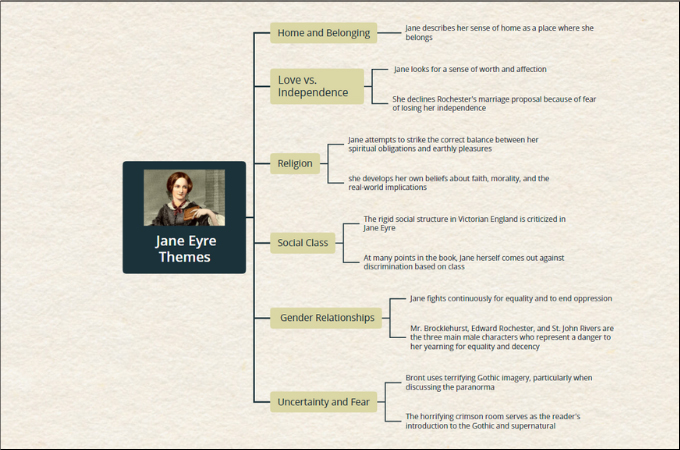 Edit it online
There are significant themes in the novel including passion, love, and social class. Jane struggles to control her passion resulting in outbursts. Love is another theme that is associated with passion with Rochester and Jane's mutual love, making sacrifices for each other. Opportunities provided are based on someone's gender and class so we can say that social class is another central theme of Jane Eyre.
Character Analysis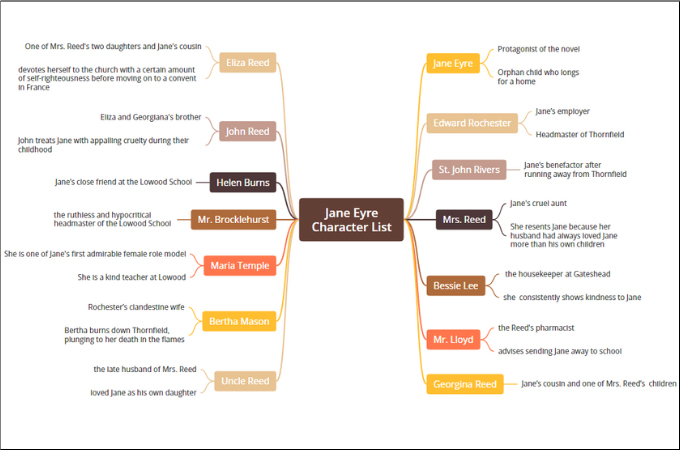 Edit it online
Here is a list of characters that will help you understand the role and significance of every character in the novel. If you would study the life of Bronte, you might notice that the characters portrayed her real-life family and relationships. It's safe to say that Bronte used her experiences as her knowledge of the people who appeared in the novel. To know more about them, you can refer to the Jane Eyre characters map to familiarize yourself.
How to Make a Book Summary of Jane Eyre?
It is also a great idea to show a book summary in the form of a mindmap. By doing so, you will be encouraged to remember the story and memorize the book much easier. Having said that, we provided a tool that could help you get this job done. Here's a brief guide to making a book summary of Jane Eyre.
Open a web browser and go to the official site of GitMind. Get started by clicking the "New Mindmap" button from the template interface. There are also available templates to choose from.
Edit the map and customize it according to your preference. Add the information including the title of the novel, chapters, or any additional element you think is necessary for the summary of Jane Eyre. After adding all the details, you can customize the map using the style option. Simply open the "Style" option from the left sidebar and customize the properties of the map including the branch colors, alignment, etc.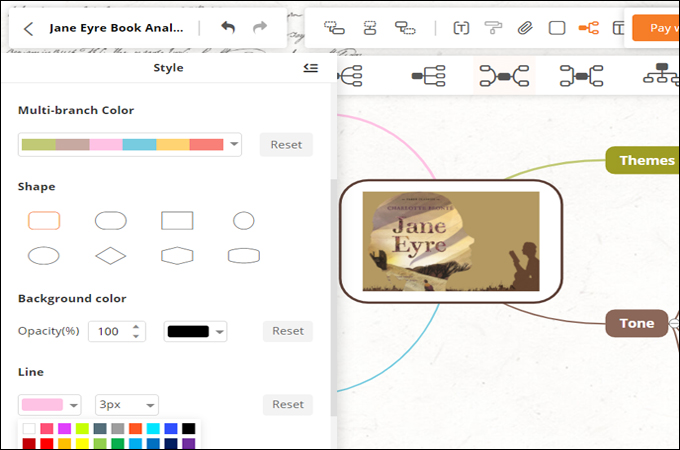 Once done, you may produce a copy of the map in different formats. Just choose from the sets of available formats. If you wish, you could also share the map with colleagues or friends for further improvement.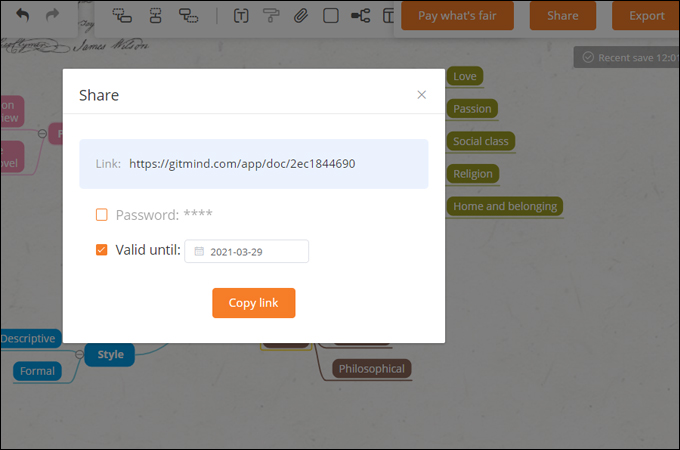 Conclusion
There is no doubt Jane Eyre is an excellent piece of work. It was even commanded by the victorian monarch Queen Victoria and has lots of adaptations as well. There's more to learn from this book and if you want a meaningful overview, you may refer to the Jane Eyre summary we created above.