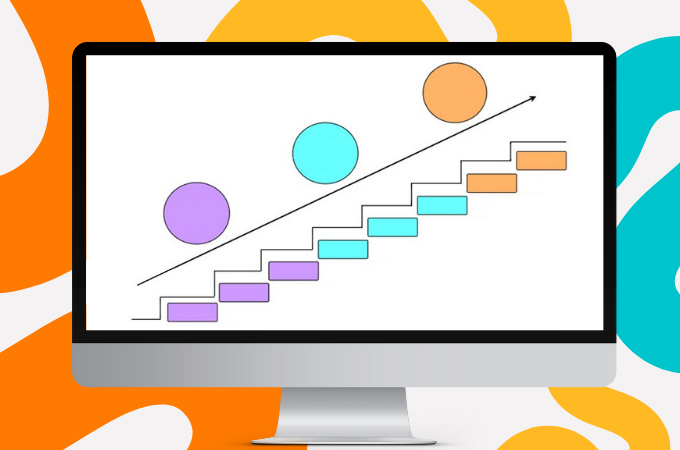 If you work for a corporation or a company that manages any organizational change, developing a kotters change model would be quite advantageous to both you and your company. It may help you make better-informed decisions and prepare people for change rather than shock them with it. This type of change model devotes a significant amount of time to preparing for the change, which increases the chances of its success. Meanwhile, if you truly want to develop this type of model, you can read more about it below and learn about the aspects you must consider as well as the tools you may use.
Kotter's Change Model Introduction
Kotter's Change Model Definition
kotter's change management model is a complicated process that demands significant attention as well as engagement from management and employees at all levels in order to create a significant or progressive change across many levels. To stay ahead of the competition and obtain a competitive advantage, firms have focused on global company development, establishing excellence in procedures and operations, applying technological breakthroughs, and recognizing the appropriate personnel.
Elements of Kotter's Change Model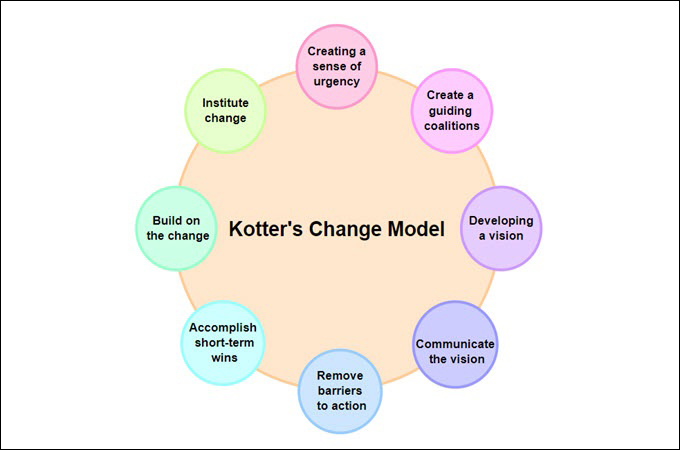 The eight steps of the kotter model in the process of transformation include:
Creating a sense of urgency
Understanding and emphasizing possible dangers and consequences that may arise in the future.
Assessing the possibilities that can be realized through good treatments.
Initiate open dialogues and debates to get people thinking about current issues and to provide persuasive reasons for doing so.
Ask the participation and assistance of industry professionals, important stakeholders, and the possible participants of kotters change model transition.
Create guiding coalitions
Establishing successful change leaders in your organizations, as well as important stakeholders, and demanding their engagement and inclusion to the whole program.
Evaluate the weaknesses in the coalitions team to ensure that the organization includes a large number of powerful individuals from diverse cross-functional areas and divisions of the firm.
Create a strong kotter model change coalition that also works in a group.
Developing a vision
Identifying basic principles, outlining the desired objectives, and developing methods for implementing change in a company.
Ensuring that the top management can successfully convey the vision clearly that people can readily comprehend and implement.
Communicating the vision
By using kotter's change management model, it includes explaining the shift in perspective as often in a forceful and persuasive manner. Integrate the goal to all of the critical areas, such as performance evaluations, training, and so on.
Address people's problems and difficulties with honesty and participation.
Remove barriers to action
Verify that the organizational procedures and framework are in existence and that they are in alignment with the broader organizational goal.
Assess for obstacles or persons who are resistant to change on a regular basis. Implement kotters change model to remove the roadblocks that arise throughout the process of transition.
Pay individuals for accepting the change and promoting it.
Accomplish short-term wins
You may offer a sense of triumph in the earliest phases of kotter model change by establishing short-term victories early inside the organizational change.
Establish several short-term goals rather than one long-term objective, which are much more attainable, less costly, and have fewer risk of errors.
Recognize the efforts of those who are engaged in accomplishing the goals.
Build on the change
This stage is mostly about maintaining transition about kotters change management model process by guaranteeing that teams are working consistently toward attaining the change vision while assessing progress.
Promote continual growth by analyzing individual stories of success and learning from those achievements.
Institute change
At each and every moment, share successful experiences about change projects.
Ensuring that the transformation regarding kotter model is becoming an inherent part of your company culture and is apparent in all aspects of an organization.
Make that the old company executives, as well as the future leaders, continue to show their commitment for the transition.
Kotter's Model Templates
Using a trusted tool like GitMind, you can create professional-looking flowcharts, diagrams, and kotters change models. This software offers a large number of variations and change models. It also offers a free plan to use and does not demand payment for its complete service. Furthermore, when brainstorming, you may sort out thoughts and enhance each thinking. That being said, you may use the template offered below to learn more about Kotter's models.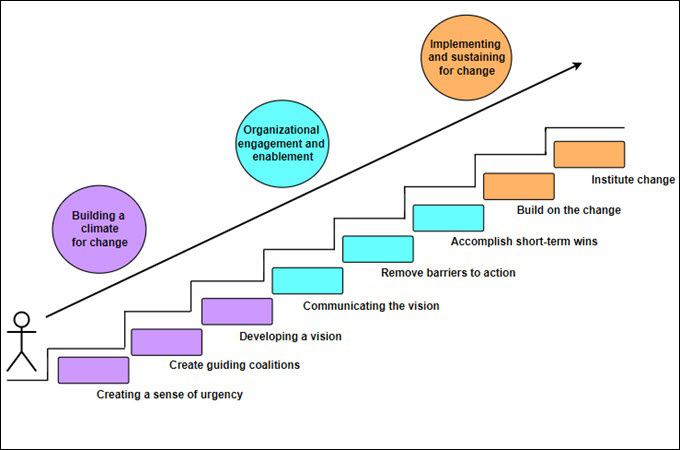 Edit this example
Benefits of Using Kotter's Change Model
Using Kotter's change management model is a great approach to create a step-by-step model that gives a clear description and direction on the complete change process and is reasonably simple to apply. This can highlight the importance of employee engagement and acceptance for the overall effectiveness of the process. Rather than the actual process of change, the attention is on preparation for and establishing acceptance for change.
Conclusion
It takes time and effort to execute the organizational-wide transformation. Discipline, planning, and perseverance are required. A solid framework and a tool like GitMind could be useful in keeping you on track during this long journey of the kotters change model. You can guarantee the effective implementation of change throughout your organization by implementing the steps mentioned above.