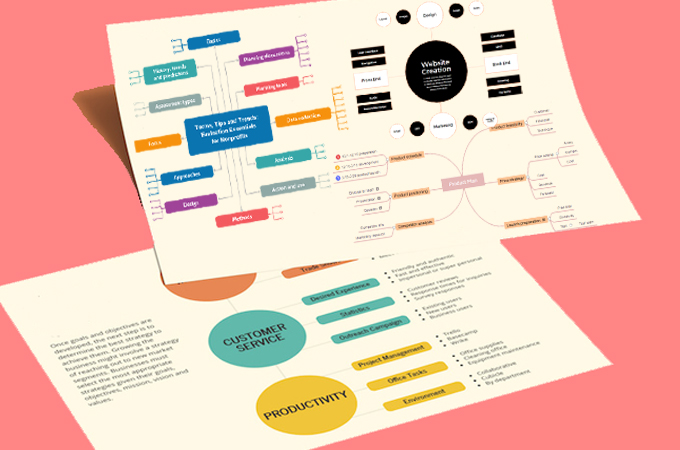 Mind maps are helpful illustrations that enable you to visualize ideas, gather thoughts, formulate strategies, and do creative tasks. This graphic illustration is commonly used in different fields. Whether you are a student, a teacher, or an entrepreneur. However, if you are not creative in particular yet you want to draw a stylish and comprehensive map, mind map templates could be of great help. This post will be covering the five best websites that provide free templates to help you graph the most beautiful mind map.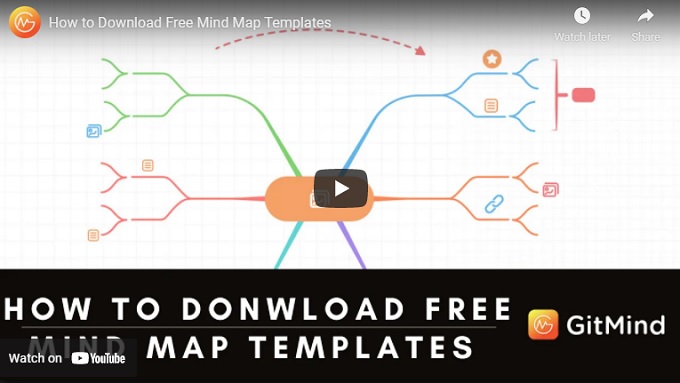 Free Mind Map Template Sites
Mind Map Template Examples
Depending on the information that you want to visualize, the structure may vary. To give you an idea of where to start mind mapping, here are some examples that are suitable for both education and business plan.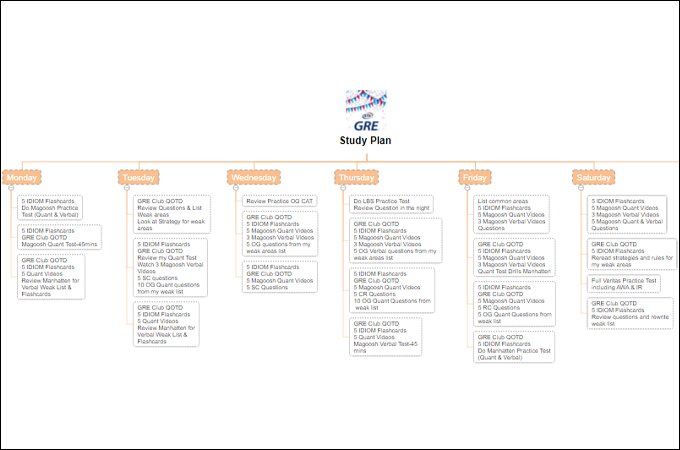 Edit online
The GRE study plan template is designed to help students to prepare for the examination by assigning tasks each day. With this mind map template, you can manage your time well, and ensure that you have reviewed the materials, and practiced the necessary skills. Thus, preventing you from procrastinating or cramming for the upcoming exams.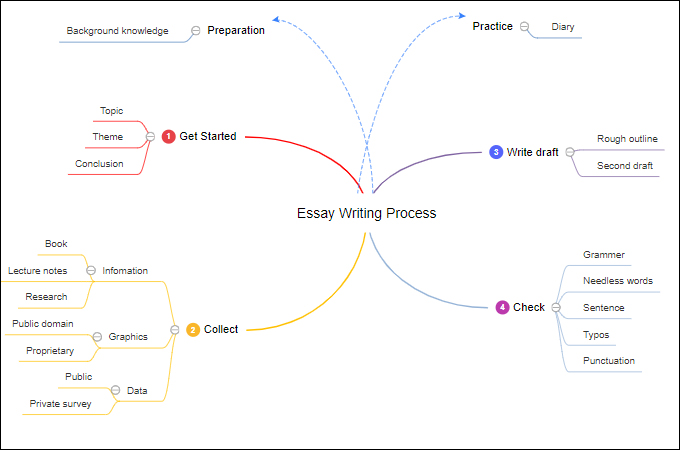 Edit online
Essays come with an outline that a writer needs to follow to make sure everything is organized and ideas flow smoothly. This free mind map template will serve as your guide from the data to be gathered, the topic of the essay, and the checking of errors.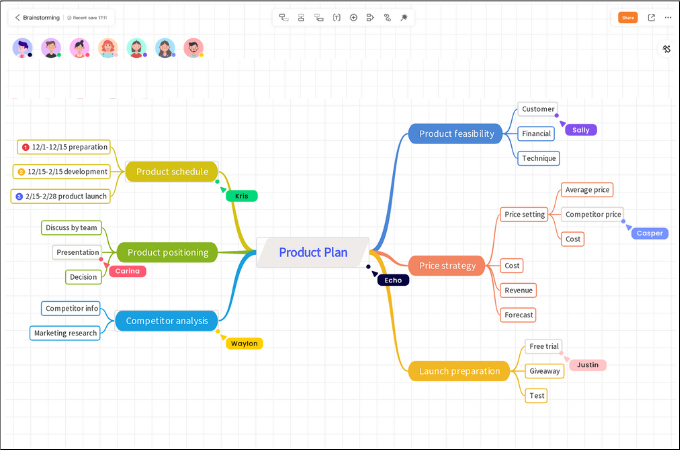 Edit online
When having a meeting it's important to collaborate with your team. This is used to plan projects with all the participants to be informed of what is going to happen. It also ensures that everything is discussed and planned during the meeting. In this mind map template, you will see the product plan. All tasks are prepared such as the product schedule, product positioning, competitor analysis, and others.
Sports Brand Marketing Plan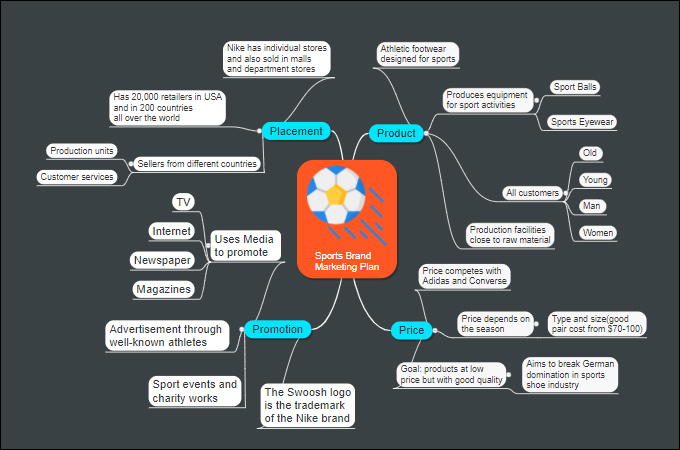 Edit online
A mind map is a great tool to create a marketing plan. This gives you a visual overview of the product or service of your business. Just like this template, you get what product to promote, the placement, how to promote it, and the consideration of price. This free mind map template will help businesses make the right choices.
GitMind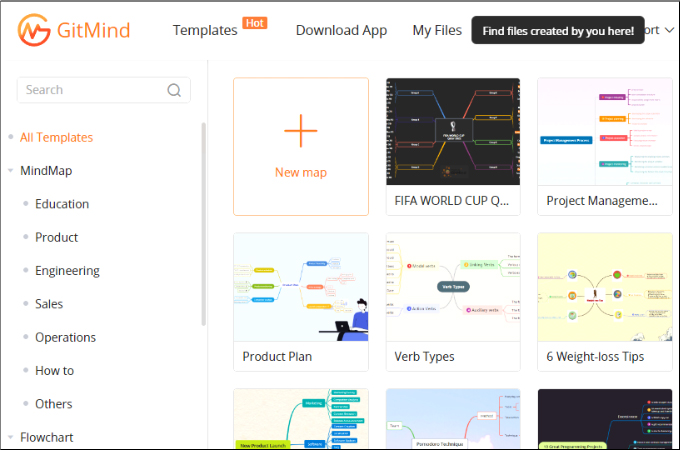 There can be programs that are totally free yet offer extensive templates library with a variety of categories and one of these is GitMind. This is a web-based tool that gives you the benefit of no-app installation while enjoying flexible features. Here you can find free mind map template examples for education, engineering, and flowcharts to understand processes. Also, there's a separate editor for both flowcharts and mind maps which gives you everything you need like tools, shapes, and customization to help you achieve the best output. Furthermore, real-time collaboration with friends is possible with GitMind via URL. Through this, participants may take over the project and edit the map remotely.
DOWNLOAD
iMindQ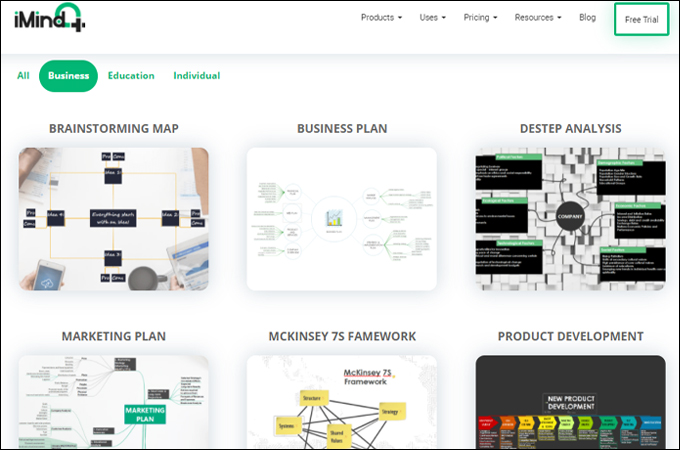 Another good website that provides mind map templates online is iMindQ. This software is available on many platforms. That means you can try using the app on your Windows computer, Mac, iOS, and Android mobile device. It also offers support to browsers as well. Moreover, you can download any template with dynamic styles, designs, and structures for offline editing. As long as you have installed the program on your device, you will be able to customize mind maps. That said, if you want to edit maps whether offline or online, then this program is for you.
SmartDraw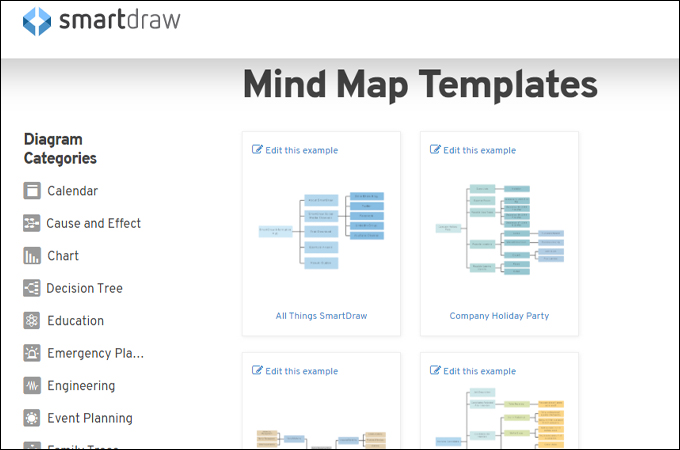 SmartDraw is not limited to mind map templates. You can find almost everything from engineering, floor plan, maps and geography, network design and so much more. This is designed to help every professional when it comes to drawing a comprehensive illustration. You can also access a blank mind map template with structure. This is very useful especially if you are creating or presenting a research paper and complex documents. Not only that, SmartDraw you may import Lucidchart or Visio files easily making it a flexible diagram editor.
Canva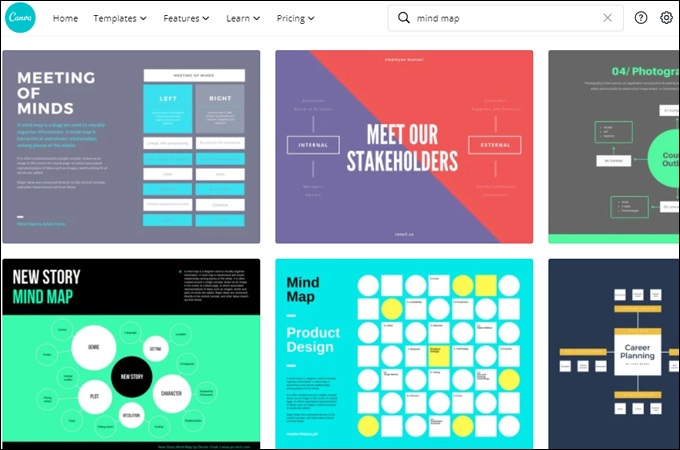 Next on the list of websites that allow you to draw a free mind map template is Canva. The website has a neat and clean interface that will encourage every user to browse through the web. The same way with the design of the templates it offers. Besides mind maps, it has category templates for posters, banners, presentations, and social media posts. There is a search bar that shows the accurate results of the topics of templates you are looking for. It also comes with customization tools and allows you to upload your own picture or figures. For a stylish and user-friendly website, Canva is a great pick.
MindMeister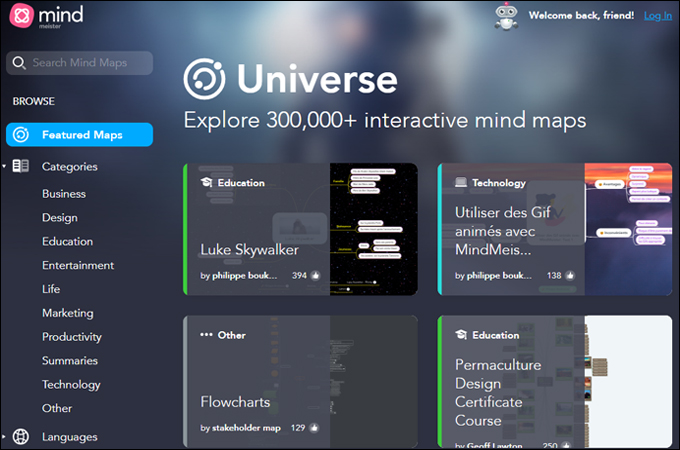 Just like the mentioned websites, you can find a wide range of interactive free mind map templates in MindMeister. With it, you will be able to create a mind map about fashion, entertainment, business, marketing, and a lot more. Aside from that, they are available in different languages offering support to English, Deutsch, Portuguese, Spanish, etc. The best thing is you can create maps and access the tool from the comfort of your laptop or mobile device.
Conclusion
Now you know where to get mind map templates. A mind map template will help you easily visualize information especially if you are not sure where to start. Most of these websites are free yet come with limitations. Thus, if you want a tool with a full range of features and is totally free, then look no further than GitMind.