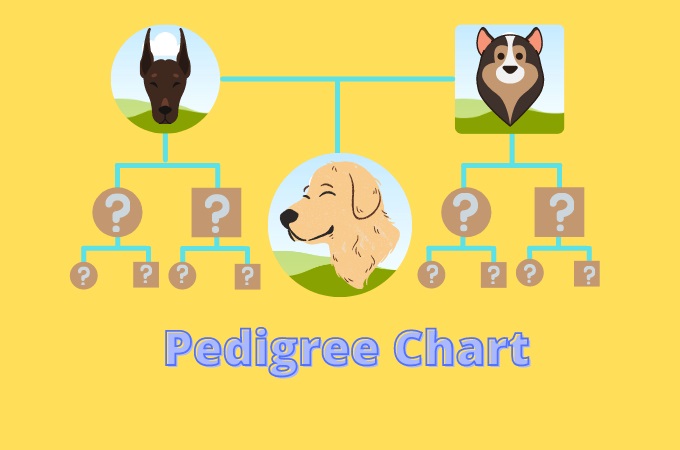 Pedigree Chart is a diagram that traces the appearance of certain phenotypes of genes within an ancestry. Commonly used in determining the quality of a show dog, Pedigree charts are vital in checking if the breed is from a winning line. Aside from that, it is also used in determining genetic disorders that family members can inherit from their predecessors. Through this chart, family members will have an idea about the possible illness that their members will have, based on the genetic history stated there. In general, this type of chart not only benefit animal breeders, but humans as well. On that note, we provided some sample charts that you can use below.
Pedigree Chart Guide
Pedigree Chart Symbols
Like any other technical chart, family Pedigree chart uses a set of standardized symbols. This was made to ensure that every one who tries to read the chart will understand it. With that being said, here are some of the symbols that you will encounter when looking at this type of chart and what they mean.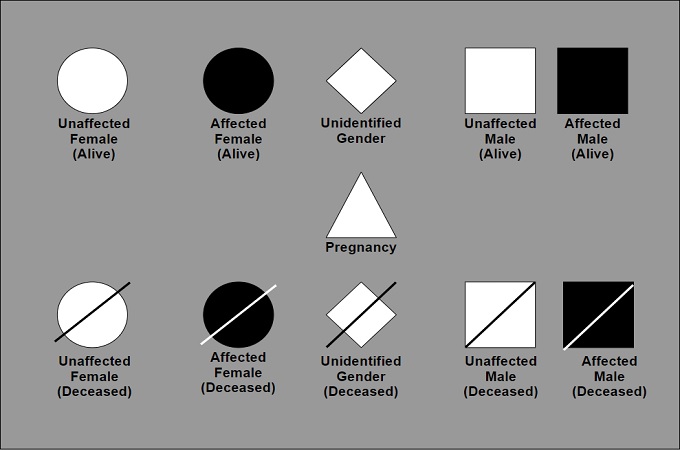 Clear Circle – Unaffected Female (Alive)
Clear Diamond – Unidentified gender
Clear Square – Unaffected Male (Alive)
Triangle – Pregnancy
Black Circle – Affected Female (Alive)
Black Square – Affected Male (Alive)
Deceased – Place a diagonal line to the symbol
Pedigree Chart Examples
Making a Pedigree diagram can become a tedious task for beginners. That is why we will provide some examples, that you can use instantly. These sample charts are editable and can be modified according to your needs.
Canine Pedigree Diagram (Dogs)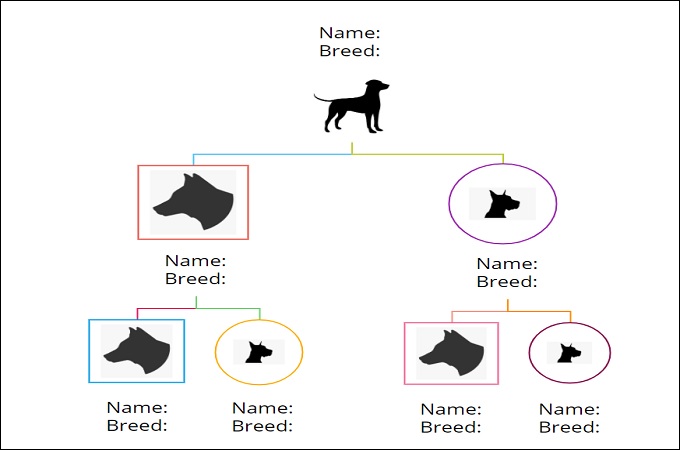 This diagram shows the genetic history of show dogs. As mentioned above, it is important to know the details about the dogs' ancestry to know if it has indeed came from a winning line. You can use this dog Pedigree family tree diagram as it is or with minor changes.
Edit this example
Feline Pedigree Diagram (Cats)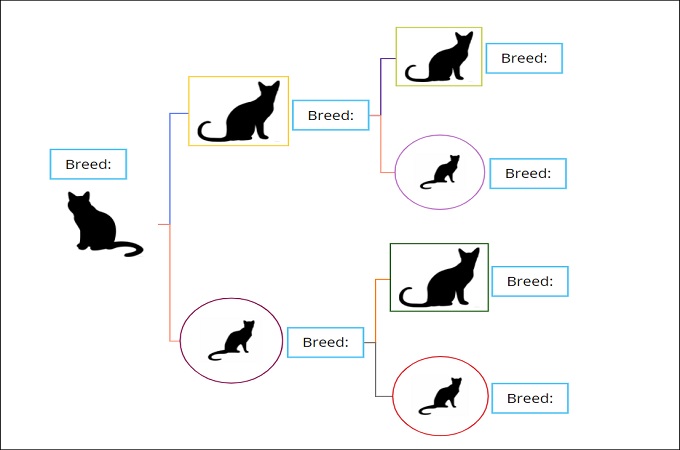 Same as the previous example, this one also shows the ancestry of a house pet. The diagram shows the genetic history of a cat and its ancestry. Stated here are the illnesses that its predecessors experienced, with their cause of death. This chart is designed in a way that is easy to read, with additional information that you can edit. In general, this Feline pedigree tree is as detailed as it can get.
Edit this example
How to Make a Pedigree Diagram
If the two available examples doesn't meet your needs, then you can go ahead and create your own from scratch. Using GitMind, you can easily make your custom chart from any web-browser. Aside from charts, you can also use this tool to make mind maps, organizational charts and family trees. On that note, here are the steps that you can follow to make your Pedigree diagram on GitMind.
Launch GitMind from your web-browser, and then click the "Get Started" button. After that, click the "New Mindmap" button to open the editing panel.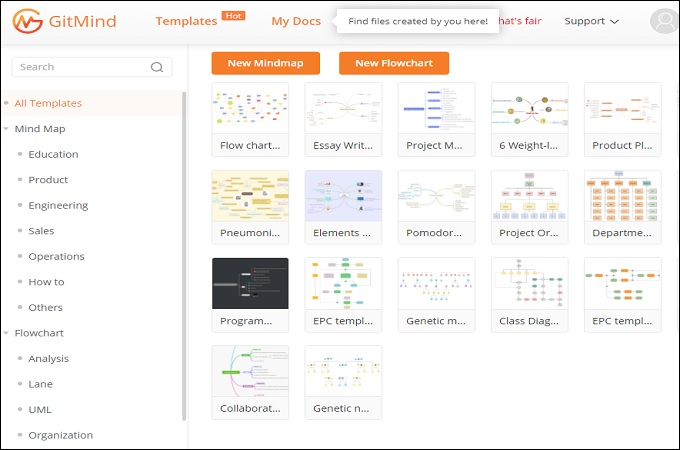 Start editing the diagram. You can customize your diagram the way you want using the available styling options from the left toolbar.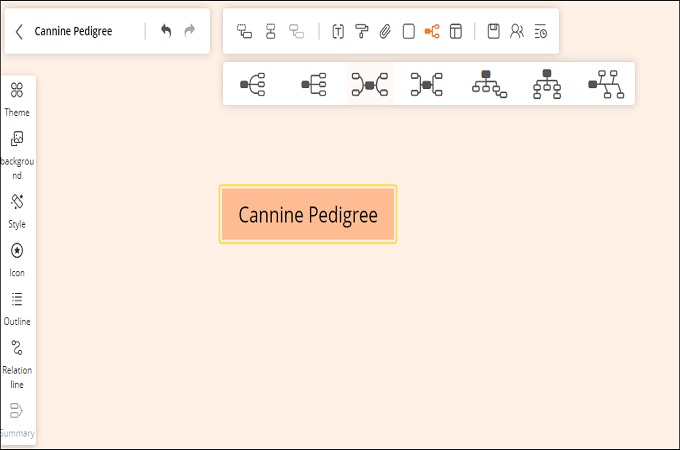 After editing, click the "Diskette" icon to save the diagram on your cloud. Alternatively, you can click the "Share" button to get the URL of the diagram, and send it to your friends. Aside from that, you also have the option to download the family pedigree chart on your PC by clicking the "Export" button.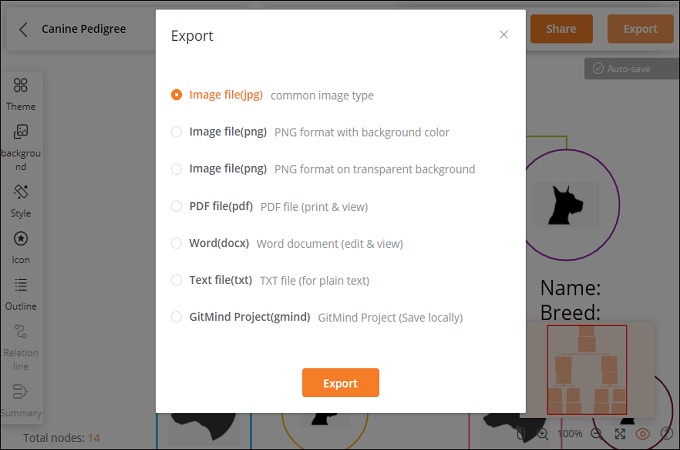 Conclusion
There are many types of charts that features genealogy and Pedigree chart is one of them. Using this one provides more details and more insight to the past conditions that the entire family have experienced. On that note, creating a Pedigree diagram should not be complicated, since there are tools that you can use. These tools provide convenience and many other features that you can use.