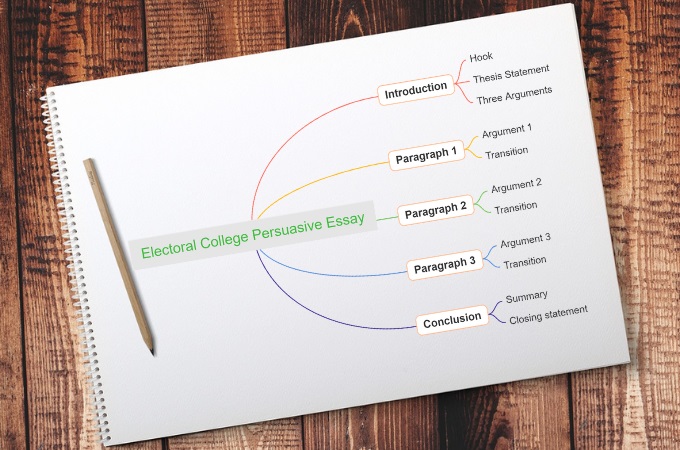 Persuasive essays aim to persuade readers into agreeing with the authors' point of view. This type of writing includes various techniques to get the desired outcome. One essential way to write a good persuasive essay, is by using an outline to streamline the flow and details of the entire essay. However, to make an effective persuasive essay outline, you will need to know its components. On that note, we will provide you with a guide on how to write a good outline. Aside from that, we have some examples that you can use.
Persuasive Essay Outline Writing Tutorial
Persuasive Essay Outline Examples
Persuasive Essay Student Frame
This template is for student's who are looking for a way to simplify their outline. It contains all the essential parts and structure that a persuasive essay thesis.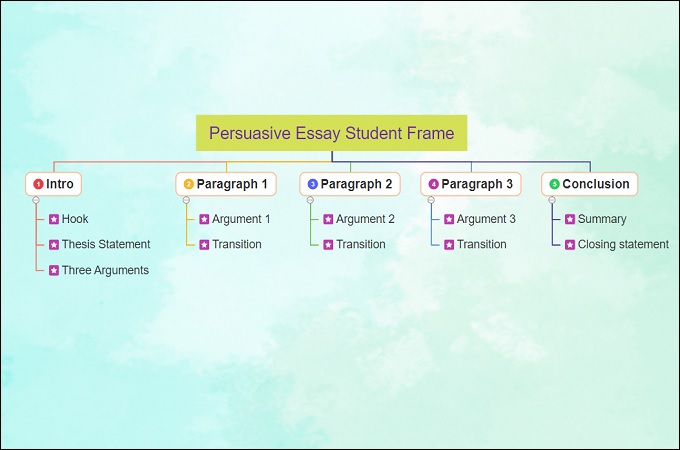 Edit this example
Electoral College Persuasive Essay
This template provides a quick insight into the process it take for a Electoral College to make its decision. There are many factors to consider with such topic which makes it perfect for outlining.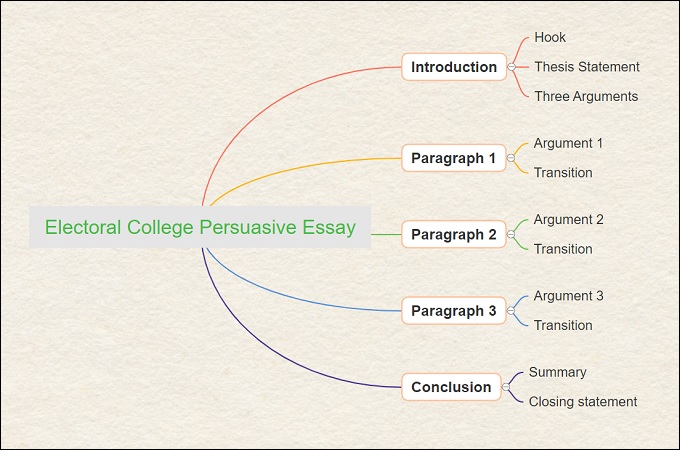 Edit this example
Components of Persuasive Essay Outline
Part 1 – Introduction
Introduction – This is generally your opening statement. It can contain your argument but not detailed. This is usually composed of 3 to 5 sentences.
Hook – In any argument, there is always a catchphrase that gets the attention of the readers. In this case, the Hook is will be the tool to grab the attention of the reader and pique their interests. It can be a quote, example, or anything as long as it is related to the main argument.
Thesis Argument – This part is showing your stand in the matter. It should contain your personal opinion and why you came up with it.
Three Arguments – This part is where you'll state 3 related arguments to the topic. this will be your tool to persuade the readers into agreeing with your point.
Part 2 – Paragraph 1
Argument 1 – You will need to write a paragraph about the 1st argument of the persuasive essay outline that you provided in the previous part. You will need to provide strong examples to prove your point. At least three examples are needed to build a strong argument and a sense of credibility.
Transition – This part is required to give a brief intro to the next argument. This will allow readers to have a general idea of what's coming next.
Part 3 – Paragraph 2
Argument 2 – Go back the Part 1 and look for the 2nd argument that you wrote. Like the previous part, you will need to write a paragraph about it, and provide concrete examples.
Transition – Provide a statement that shows the next idea which is related to the current argument.
Part 4 – Paragraph 3
Argument 3 – Finally, write a paragraph about the last argument, and cite some examples as well.
Transition – Lead to the conclusion
Part 5 – Conclusion
Summary – provide a gist of the entire outline by restating your thesis statement and the arguments in different words.
Closing statement – It should be in line with your Hook.
Steps to Write a Persuasive Essay Outline Online
As we all know, there are a lot of ways to write an essay outline these days. There are many online tools that can easily provide you with ready-made templates. This is an efficient way to make one, as you will not have to worry about the persuasive essay format all the time. On that note, GitMind is a sure way to make an outline within minutes. It's free and is loaded with tons of ready-to-use templates making it one of the best tools today. If you're interested in using this tool, here are the steps.
Open GitMind from your web browser and then click the "Get Started" button from the homepage. You will be then redirected to the tool dashboard and from there, go to the "Education" tab.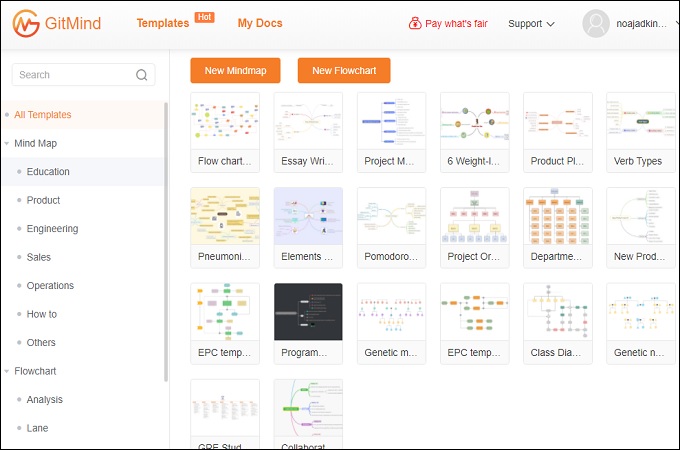 Search for a template that you want to use from the available options. Click the "Use Template" button to open the editing panel. From there, click the "Outline" button from the left side panel.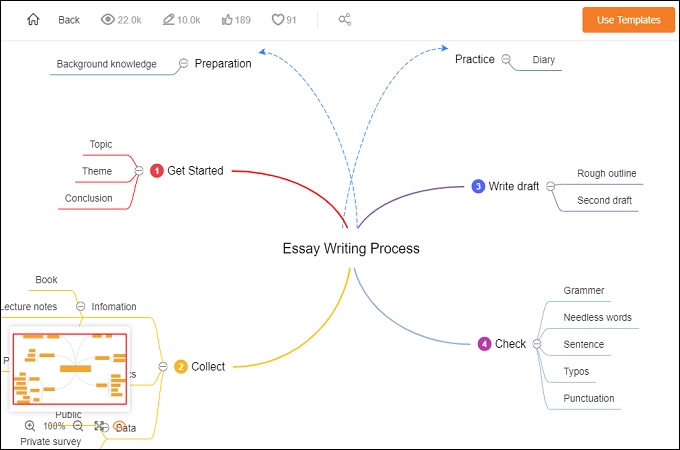 Edit the outline and enter the persuasive essay structure to automatically replace the existing content of the template. Once done editing, save the outline by clicking the "Save" button. Alternatively, you can export the outline on your PC by clicking the "Export" button.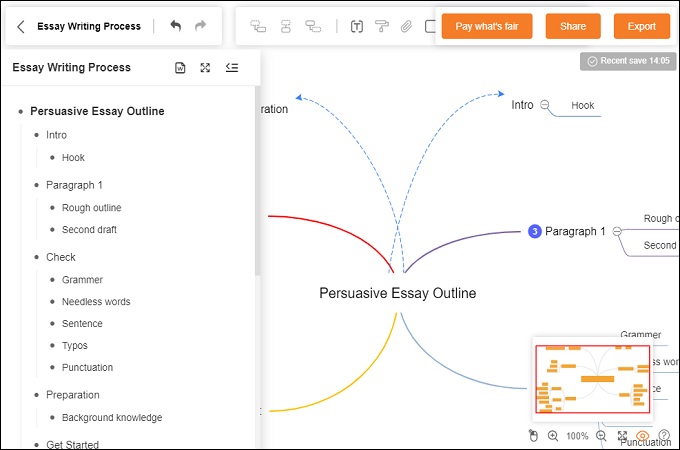 Conclusion
Persuasive essays are one of the most used form of writing tools in the world. Also, authors use this technique across the globe to prove a point and persuade its readers that they have a point. That is why to construct a good essay, you should learn how to make a good persuasive essay outline. On that note, you can use online tools like GitMind to make various forms of visual aids like outlines and mind maps.