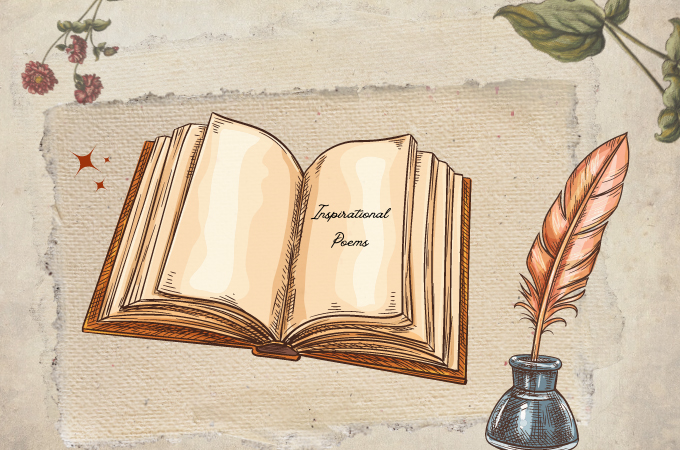 Life may be a wonderful yet challenging journey with highs and lows or turns and twists. We all experience times when we feel lost or like we need the motivation to keep going. Taking this into account, poetry can fill the inspiration and comfort you need today. In this article, we have collected the top ten poems about life to help you find love, peace, and happiness. It will also help you gain a better appreciation of the true beauty and complexity of life. So, continue browsing, and let's dig into this list of inspirational poems.
Inspirational Poems About Life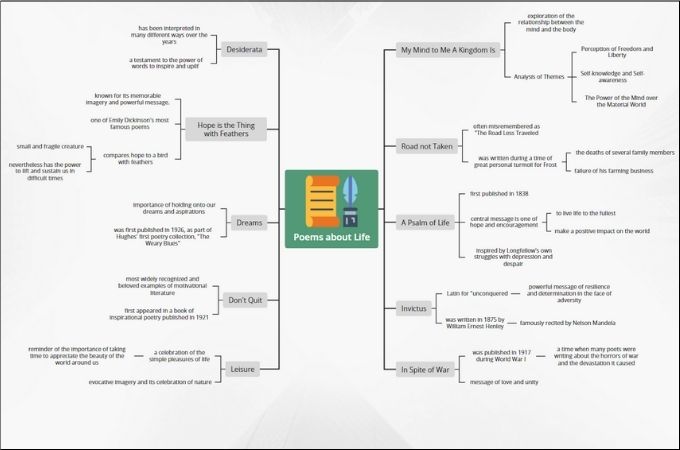 Edit this example
My Mind to Me A Kingdom Is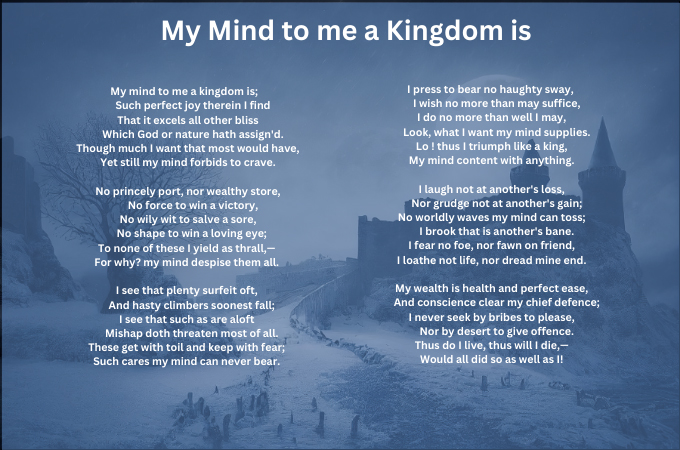 In the 16th century, English Poet Sir Edward Dyer wrote this notable literary piece. The poem consists of six stanzas of four lines each with an ABAB rhyme scheme. Further, it describes the mind as a powerful source of contentment and the most valuable possession anyone can have. In Dyer's analogy of the mind to a kingdom, the individual is the king, while thoughts and emotions are subjects. He emphasizes the value of having self-control and being able to calm oneself. The poem's message remains relevant today, as a reminder of the true contentment and fulfillment which comes within.
Road Not Taken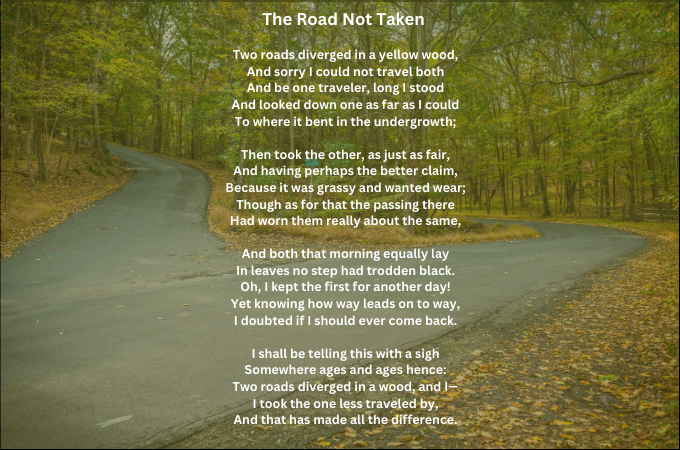 One of the prominent short poems about life is Robert Frost's Road Not Taken. It depicts how choices affect life, especially the road less traveled. Over the years, many readers come to the realization of taking the other path may make a lot of difference. Frost uses metaphors and imagery to stimulate feelings of nostalgia and reflection. Thus, it is among the most well-known poems in the English language because of its straightforward language and relatable themes.
A Psalm of Life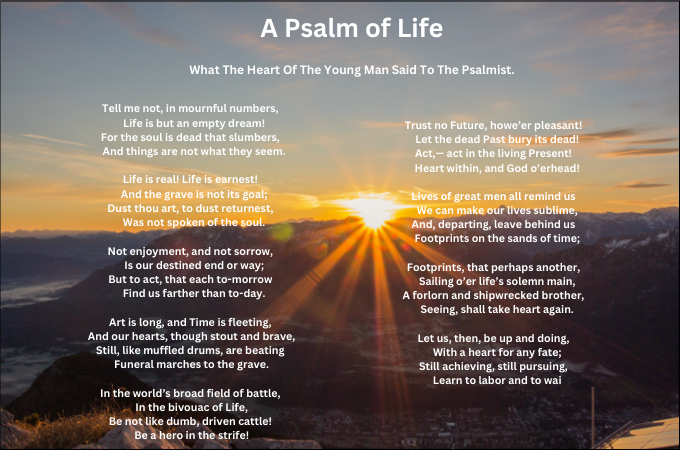 Famous Henry Wadsworth Longfellow's poem "A Psalm of Life" was originally published in 1838. The poem celebrates life and encourages the reader to enjoy their remaining days on earth. According to Longfellow, life is a journey that requires determination, diligence, and goals. He even used religious language and imagery to add to the sense of purpose and significance of the poem.
Invictus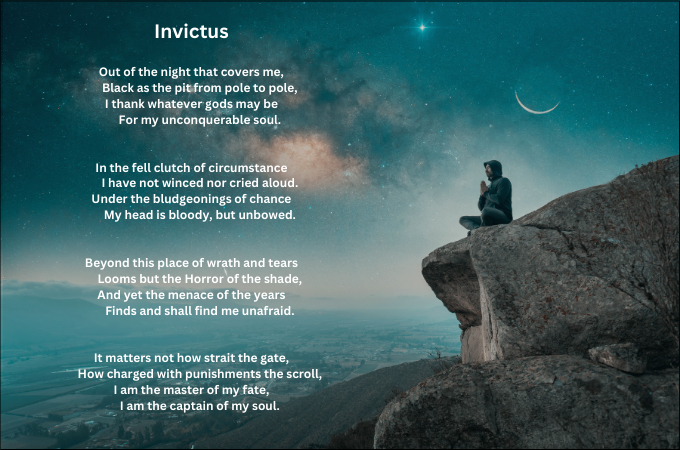 When talking poems about life, Invictus will surely be on the list. It has a significant impact on popular culture with its theme of courage and resiliency. Besides, it has a great connection and engagement with people of all ages. Nelson Mandela famously delivered the poem while he was imprisoned on Robben Island. Through the years, it symbolizes his fight for liberation as well as his message of peace, hope, and reconciliation.
In Spite of War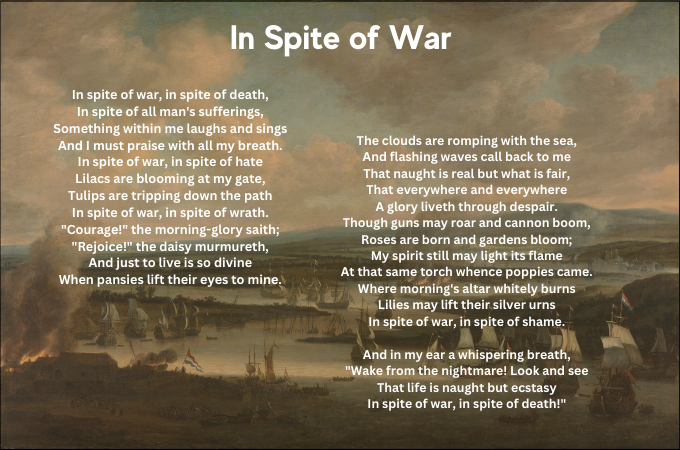 American poet, playwright, and essayist Angela Morgan wrote this uplifting poem. She was a well-known author at the start of the 20th century and was renowned for her motivational writings. During World War I, she penned In Spite of War amidst a period of enormous upheaval and devastation. Readers get hooked as it highlights the value of hope and joy even in the face of despair and sadness.
Desiderata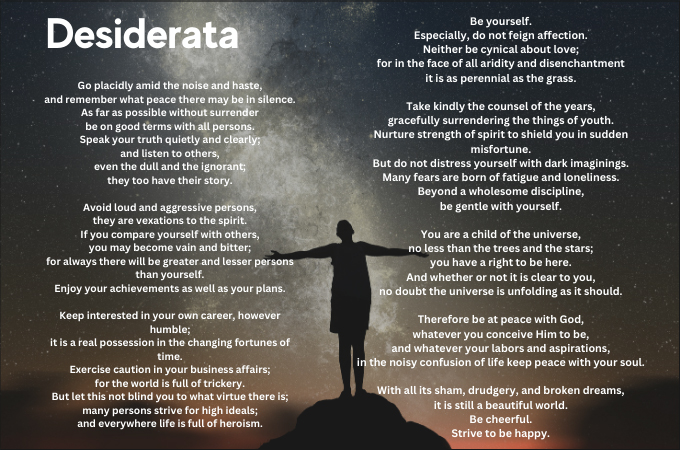 The Latin word Desiderata means "things to be desired" or "essential things". In the poem, Max Ehrmann refers to the most important values in life, such as inner strength, kindness, and peace. Additionally, it emphasizes the essence of being true to oneself and treating others with compassion and respect. Just like the other inspirational poems about life, it aims to motivate readers to find their purpose and satisfaction.
Hope is the Thing with Feathers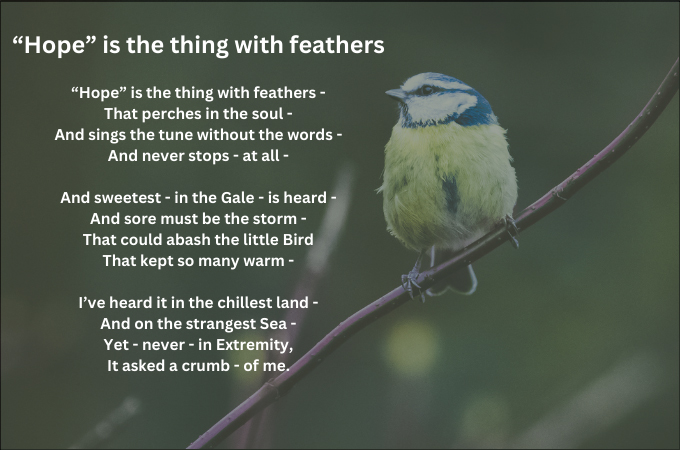 "Hope is the Thing with Feathers" is one of Emily Dickinson's most well-known poems. It is an influential meditation on the nature of hope. Also, it explores the idea of hope as an enduring and unchanging force in the human soul. It uses the bird as a main metaphor for hope in the face of adversity. The fact that the bird of hope never requests anything in return underlines how selfless hope is.
Dreams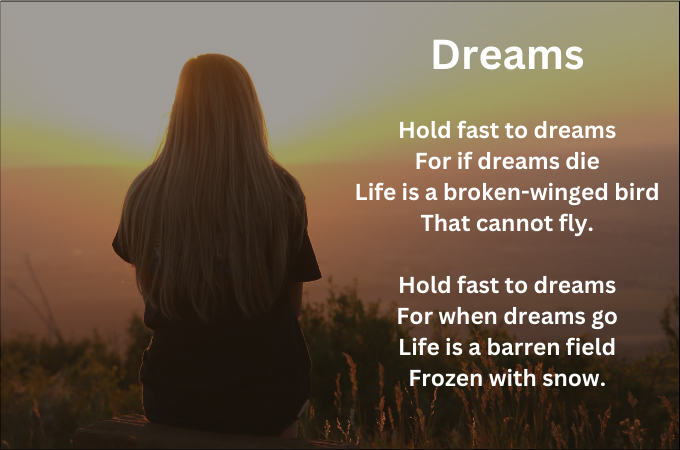 Langston Hughes makes up the clear and easy-to-understand arrangement of this poem which attracts a lot of readers. He makes exceptionally effective use of metaphor and imagery highlighting important details of the poem. Moreover, it gives motivation which is its message of optimism, fortitude, and the value of pursuing one's aspirations. All things considered, "Dreams" is a moving poem that speaks to the universal human experience of striving for more.
Don't Quit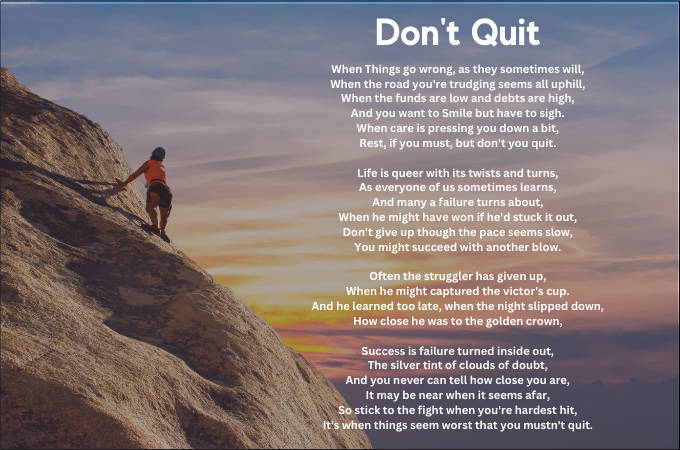 "Don't Quit," is one of Edward A. Guest's most well-known books of short poems about life. It receives a lot of reading and sharing since its release in 1917. No wonder why Guest is considered the "People's Poet" for his widely read and approachable poetry. Anyway, this literary piece has an easy to read rhymed quatrains. It is even performed in a variety of ways and has been adapted to music. Wherein, it serves as an inspiration in anything from graduation ceremonies to motivational speeches.
Leisure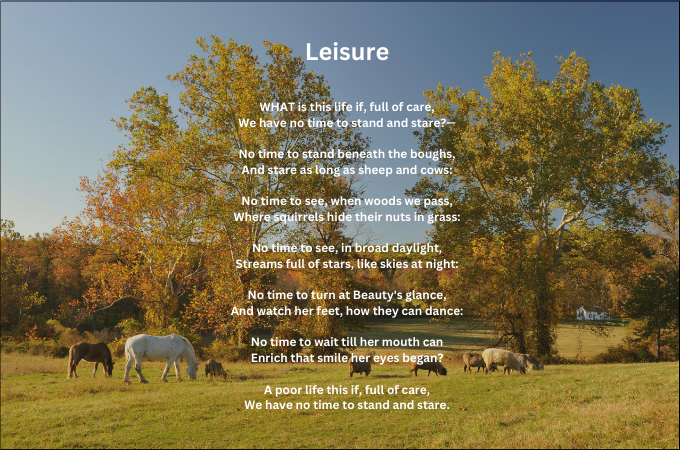 The book "Leisure" is especially renowned for its straightforward and approachable language. W.H. Davies traveled extensively and led a wandering lifestyle for most of his life. With that, he produced poetry that praised nature and the pleasures of leading a straightforward, uncomplicated existence. In this poem, he advised readers to slow down and appreciate the world around them.
Conclusion
Poetry is a powerful form of art to inspire, comfort, and motivate us in a variety of ways. It depicts how poets celebrate and explore the intricacies of life. Furthermore, the ten carefully chosen poems about life featured in this article offer a glimpse into the mystical world of poetry. Each poem serves as a tribute to the ability of language to draw us into our own feelings and experiences. Nevertheless, follow GitMind for more list of poems and books to give you inspiration and motivation today.