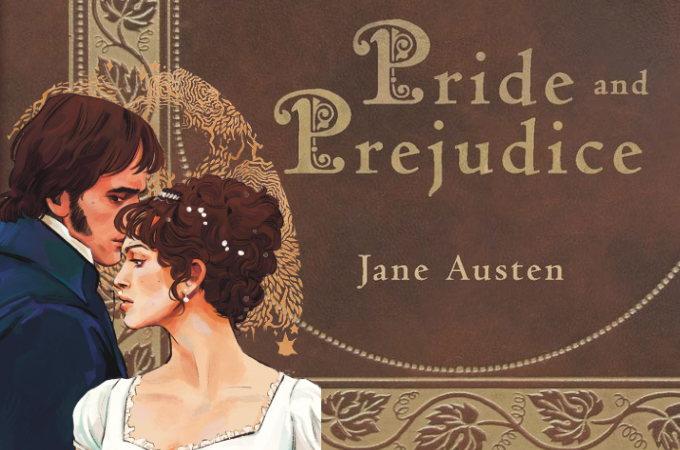 One of Jane Austen's most well-known books Pride and Prejudice is mainly considered a classic of English literature. This prestigious literary piece was originally released in 1813. It takes place in the English countryside and is a romantic comedy of manners. Moreover, the narrative follows the Bennet family as they traverse the courtship and marriage process with Elizabeth. In this article, find out why its enduring popularity is a testament to its universal themes and timeless appeal. Continue browsing to learn more about Pride and Prejudice summary and character analysis.
Pride and Prejudice Summary
Background and Themes of Pride and Prejudice
The book is set in a time when a woman's highest priority was to find a good husband. It is ideally one who was affluent and well-respected. With that, the mother of the five daughters in the Bennet family is desperate to find wealthy husbands for them. The characters in the story are mainly defined by their status in the societal hierarchy. This pride and prejudice book summary finds out how they are often driven by the desire to marry for love. However, they are constrained by social expectations and the need to marry within their own social class.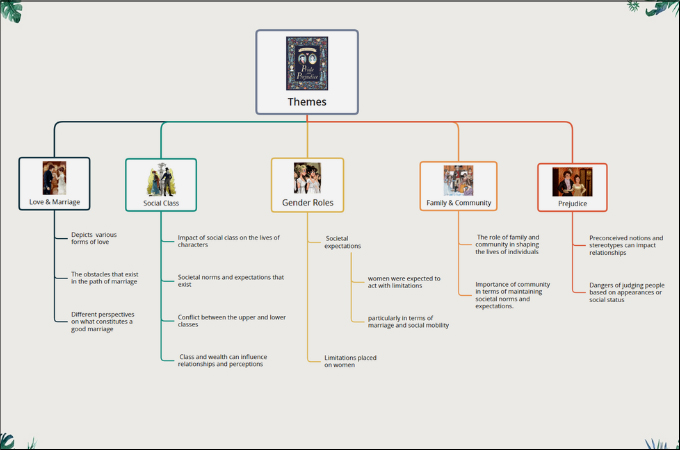 Edit this example
Furthermore, explore other themes that were highlighted in the book as this analysis progresses. You can also have a glance at the mind map above to get a brief knowledge of the key details in the story.
Pride and Prejudice Summary
Pride and Prejudice Chapter Summaries 1-5
The novel opens with a famous sentence: "It is a truth universally acknowledged that a single man in possession of a good fortune must be in want of a wife." The first chapters of Pride and Prejudice summary set the scene and the Bennet family was introduced. Wherein, the Bennet family who leaves in the small village of Longbourn.The story primarily centers on Elizabeth, the second-oldest of Mr. and Mrs. Bennet's five daughters. Mrs. Bennet is represented as foolish and obsessed with finding good marriages for her daughters, whereas Mr. Bennet is described as an intelligent but sarcastic man.
The Bennet family is overjoyed when a wealthy bachelor named Mr. Bingley has moved to the nearby village of Netherfield. Eventually, they are invited to a ball where they desire to make a good impression on Mr. Bingley. There is no surprise that Mrs. Bennet is eager to have one of her daughters marry him.
At the ball, Jane, the eldest, catches Mr. Bingley's eye and became close immediately. Meanwhile, Elizabeth is unimpressed by his friend, Mr. Darcy who continues to act coldly toward her. The ball gives Austen the chance to examine the social norms and traditions of the day. On the other hand, Elizabeth is shocked to see her mother acting in such a vulgar and degrading way. She also criticizes the other guests for being overly preoccupied with manners and social status.
Pride and Prejudice Chapter Summaries 6-10
After the ball at Netherfield, the Bennet family is excitedly talking about Mr. Bingly and his prospective interest in Jane. Mrs. Bennet, who is worried about their lack of communication, sends Jane to Netherfield on horseback in the pouring rain. When Jane arrives, Miss Bingley, who is aloof and cold, and Mrs. Hurst, who is friendlier, greet her. Jane falls ill and must stay at Netherfield, where Miss Bingley looks after them but still continues to be nasty and dismissive.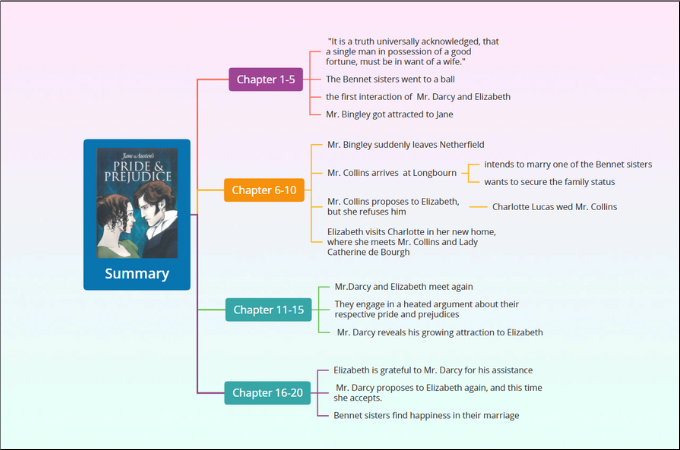 Edit this example
Pride and Prejudice Chapter Summaries 11-15
Elizabeth visits Jane at Netherfield while she is recovering but she encounters Mr. Darcy along the way. She receives praise for her beautiful eyes, yet he mocks her for not being attractive enough to catch his attention. As the story progresses, she is astounded to get a dinner invitation to Netherfield but nervous about seeing Mr.Darcy again. Nevertheless, she is seated next to him at the dinner party, and they have a confrontational discussion on the nature of pride and prejudice. He claims that her family is unsuited as a partner for people of his class because of their lack of sophistication. For this reason, Elizabeth accuses him of being rude and egotistic. By the time the evening is over, Elizabeth is even more certain of Mr. Darcy's rudeness.
Pride and Prejudice Chapter Summaries 16-20
As the Pride and Prejudice book summary continues, Mr. Collins makes a proposal to Elizabeth, but she declines him. This upset her mother for doing this action. Meanwhile, Jane and Mr. Bingley finally got married. And Elizabeth discovers that Mr. Darcy was the one who persuaded Mr. Bingley to go back to Netherfield. Despite that, she still accepts Mr. Darcy's wedding proposal as he starts to show a nicer and more considerate version of himself. Finally, the Bennet sisters reflect on their experiences and the value of finding a happy marriage as the book comes to a close.
Characters of Pride and Prejudice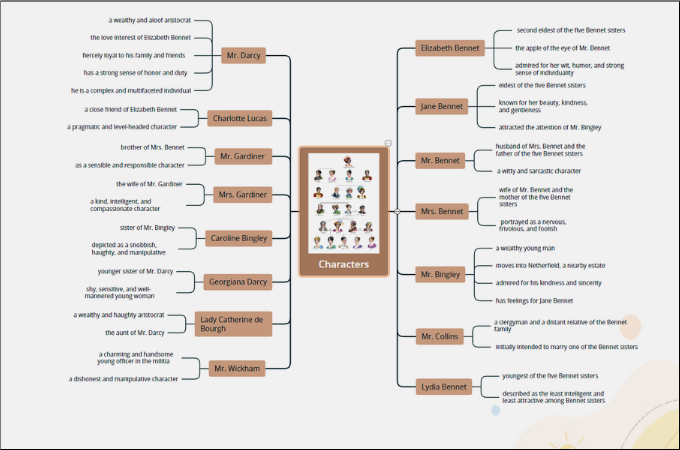 Edit this example
This template presents the list of Jane Austen's "Pride and Prejudice" key characters. Each of them engages in a variety of interactions and cross-overs throughout the book. Also, they show a detailed and subtle picture of English society in the late eighteenth century. Explore this template and reflect on how the characters portrayed an important role that depicts society during this time.
Conclusion
In this Pride and Prejudice summary, we have discussed and analyzed the intriguing background and characters of the book. Indeed, Jane Austen is a notable writer which gave us a glimpse of the tradition and beliefs of the 18th century. We hope that this analysis and summary help you to have a brief understanding of the book. For more book summaries and reviews, stay tuned here in GitMind.