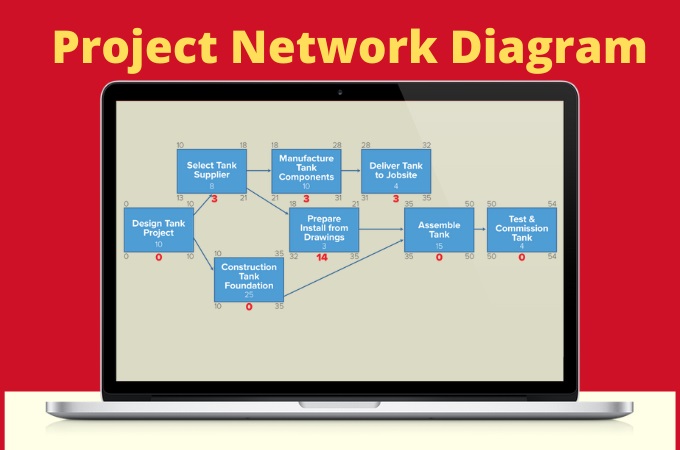 A Project Network Diagram is a chart that shows the arrangements of tasks within a project. It can also contain other information such as the duration and connection between each tasks. This is an essential part of project management since you will be able to streamline the execution process. You will also have the option to review the processes involved to make sure that there aren't any redundant ones. If this has piqued your interest and want to learn more about it, then continue reading below.
Project Network Diagram
What is a Project Network Diagram
A Project network diagram, or Project schedule network diagram contains the general scheduling of a project. This means that it is a time table where you will find the estimated time of completion of each tasks. In a sense, this is relative to time management since you will be using it to track the amount of time spent on a task. This diagram is made up of arrows and boxes that explains the logical relationship between each tasks. To put it in simpler terms, we can say that it resembles a guide in completing a project.
Benefits of Using Project Network Diagram
Aside from the ones mentioned above, there are other benefits that you can get from using a Project network chart. With that being said, we listed down some of the benefits of using this diagram.
This diagram shows the estimated time needed for a task to finish. Having a clear idea about the time it takes to complete a task, gives the project manager a clear view of the next steps needed to proceed with the task.
Control over the task sequence
As a project manager, you are responsible for making sure that all steps are done in chronological order. This is where project network diagram examples comes in. By using this tool, you can ensure that all necessary task are done without any complications to avoid any future issues.
There is no absolute way to avoid minor hiccups in any project. However, there are ways to minimize the effects of these hiccups is to know when to do the mending even before the actual problem arrive. Using project network charts can helps you predict upcoming issues, so you can immediately decide if you need more or less time in a single task.
Project Network Diagram Examples by GitMind
Diagrams like this one often contain more than five boxes and arrows. In a sense, it is a confusing one to make since you need to be accurate with the positioning of each tasks. This is important since one misstep can have a huge negative effect on the entire project. With that being said, one good recommendation is to use templates like the project network diagram below. Not only will you save an enormous amount of time, you will also be sure that all details are right where they are supposed to be.
Blank Project Network Diagram Template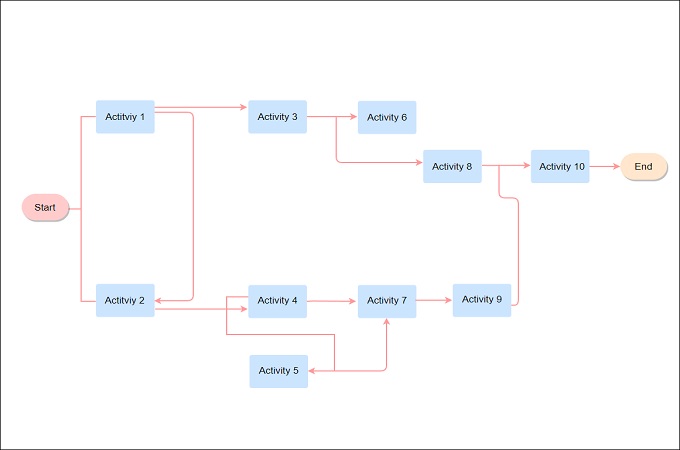 Edit this example
This template above is very compatible for complex projects since it has a lot of rooms for individual tasks. That is why for such instances, you should use blank templates like this one.
Arrow Diagram Method Template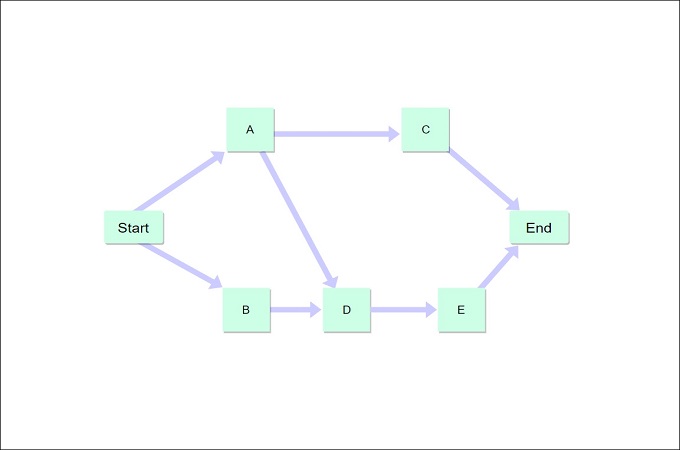 Edit this example
One type of diagram that is often used in project management is the Arrow diagram method, which is a variation of project network chart. The one above is an example of the said method and is applicable for straight forward project planning.
Precedence Diagram Method Template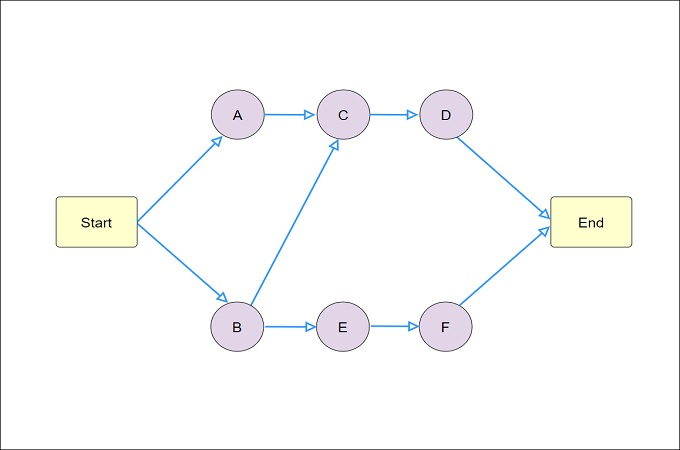 Edit this example
A more accepted and used diagram variation is the Precedence diagram method. This chart covers all the essential parts of a project. Like the previous one, it also shows the relationship between each tasks.
Conclusion
Project management is never easy. That is why you should use the right strategy to execute it the right way. On that note, using Project Network diagram is a good way to arrange your priorities. This will ensure that the entire project will run smoothly without any issues.