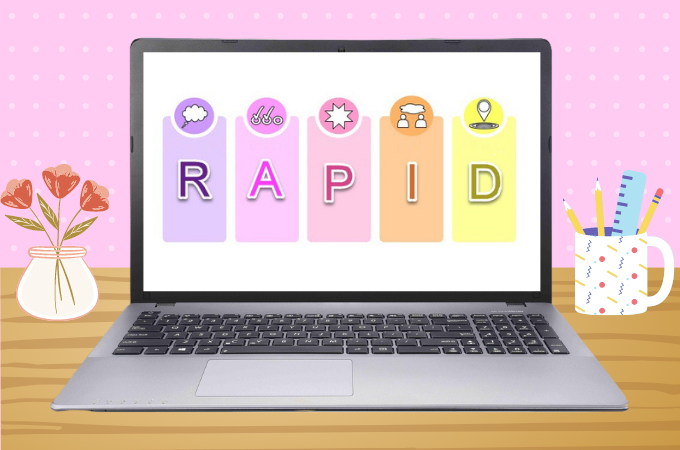 Decision-making becomes more difficult in any organization over time. Whether you are the owner or just working in top management, you will undoubtedly expend more effort in the decision-making process. In such instances, creating a RAPID Model is a great way to allocate duties in decision roles. It also clarifies who contributes to a decision, who develops the conclusion and eventually decides on it, and who implements the decision once it has been made. We also found it to be incredibly successful and easily adaptable to various scenarios, team sizes, and organizational kinds.
Introducion to RAPID Model
RAPID Model Definition
Rapid modeling is a method for assigning responsibilities in a decision-making process. It clarifies who contributes to a decision, who develops the conclusion and eventually decides on it, and who implements the decision after it is made. Over the years, A lot of companies are learning about RAPID and implemented it in their organizations. It also needs practice and consciousness. Not every choice is worth the time and work that goes into developing defined RAPID roles. Effective adopters begin with the choices they rely on to manage their companies on a daily basis.
Elements of RAPID Model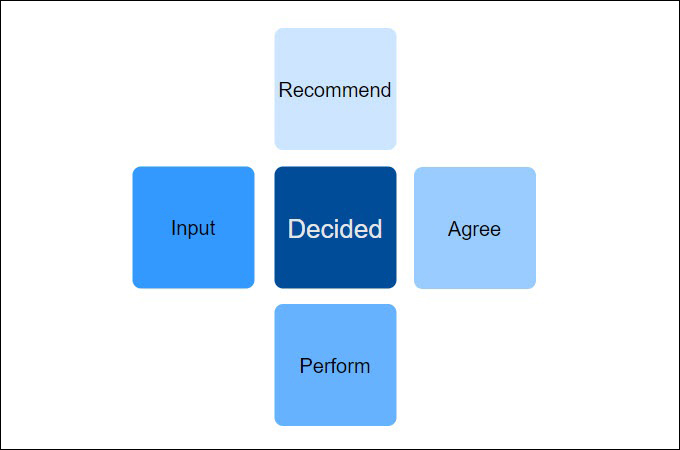 The RAPID decision model helps businesses make better judgments. It stands for Recommend, Agree, Perform, Input, and Decide, and the letters reflect the major actors in each decision.
Recommend – The individual or people in this capacity make a recommendation or give a set of choices. It serves as the rapid model process's starting point. A suggestion is made, and the remainder of the decision-making process follows.
Agree – This is a group of people who must agree with the recommendation before it can move towards the goal. They have the power to reject a decision or proposal made by organizations, they must negotiate with the suggested role to modify any proposals until they are pleased.
Perform – This job refers to the individuals who will make the decision. Based on the rapid modeling, it is critical that each choice be implemented as soon as possible. A good judgment made swiftly is frequently preferable to a fantastic decision executed slowly.
Input – The Information role lays the groundwork for successful making decisions. This job is called upon to supply hard facts, statistics, and evidence as input for a decision.
Decide – When all possibilities are presented, a decision model must be taken. This is the decision-making job, and it should be filled by a single individual. This position is often held by a top executive inside the business.
RAPID Model Templates by GitMind
Create a professional-looking RAPID model with GitMind. This is an online application that aids users in mind mapping and visualizing processes via the use of flowcharts and diagrams. Your work is synchronized across all of your devices, including your phone and laptop. When brainstorming, you may filter through ideas and improve each one. Additionally, this quick model builder will allow you to share your results with others through URL. Most significantly, this technology can help to advance teamwork and innovation. Meanwhile, if you really want to use this method, you can click the "Edit this Template" button below to explore more about this great technique.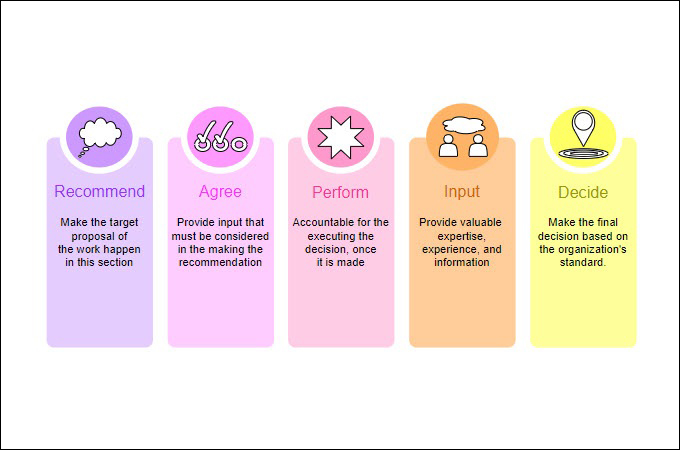 Edit this Template
Benefits of using RAPID Model
The major benefits of using rapid modeling are that it allows all essential persons to participate in decision-making. Employee buy-in is more likely if they are involved in the decision-making process. If required, you can even remove unhelpful persons from the loop. It guarantees that judgments be made thoughtfully, resulting in higher-quality decisions. in addition to that, it also makes it very obvious who is in charge of each aspect of the decision.
Conclusion
The RAPID model is a framework for making better judgments. Because it is a time-consuming procedure, it should only be utilized for tough or complex judgments. We also advise that you take your time and think carefully about accomplishing this sort of thing in order to be effective in the road of building this type of process; the most successful corporations employed simple tools such as GitMind in implementing this type of strategy.