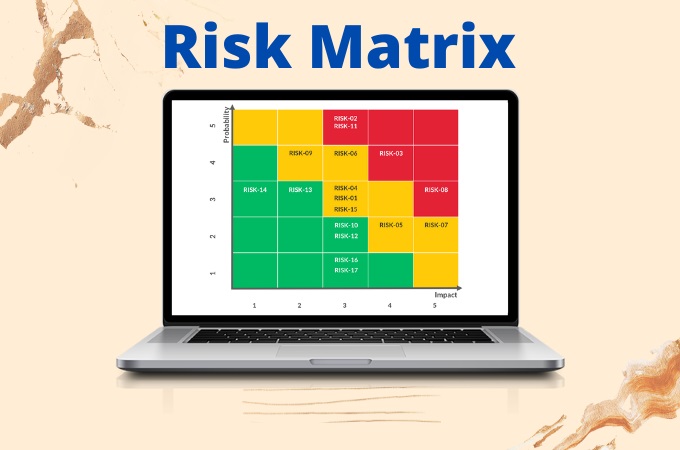 A risk matrix is the by-product of risk assessment and extensive project management. This is a simple diagram that details the severity of risks that a project faces, regardless if it's an internal or external factor. For project managers, this is one of those tools that they can't disregard since it is one of the easiest to understand. To further understand what we are talking about, we prepared a short explanation about it below. Additionally, we will provide some examples that you can download for free.
Risk Matrix Introduction
What is a Risk Assessment Matrix
As mentioned above, a risk assessment matrix is a simple diagram that shows the level of risks that a company faces. As we all know, there are several factors that can pose risks to a company, like climate change, surging fuel prices and with the most recent one being the COVID19 pandemic. These factors can all affect a company both internally and externally. To prepare for these factors, project managers use risk management techniques to at least minimize their effects. Lastly, they put all of their findings in a diagram, which is in this case is the risk management matrix. In general, categorizes the risks in a color coded sequence which determines its severity level.
Benefits of Using Risk Matrix
As mentioned, using this diagram is a way to, if not eliminate, minimize the risks that can hurt a company. Aside from that, there are other merits in using this matrix. Below are some of the things that you can gain from employing the risk control matrix.
Clearly present complicated data in a way that people with not much knowledge can understand.
Adjust to various situations by modifying the diagram depending on the situation.
Presents the risks according to their severity so appropriate measures can be applied.
Promotes transparency in an organization
Risk Matrix Examples Free to Download
As mentioned above, we will provide some sample templates that you can download and use as you wish. These templates were made using GitMind, which is a free and online mind map and flowchart maker. There are also other project management tools that you can download from the said editor. On that note, see each risk matrix example below.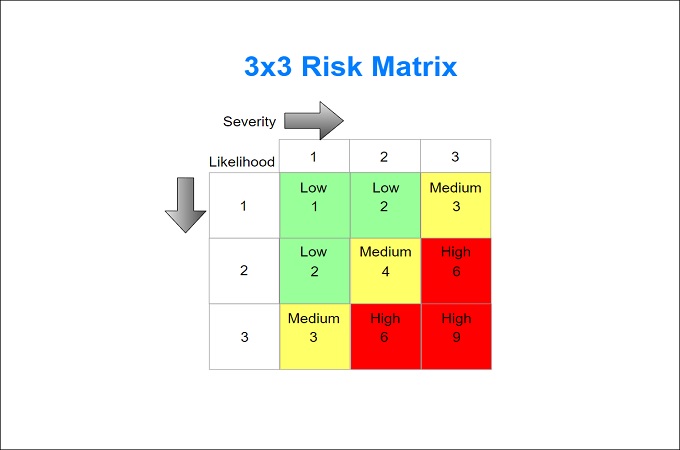 Edit this example
For starters, let's start with the most basic form which is the 3×3 matrix. As the name suggests, it is made up of 3 columns for the horizontal and vertical sides. This is a rather easy to read matrix because there are fewer columns to check. It is recommended for assessing minor risk factors for small to medium sized companies.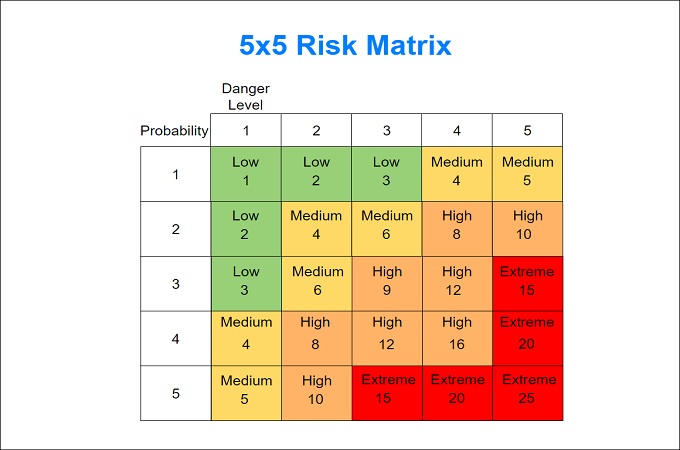 Edit this example
An upgraded version of the previous templates, the 5×5 risk matrix can accommodate and present significant amounts of data in a single chart. However, the only downside of using such format is that it can be overwhelming to those who are not accustomed to reading it. On the other hand, it is undeniably true that it can help in many ways during presentations. The chart is highly recommended for big companies that can lose a significant amount of investment in case somethings happens.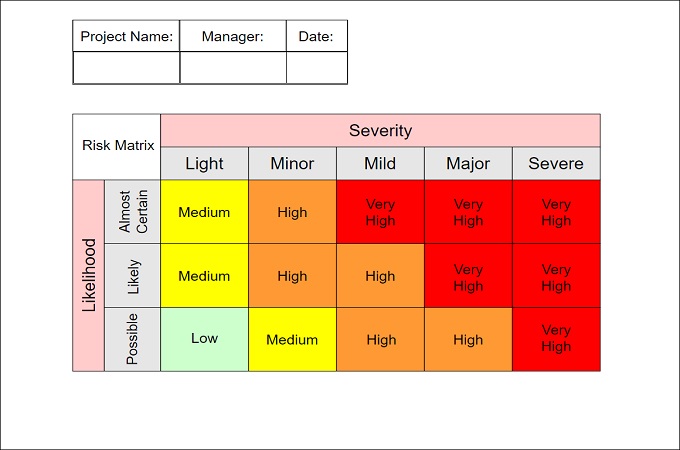 Edit this example
Last template that we have is a blank one that can be instantly used by any project manager. The risk assessment matrix template is ready for use as soon as you download it. This time, the severity levels are presented in a more detailed manner because they are all sorted by their severity levels. Aside from that, you can reuse this template whenever you want.
Conclusion
A Risk Matrix definitely provide a clear view of the threats that surrounds an organization. Aside from that, even non-profit organizations can benefit from this matrix. In general, we can safely say that its applications are not only limited to those who have things to lose. As a matter of fact, students can also use and modify it to serve academic purposes.