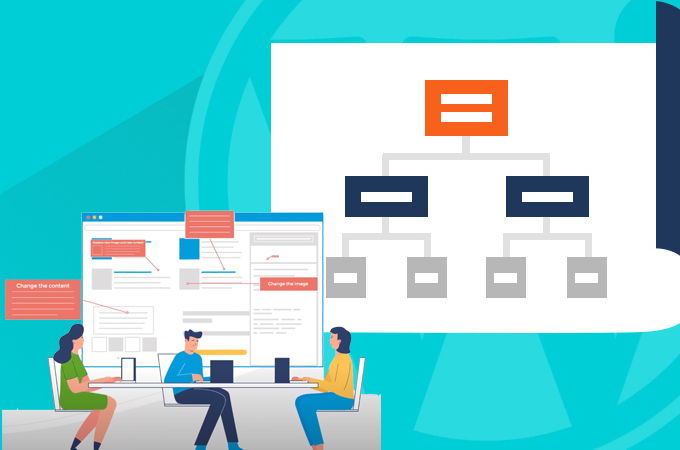 A visual sitemap refers to the list of pages that should be included on a website. It helps the webmaster to understand and sort the content on the website. This also helps you eliminate unnecessary pages to provide a great user experience. Thus, a visual sitemap generator is a vital tool in order to build a successful website. Here we will provide the top free visual sitemap generators.
Best Free Visual Sitemap Generators
GitMind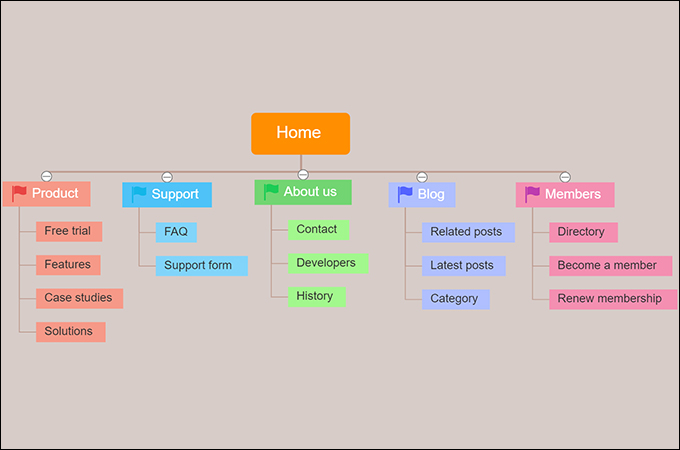 The first tool on the list is GitMind. This lets you draw any diagram you want, including a sitemap. As a web-based program tool, you can access this tool online and generate sitemaps anytime for free. In addition, you can choose from various themes for styles. Modify the line, shape, background, or add icons and attachments. Aside from that, GitMind gives you the freedom to collaborate with teams and let them add comments for suggestions. To use this free sitemap generator, see the guide that follows.
Download
On your computer, visit the GitMind website and hit the "Get Started" button for online tool. If your wish to use a desktop version, download and install the software.
Then, go to the "Templates" section. Look for a sitemap template and then click the "Use Templates" button to start editing.
Now, double click the nodes to edit the branches. You can also pick your preferred structure and style by choosing a theme for your sitemap. While editing, you can click the user icon at the top menu to collaborate with colleagues.
When you're done, export the sitemap as an image, pdf, txt, or SVG file. Or, share it with others via a link.
Miro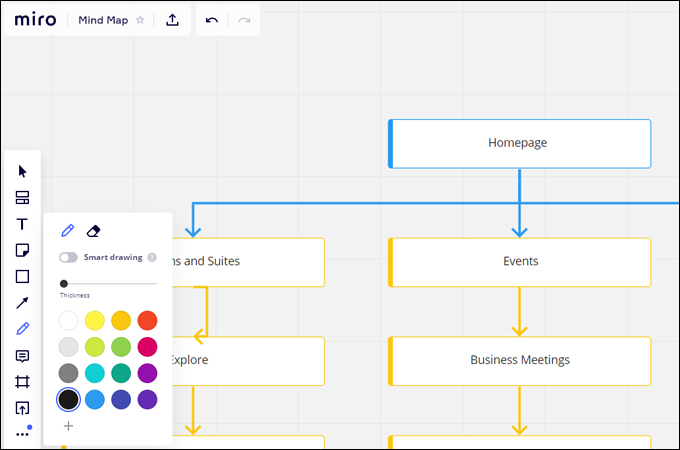 Clearly visualize your web structure using an online sitemap generator called Miro. One way of creating a sitemap using this tool is by exploring its templates. When customizing, you can always modify the content from its floating toolbar. Moreover, it features an infinite canvas that allows you to work on different sitemaps or build a website that contains many pages.
Creately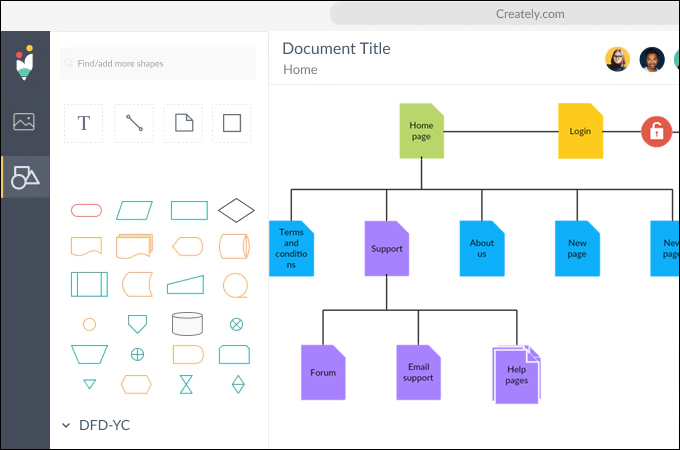 The next tool to help visualize your sitemap is Creately. This diagramming tool allows users to draw flowcharts, mind maps, and sitemap diagrams. What's so special about this sitemap generator is that it lets you build any type of diagram using its one-click create feature. With it, you can duplicate the previous shape and adds a connector or insert different shapes from its drop-down. This lets you save time and increases productivity.
Milanote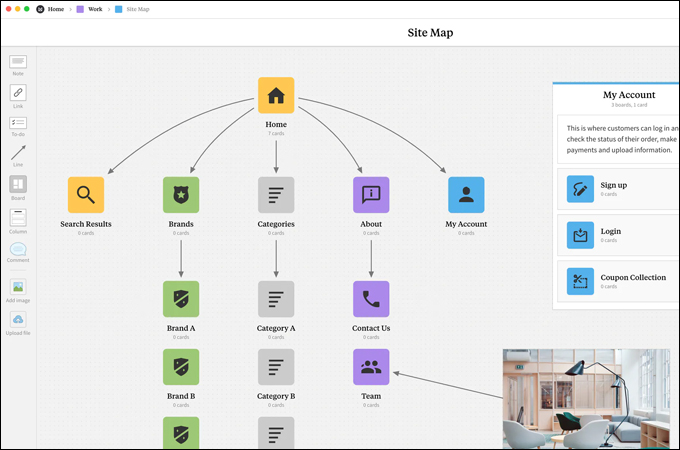 Creative projects need a creative tool for designing. This is what Milanote is developed for. This enables you to create a sitemap by adding images that are pre-searched from Google or simply upload your own images. You can also add lines, arrows, to connects boxes with one another. Moreover, its interactive interface allows you to move around the objects and arrange them based on your preferences. This visual map generator is also web-based so there's no need to install any software.
GlooMaps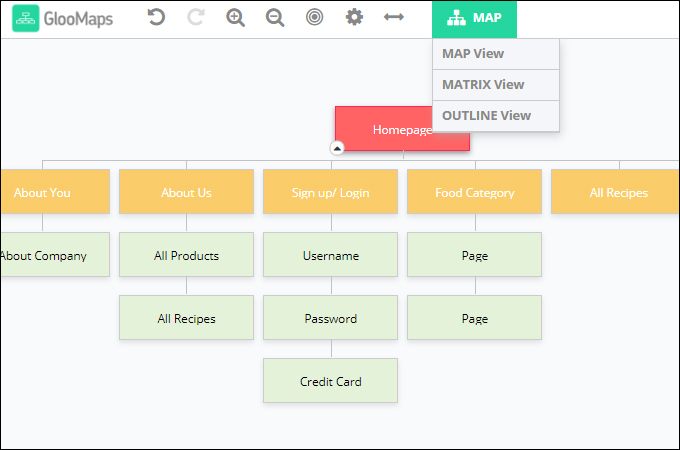 Another program for designing your website structure is GlooMaps. The program supports keyboard shortcuts to which speed up the building process. In addition, the tool offers a straightforward interface and it only comes with minimal style options. Hence, it's very simple to produce sitemaps for your website. Another notable feature is it allows you to apply a uniform size for all the width of the boxes. This is suitable for users who want a simple, yet comprehensive visual sitemap design.
Moqups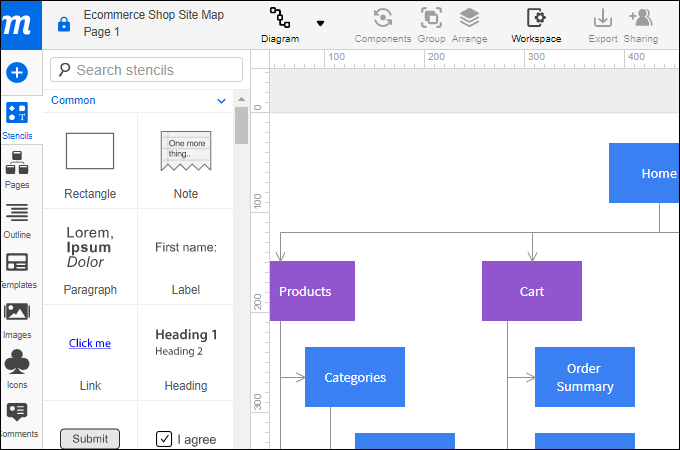 Moqups is a great visual sitemap generator available online. Since this is a web-based app, you can access the tool on your browser supporting both Mac and Windows PC. From its editing interface, you will immediately see its design tools for the best functionality and flexibility. Moreover, the tool grants you access to its built-in library that contains sets of icons to create a sitemap, workflow, and storyboard diagrams.
Flowmapp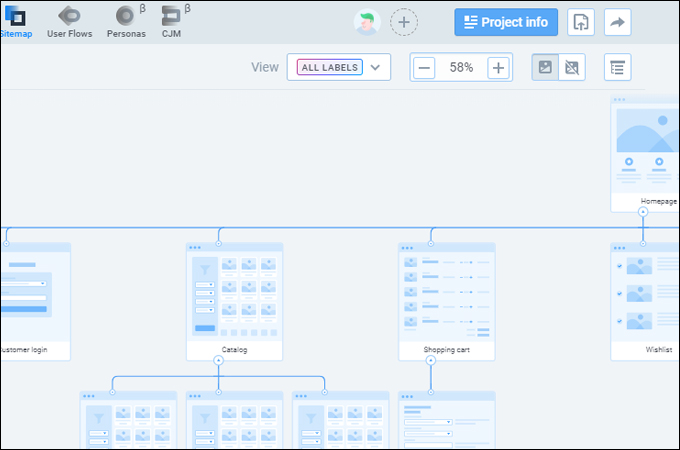 Another planning tool for effectively creating and visualizing sitemaps is Flowmapp. Flowmapp lets you create a sitemap step-by-step from the homepage to footer pages. You can also add as many pages as you'd like and insert labels to each page according to their completion status. While creating, you can actually bring your teams on board to collaborate, plan, and organize everything using this free sitemap generator.
Dyno Mapper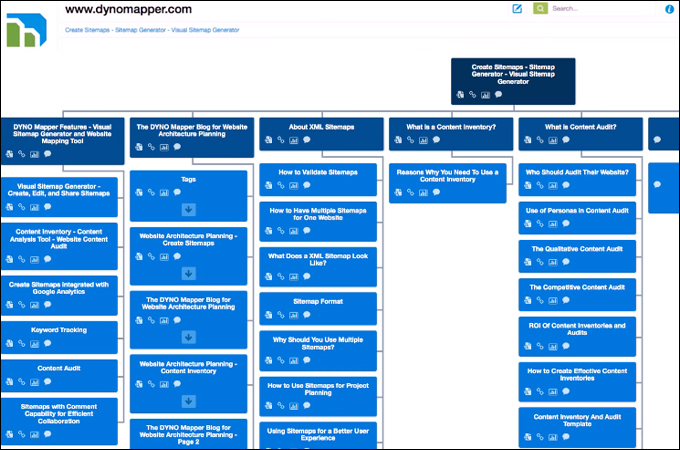 Dyno Mapper is an interactive sitemap service that makes it easy for you to plan your website's architecture. It creates a hierarchy of your website to allow you the ability to easily access your inventory data. You can also create a sitemap in different ways with this tool including creating from URL, from XML, existing, scratch, and merge. Moreover, it integrates comment capability for efficient collaboration. On top of that, there are different sitemap styles that are fully customizable.
Writemaps
Another visual sitemap builder that can help you analyze the structure of your website is Writemaps. This sitemap generator allows users to make sitemaps manually by using its sitemap builder suitable for small projects. You can add new, rename, rearrange, and change the color of the pages. What's more, you can enrich the content by adding images, format the page content, and update page status.
Slickplan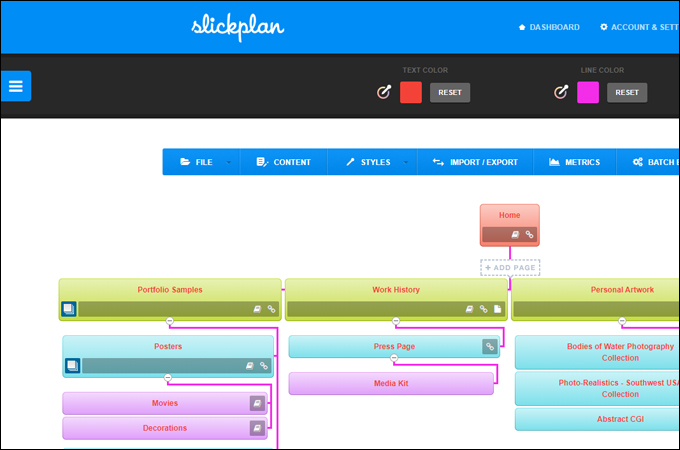 Creating a sitemap is quick and easy with the help of Slickplan. The program has a drag and drop interface for you to effortlessly create a sitemap. Just like other tools, this app lets you make a sitemap from an existing website through its Site Crawler feature. When you are done, the sitemap can be shared with others via an HTML link or be shared as a PDF file.
Octopus.Do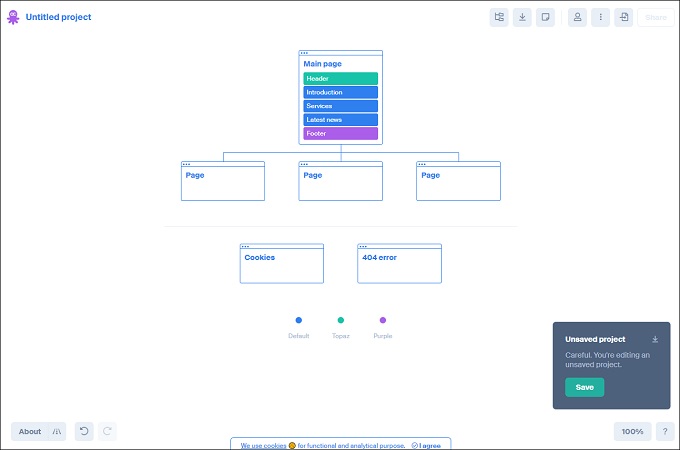 Another great XML sitemap generator that you can use to build one is Octopus.do. It supports real-time website structure creation by using its exclusive Content Brick Method. Project management is also easier using this application since it has low fidelity wireframes for a more organized content. Sitemaps are also available for export in various formats such as PDF, PNG, TXT and XML. Overall, we can definitely say that Octopus.do is a good tool that you should try.
XML Sitemap Generator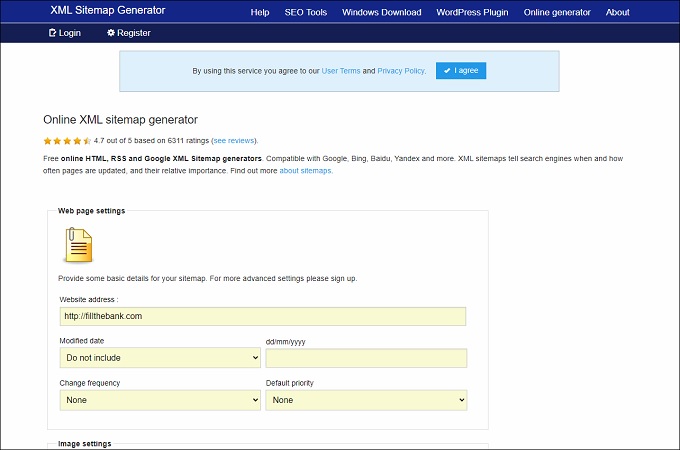 Last sitemap maker that we reviewed is called XML Sitemap Generator. This tool is supported by major web-browsers including Google Chrome, Firefox and Bing. One of the most basic tools on the list, XML Sitemap Generator is definitely a tool that you should try.
Conclusion
Planning your visual sitemap is a crucial step for creating a successful website structure. Most of these are online sitemap generators which means you can access and build a sitemap online without downloading any program. Also, it does not matter whether you are a beginner or an advanced user as these programs feature easy ways to create a sitemap.