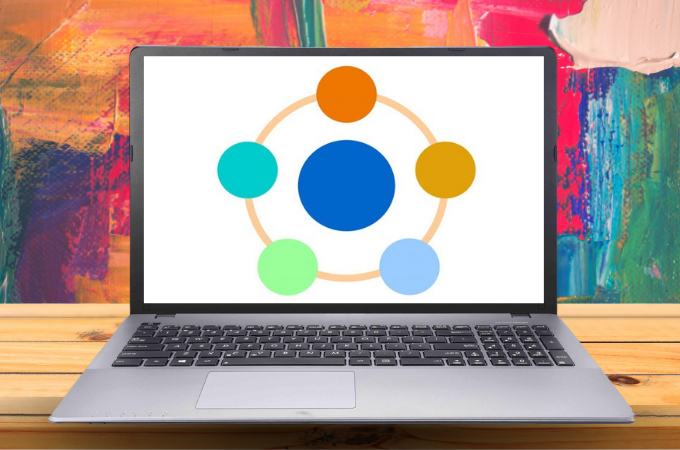 Implementing the Six Sigma Methodology will be an excellent technique to make operations more effective and efficient whether you're in the small business sector or just working on a team that focuses on the improvement process. In addition to cultivating a sense of continual process development, Six Sigma provides tools and strategies to help firms minimize variation, improve quality, and discover underlying causes of mistakes, allowing them to generate the best goods and services for the clients. Meanwhile, if you really want to try this great technique, you can continue reading below to fully understand this methodology.
Six Sigma Methodology Introduction
Six Sigma Definition
Six Sigma Process is a collection of performance technologies that organizations may employ to reduce errors and optimize in order to increase profitability. It is also an information and mathematically driven method that operates by examining limited errors or faults. Additionally, this strategy emphasizes statistical improvements to a business process and argues for quantitative outcome assessments above subjective measures.
Six Sigma Methodologies
Based on the six sigma explained concepts, it has two improvement methodologies: Six Sigma DMAIC and Six Sigma DMADV, the names of which are taken from the main aspects in the respective processes, you can read through to learn its unique applications.
DMAIC
Define, Measure, Analyze, Improve, and Control or also known as DMAIC is a statistics improvement technique for process improvement. The letters in the acronym stand for the five stages of the procedure. This is an essential component of a six sigma methodology, but it can also be used as a hold total quality technique or as part of other process improvement initiatives such as lean.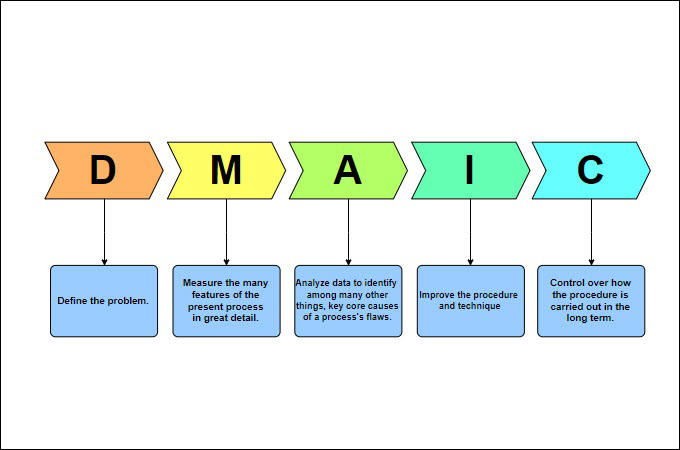 Edit this example
Define the problem and the project objectives.
Measure the many features of the present process in great detail.
Analyze data to identify among many other things and key core causes of a process's flaws.
Improve the procedure and technique
Control over how the procedure is carried out in the long term.
DMADV
Define, Measure, Analyze, Design, and Verify, or DMADV is also a data-driven assurance method that focuses on the creation of new goods or services in comparison to existing ones. The DMADV technique or strategy is frequently utilized when adopting innovative tactics due to its data-driven foundation, ability to detect great foresight, and process, which necessitates rigorous investigation. It, like DMAIC, is an essential component of a six sigma process.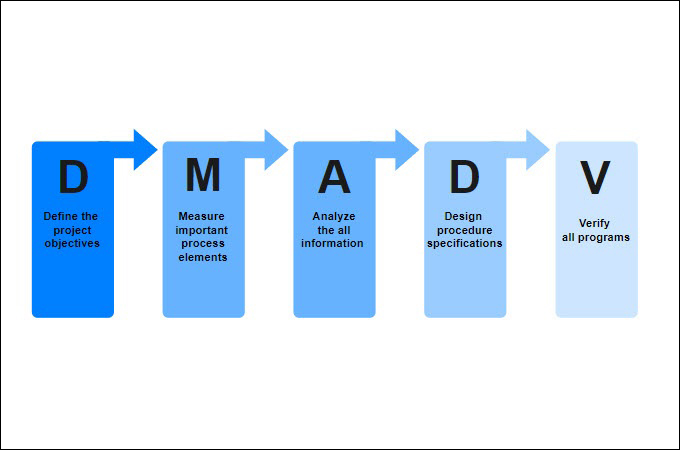 Edit this example
Define the project objectives.
Measure important process elements and ability to manufacture.
Analyze the data and create alternative process Designs before settling on the appropriate option.
Design and evaluate procedure specifications.
Verify the program and all handling process to the customers.
Six Sigma Example by GitMind
Create a professional-looking six sigma process model with GitMind. This application will provide you with free brainstorming software that is both innovative and efficient. Users may easily create graphs, mind maps, organizational graphs, logical structure outlines, tree charts, fishbone graphs, and many more with its enhanced subjects and format. Similarly, you may share your brain maps with anyone using this program. The presentation you created is instantly stored on the web, which you can access from any internet browser on your Windows, Mac OS, or mobile phone. Having said that, you can click the "Edit this Template" below to try out the template provided in this post.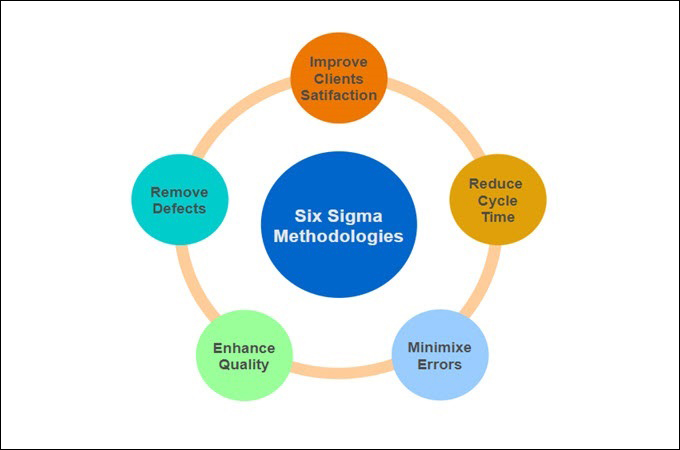 Edit this example
Importance of Using Six Sigma
The six sigma process is critical since it will benefit firms in a variety of ways, including employing workflow modeling, which may be characterized as a flowcharting method that allows for the documenting of a specific business process. It can also be used for removing waste and other unnecessary business processes. In addition to that, by using this method, employees are able to clearly define the issues as well as solve the problem that affects the overall performance and quality expectation of the product.
Conclusion
All six sigma methodologies and approaches have the same objective, to simplify corporate procedures in order to create the finest goods and services with the fewest flaws possible. Its widespread adoption by businesses throughout the world demonstrates its best in today's market.