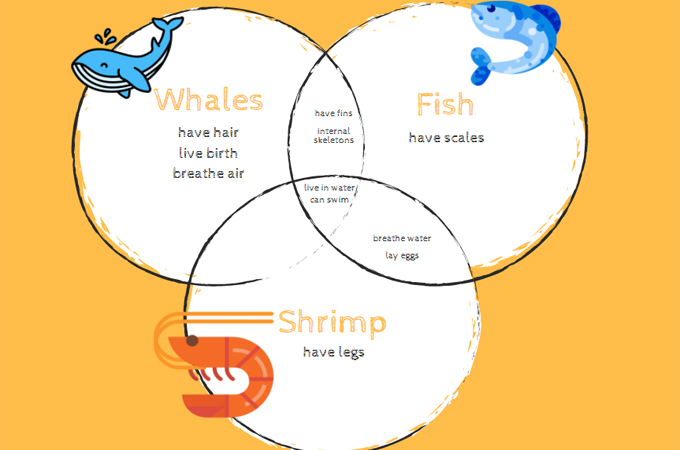 A Venn diagram illustrates the relationship between various factors. It is formed by overlapping circles and is a very good way to project a common denominator between events. Venn diagrams are used in various fields like Psychology, Social Studies, and more. Creating a Venn diagram is easy, but can be a tedious task. Use a Venn diagram maker to ensure a high-quality result. With that being said, we reviewed some of the best Venn diagram makers.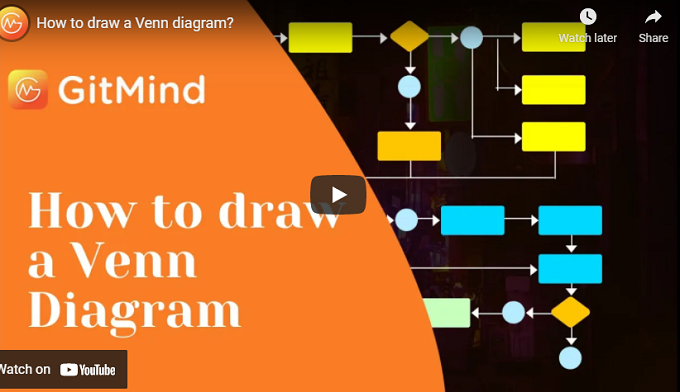 Best Venn Diagram Makers
GitMind
Score: 4.6 / 5
Price: Free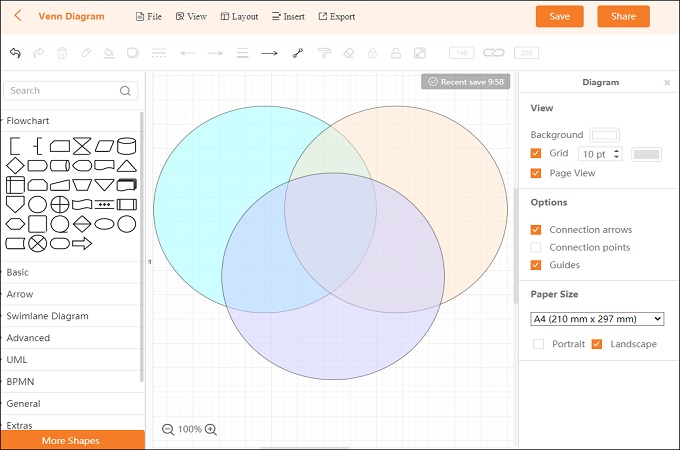 Edit this example
The first tool is GitMind. It is a browser-based program offering diverse templates to help you visualize both basic and complex information. Additionally, the tool comes with an intuitive editor along with figures for different diagrams including Venn diagrams. More importantly, the "Cooperation" feature is great for collaborating on your diagram. Therefore, if you're looking for a Venn diagram generator built for daily use, GitMind is for you.
Visual Paradigm
Score: 4.4 / 5
Price: Free, $4 basic plan and $9 premium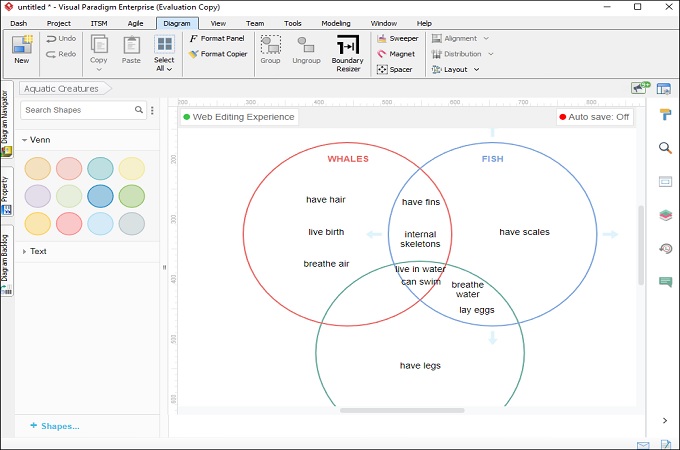 Visual Paradigm is a freemium application where you can create a Venn diagram and other types of diagrams. In terms of usability, Visual Paradigm doesn't deviate from the usual ones with an organized editing panel. Aside from that, you can use it for free, with limited features good enough for a Venn diagram creator. Visual Paradigm is indeed a notable Venn diagram program and deserves to be on this list.
Lucidchart
Score: 4.4 / 5
Price: Free, 7.95/mo – single user; $20/mo – team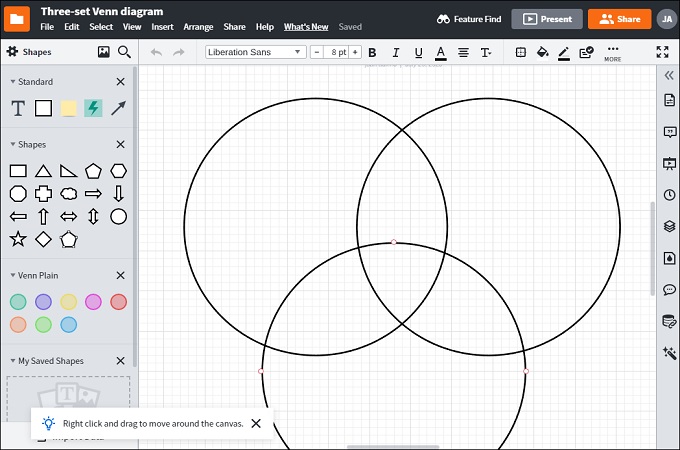 Another freemium tool that we tried is Lucidchart. It's a web-based application with different pre-loaded templates. You can create Venn diagrams here without much hassle because it provides different vectors and shapes. It runs on HTML 5 which makes this free Venn diagram maker compatible with various web-browsers for easy usage. The editing panel is large enough to fit a standard Venn diagram with different content. This tool isn't technically a free diagram maker, but it works that way for this specific diagram.
Canva
Score: 4.3 / 5
Price: Free; $9.95 – Pro; $30 – Enterprise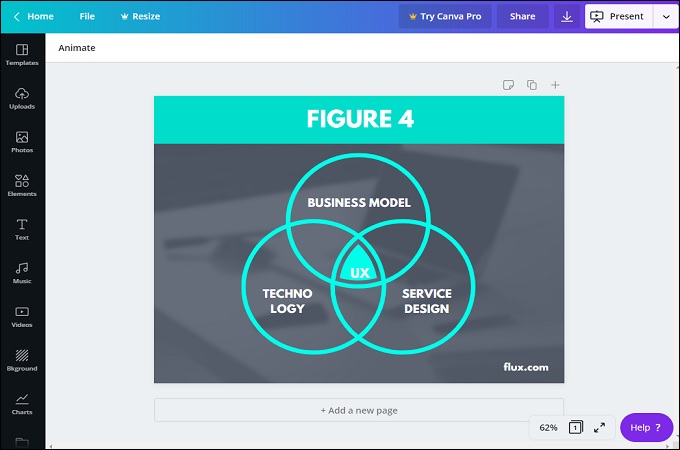 Another great tool that you can use is Canva. This Venn diagram maker is one of those web-based tools supported on Chrome, Firefox, and Safari. It has an appealing editor with stylish diagram elements that lets you make appealing diagrams. It also has a presentation mode where you can view your Venn diagram like a PowerPoint presentation. If you like making stylish things, then Canva is for you.
Creately
Score: 4.3 / 5
Price: Free; Desktop version – $75 one-time payment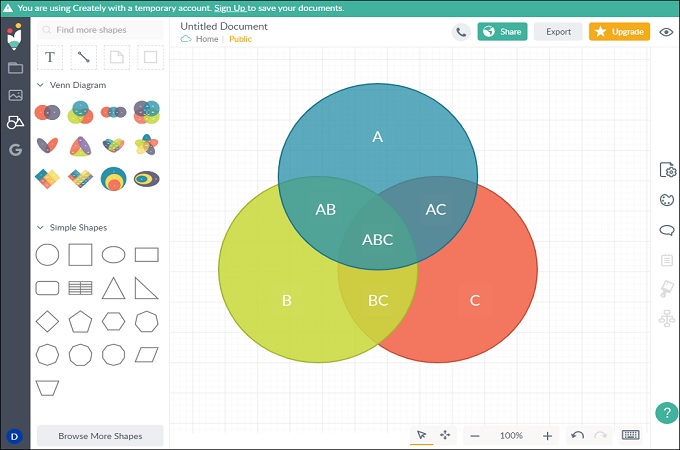 Creately is also a good Venn diagram generator that offers ready-made Venn diagram templates for free. Aside from that, you can make your own diagram from scratch. You can utilize the different shapes and in the case of the Venn diagram the circle one for free. There are also other benefits if you subscribe to the paid version of the tool.
Visme
Score: 4.2 / 5
Price: $39/mo – Single Plan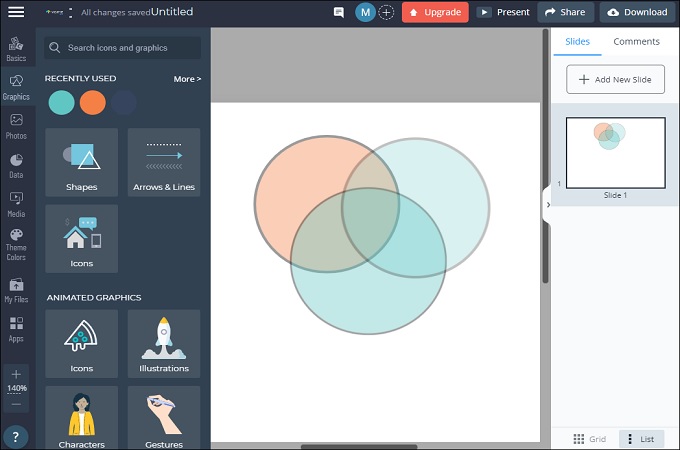 Visme is a cloud-based free Venn diagram maker that you can use if you want to save time-making diagrams. It has a decent number of templates and other essentials for diagram creation. However, some options are only available with the premium version. On the other hand, you can freely use this Venn diagram creator as you wish since the basic shapes required are available for free.
Gliffy
Score: 4.2 / 5
Price: $7.99/mo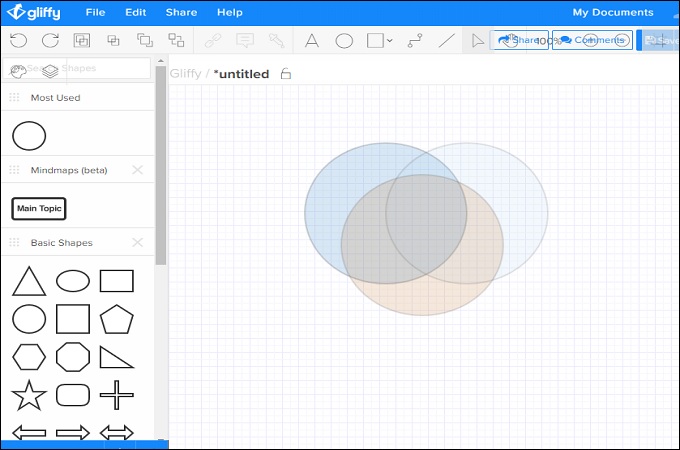 Gliffy is an easy to operate diagram tool that also creates a Venn diagram. It has other features as well, like UML and org chart maker. The application is web-based so doesn't require installation. This free Venn diagram maker lets you use its features for a certain period of time under the trial version.
Classtools.net
Score: 4.2 / 5
Price: Free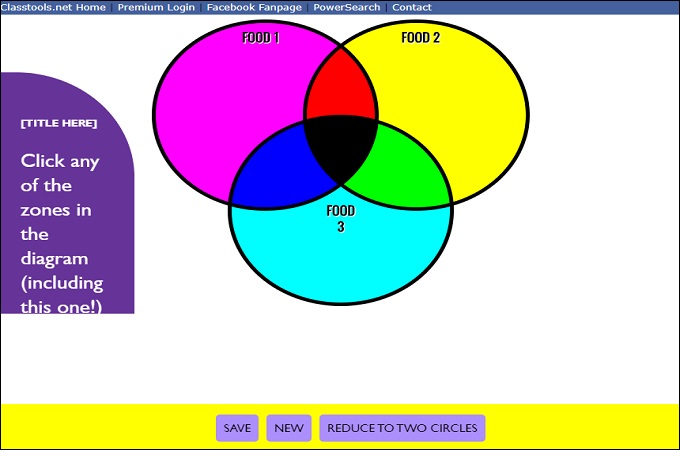 Classtools.net provides basic diagram creation for free. It can be used by anyone, especially students since it doesn't require any subscription. However, don't expect too many fancy options from this tool since it's free. Like a Venn diagram generator, it's easy to use since all you need to do is edit the information within each circle.
App.diagrams.net
Score: 4.1 / 5
Price: Free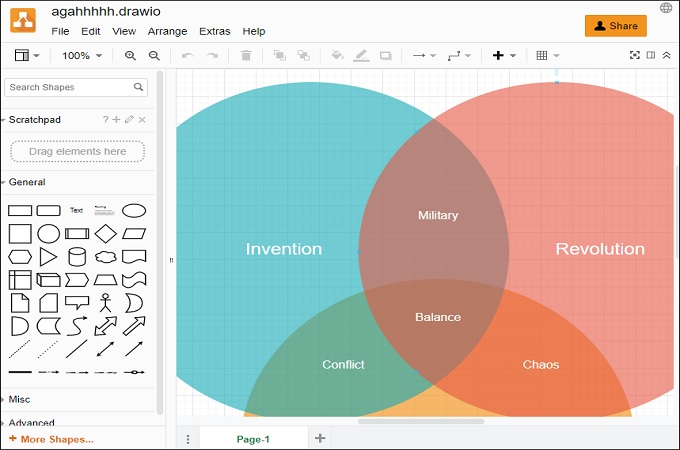 App.diagram.net is a cloud-based application that lets you save your diagrams in various media. You can choose to save on your local storage, or from cloud storage services like Google Drive and Dropbox. As a Venn diagram generator, it has basic diagramming tools and elements and allows you to design it in any manner you want. Upon testing, we can say that it is easier to operate compared to other programs on the list.
Diagrameditor
Score: 4.0 / 5
Price: Free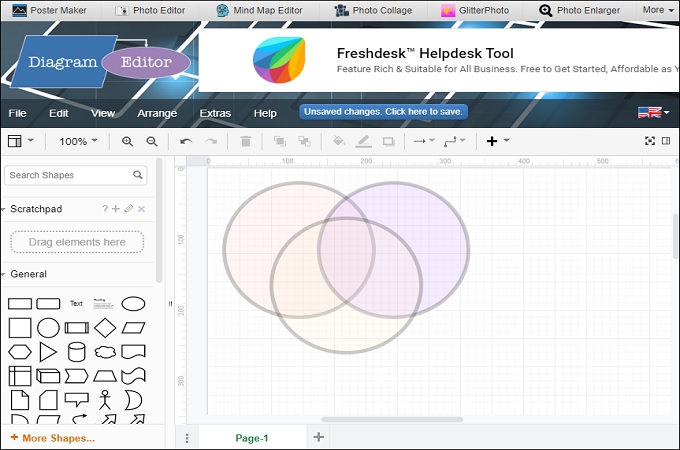 The last Venn diagram maker on the list is Diagrameditor, a website dedicated to diagram creation. You can efficiently make the Venn diagram from this application since it provides all the basic tools needed. Aside from that, you can also share your work online with your friends using this free Venn diagram maker.
Conclusion
Venn diagram is one of the easiest diagrams that you can make manually. However, if you want a comprehensive and perfect looking one, then you'll need to use a Venn diagram maker. Doing so will save you time and you don't have to worry about drawing two perfect circles.