We can't deny the fact that poetry can feed our souls and minds despite the genre that we prefer. Most well-known writers write from experiences that inspire or relate to readers in their personal lives. This also boosts the imaginative awareness of experience or a specific emotional response through a chosen language. In this article, we have handpicked the best poems that you should read today and made a visuals using mind maps by GitMind. Check them out.
What is Poetry?
Poetry is a literary art form that can be written, spoken, or performed. It focuses on the arrangements and uses of words. Also, it is frequently written in verse and focuses on conjuring up a certain feeling or image. Alliteration and metaphor are two examples of literary strategies that are frequently used in poetry. It is the melody of language, the expression of intangible feelings through words and sounds.
Best Poems of All Time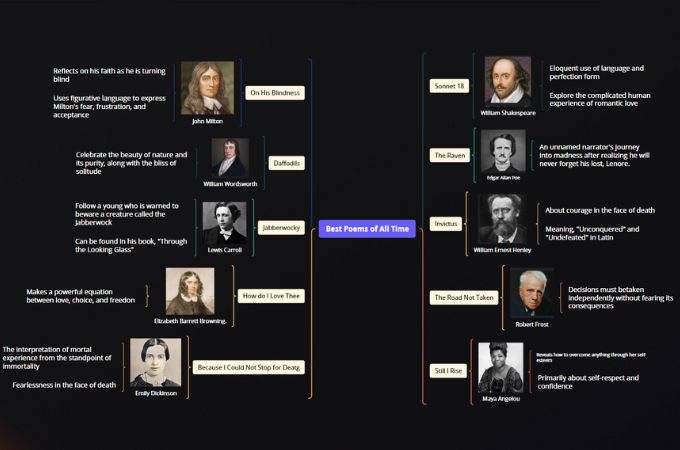 Edit this example
Sonnet 18 by William Shakespeare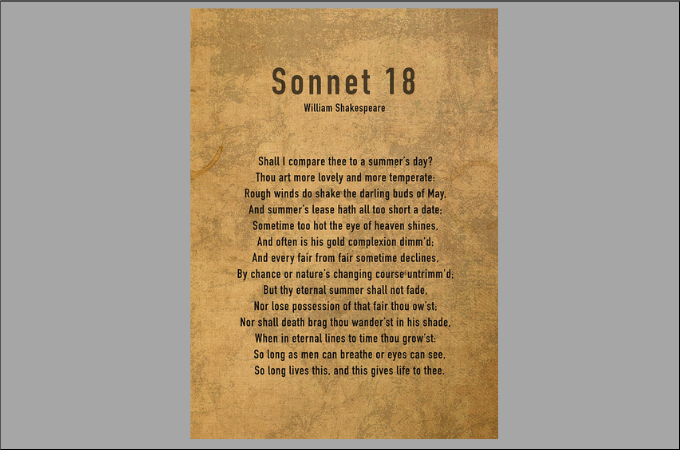 Sonnet 18 is one of the best poems of all time. It is written by the well-known English playwright and poet William Shakespeare. This poem used several literary devices such as figurative language and imagery to make it more meaningful and clear intentions. With that Shakespeare illustrates his beloved's beauty which is far beyond the brilliance of that all-too-fleeting summer day. Further, the overriding theme of the poem is the stability of love and its capacity to make a person immortal.
The Raven by Edgar Allan Poe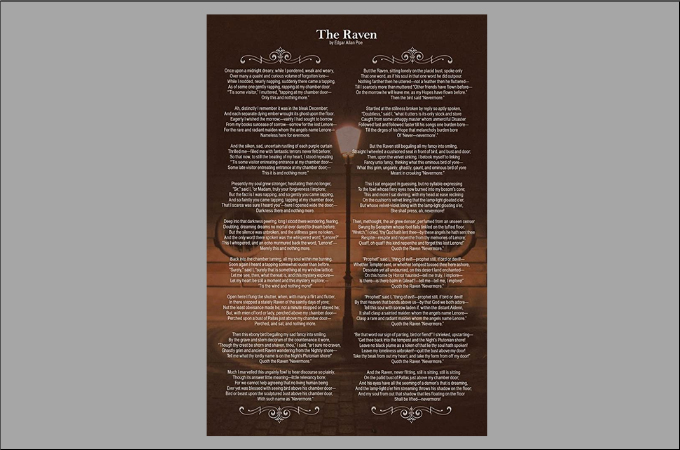 The narrative poem "The Raven" by the American writer Edgar Allan Poe. It is a popular poem for its melody, style, language, and mysterious mood that has references from folklore, mythology, and classical literature. Moreover, it describes a heartbroken lover who receives an unexplained visit from a talking raven. The lover, who is frequently described as a student is mourning the passing of Lenore. Meanwhile, the raven seems to aggravate its character for always repeating the word "Nevermore".
Invictus by William Ernest Henley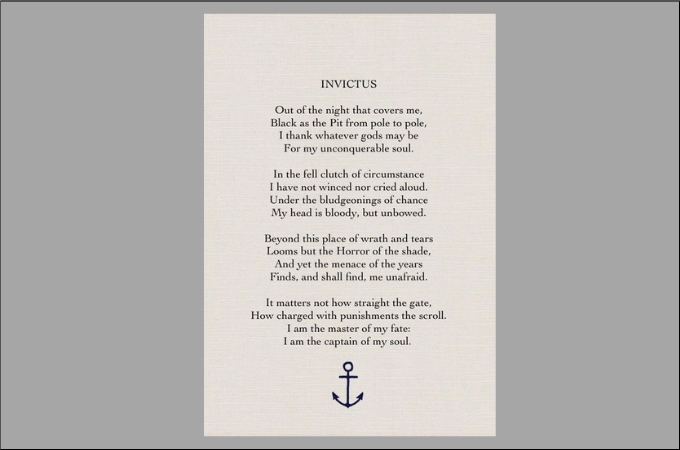 "Invictus" was written when Henley was in the hospital being treated for Tuberculosis of the bone, also known as Pott's disease. It is among the most famous poems that give inspiration and uplift the human spirit. Additionally, it is about undivided courage in the face of death and keeping dignity against all the hardships in life. The poem was dedicated to Robert Thomas Hamilton Bruce, a Scottish flour merchant.
The Road Not Taken by Robert Frost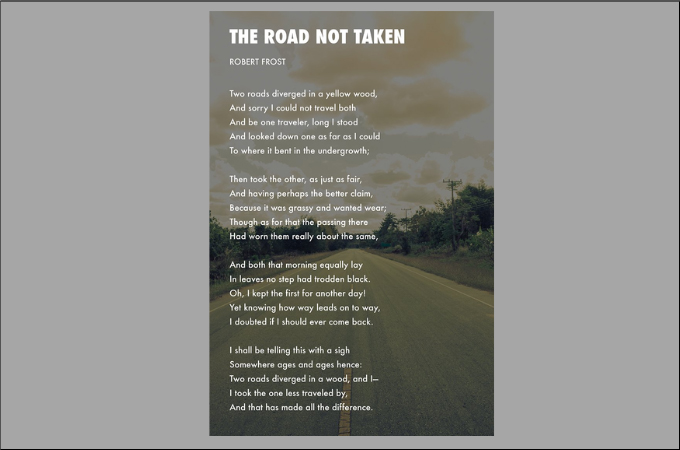 Robert Frost's poem "The Road Not Taken" is another spectacular piece that you should consider reading. Frost wrote this poem to emphasize and ridicule a characteristic of his English-Weish poet friend Edward Thomas. It is when Thomas regretted not choosing a different route when both of them were out walking in England. Conversely, this popular poem gives a deeper message to readers when it comes to the choices and opportunities in life.
Still I Rise by Maya Angelou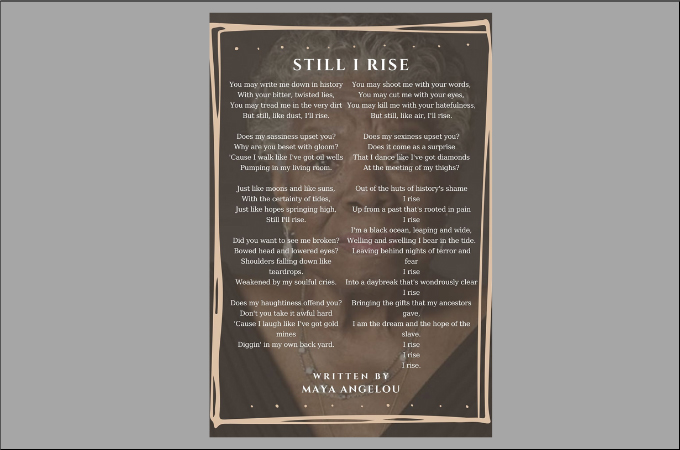 Another powerful lyric poem to discover is the Still I Rise by Maya Angelou. It is mainly about building self-esteem and boosting confidence amidst life challenges. Besides, she also encourages people to overcome discrimination and struggles. As an African-American saw the oppression and inequality of black women like her. So, with this poem, she can inspire others to rise, accept, and love their flaws even where race or skin tone you have.
On His Blindness by John Milton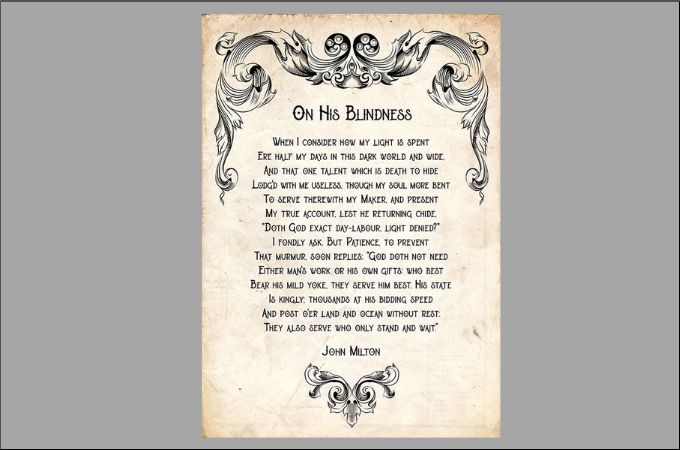 One of the best poems you can also read is John Milton's On His Blindness. It is among the famous sonnet of Milton that focuses on his faith in God despite losing his sight. The poem is said to be divided into two parts. The first half of the poem is the part in which Milton expresses his despair about losing his eyesight. However, the second part of the sonnet shows his submission and unshakeable faith in God's will.
Daffodils by William Wordsworth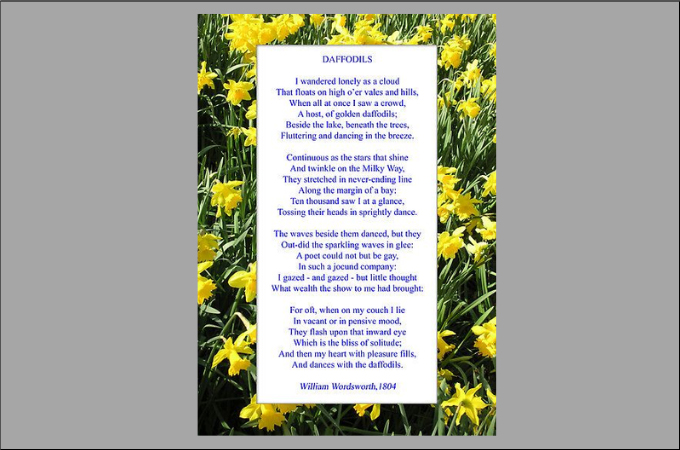 In the year 1802, William Wordsworth wrote the Daffodils. Just like the other most famous poems listed, it is about the personal experience of the author. In this poem, you can feel the loneliness as Wordsworth expresses his grief for his brother's death. However, he can feel a great relief as he sees yellow daffodils blooming endlessly in a field across the lake. Every time he thinks about it, his downcast heart and mind rediscover life's delight.
Jabberwocky by Lewis Carroll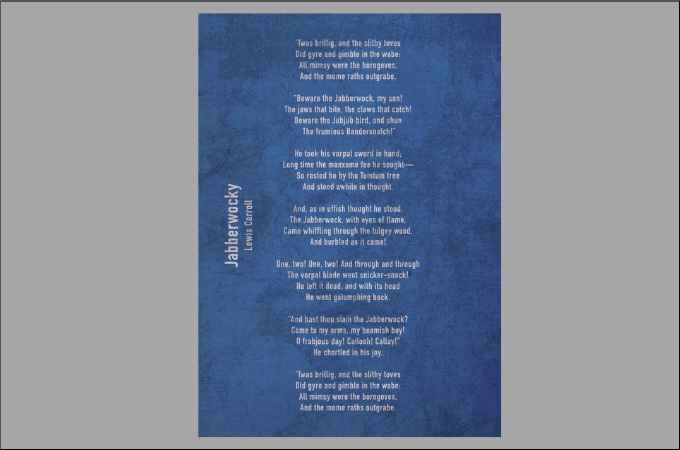 English author Lewis Carroll created the nonsensical poem "Jabberwocky" in 1871. It can be found in his book Through the Looking Glass and the renowned Alice's Adventures in Wonderland sequel. In "Jabberwocky," Carroll weaves illogical language into a traditional ballad structure to depict a story of good versus evil that ends with the slaying of the terrifying Jabberwock. It attracts readers for its imaginative language and is considered one of the best poems of all time.
How Do I Love Thee? by Elizabeth Barrett Browning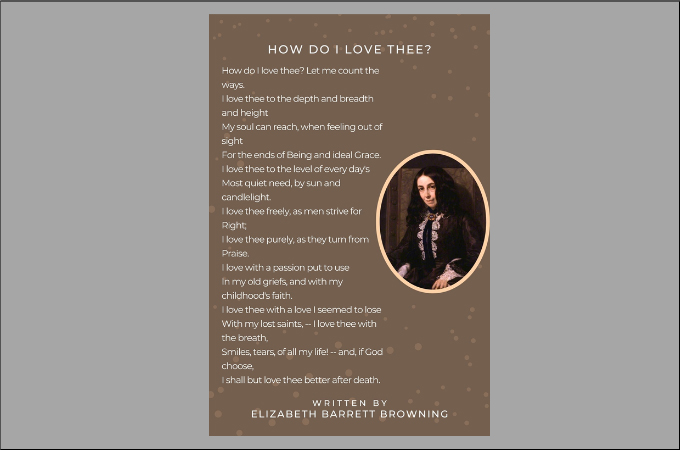 One of that era's most well-known poets was Elizabeth Barrett Browning. "How Do I Love Thee?" is among her collection of sonnets for her dear husband, Robert Browning. The relationship between Barrett and Browning wasn't always easy. Elizabeth's father had no desire for his kids to get married. So, she and Robert had to run away. Her father never pardoned her for her transgression. Though they had discovered their genuine love.
Because I Could Not Stop for Death by Emily Dickinson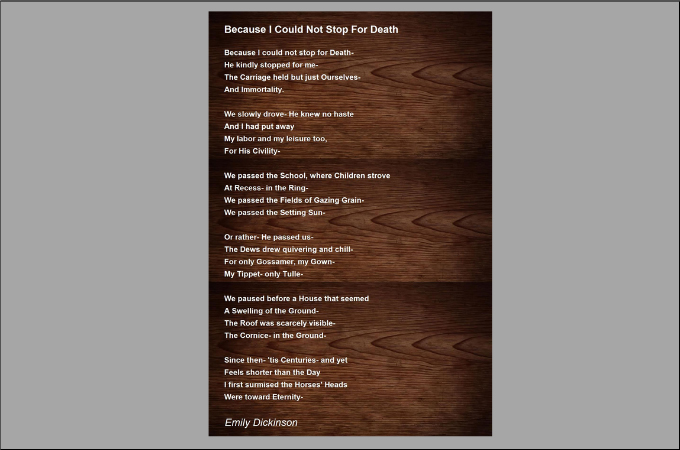 To complete our list of popular poems is Emily Dickinson's Because I Could Not Stop for Death. She wrote this piece of a near meeting with "Death" and "Immortality".She gives "Death" and "Immortality" human characteristics by personifying them. The reader is put at rest by the thought of death because it is already familiar to them at the beginning. But as the poem goes on, an abrupt change in tone makes the reader realize just how vicious and horrible the poem really is.
Conclusion
Even in the past, poems are used by writers to express emotions and share ideas and create imagery. Above, we have listed the best poems that you can read today to give you inspiration and widen your imagination. If you love these recommendations, we would like to hear from you. And please follow GitMind for more exciting blogs like this.