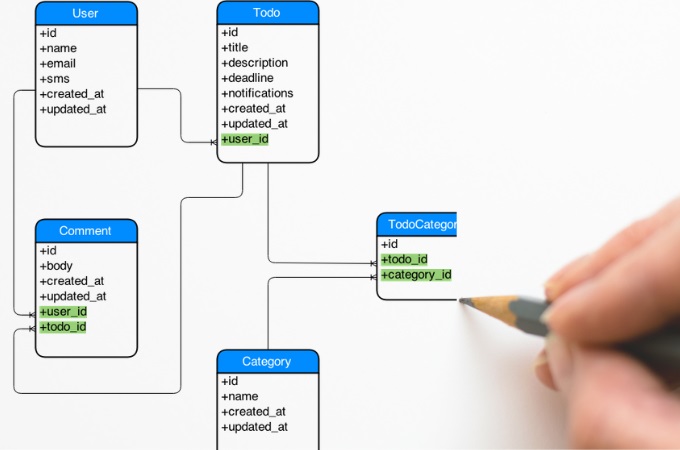 As we know, a database is a collection of where all data of a system are stored. Surely, you will find lots of information in a database which is why it can be a bit difficult for one to analyze the elements at a glance. This is where ER modeling comes in. Entity-relationship diagrams or ERDs provide a visual way to understand the relationship between entities, which in other words, a container of information. Thus, we've put together a list of free ER diagram tools that will help you construct a relational and logical structure of a database.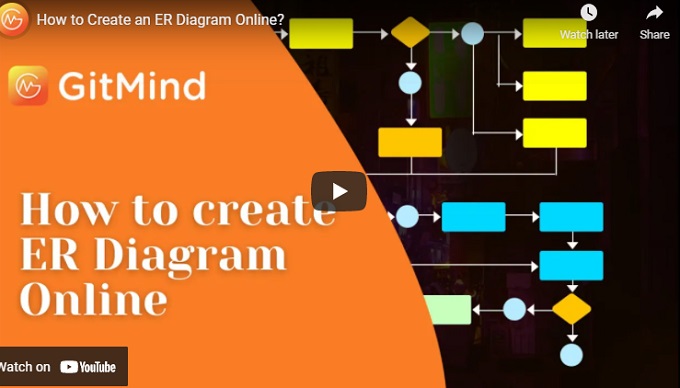 Best Free ER Diagram Tools
GitMind (Web, Windows, Mac)
Pricing: Free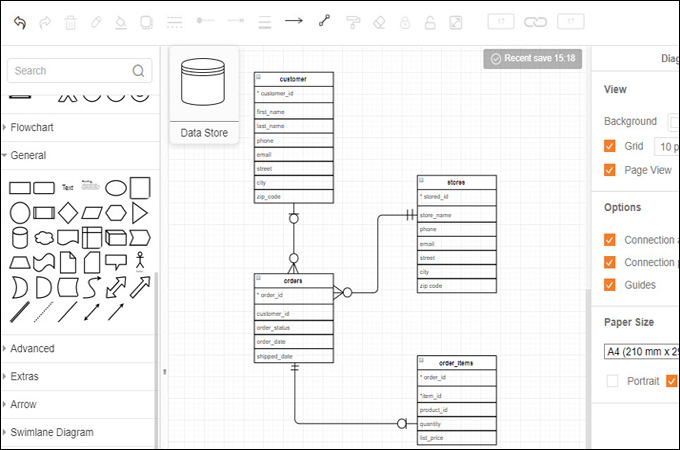 Download
First on the list is GitMind. This is an online mindmapping and ER diagram tool that you can use for free. What makes this tool so great, is the extensive amount of shapes and elements it provides in its library. These shapes are useful when making all kinds of diagrams like ER diagrams. Furthermore, this ER diagram tool can keep your diagrams private or share it with anyone and secure it with a password in case the diagram contains confidential content. In other words, this is the most reliable tool that you can use to create ER diagram online. Meanwhile, if you also need to make a mind map and don't know how to do, you can let GitMind AI generate one for you.
Key features:
Completely online and free
Huge library of figures and shapes
Share projects via a share link
Gliffy (Web, Windows OS)
Pricing: Free trial; Professional- $7.99/month; Team $4.99/month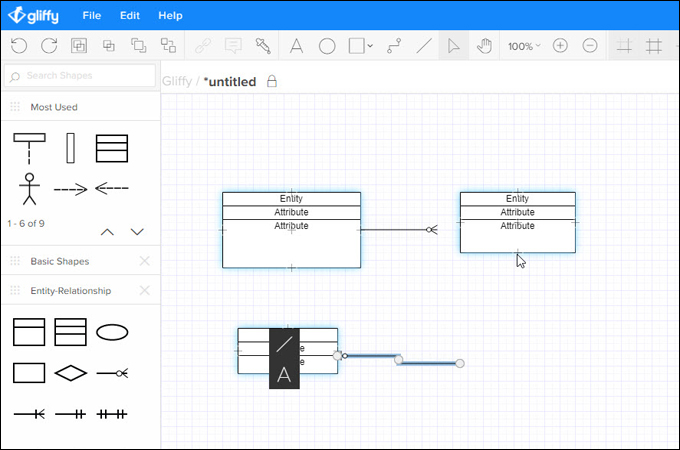 Another diagraming tool that can help you create ER diagrams is Gliffy. Using this software, it's possible to work together with colleagues remotely. You can also track the changes of the diagram in conjunction with reverting back to your desired output. Besides collaboration and tracking changes, this ER diagram maker enables you to import images and as well as export diagrams.
Key features:
Access to previous versions
Import and export diagrams
Visual Paradigm (Web, Windows, Mac OS, Linux)
Pricing: Free online; Standard- $19/month; Professional- $35/month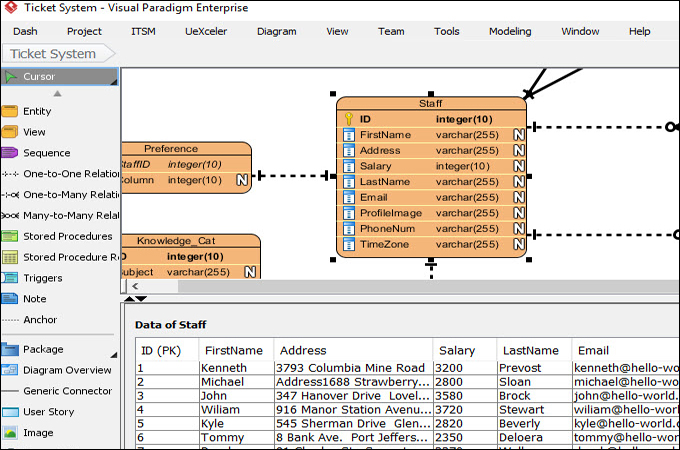 Visual Paradigm is also a good option for users who are looking for free ER modeling creator. With it, you can access hundreds of templates including ERDs allowing you to instantly create a structure of your database. In addition, you can create as many diagrams are required without even bothering about expiration. On top of that, exporting diagrams to images with no watermark could be done through this ER diagram maker.
Key features:
No limitation to the number of diagrams
Export diagram without watermark
Draw.io (Web)
Pricing: Free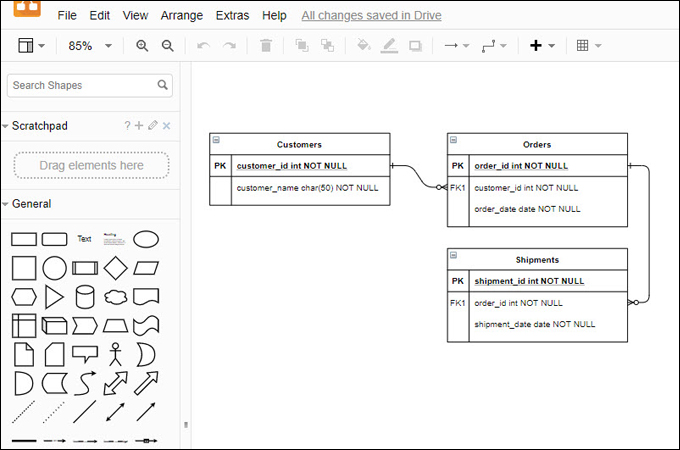 Next on the list is Draw.io. This is a web-based tool that allows you to create entity relationship diagrams without registration required. At first, the tool asks the user to specify the location where to save the diagrams. You may keep your files on Google Drive, Dropbox, or on your computer hard drive. Another key thing to remember about this free ER diagram tool is that you can choose your preferred language when using the tool. Over and above, you may continue editing diagrams to integrated productivity programs like Jira and Confluence.
Key features:
Specify the location where to save diagrams
Available in multiple languages
Jira and Confluence integration
Lucidchart (Online, Windows, Mac)
Pricing: Free with limitation; Individual- $7.95/month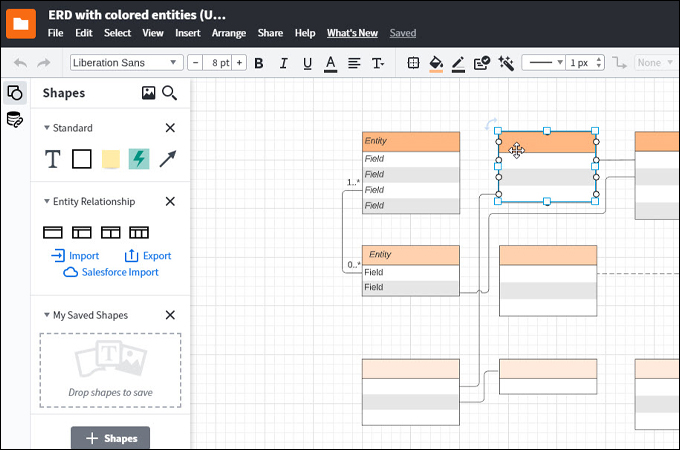 Visualize your database structure in a relational and logical way with the help of Lucidchart ER diagram maker. By using its drag-and-drop feature, working with diagrams is a lot easier. You can also create ER diagrams from scratch or generate ERD automatically from your DBMS to upload the database tables. And what makes this a recommended ER diagram creator is that it enables users to export your ERD to database services such as MySQL, Oracle, SQL Server, and so on.
Key features:
Generate ERD automatically
Export diagrams to database service
SqlDBM (Web)
Pricing: Free with limitation; Basic- $25/month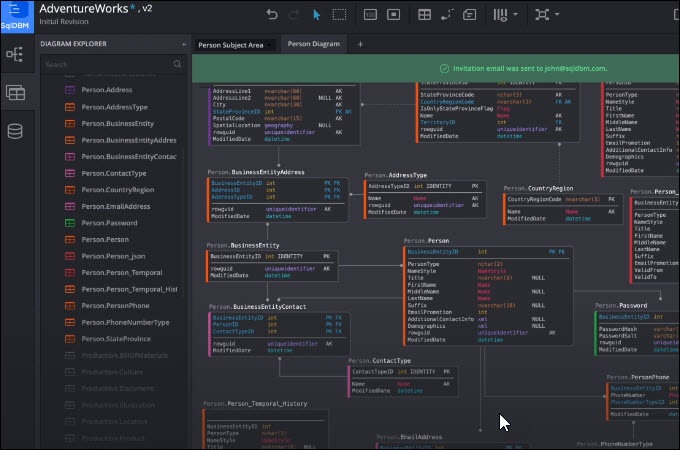 Create professional ER diagrams with SqlDBM. This tool is an ER diagramming tool that works on popular web browsers allowing you to create diagrams anytime, anywhere. One of the highlights of this program is it provides version history allowing you to compare your revisions and identify discrepancies like nullability, data type, and defaults. Besides, this ER diagram tool grants access to dark and light themes as well as viewing modes that suit different purposes like presentation.
Key features:
Customizable viewing modes
DBDiagram.io (Web)
Pricing: Free; Professional- $9.00/month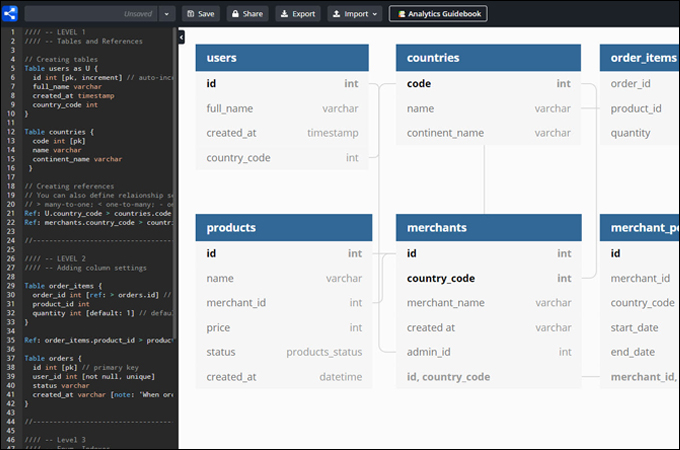 DBDiagram.io is yet another great tool to create ERDs. Unlike the above solutions, this tool produces diagrams by writing codes. In other words, this is favorable for users who enjoy editing using your keyboard. Furthermore, this free ER diagram tool allows you to export diagrams to Image or PDF file and share it in just a click for your convenience. Also, this ER diagram maker gives you the capability to upload your database schema like Django and other web frameworks when updating the database.
Key features:
Generate ER diagrams by writing codes
Save diagrams as Images and PDFs
Upload database schema from Web frameworks
QuickDBD (Web, Windows, Mac, Linux)
Pricing: Free with limitation; Professional- $14/month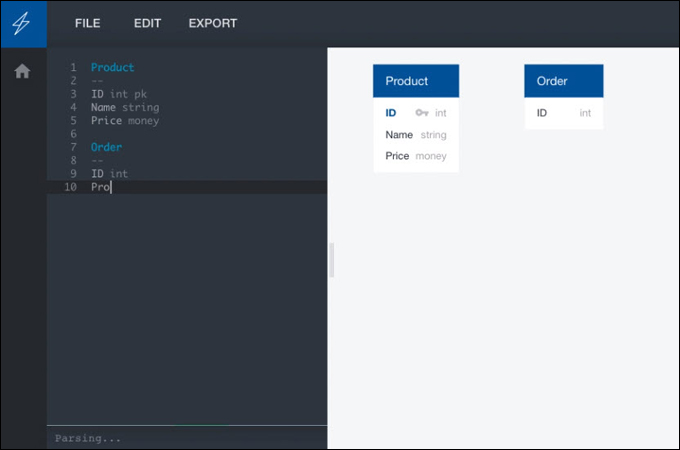 If you prefer to use a keyboard to laser-focus when making ER diagrams, then QuickDB is your go-to program. Not only that, but you can also share your diagrams online to work collaboratively and produce a quality database structure. This ER diagram tool also supports importing schema from MySQL, Oracle, and SQL Server allowing you to generate ERD fast and easy.
Key features:
Save and share projects publicly
Create ERD by typing the schema
Supports MySQL, SQL Server, and Oracle
Creately (Web)
Pricing: Free with limitation; Personal- $48 annually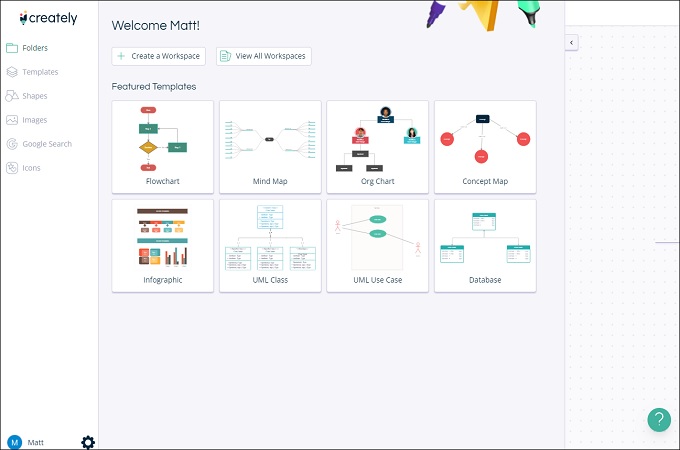 Creately is a great option if you are looking for an ER diagram tool that lets you do more than just one type of diagram. The tool provides a lot of editing options which are useful for creating various charts and diagrams. As a matter of fact, making an ERD is really simple using this tool since all you need is to drag and drop the elements and arrange them according to your purpose. It also supports online collaboration which lets multiple users work on a single diagram simultaneously.
Key features:
Save diagrams in various formats like SVG, PNG and JPG
Provides a comment thread for online collaboration
Drawing shortcuts are available
ERDPlus (Web)
Pricing: Free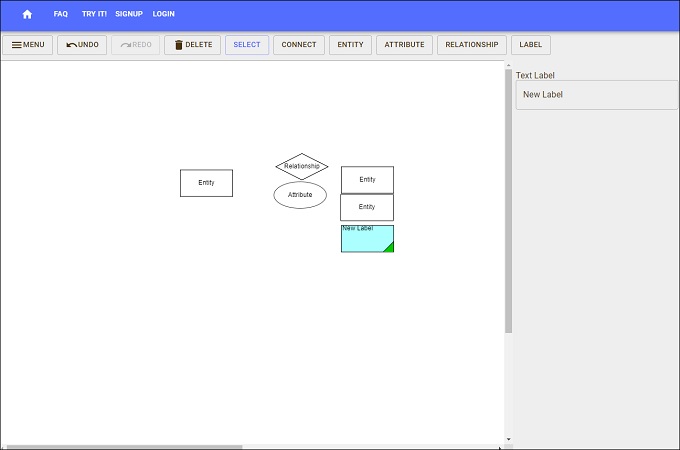 Last tool on the list is ERDPlus. This is a free application that you can access online. The tool is dedicated to creating ER diagrams which means that all options and elements in it serves only one purpose. As an ER diagram tool, we can say that ERDPlus is a decent one because it is free. Add that to the fact that it is really easy to use, compared with other tools that have confusing interface. Over all, we can say that it is a great alternative for paid tools, especially if you are just a casual user.
Key features:
Supports star schema diagram creation
Provides database support for its users
Conclusion
These are some of the best and free ER diagram tools to get the job sorted. The first six programs allow you to draw ERD through GUI. In other words, you can sketch ERD using the drag-and-drop interface. On that note, if you prefer to create ERD without leaving your keyboard, the latter solutions are the right fit.