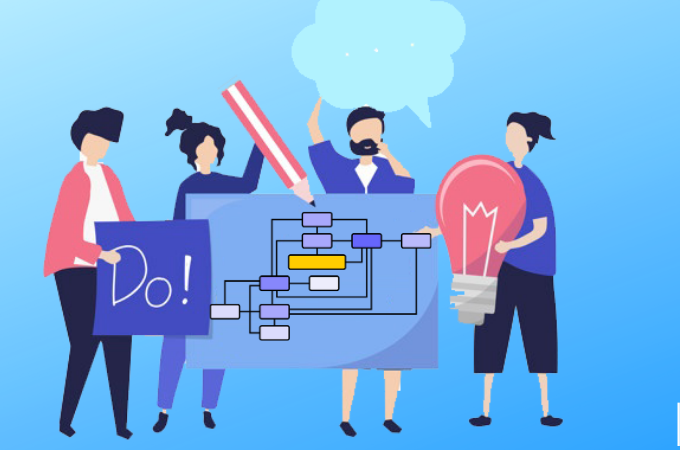 A graphic organizer is a general term for visual aids that shows the relationship between data. Flowcharts, mind maps, concept maps, and thematic maps are all types of graphic organizers. It may seem like a new concept, but most of us have used graphic organizers without knowing it. Though it may seem complicated, creating one is not that hard, especially since there are many graphic organizer makers available online. On that note, we reviewed ten of the best graphic organizer creation tools out there.
Best Online Graphic Organizer Makers
GitMind
Score: 4.5/5
Price: Free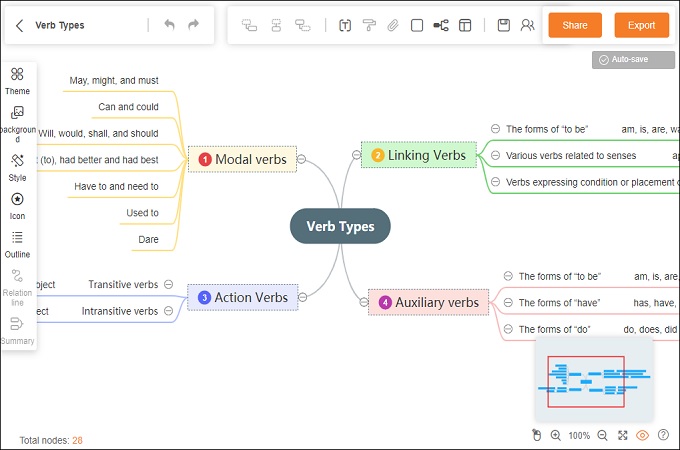 First on the list is GitMind. This is an online mindmap and flowchart maker available for free. It is a versatile tool because it can also be used as an online concept map maker, and it has a lot of specialized shapes and elements that are useful in making different charts and diagrams. Despite being free, it still supports online collaboration which is a premium feature. Aside from that, you can export your creation in various formats. In general, if you are looking for a great graphic organizer creator that you can use with your colleagues, then GitMind is your top choice.
Moreover, if you're one of those users that prefer desktop programs, then this tool now also provides a PC version that would help you work with your graphic organizers right on your computer. You can check it out through the button below.
DOWNLOAD
Bubbl.us
Score: 4/5
Price: Free; $6/mo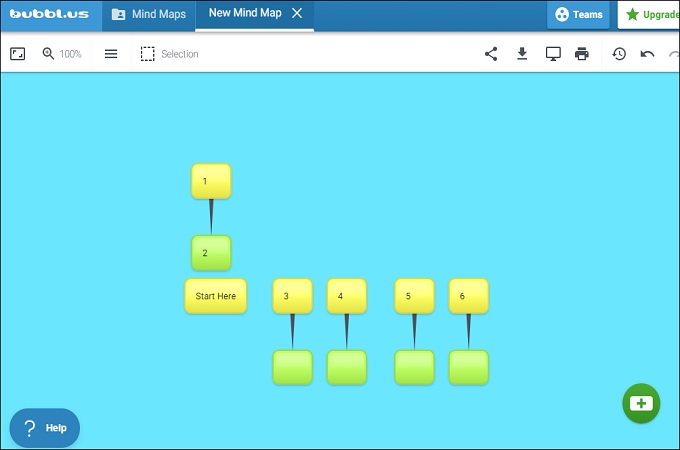 Another popular online tool that made it on our list is Bubbl.us. This is also an online map maker just like GitMind. It supports online collaboration and provides a presentation mode for easier viewing with an audience. However, unlike the previous tool, Bubbl.us is not entirely free, as it offers a premium version that provides additional features. On the other hand, if you only need basic features then there is no reason to upgrade and just use the basic version of this free graphic organizer maker.
Mind42
Score: 4/5
Price: Free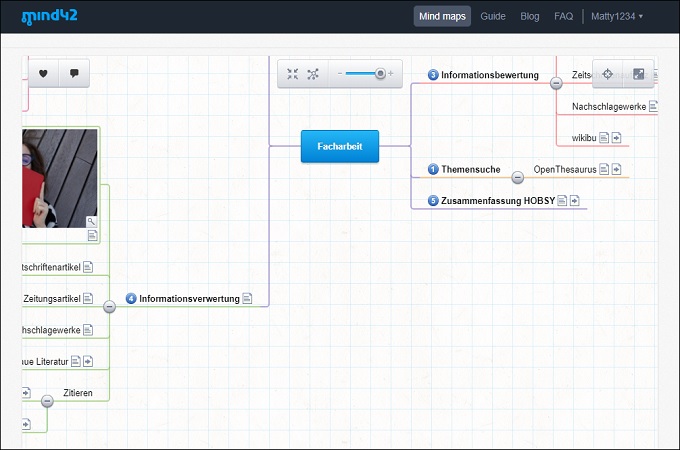 Mind42 is another free tool that you can use to make graphic diagrams and charts. You can compare this tool to Google Docs and Spreadsheet because it is cloud-based, and you do everything online. Files are automatically saved in your cloud and are private by default. You can choose to share the charts that you created with other users if you also want to. On the other hand, if creating your own is not your cup of tea, then you can search the library of free-to-use charts found within the tool. In general, you will find this online graphic organizer maker really useful from time to time.
Mindomo
Score: 3.8/5
Price: Free; Premium – $6/month; Professional – $14/month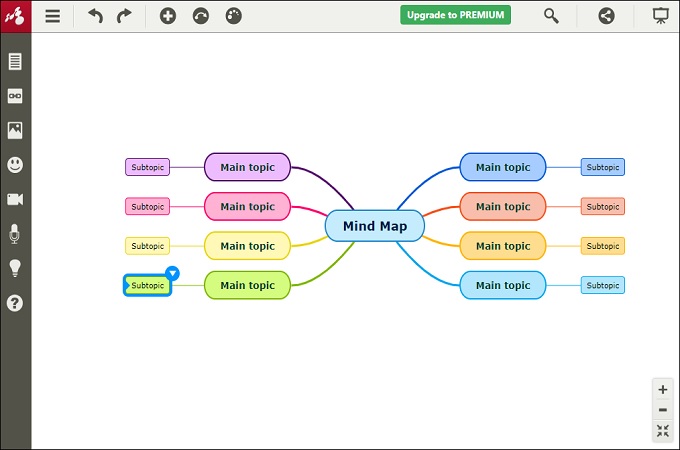 Mindomo is a desktop application that you can install for free. This tool is a good choice for offline chart making since it doesn't require any internet access to use. You have the option to make your chart from scratch or use any of the available templates within the tool library. There are 6 types of graphic organizers that you can make within the tool, which are mind map, concept map, Gantt chart, tree organigram, outline, and basic organigram. Overall, you will not have any issues if you decide to go with this graphic organizer maker.
Mindmeister
Score: 3.5/5
Price: Free; Personal – $2.49/month; Professional – $4.19/month; Business – $6.29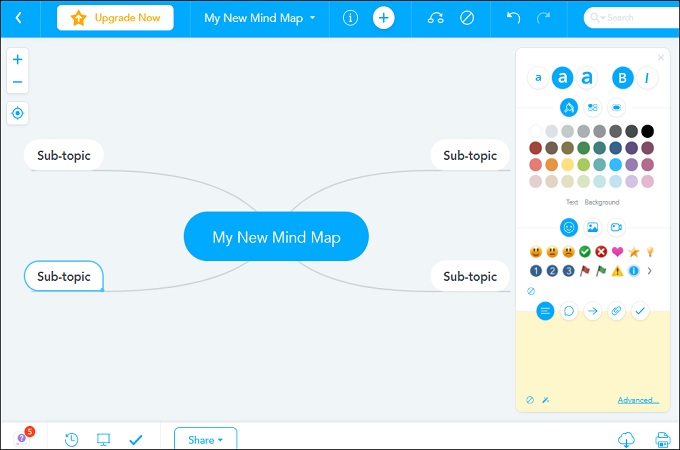 Mindmeister is an online graphic organizer software available on various web-browsers. It hosts a wide range of free templates, as well as the option to make your own. The good thing about this tool is it makes file management simple for a user-friendly experience. There is also a presentation mode that you can use for the audience. Another convenient feature that the tool provides is that it allows users to embed their maps and charts to websites via URL. Generally speaking, you will have most premium features for free which makes it a great graphic organizer creator.
Venngage
Score: 3.4/5
Price: Free; $19.00/month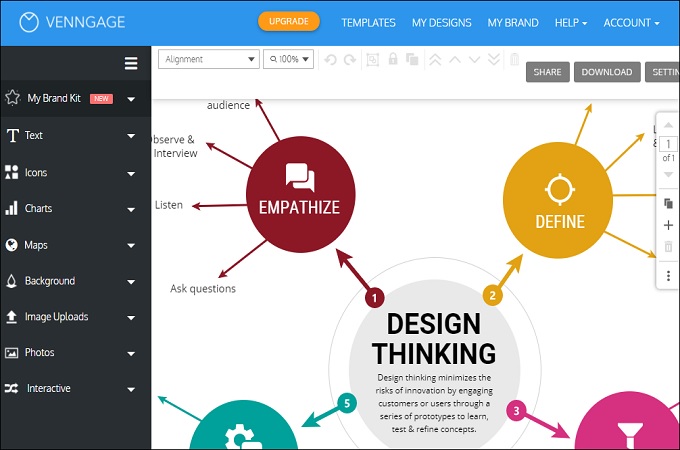 Venngage is a graphics design tool used by more than 1 million users across the globe. This is a perfect way to make appealing graphic organizers and infographics that you can print out. It supports team sharing making it a great way to collaborate. Another great thing about this tool is you can add multiple pages, images, and premium icons and charts. In general, you will get your money's worth with Venngage if you decide to go premium or stay under the basic plan. This premium and free graphic organizer maker is definitely one of the tools that you must try.
Graphicorganizer.net
Score: 3.3/5
Price: Free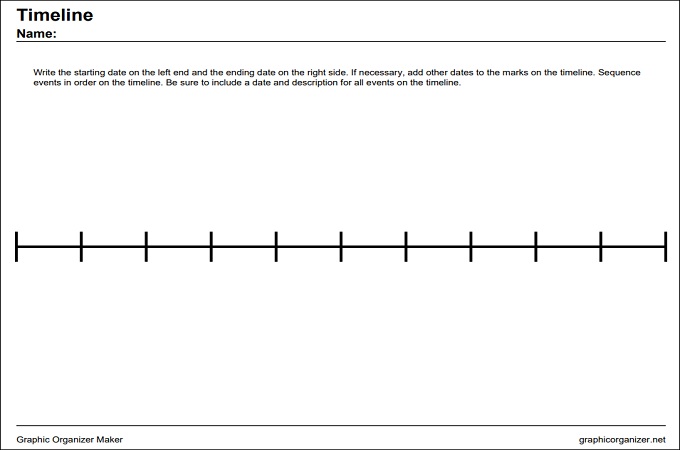 A free tool that you can also use is Graphicorganizer.net. This is a website that specializes in creating graphic organizers from scratch. The website is user-friendly since it was made for a classroom setup, so there aren't many confusing terms and buttons. Aside from that, you can access free samples if you are clueless about what a graphic organizer looks like. The only drawback of this tool is that it doesn't provide ready-to-use templates and doesn't have collaboration features. Other than that, there is not much that this tool can't do. This online graphic organizer maker is indeed a worthy contender on this list.
Conceptboard
Score: 3.3/5
Price: Free; $7.50/month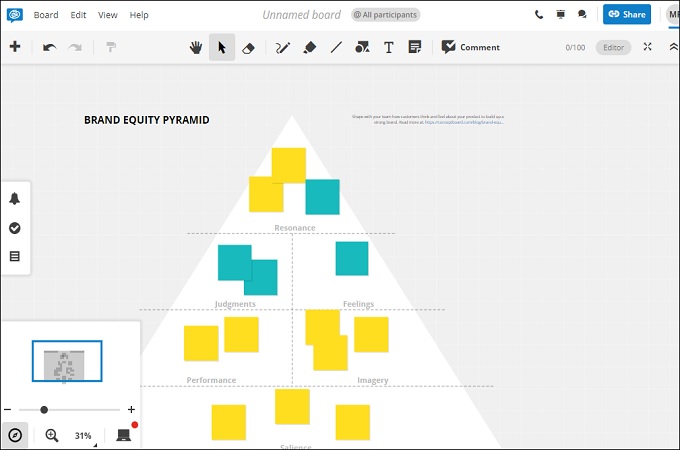 Conceptboard is an online whiteboard system used primarily for team collaboration. Using it enables teams to work simultaneously by collaborating in creating brainstorming tools like mind maps and flowcharts. Users can add images and videos that can improve the efficiency of the graphic organizer. This is also useful for remote teaching since it's easy to use and has many features beneficial to teachers and students. Conceptboard is your next go-to tool the next time you are looking for a graphic organizer maker.
Wisemapping
Score: 3.3/5
Price: Free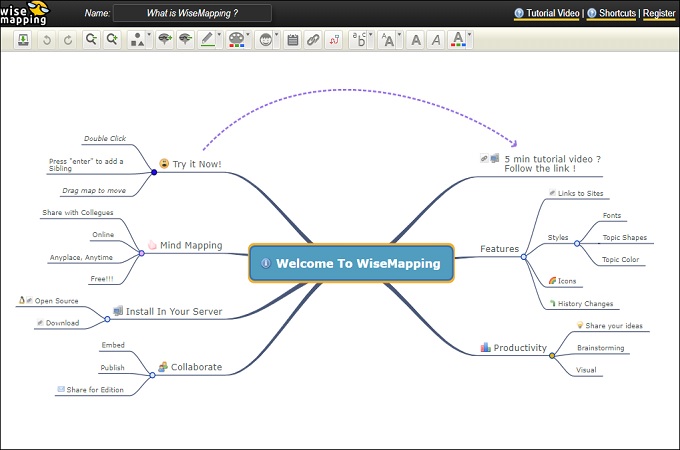 Wisemapping is a nifty tool with a "History Recovery" feature. It also provides a personal workspace for individuals if they prefer working independently. You can add hyperlinks to your charts with this tool. Users will also don't have to worry about losing their progress since it has an "Autosave" feature. Best thing about it is that individual users can use it for free. Definitely a must-have, you'll never go wrong with this graphic organizer creator.
XMind
Score: 3.3/5
Price: $39.99 / 6months; $59.99 / 1 year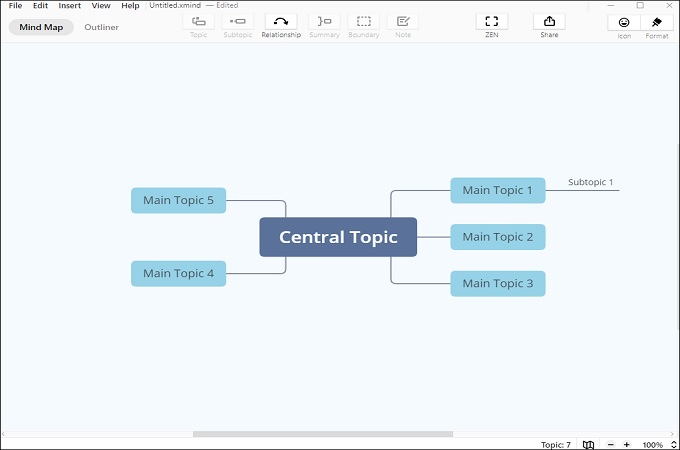 Lastly, we have XMind. This is a desktop map and chart maker that is available on both Windows, Linux, and Mac. It is used for creating informative graphic organizers like flowcharts, mind maps, and things alike. However, this is not a free graphic organizer maker since you will need to purchase a pro version to use its full features. Nevertheless, you will get what you paid for once you upgrade, but if you only need it for basic functions, then that will not be necessary.
MURAL
Score: 3.5/5
Price: Free; $9 for team members and $17 for business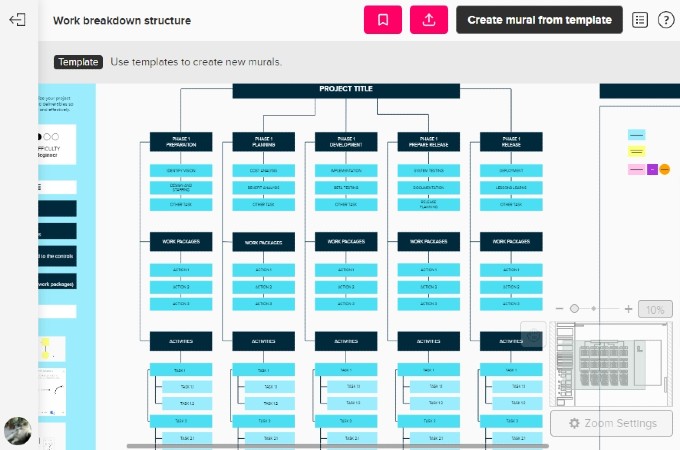 Another tool for making a graphic organizer is MURAL. This is an online digital workplace that allows its users to organize topics through diagrams, flowcharts, drawings, frameworks, and methods. It has a built-in editor for organizing your files, or if you're in a rush then this tool also has pre-made templates that come in handy. When we talk of templates, they're not just templates but artistically looking templates and they have a lot of them under their date base. In managing your file this graphic organizer generator offers various options such as sharing, exporting and saving. It also has a private mode for working on some personal tasks.
Popplet
Score: 3.2/5
Price: Free; $1.99/month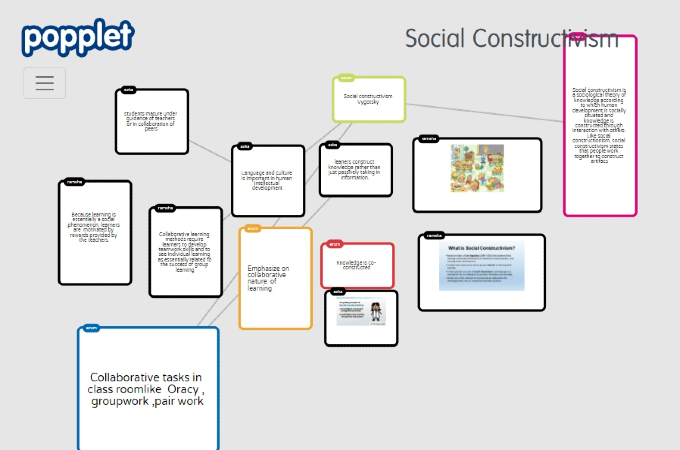 The last on our list is Popplet. This program is available online and on iOS devices. In utilizing this digital workplace you'll be able to organize your graphics through the use of trees and charts. Unlike another program on our list, this tool provides a unique interface along with the appearance of the graphs which have a doodled kind of feel. An editor is also present in this tool for working on your craft, or you can use some of the Popplet that was shared by other users. In managing your files, this graphic organizer maker allows you to save, share, export, or make them accessible to the public.
Conclusion
There is an ample selection of tools that can make charts and mind maps on the internet. However, there are certain factors that you need to consider when choosing which tool to use. That is why we made this list of highly recommended paid and online graphic organizer makers. This is to help you decide which tool will greatly benefit you.