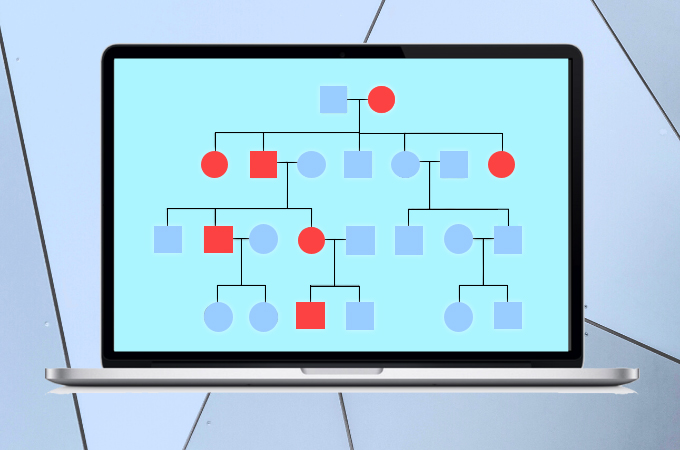 If If you are a student or working in the Genetics profession, you will undoubtedly make a pedigree chart on a regular basis. Making a pedigree chart is the simplest technique to uncover and study the qualities of the many features passed down through the generations. It may also be used to examine the characteristics of a tiny population in a specific location. In such a scenario, you'll need a great pedigree maker that can meet all of your fundamental demands, such as inserting symbols, elements, lines, arrows, and other elements into your chart. You may continue reading to learn about the applications on the list.
Best Pedigree Chart Maker in 2022
GitMind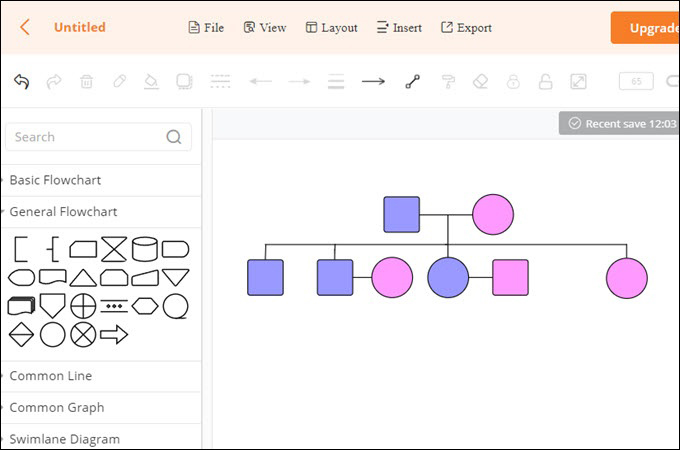 GitMind is first on the list. This tool is used for brainstorming, project planning, development, issue solving, and other complex activities. You can also use this as your pedigree chart maker; it is available on the internet, a computer, iOS, and Android phones. Users also may utilize its built-in themes to get started quickly. Furthermore, you may share your results with a wide number of individuals by adding them and enabling them to change things.
Canva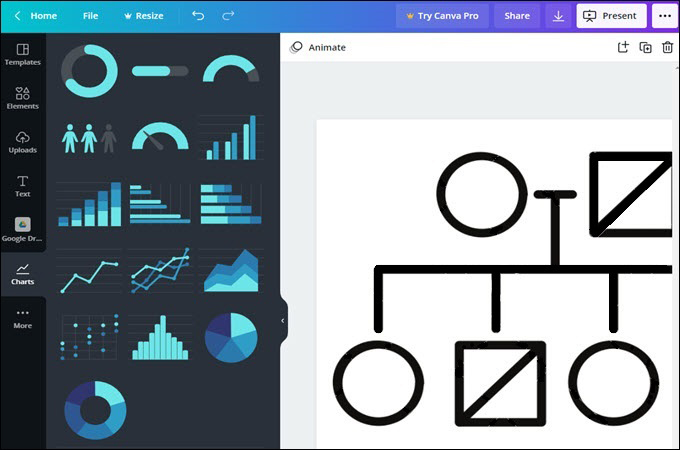 Another online pedigree maker you may utilize is Canva. It's a fantastic online component tool. It may be used for everything from simple picture editing to creating flowcharts, diagrams, social media photos, brochures, and many more. It contains lots of functions, as well as a very generous free program, and the customer service is excellent.
CeGat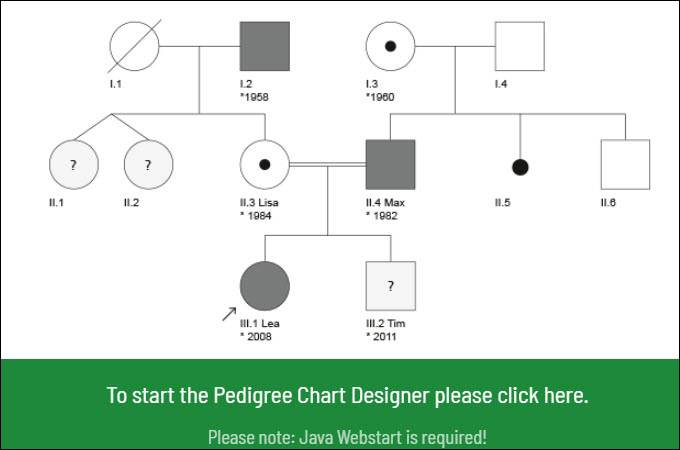 The next program you can use is CeGat. This pedigree maker allows you to create, save, upload, and print pedigree charts. You may use the saved lineage diagrams in any way you see fit, such as in medical history files, presentations, or a request for genetic analysis. If you need to edit or expand a pedigree chart that you already prepared and saved, you may reload it into the PCD and make the necessary changes.
Visual Paradigm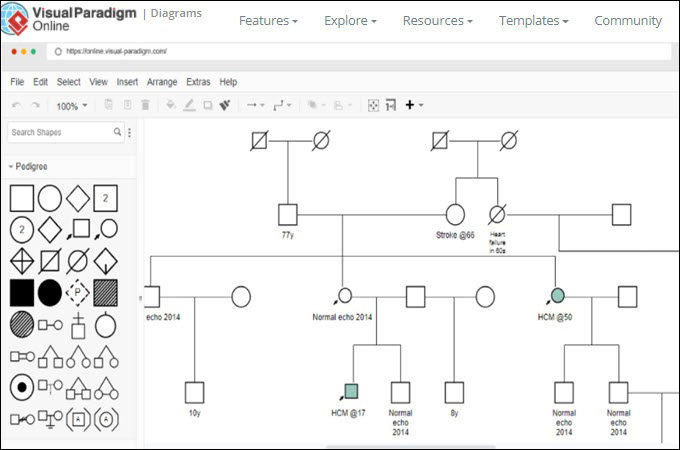 Create amazing pedigree charts with Visual Paradigm. This pedigree chart maker will allow you to easily generate excellent pedigree charts. Create pedigree charts quickly and effortlessly with the drag-and-drop tool, design with a rich collection of characters, save your project in an online workspace, and collaborate on projects. The application also includes a library of pedigree chart templates to help you get started quickly.
pdfFiller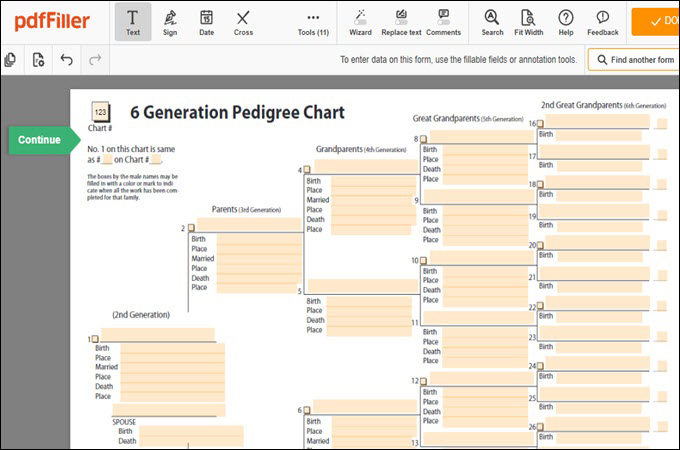 Another tool that may be used to generate charts is pdfFiller. It is an online editor that concentrates on PDF files but also has the capability to act as your pedigree chart maker. In addition, outputs may be sent via the internet, social networks, or hosted on your firm's site. With your pdfFiller subscription, you may copy, download, or mail documents through email.
SmartDraw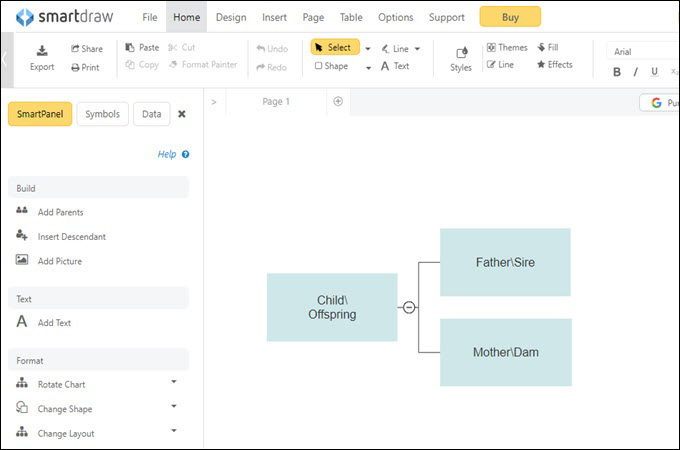 SmartDraw is also a great tool for generating pedigree charts. It allows you to modify the basic structure and quickly add symbols and elements to the charts. This online pedigree maker will let you make an entire chart with a few clicks or even add and remove any elements of your choice. Lastly, it has an automatic reformat feature and saves every modification you do.
Progeny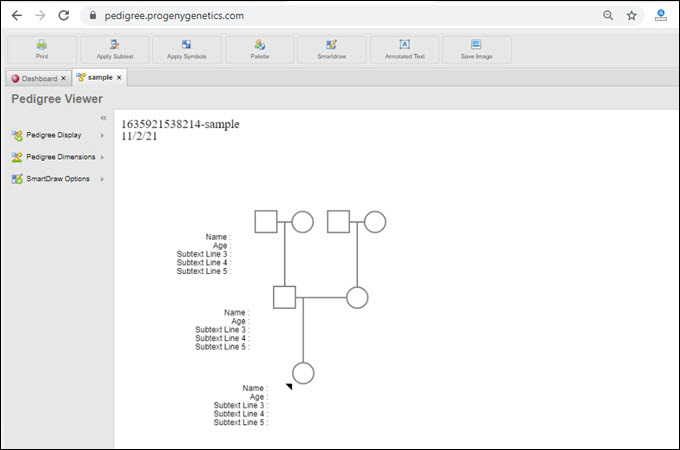 The last software you may utilize included on the list is Progeny. This tool will allow you to effortlessly generate charts that throw light on various persons, locations, and events. This online pedigree maker also allows users to create a genealogy chart history for their family. You can create pedigrees with your own or even have them created for you by stating the proband's ancestors. Add criteria and unique data for each person, and use a variety of settings to personalize the genealogy presentation.
Conclusion
All of the tools written above are the best pedigree chart makers available. You may use any of the sites or tools on this list to simply construct a customized pedigree chart by entering certain information. Some of these programs require you to form a free account to get started, while others may ask you to pay initially in order to utilize their full service, while others just need you to go and construct a pedigree chart. So, if you're seeking a superb pedigree maker, this list may be useful. Still, the best chart creator is determined by your own preferences and what best suits your demands.